Happy Wonder Wednesday #48!!
Today's Wonder Wednesday post marks 4 full years of Wonder Wednesday activities! Which I hope have inspired you and those you care about to connect with nature in all kinds of fun, practical, and inspiring ways!!
4 years is a true investment of time and I want to thank each of you who join me on this journey. Your dedication to creatively connecting humans and nature keeps me going!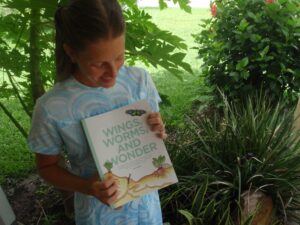 Day 1 August 2012!
But sometimes it's hard to know just what you are thinking….
And being a first born deep down I do like to please, so I created a survey that I will be so grateful if you'd take a couple minutes to fill out.
Being a small business owner is tough, and in the creative and education fields is even harder. As much as I may not want to admit it, I do need to make some money from all this nature adventuring. So in order to serve the world better and keep this boat afloat, I am trying to figure just how to do that!
And what better way to start than to ask you, the dedicated creative nature connectors!
I value your time, thoughts, and opinions, so know that I will take these surveys and your thoughts seriously.
Thank you to everyone who took the survey!!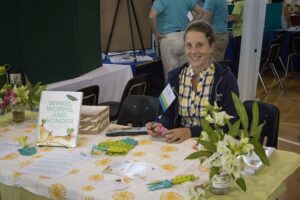 My first conference presentation and exhibition table. I was so excited I sold 8 books to people I didn't know!
---
Okay! Now on to regularly scheduled Wonder Wednesday programming!!
This month we are taking a look at silhouettes. I love traditional silhouettes and the precision it takes to cut one.
When I was around 9 my mom took us to a silhouette lady. She looked at our profiles while we sat there and cut out silhouette straight from the paper! I was mesmerized during the process and still am when I remember it.
An example of Rich McCor's silhouettes playing with perspective from IG
In more modern times, I've been loving the work of Rich McCor (aka Paperboyo on IG) and how he takes silhouettes out of the frame and into the world, playing with perspective in really fun ways.
For this project, I got the idea to use kind of a reverse silhouette from the work of Russian photographer Nikolai Tolstyh (aka @n_tolstyh). He cuts his shapes of nature into the paper and then holds them against natural backgrounds to fill the hole. It's kinda like using a viewfinder only even more awesome!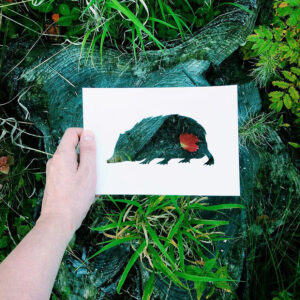 Nikolai Tolstyh's work from IG. Look how he arranged the nature to fill the silhouette with a little brown for the nose and grain of the wood to look like the fur! 
I think this is a really fun way to get humans viewing nature from different perspectives – whether it be literally a different angle, from within a new frame, or putting our perspective into that of the shape through which we view.
And it can be enjoyed by all ages of humans depending on how you approach the preparation of the silhouette cut outs!
---
Wonder Wednesday #48: Nature Filled Silhouettes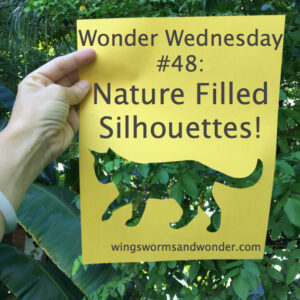 Materials:
Silhouette cut outs of natural shapes and items on paper, card stock, tag board, or any other type of paper you like. Heavier papers are more durable of course.
Scissors, exacto knife, or poking tools depending on the developmental abilities of the participants.
Nature to view (Parks, gardens, farms, backyards, pets, houseplants, grocery produce sections, anything will do!)
Optional: Nature journals, pencils., and colored pencils
Preparation:
Create various silhouette cut outs of plants and animals. If you can, I think it would be great to use plants and animals found in your local environment because that will add more meaning to the cut outs.
Many silhouettes can be found and printed off from Google Images if you search nature silhouettes. You can of course get more specific and search, for example, black bear silhouette, sea gull silhouette, or daisy silhouette.
Cat sample from google images under cat silhouette.
Print out your chosen silhouettes. You can also print one and trace it on to firmer paper and then cut those out easily making sets. The firmer the paper the less you will be bothered by the wind affecting your viewing experience.
Cut out and prepare the silhouettes ahead of time yourself or if doing this with children, they can use poking tools to punch out the shapes (shapes will need to be determined by the skill level of the pokers if you go this route).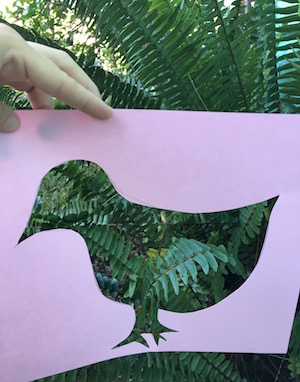 I liked how the ferns were reminiscent of feathers in this one. Nature mimicking patterns in different elements is one of my favorite observations. 
Procedure
Introduce the project to a group or just to yourself, whether the cutting portion or the silhouette observing portion, and start a dialogue to get thinking about "seeing" and how when we change our perspective we can understand things in a new, different, and deeper way.
Then, head out on your viewing adventure and start "seeing" through the lens of a new creature!
How does the park though through the body of a bird? How does your cat look through the body of a flower? How did your perspective change when you viewed a tree canopy through a bird and then through a fish, for example?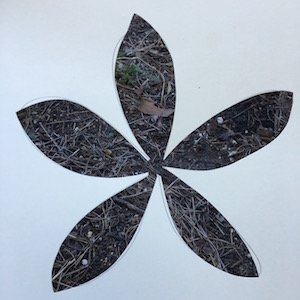 Roots grow down in the soil….. (such texture in the garden bed soil!)
Extensions:
Take photos like Nikoli and Rich of your silhouette altered views.
Trace your silhouette cut outs into nature journals and draw some of the new filler views in with color pencils.
Journal about how your perspective was altered when viewing through a different natural form – say a garden through the lens of say a squirrel or a crow.
Shoots grow up to the sky… (I really liked framing the clouds in the center they draw in your eye like a flower attracts insects to its center.)
What animals or plants will you choose to alter your view through? Share in the comments below!
Share pics of your cut out views on Instagram #winsgwormsandwonder so we can see!
Seeds to Sprout:
Check out the work of Nikolai Tolstyh here
Check out the work of Rich McCor here
Take the Wings, Worms, and Wonder survey here and remember to email me after you submit it so I can send you your thank you surprise!
Thanks again for 4 awesome years of monthly Wonder Wednesdays!! And thank you for your input on the survey!