Happy Wonder Wednesday!!
If you follow me on IG, you know I had a great time on my vacation, but what about you? What kind of new or familiar nature adventures are you getting in to this summer?
If you share pics on Instagram,
then #wingswormsandwonder, I'd love to see!
I want you to be having as much creative nature time as possible this summer so I'm keeping the chit chat short! Let's get to it!
You know I love color, color theory, and plants, so this month, inspired by something my sister told me about, I created a seek & find printable for you to explore the color spectrum in your nearby nature!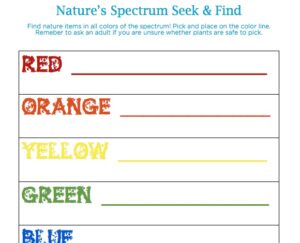 Wonder Wednesday #47:
Nature's Spectrum Seek & Find
This is a really fun activity to do with multi age groups in formal and non-formal educational settings as well as in the backyard! It is also a great segue into nature journaling and exploring color theory through the lens of nature!
Materials
1 print out for each person playing:
Download your printable here – Nature Spectrum seek & find pdf
Double sided tape
Nature that can be picked
Optional: harvesting scissors
Preparation
Explain to the children about picking in nature (ie: don't pick things you are unsure of – aka plants you don't know or summer trouble plants like poison ivy). Also explain about picking gently and if you choose to use harvesting scissors for gentle picking remind them of scissor safety.
Stick a piece of double sided tape on each colored line on each page.
Procedure
Head out into the backyard, garden, woods, or other picking permitted nature spot you are familiar with (and know there are no plants like poison ivy) with your Nature's Spectrum printables and harvesting scissors if you choose to use them.
Collect bits of flowers, leaves, feathers, rocks, shells, skins, or whatever other bits of nature you find in the colors you are looking for and stick them to your spectrum!
After you are finished collecting, regroup and discuss your color finds. What colors were easiest to find in nature items? What colors you found more difficult to find? Where in nature or in what climate do you think these challenging colors may be easier to find? What tints, shades, and different variations of the colors did you find (ex -pink is a variation of red)? What did you observe and discover while seeking and finding the various colors? What do you observe about the colors and items taped to the lines? Do you know the names of any of the plants or the species of animal? And any and everything else that comes up!
What color do you love most in nature? Can you even choose 1?
Share in the comments below!
Share pics of your summer spectrum adventures on Instagram #wingswormsandwonder!
Seeds to Sprout:
Not sure how to identify poison ivy? Check out this blog post on it!
Expand your color exploration with my Connecting with Color eCourse! Check it out here!
Continue the summer nature collection fun with this nature bracelets activity!
Collect leaves and make chlorophyll prints with them! Learn how in this activity!