---
Happy Wonder Wednesday 108!
This month I'm going bananas for these bowls made from banana leaves I learned to make! No need to wash dishes this summer with these bowls, just compost them!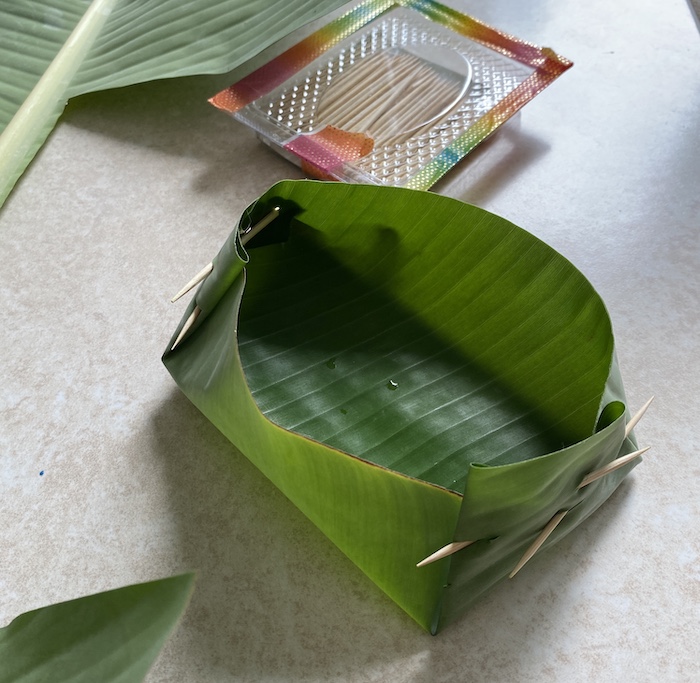 Last month when I went to visit my parents in Virginia, I noticed that banana trees were growing there – in a place far more northern than I'd ever seen before.
While I'm suspecting these trees don't fruit, they do make an abundance of leaves! So I thought well, more perhaps people can do this project since banana trees apparently grow in more northern climates now?
Banana plants are also very easy to grow in pots, so perhaps more northern nurseries are selling them an annuals these days to add a flair of tropical summer to patios. I don't know, but I do know that making these bowls is really fun!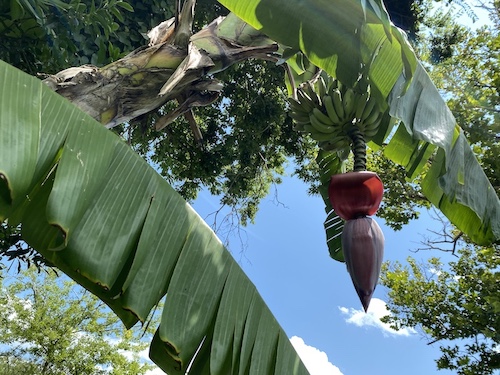 If you don't have access to a banana tree, try checking the produce section of your local Latin, Asian, or Indian grocery store. They often have fresh banana leaves available.
I don't think the frozen ones would work very well for this project though, since the cell walls would be broken down, so I don't recommend those.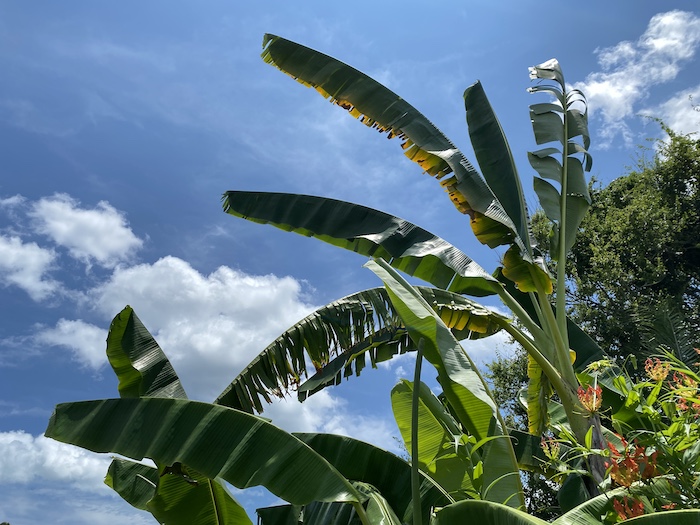 Let's go bananas for banana bowls!
---
Wonder Wednesday 108:
Banana Bowls
Banana and Plantain plants bear fruit that literally sustains entire populations. And in areas of the world where these trees grow prolifically, the leaves and fibers are used for many items too.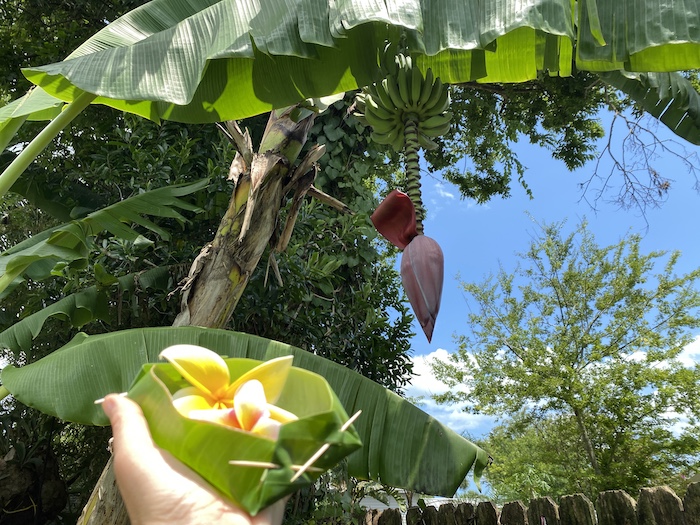 Tip – the juice that comes from banana plants can, and will stain, hands, fabric, and probably some types of hard surfaces too. So perhaps lay down a tablecloth and wear a smock just to be on the safe side when you do this project.
---
Supplies
Large fresh un-torn banana leaves
Bamboo skewers or toothpicks
Scissors
Ruler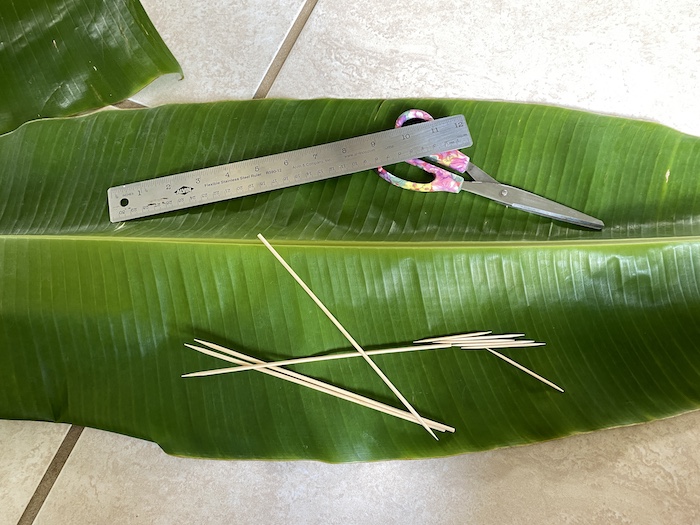 ---
Preparation
Cut your leaf/leaves from the tree in any fashion you prefer. Make sure the widest part of the leaf is not torn.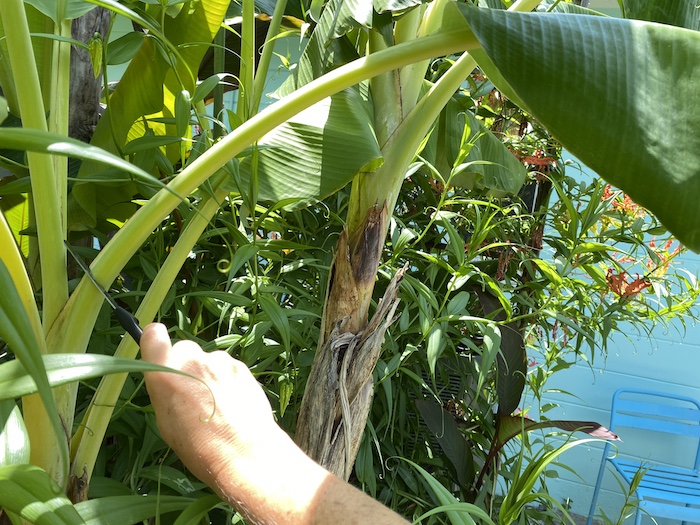 Wash the leaf to remove any dirt or chemical spray. Be careful not to tear it.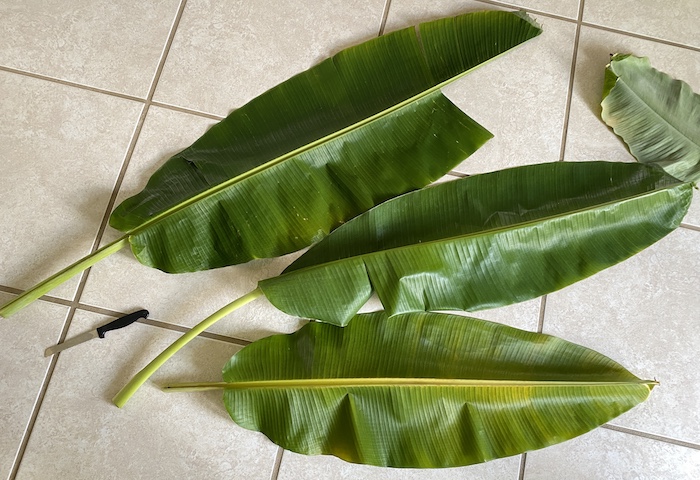 Measure 9 inch high (from leaf edge to midrib) and 10 inch long rectangles and carefully cut them from the leaf.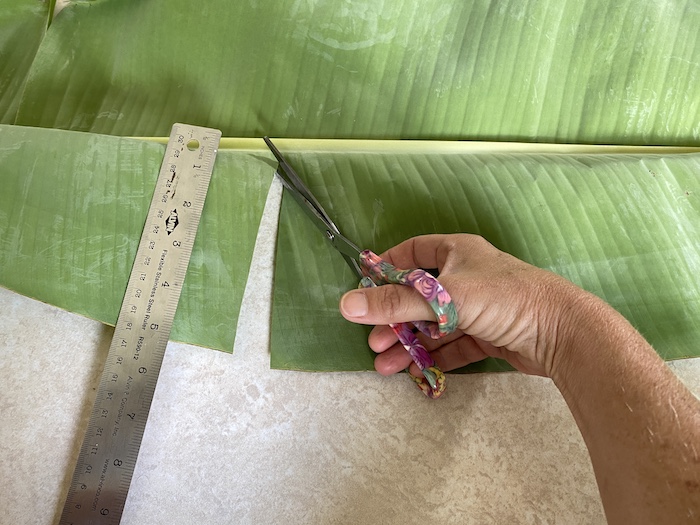 Cut as many rectangles as you want bowls.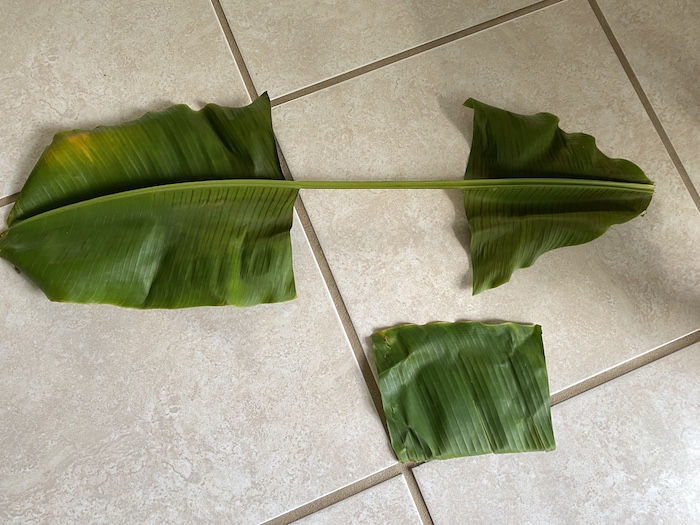 ---
Procedure
Lay your rectangle out in front of you. If you will be putting food in it, like a rice or noodle dish for example, be sure the shiny side is facing up. If you won't be having something juicy in it, the side doesn't really matter.
Fold the right corner of the leaf in toward the center of the short end of the rectangle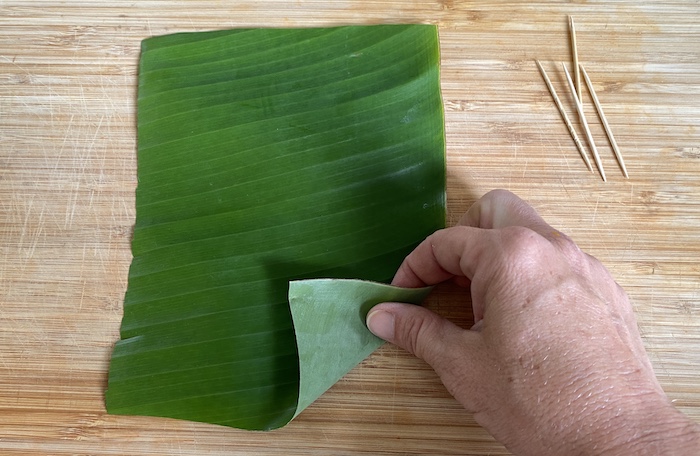 Then, Pinch the corner in and pinch and fold toward the center top edge of the short side. (Like in origami.)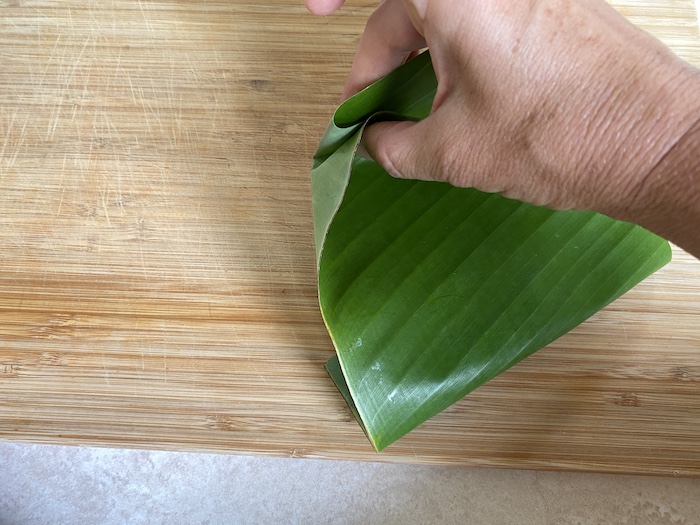 Next, gently push a toothpick (or a skewer) through the folds to secure the corner.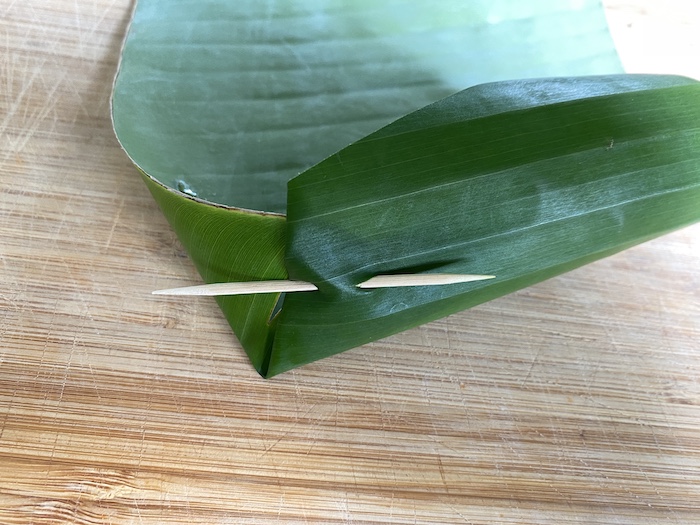 Then, repeat the process on the other corner.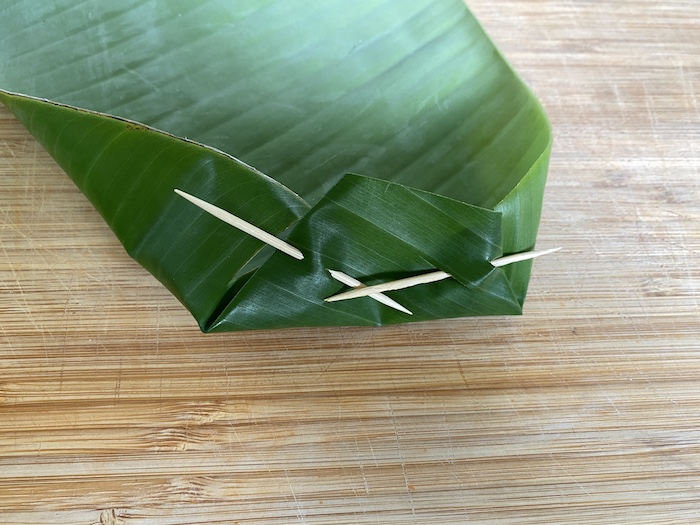 And repeat again on the other short side.
Be very careful not to rip the leaf down the veins and "grain" of the leaf. It is really easy to do and if a corner rips (which mine did quite a few times), just start over. It doesn't really work once it's ripped.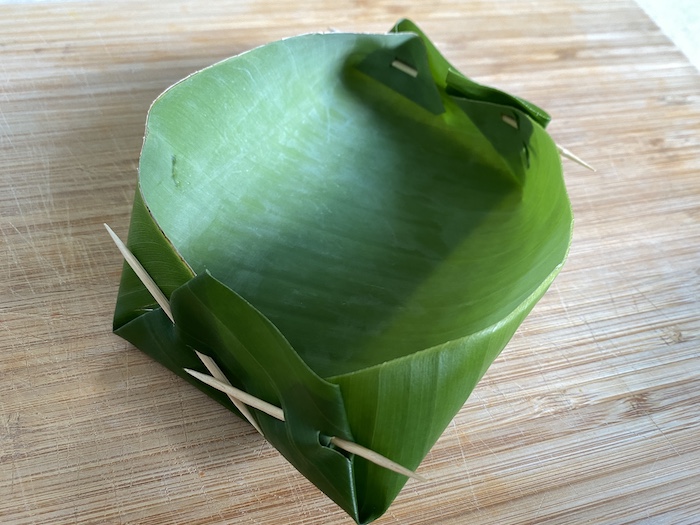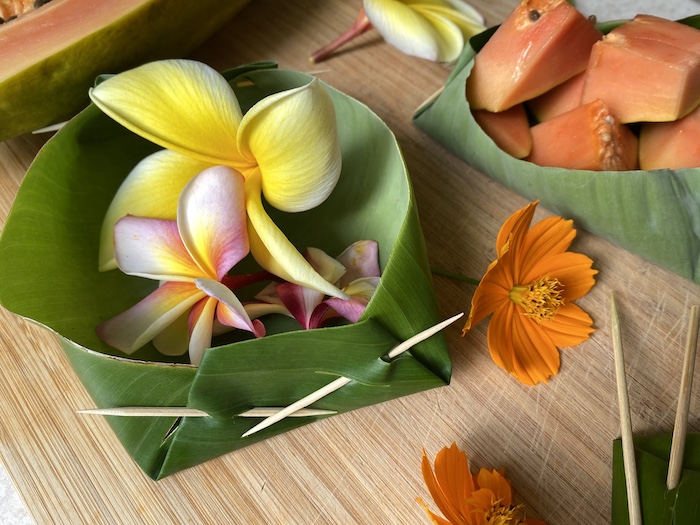 Fill it with your dinner, snacks, flowers, or whatever you want! They are secure and won't leak (within reason of course!).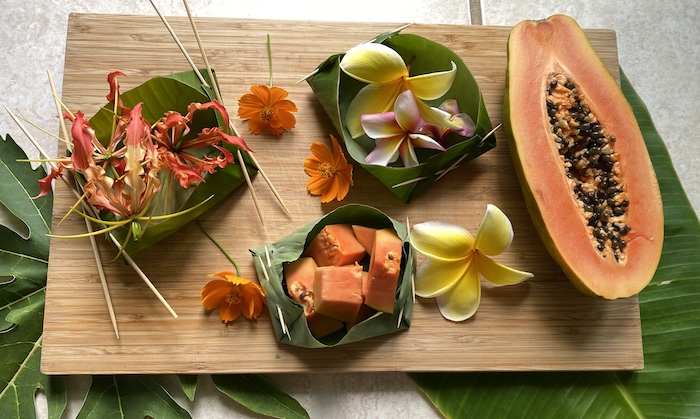 ---
Extension
Do you have papayas in your yard too? Did you know their petioles are totally hollow?
Well make an eco straw from the petiole to go with your eco bowl!
Simply: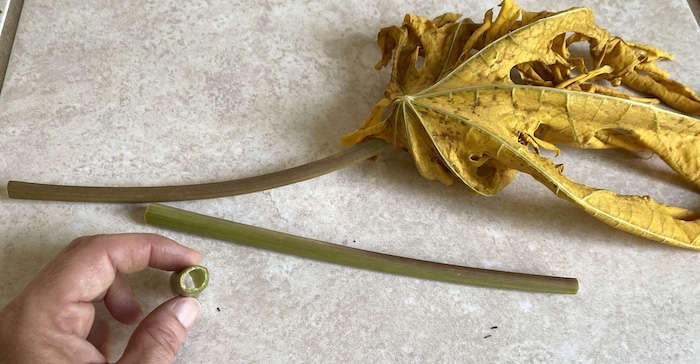 Cut the middle to the length you want
Pop it into your favorite summer drink and sip away!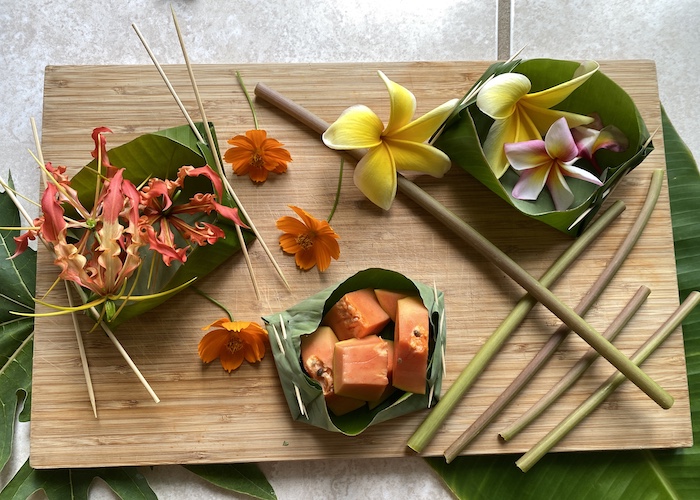 ---
What would you fill a banana leaf bowl with?
Or do you know how to make other dish-ware from nature?
Share in the comments below!
---
Seeds to Sprout:
Have you had a chance to check out the newest Wings, Worms, and Wonder book – Draw Yourself Back to Nature? Well, click here and check it out now and grab your copy! The best time to start nature journaling or art-making is… right now!
There are a few Viviva Colors + Wings, Worms, and Wonder paint sets left! Click here and Get yours while they last!
Want to learn more about the major impact of the banana on global history? The book Banana: The Fate of the Fruit that Changed the World by Dan Koeppel is a great place to start!