---
I am so enamored with telling y'all about this limited edition collaboration paint set between Wings, Worms, and Wonder and Viviva Colors!!!
First, I have to say, I am beyond honored that Viviva colors invited me to collaborate on an exclusive cobranded Wings, Worms, and Wonder paint set. I still have to pinch myself to believe it's real!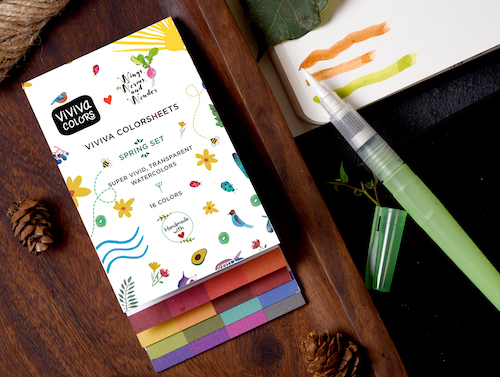 But it is real!!! Sets are en route to me as I type this!
You may be wondering, why is this paint so special?
Well, these aren't just any paints. The paint sets are handmade, eco friendly & socially conscious. Viviva is a family owned and operated indie business.
The paints are handmade by women in the owners home village in central India as part of a women's employment empowerment project!
(And the company is named after the founder's grandmother too <3! & y'all know how I love my grandmothers!)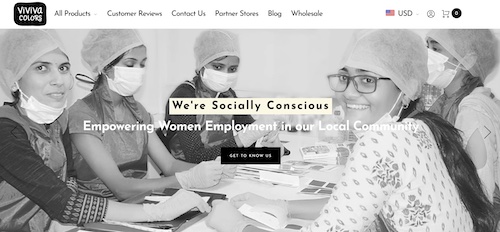 Each set comes with a little illustrated tag with the name of the woman who made the set, her favorite color to make, and why. It is so incredible sweet and just wonder sparking in making that connection between art and people. Amazing right?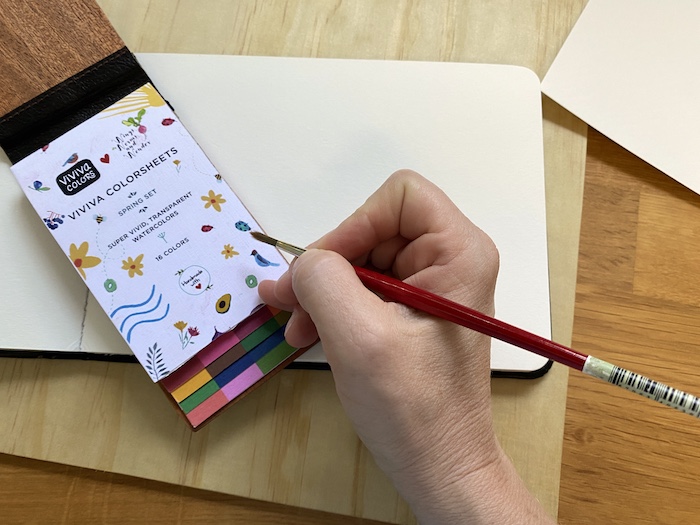 ---
How is paint eco friendly you may ask?
Well the set is primarily paper! It's all biodegradable! So eventually when the paints are all used up, just compost or recycle the whole thing!
This Wings, Worms, and Wonder edition 16 color set of gorgeously vibrant Viviva Colors "Spring" watercolor paints are perfect for any painter- novice to advanced.
They are light and ultra portable to carry with you, plus slim and easy to store and use at home.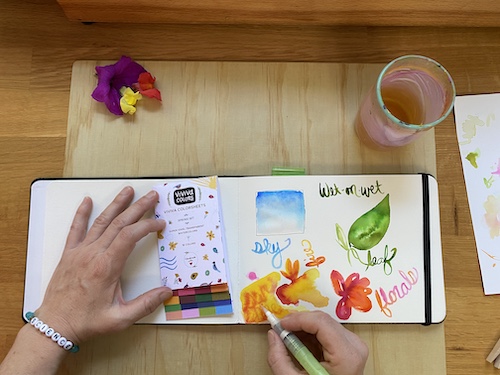 ---
Each set includes the 16 paint sheets which have vellum in between so when wet, the colors don't smear into each other or stick together, plus at the back is even a mixing palette built in!

In founder, Aditya's own words….
"Viviva Colorsheets are probably the most compact and vibrant watercolors in the world.

Designed as a thin booklet to fit in your pocket, they are super pigmented and last about as long as a half pan set. We like to say they're like dynamite – an explosion of colors!"
That's the truth!
Check out the vibrancy of the colors in the set when I swatched them!
The camera hardly does them justice. They are the richest jewel tones. I can hardly stop staring at their beauty on the page! (I told y'all I was enamored!)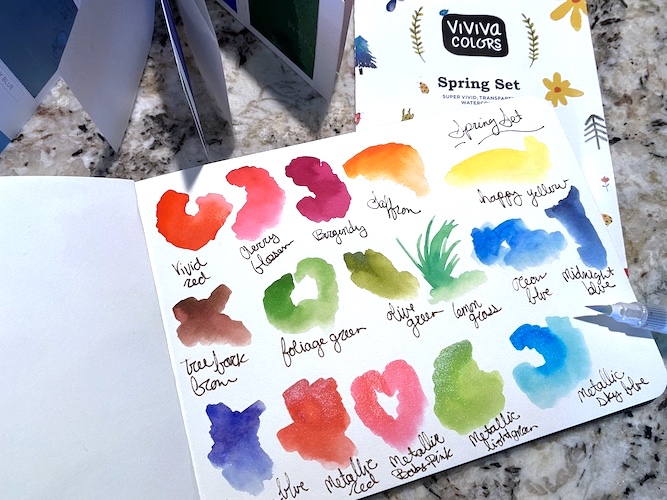 And the set even includes a few metallic colors so you can pop that extra shine into your flower petals!
---
Part of what makes this set so special is the serendipity of the timing.
The wonderful staff at Viviva unexpectedly contacted me about this collaboration in late winter – right when I was beginning the final stages of my new book Draw Yourself Back to Nature.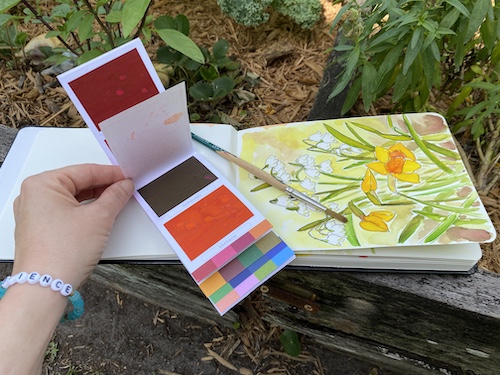 I thought, "What could be more perfect to join with a book on creatively connecting with nature, and my first live class in over a year, than a new set of handmade paints?" What unbelievably perfect timing!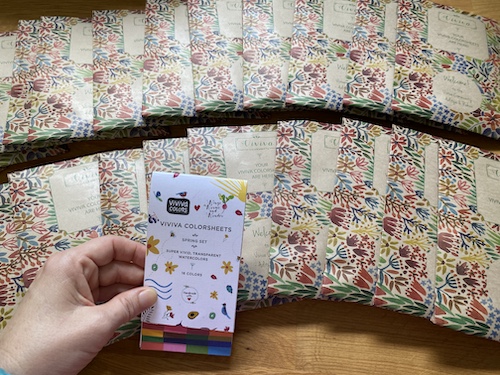 Their out-of-the-blue (to me anyway) introductory email took me by such surprise. It was so unbelievably thoughtful and kind.
And after our very first video meeting when we hit it off instantly, I knew these humans fit perfectly into the World of Wings, Worms, and Wonder and this was the beginning of a beautiful friendship and working relationship.
---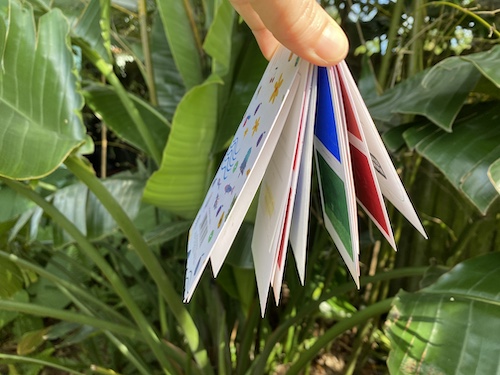 I hope you'll check out these paints, and if it feels right gift yourself a set.
You can feel good about supporting 2 small family run arts business trying to make the world a better place, as well as treating yourself to a catalyst for many pleasant hours spent in creative connection!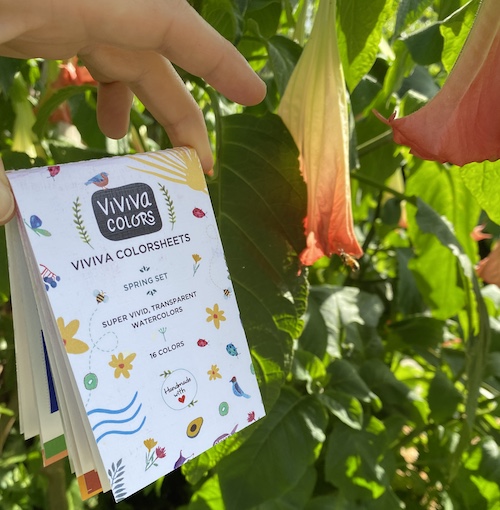 ---
What's the first thing you'll paint with your new Wings, Worms, & Wonder + Viviva Colors paint set?
Where's the first place you'll take your set to paint the nature you love?
Share in the comments below!
Share photos of your creations on Instagram #wingswormsandwonder @wingswormsandwonder @vivivacolors
---
Seeds to Sprout
* Have a question about the paints? Click here and drop me an email!
* Join the "Nature is Simply Shapes" live nature journaling workshop June 5!
* Order Wings, Worms, and Wonder + Viviva Colors exclusive collaboration paint sets here!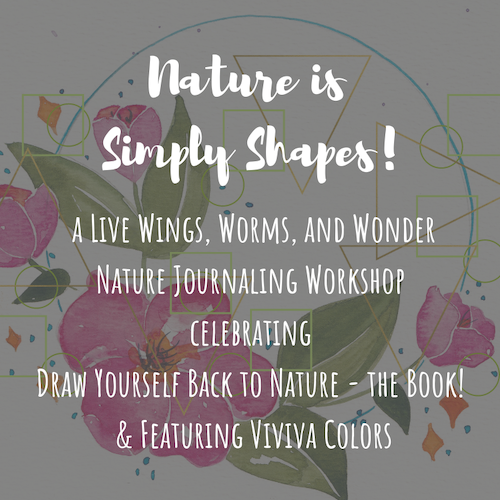 * Pre-order yourself a limited edition Draw Yourself Back to Nature book and Wings, Worms, and Wonder Viviva Colors collaboration paint set!
* Want to see Viviva colors in action? Check out this watercolor painting video tutorial Wonder Wednesday 105: Watery Watercolor Technique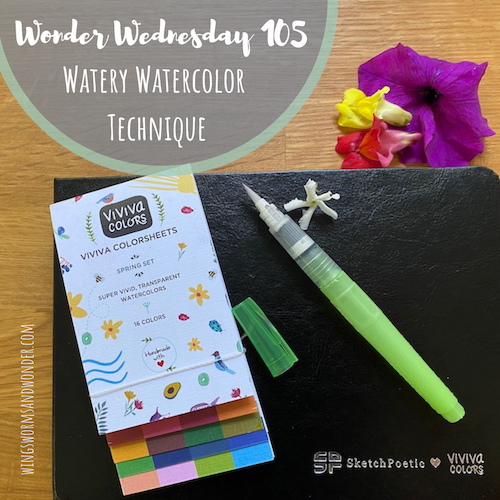 * Check out the forthcoming new book "Draw Yourself Back to Nature: Creativity, connection, and art-making with the natural world"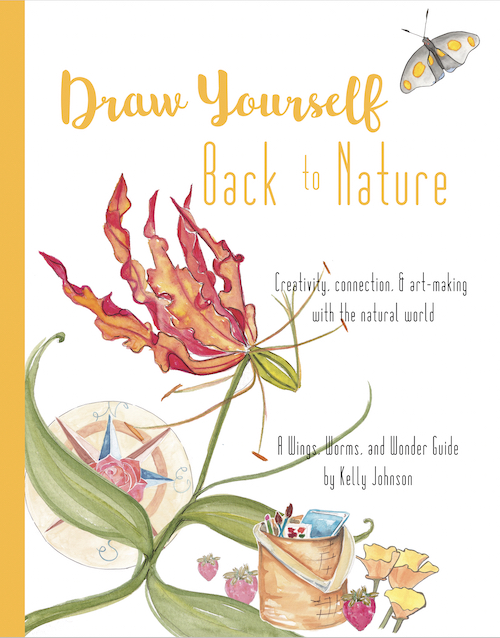 ---