---
This week, let's take a studio visit!
Artist's studios are like peeks into their minds. You not only get to see art work in many stages, perhaps even more interesting you get to see all the fun little things that inspire their art and which tell the stories of their lives.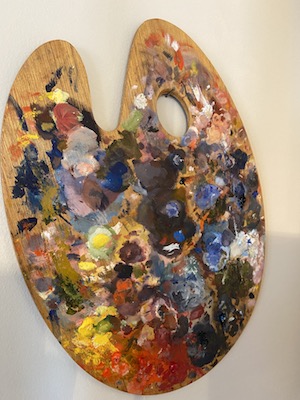 The items an artist chooses to display in a studio are the extra special things. They are the things with really great stories waiting to be told in artwork and to visitors alike!
I am very happy to introduce you to octogenarian painter (and my father-out-law),
Gary Mahan.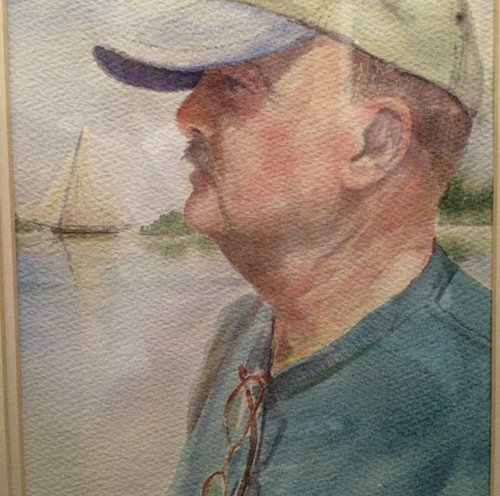 Self Portrait by Gary Mahan
Gary has been making art – from drawing and painting, to tattoos and architectural designs, to military maps and children's books! (He's even working on a new one now!)
He has the true eye and mind of an artist, which he continues to cultivate through supreme focus and observation of life around him, and expresses in his art. Gary really sees the world – and remembers it because he has an actual photographic memory!
"The more you look, the more you draw, the more your draw, the more you really learn look and see."
~Gary Mahan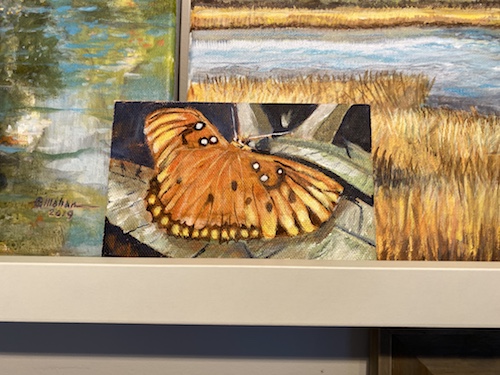 Growing up, Gary took art classes in school. But, he mostly taught himself how to paint by visiting the art museum and just painting and drawing a lot. The work of painter N.C. Wyeth and illustrators Frank Schoonover and Howard Pyle particularly influenced him. 
From his engaging (and sometimes mind blowing) stories about his life, I imagine him as a quiet and thoughtful child. This is a person who really knows not only how to see, but also how to listen and the drive to apply his observations into practice.
I think these qualities have fueled his artistic inspiration and cultivated his inherent talent.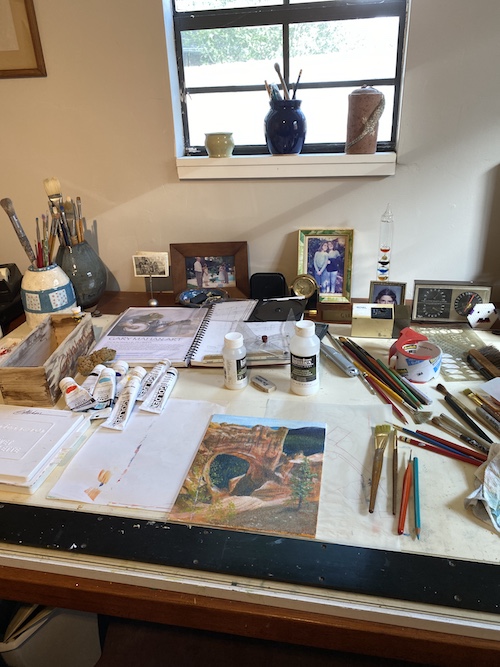 Gary's art making desk – which he of course built himself!
An avid and skilled builder and sailor, in his late teens, Gary joined the Marines and traveled the world on ships and submarines learning the skills of surveying and map making of foreign shorelines from his spectacular observations and memory, designing tattoos for his shipmates, and making new friends all along the way.
And that is just the beginning of his stories!
Back in the states
In his 20s, Gary traveled, sailed, and made (and sold) paintings he created along the way. He became an architect, his life long career. During this time he also started his journey as a father of 5.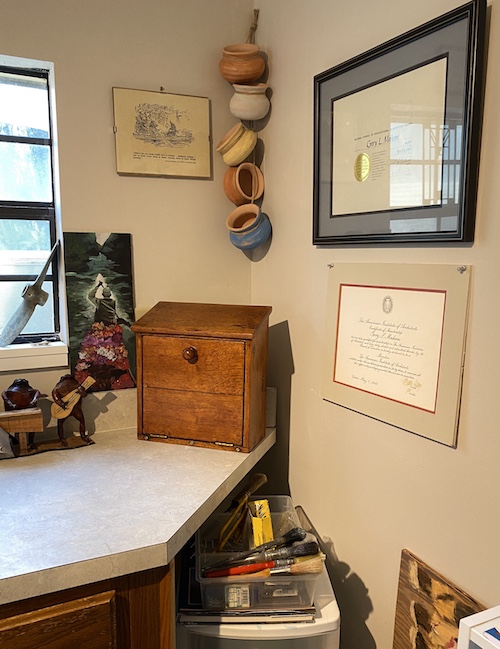 I am honored that one of my paintings even made it into the studio (the man in the flower boat), alongside some pottery and a painting made by his youngest daughter, his numerous professional accolades, a prop, and a binocular case from a historic Swedish Naval ship.
Over the years his adventures grew and included even sailing through a tropical storm in the 70s – before electronic GPS and all those high tech things! He has some fantastic stories from this adventure, let me tell you! Sailing into the port of Jacksonville, Florida, on a friend's boat a casual conversation on the dock lead to a job offer at an architectural firm, and Gary got the job!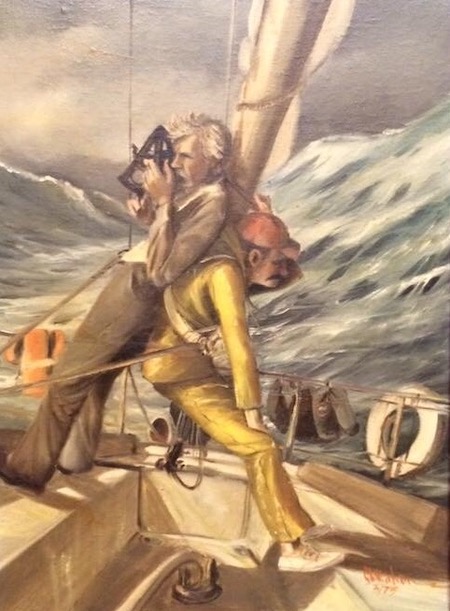 Gary painted the energetic impressions of  their storm journey from Cape May to Bermuda in watercolor. That's Gary in the yellow foul weather gear stabilizing his friend Jack to take a sextant reading as the sun peeks out of the storm. Can you imagine?! This painting really gifts us the feeling!
And so he and his wife moved off the sailboat and onto a houseboat, and he began his career as an architect in Florida.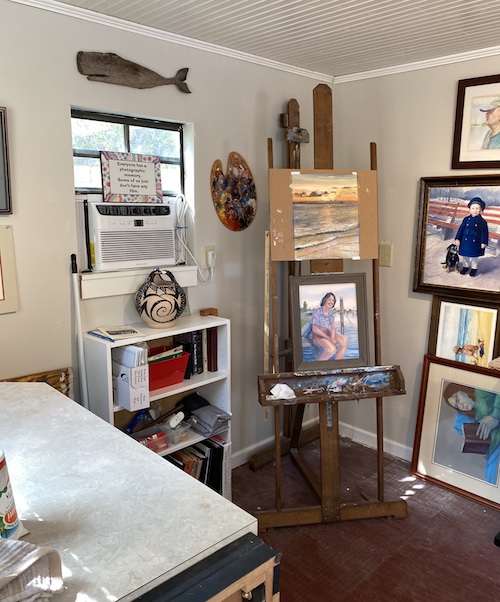 The painting easel with an oil portrait of his wife from their houseboat days. On the wall behind hangs his oil palette (seen close up above) and a wooden whale he carved.
One of his early jobs in Florida was as a technical illustrator for the launch and recovery systems for the first space shuttle down in Cape Canaveral – and one of his last before retiring was to help redesign that very launchpad for the new Space Ex shuttles! Pretty cool!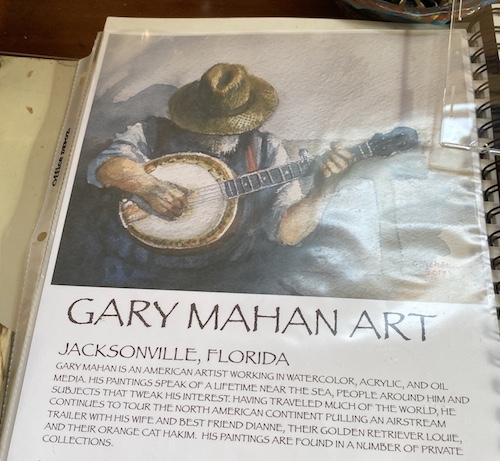 Born and raised in Delaware with an adult life spent Florida, but his roots are in the Shenandoah Mountains of Virginia.
For the love of art
Amidst all these interesting jobs and oceanic adventures, Gary has always continued to paint for himself, for fun, just for the love of painting his observations. I consider Gary to be a master of drawing, as well as watercolor and oil paint.
(And I haven't even mentioned how he can play any song by ear on any instrument he picks up! Baritone ukulele and piano are his favorite instruments to play.)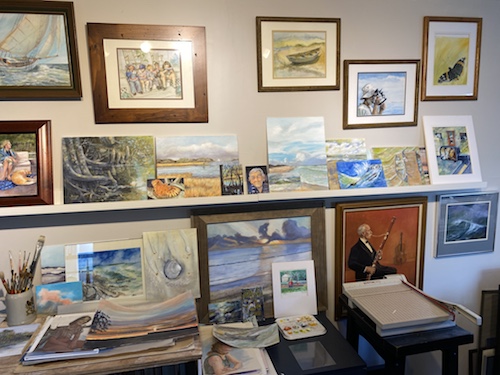 From boats to butterflies, Gary paints so much the painting start to pile up! He says most of these smaller ones are fun little studies.
These days, Gary paints almost everyday.
He is a perfect example of when I talk about practice. With uncountable hours clocked in for practicing his practice of art making, Gary isn't afraid to experiment and try new things, and that freedom has allowed him to master many mediums in art.
But he would never say he is a master.
He is on an ever curious journey of exploration. Since retiring just a few years ago, he has decided he should also get acrylic painting mastered too!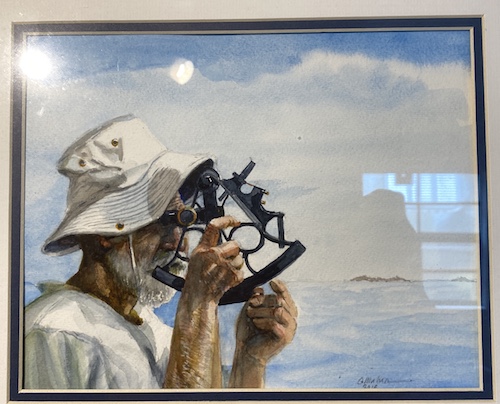 A watercolor portrait of his father-in-law Frank Gluckert – a scientist who worked with Einstein (!!) and also an avid sailor.
Gary's subject matter is equally landscapes and portraits. He sees the wonder in both people and place.
His lifetime spent around boats and on the water is evident in his many masterful painting of waterscapes. He seems to now inherently understand the ways that light reflects on and off water – and that is no easy feat to convey!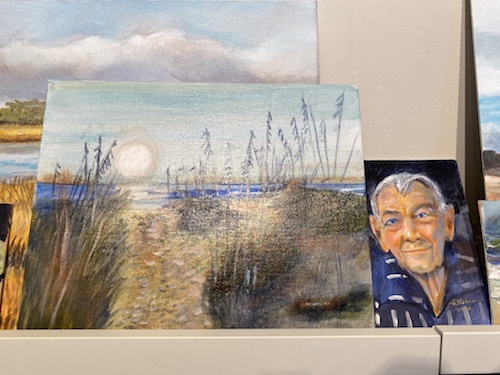 This one is painted from a photo I took of my beach access, and the cheery fellow is old time friend Göran Berg – former member of the Swedish Navy and the King of Swedens personal SCUBA diving instructor! (I told you – the stories abound!)
Speaking on his painting style, Gary says,
"I like to paint fast to keep the paper alive and to keep the acrylics from building up in the brushes."
This quickness gained from experience and practice allows Gary to convey the energy of his human and natural subjects.
Gary Considers himself to be an impressionist painter because even though he is highly capable of painting an exact replica of something, he prefers to paint his personal impressions of a scene or a person. He likes to combine the essences of his subjects to convey his impression of the person or place. It's his own personal form of visual storytelling.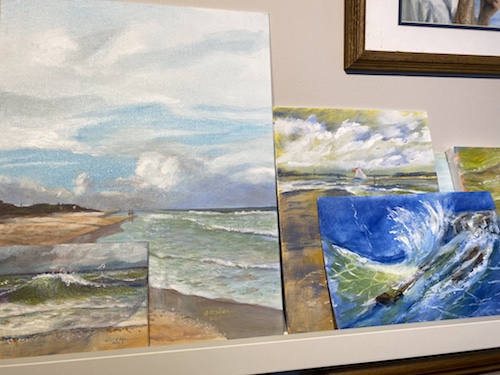 Seascape studies – stormy and serene.
Gary's waves look like they just might crash out of the painting and his portraits tease the viewer into wondering if they did hear a laugh coming from the painting.
It's a joie de vivre that Gary infuses into his paintings, and what gives them the ability to make the viewers smile. A wonder for life and art, held fast through smooth and rough seas, is what we can take from Gary to hang on our own studio walls as inspiration for our journeys through our art practices.
---
Whose studio would you like to visit one day?
Share in the comments below!
Share pictures of your studio or field painting set up on Instagram #wingswormsandwonder
---
Seeds to Sprout:
See more of Gary's art on Instagram @glmahan
Check out his etsy shop Gary Mahan Art on Etsy. (He hinted to me that he is going to have a studio sale soon…..)
Invest in your own art practice! Check out the Wings, Worms, and Wonder Nature Journaling school- the prices start at free!