---
With Spring in full swing, the flowers are bursting under our feet and over our heads! Creating pressed flowers is fun way to nature journal your spring flower adventures as you explore your natural world.
Pressing flowers is a really classic way to create memories of your nature experiences. A pressed flower is like mother nature's souvenir! Pressing is really easy on one hand, but on the other pressed flowers can easily end up being these drab bits of crumble. Never fear! I have a few tricks to help guide you to pressed flower success!
And pressing is just the beginning! This post is the first in a 3 week series on pressed flowers from how-to, to ideas on what to do with the flowers you press, that culminates in a super special occasion! (More on that below in the Seeds to Sprout!) YAY!
Let's get started!

Did you see this sneak peek last week on Instagram?
---
Preparing to Press
You can buy a flower press if you like, but really all you need is a book! If you don't want to chance staining any pages of the book you are going to use to press, place pieces of loose paper between the books pages. They will absorb the moisture and any color that may press out with the moisture as the flower dries.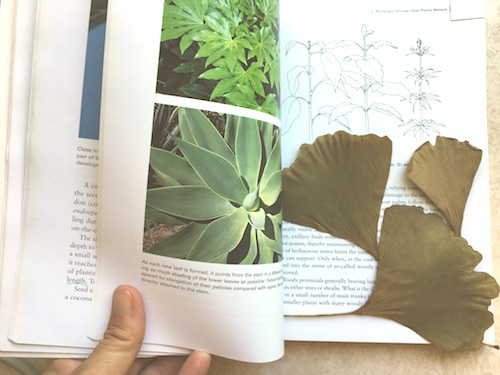 Flora is literally always falling out of my books.
When you go out on a flower collecting adventure, in your field bag bring: your nature journal, pencils & color pencils, your flower press or pressing book, and if you like a camera and small scissors for trimming leaves, stems, pistols, and stamen to your liking.

Oxalis flowers and leaves make great presses.
Collecting Flowers to Press
First and foremost, when collecting, be sure you aren't collecting poisonous plants – pressed poison ivy leaves are NO FUN!!
Second, learn which wildflowers in your area are endangered so you can avoid picking those. Endangered flowers need to go to seed. Instead, take pictures of the endangered flowers and draw them in your nature art journals.
Wet flowers & leaves = an ensured pressing failure.
Flower pressing collecting isn't an early morning activity. Collect flowers for pressing once the morning dew has dried. The wetter the flower, the more chance there is for mold to grow during the pressing process, and mold will ruin your pressing attempt. Also, drier flowers preserve their petal color best.
Collect flowers at their peak bloom, or just before, for best color. The better shape they are in when picked, they better they will look pressed.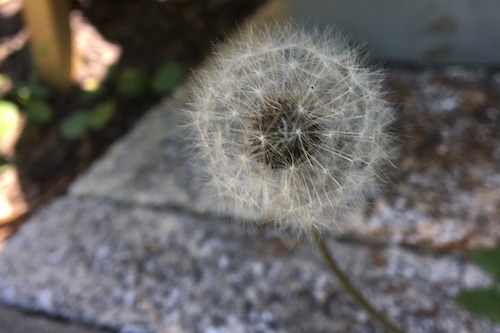 Pick buds and leaves at different stages of development if you like the aesthetic look or they have features that are interesting to you. You don't have to only press flowers in full bloom.
You can also collect leaves or any other bits of flat nature that will press like some seeds, small feathers, and insect wings. Follow what sparks your wonder!

Pressing the Flowers
Flowers with flatter petal layers are easiest to press because they are thin and have less moisture. Think cosmos, violas, & bougainvillea.
But this doesn't mean you can't press thicker flowers, like roses for example. You will just have to change the papers the thicker flowers are pressing between to prevent moisture build up from all the petals and use heavier books or presses with more pressing power.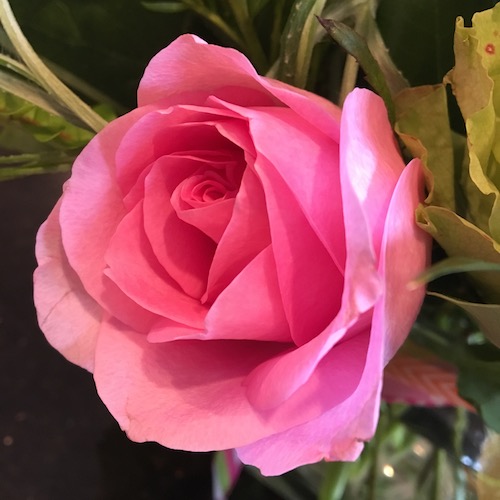 This rose would make a VERY thick press. Removing petals or thinning it down would help the success of the press.
It also helps if you remove the pistols and stamen from thicker flowers to make them thiner for pressing. You can press and dry these separately if you want to create a botanical pressed collage later.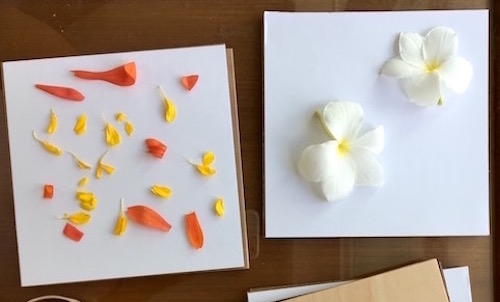 Or, and this is what I prefer to do, simply press a few individual petals from thicker flowers instead of the whole flower.
Depending on the look you want for a pressed flower, you may want to remove the stems or leaves if you want a flat bloom, or leave them for a more profile look.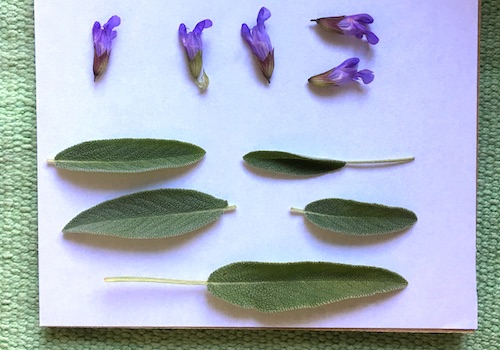 Pressing aromatic herbs is really nice because most retain some fragrance even after many years! I have a pressed lavender sprig that still smells after 20 years!
When placing your flowers to be pressed into a press or between the pages of a book, space them out and try to avoid overlapping for best drying results.
The quicker you can get the flowers pressing after picking the better their color with retain. As soon as you pick the flower, press it. You can always rearrange the flowers later if need be. Just try to get them pressing asap before they begin to wilt.

Let the Pressing Begin!
Once your flowers are arranged within the pages of a book or press and are pressing, leave them for about a week. After this time you can check them and see if they are dry and ready or if they need more time. This time frame should be fine for thin flowers or petals and smaller leaves.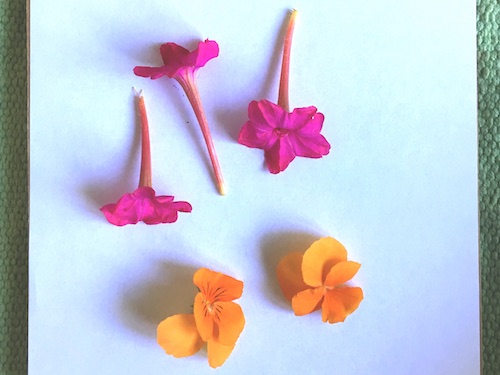 Thicker flowers and leaves will need more time. Some can take up to 3 weeks to press properly depending on the thickness, size, and moisture content.
For thicker flora you may also need to swamp out the pressing papers or switch pages if you are using a book only so moisture doesn't build up. Moisture is the enemy of flower pressing.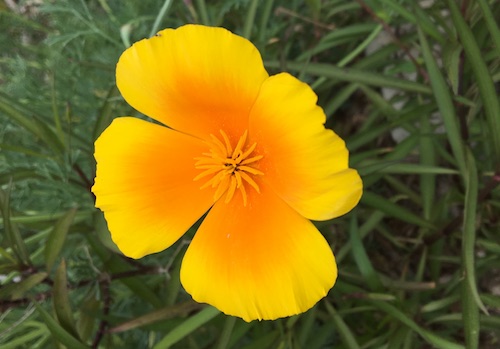 Okay! That should set you up for flower gathering and pressing success!
Be sure to tune in next week for nature art journaling and project ideas to incorporate all your pressed flowers!
What is your favorite flower? Have you ever tried pressing it before? Share your experiences in the comments below!
Share pics of your favorite pressed flowers in Instagram #wingswormsandwonder
Seeds to Sprout:
Did you hear the news on social media last week? My new book Pressed: An Herbarium Inspired Art Journal released May 30!!!  I am really excited about this new book and all the creative nature connecting fun that it will inspire! Click here to check out the release giveaway!
Tired of flowers and leaves falling out of your books all the time and interested in getting a flower press? Check out this blog post I wrote about my favorite flower press and why (sorry the giveaway for it is over, but the info and links are still good)! And this practical affordable (and handmade by one of our Wings, Worms, and Wonder community members) press will soon be available in 8×10 size too!
Wondering if you should start a nature journaling practice, with pressed flowers or not? Check out this post Why Nature Journal? and learn a little more about the ways that nature art journaling can spark your wonder, creativity, and help you relax!