---
It's time to play! Last week we talked about tips for the actual pressing of flowers. This week we explore 5 ideas for playing with the flowers once you press them. Let's jump in!

Fix Flowers Into Your Nature Journal or Herbarium.
This classic use is always my favorite, but I am a paper lover through and through! Simply glue or tape pressed flowers into your journals. This is a great way to adorn journal entries or do a little nature study botanical style sketch from your pressed flower.
It's fun and if you're like me, the pressed flower in the journal will bring a smile to your face and rekindle a nature memory for years to come. If it's a travel journal into which you're attaching exotic finds, be sure to document where you picked the flower and a little anecdote about the experience.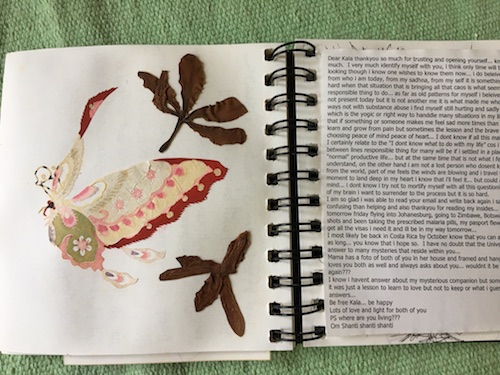 These frangipani flowers are in an old journal from 1999 when I lived in Key West with a letter from an old friend that I used to live at an ashram with. I didn't know much about color preservation back then, but I still like to see them and think back to those old days.
Make a Pressed Flower Arrangement
This is a crafty vintage inspired use for your pressed flowers.
Arrange your pressed flowers into a bouquet, wreath style, or even pattern style arrangement on nice paper or fabric. If the flowers don't have stems, and you're attaching them to paper, draw in your own stems if you like.
If you make a wreath style arrangement on paper, consider designing the flowers around a hand lettered quote (made by you or printed out from Pinterest or the like).
Once you are happy with your arrangement, glue the flowers down to the paper or fabric using the appropriate glue for the backing. I live clear glue or rice glue best, personally.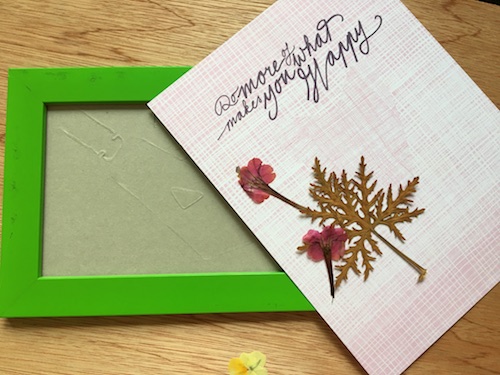 Spruce up this frame and you have a really  nice little nature inspired piece of art! You could even decoupage pressed flowers onto the frame!
You can even go to thrift stores or vintage stores and find small frames, update them with spray paint to match your flowers or a crisp white. I think circular or oval frames look especially nice for this. Sometimes you can even score a frame with convex glass.
If you choose, frame the arrangement and hang it on your wall, or give it as a gift! If you collected the flowers on a nice hike or on a trip, this makes an especially thoughtful gift for your nature adventure companion.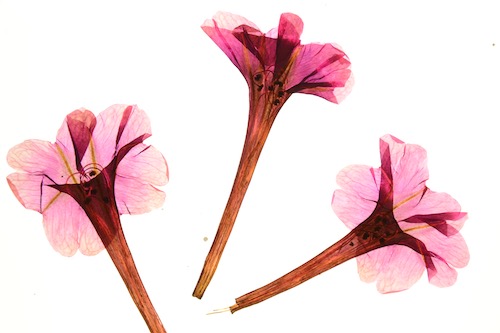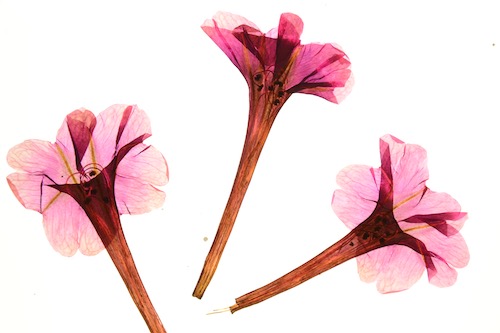 The electric afternoon glow of 4 o'clocks is so pretty pressed!
Playing with Resin Casting
To be honest, technically this isn't my area of expertise, but it's quite popular lately and I think looks really cool. Cast your flowers into resin and then make jewelry or charms or whatever you like from them.
I'd love to take a workshop to learn how to do this, but there are also plenty tutorials online. Search: resin casted jewelry how to.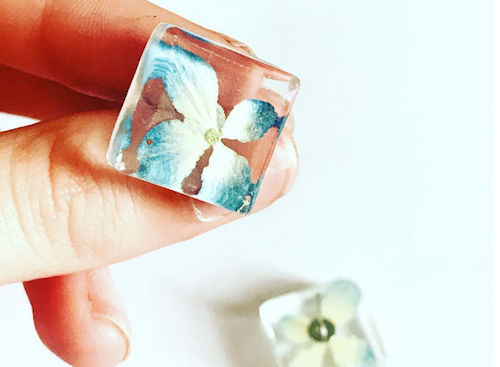 I got this resin casted hydrangea earring pic from @lonelypinejewelry 's feed on Instagram. 
Make a Handmade Book
This is one of my favorite things to make with pressed flowers for gifts. A simple accordion bound book filled with flowers you collected with a special person or place in mind is a really wonderful travel souvenir from adventures near and far!

Hint Hint – we may or may not be doing this project for Wonder Wednesday this month:)
Nature Couture
If you press tiny flowers, you can put them on your fingernails! Simply put a layer of non-toxic vegan nail polish on your finger or toe nail(s) any color, but I like clear glitter best personally, then place the flower, then add a layer of clear nail polish over top! Making nature couture!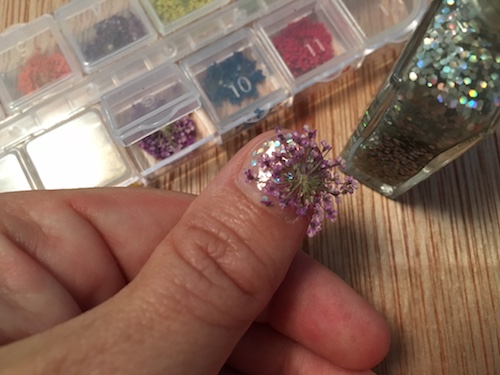 Sparkly nature fun right? If the flower is a bit big, as this one is, simply trim off the extra parts of the flower to make it fit your nail. 
And these 5 ideas are just the beginning! You could make: candle holders, coasters, sun catchers, phone case decorations, holiday ornaments, mobiles, sun print cyanotypes, decoupage everything with them, and more. The possibilities are as  endless as your imagination!
I hope these 5 uses for pressed flowers got your ideas sprouting!
I can't wait to see what you make!
Next week, to celebrate all your pressed flower fun and the release of my brand new book Pressed: An Herbarium Inspired Art Journal we're having a giveaway! See you on Instagram and see you back here next week for the details to win a copy of the new book!
How will you use your pressed flowers first?
Share in the comments below!
Share pics of your pressed flower creations on Instagram #wingswormsandwonder 
Seeds to Sprout:
My new book Pressed: An Herbarium Inspired Art Journal is released May 30!!!   How do you like the cover? I am really excited about this new book and all the creative nature connecting fun that it will inspire! click here for more peeks at the book and the release giveaway info!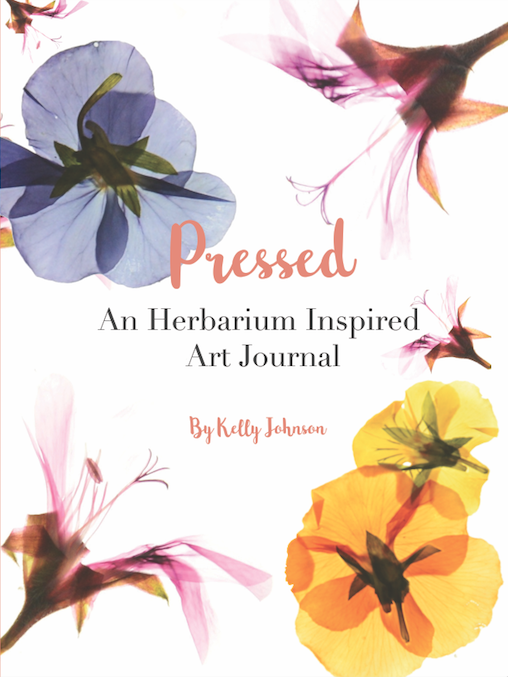 How do you like the full cover? Let me know in the comments:)
Tired of flowers and leaves falling out of your books all the time and interested in getting a flower press? Check out this blog post I wrote about my favorite flower press and why (sorry the giveaway for the press is over, but the info and links are still good)! And this practical affordable (and handmade by one of our Wings, Worms, and Wonder community members) press will soon be available in 8×10 size too!
Here's one more really fun resin cased flower I saw on Instagram created by @lifischka I like how this is simply the flower casted. It could be such a nice trinket for a child.