---
Happy Wonder Wednesday 56!
Since this month is National Poetry Month, we're going to have a little fun with found poetry!
Found poems:
"take existing texts and refashion them, reorder them, and present them as poems. The literary equivalent of a collage, found poetry is often made from newspaper articles, street signs, graffiti, speeches, letters, or even other poems."
~poets.org
We will, of course, modify the idea to make it our own (because that's what I do), and give our found poems a nature spin. These poems get the writer outside to find poetic inspiration in our wonder filled natural world. Found poems are fun because they take the pressure off the writer to come up with the words, and instead let them compile and collage words the way a visual artist would.
---
Your poems can be created:
very

visually

 by actually compiling the words based on the way they look;
in a more 

auditory way

by compiling them based on the way they sound, like alliteration for example (this is a great version to do orally with a group);
or by simply

patching together words and phrases

 based on your observations and prior readings or knowledge of inspiring quotes.
I printed quotes I like, highlighted the portions I wanted to use, and then laid out the quotes with my nature observation words to craft the poem.

"I don't go get a poem. It calls me and I accept it." 
~Lucille Clifton
In the spirit of this Lucille Clifton quote, to get you hearing the call of nature's whispers, I created a pdf for you to use to write inspiring nature observation words, then cut, and collage the nature words from your observations into a poem. – Which you may or may not accept. If not, try a different combo or order of words.
Remember those poetry fridge magnets of individual words that you link together? If you cut them up, you can use the pdf like those.  Once you create your found poem, be sure to write it in your nature art journal and decorate it if you like. I hope you have fun with this nature inspired poetic collage!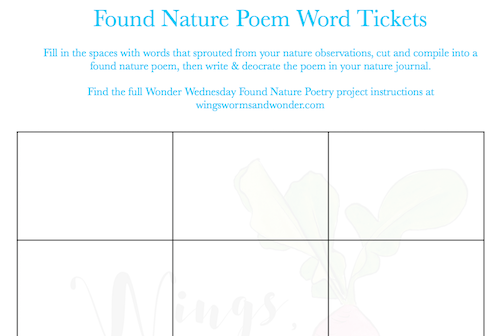 ---
Wonder Wednesday 56: Found Nature Poems
Materials
Nature
Nature art journal or other paper
Pens and/or pencils
Optional:
Found Nature Poem pdf (see the sneak peak in the picture above)
Scissors
Books of nature writing or nature inspired quotes
Highlighter
Art supplies to decorate your poem
Preparation
Print out the Found Nature Poem pdf.  Click here: wings-worms-and-wonder-found-nature-poem-funsheet-pdf
Gather any quoted sentences or phrases you like from nature writers or wonder sparking sources. I like nature writing by Rachel Carson, Beatrix Potter, Anna Botsford Comstock, and many children's book authors and poets like Lucille Clifton. Chose the writer/s you like best from historical classic nature writers like Aldo Leopold to modern deep ecologists to philosophers. Anything goes!
So, find any words you like from any time in history, write the quotes on paper, print them out and cut them up, or compile them in any way that works for you. It's believed that this idea of a literary collage has its roots in the pop art movement, so this is art – anything goes!
As you gather your observation words and passages, and then create your found poems, I encourage you to keep the quote below in the back of your mind. Just like when creatively connecting with nature,
"Poems come out of wonder, not out of knowing."
~Lucille Clifton
Procedure
Go out for a nature walk and compile a list of words based on the observations you make on your walk.
Write these observation words into your pdf, on a piece of paper, or in your nature art journal
Cut the words up into little word tickets. If you are using material from nature writers,
Compile the words and any quoted phrases into a short poem, adding in any words needed to make sentences and improve flow. And placing quotes around the quoted material – not just for academic reasons to give a nod to the original author, unless you are doing this with students, but it also looks nice visually in the written poem I think.
Write your poems into your nature art journals and visually decorate them. You could even create a visual collage to accent the  literary collage you crafted!
Here's my poem.I wrote it in the April section of my 12 Month Art & Nature journal. I admit, I had some great help with the observation words, title, and decorations from my 5 & 7 year old friends! It turned out to be quite a nice unexpected collaboration!
What is your favorite quote by a nature writer that we could use in our found nature poems? Share in the comments below!
Share pics of your decorated poems on Instagram #wingswormsandwonder
Seeds to Sprout:
Learn more about the found poem style of poetry here.
Want more poetry ideas? Check out this blog post on shape poems. How do you like this shape poem of Lucille Clifton? Pretty cool, right?! (photo credit)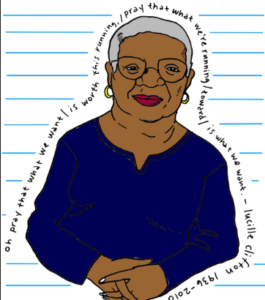 To celebrate reaching 1000 followers on Instagram, I'm having a giveaway! 1. Head to @wingswormsandwonder on Instagram. 2. Then, follow me and look for the graphic above to get the details and play along! Winner is announced Friday 4/28/17! Get your IG comments in before midnight 4/27/17. Good luck!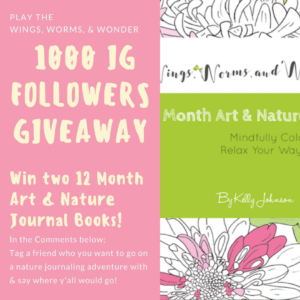 Find Wings, Worms, and Wonder at the @MakeryJax Maker's Market April 29, 2017! I'll have a table with all these fun creative nature connection items and am debuting my new watercolor cards and paintings! I'll also be teaching a kids nature journaling workshop from 2:30- 3:15. Get the details here!