---
April is National Poetry Month, so how is your month shaping up so far? Has anyone written any poems or made any poetic observations of their natural world yet? If not, no worries! There is still plenty of time and this post will help get you started!
Today we're taking a look at shape poems! Shape poems are a fun and inviting way to approach poetry, in the nature journal, or in life in general. I talk about this style in my book Wings, Worms, and Wonder, but today we are actually going to make some here on the blog!
The basis of a shape poem is just like is seems.
1. You choose a subject that inspires you, say a leaf,
2. craft a poem describing the leaf you picture in your mind,
3. then lightly sketch the shape of that leaf on your paper (lined or unlined) in a size that corresponds to the length of your poem, and
4. finally write the poem within the shape.
Then if you like, you can add color or other decorative features to the image.
---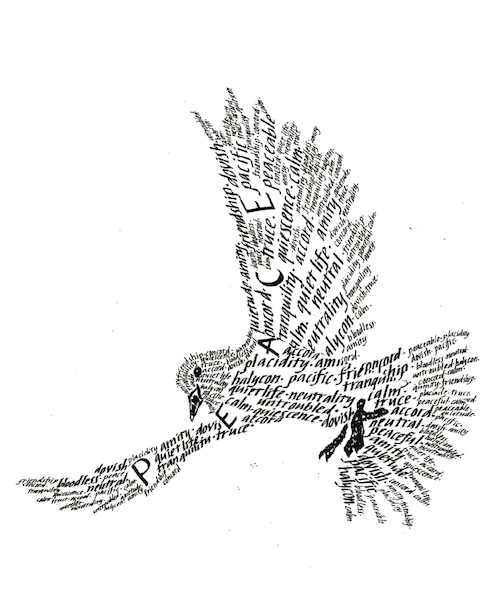 I'm not sure the author of this one, but it's really interesting how they use the writing of the words to make the texture of the feathers. And the words appear to be a basic list too. (photo credit: Pinterest.)
Easy right? Well, easy except for that part about actually writing the poem maybe? I hear you. As much as I have embraced poetry over the years, I have to admit it still intimidates me a bit. Poetry's so smart and radical or literary and fancy, right?
Well, sure it can be those things – or it can be as simple as a list of words on a topic. That's my favorite kind of poem actually. I even wrote one with my gardening students last Saturday!
Really at the end of the day, a poem can be whatever you want it to be – any shape, size, style, noun, verb, adjective – think of it simply as a way to paint a picture with words.
---
Give this shape poem activity a try in your nature art journals, with your children or students, or even with your grandma! Try simple shapes first and then, if you like the process, go complex!
Here's mine: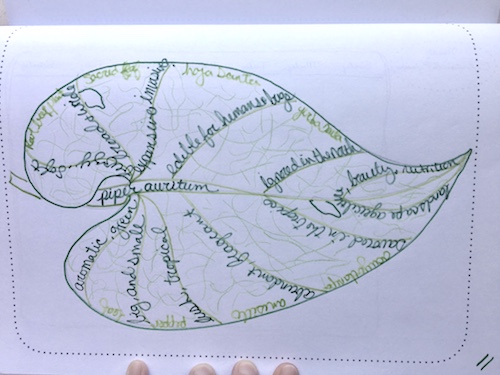 This is the root beer plant (Piper auritum). It's exuberantly taking over a section of my backyard. The poem is comprised of a list of the words that came to mind as I observed the plant and leaf. In light green around the edges I wrote the common names and in dark green on the main vein the Latin name. And it's drawn in my 12 Month Art & Nature Journal.
See, I just drew a simple shape and wrote a list of words – not fancy, but a fun and interesting exercise just for me.
Shape poems like this one can even be a nice little warm up when you feel some creative blocks because they are pressure free – anyone can make a list about nature when they take a minute to slow down and tap into their senses.
What nature shape will spark your poetic wonder? 
Share in the comments below!
Share pics of your completed shape poems on Instagram #wingswormsandwonder
Seeds to Sprout
On facebook of all places, I discovered this poem about the environment and our roles within the greater web. I don't know the name of this author/reader, but his work falls into the smart radical style of poems for me. The title is a little misleading, as the spoken word style poem is  less competition and very Earth Day meets Carl Sagan meets the Montessori timeline of life-ish. I think adolescents would really resonate with this poem.
This poem by Robert Frost is the classic nature poem that fits into my category of literary and fancy. I just learned last week that my mom really loves this poem 
Stopping By Woods On A Snowy Evening
Whose woods these are I think I know.
His house is in the village though;
He will not see me stopping here
To watch his woods fill up with snow.
My little horse must think it queer
To stop without a farmhouse near
Between the woods and frozen lake
The darkest evening of the year.
He gives his harness bells a shake
To ask if there is some mistake.
The only other sound's the sweep
Of easy wind and downy flake.
The woods are lovely, dark and deep,
But I have promises to keep,
And miles to go before I sleep,
And miles to go before I sleep
Here's a resource on writing shape poems with young writers. This site also offers examples of lots of styles of poetry to and how to write them.
---
Get your own copy of the 12 Month Art & Nature Journal to draw and write your creative nature connections within here!