---
Did you know this Saturday is Earth Day? They say "Earth Day everyday," which is kinda cliche and empty, but at the essence true. So how can we highlight special ways to create earth celebrations in your everyday life? Today I offer you an idea for honoring some of Mother Earth's largest children, the trees! Let's have a tree ceremony!
This is our Earth Day tradition at the Children's Garden. Ceremony as a practice can be both grounding and uplifting. A tree ceremony doesn't have to be a big deal with lots of fanfare – or it can be of course if that's how you like to celebrate!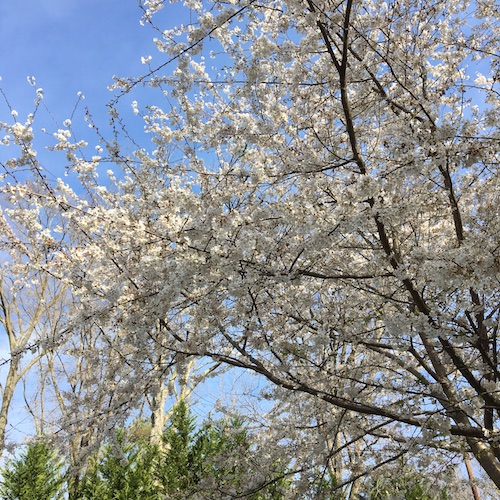 The word ceremony comes from Old French ceremonie or Latin caerimonia 'religious worship,' (plural) 'ritual observances.' 
Often, ceremonies are thought of to be religious in nature, but there is no need to bring organized religion into it, unless that resonates with you. Humans seek ceremony to add meaning to events and passages of time. Ceremony can connect a group of people together holistically and ground an intention while raising spirits.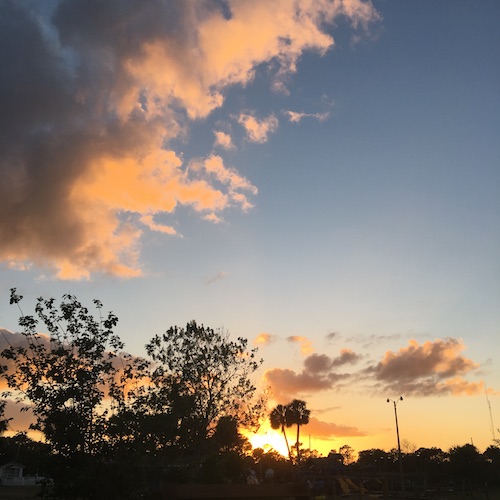 Bringing a little ceremony into life is a great way to slow down, add intention to everyday tasks. Think of ceremony as adding a little extra mindfulness to the everyday – you could prepare dinner with ceremony if you consciously acknowledge the process and presentation of the meal as you prepare it.
A ceremony celebrating a tree you pass by regularly brings you in present moment connection with your everyday natural world – your nearby nature. It brings mindfulness to your walk from the car or train back to your home. A ceremony can be silent and individual or vocal with a group, whatever feels right to you.
---
 
Why Trees?
Because they are magestic and old? Sure. But also because it's easy to forget in the day to day that trees are crucial for providing us oxygen, as well as they selflessly offer us shade, fruit, medicine, wood resources, and a play space to climb and relax. Trees give to us and ask for nothing in return. So why not acknowledge these gifts and whispers from the trees with a little creative connection!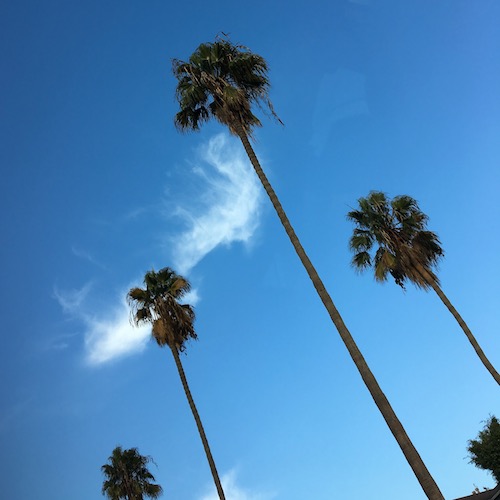 Once you honor a tree in a little tree ceremony, that tree moves to the foreground of your life everyday, reminding you daily of your connection to nature and inevitably bringing a smile to your face.
But why celebrate a tree through a full on ceremony? Creating a little ceremony of your own adds deeper intention to your connection and role in the web of life rather than simply hugging a tree and giving it a quick passing thanks.
---

Create your own Tree Ceremony
Creating your tree ceremony is, of course, highly individual. So below I offer you a few ideas to get you started. Depending on how you choose to conduct your ceremony, you can prep all week or you can prep an hour before.
Don't worry about the ceremonial fanfare, stay true to what feels authentic to you and your relationship with the particular tree. What that matters most are the intentions you bring to the process and the connections you make with nature.

Decide if you will do the ceremony alone or with a group.
This decision will affect how you conduct and choose the day you will do your ceremony.
Then, find and decide on a tree you, or the group, especially likes or connects with. It can be in your yard, school yard, or public park – basically any tree you like that you see regularly and to which you have legal access.
Consider how on the day of the ceremony you will approach the tree. Will you quietly walk up alone or with some friends (adult or children) or will you have a full on parade?

Decide what will be offered to the tree in thanks.
Offerings can be as basic as a pitcher of water, plant food, or an adornment like a garland or cloth ribbons. You could offer a song, a poem, or some words of thanks that you create specifically about your tree.
Each person could offer something different if they like, or if you are creating ribbons, garlands, or hanging medallions, the ceremony participants can work on these together. Here are a few ideas for offerings and considerations on how you could prepare the offerings:
Water and food –
Create a beautiful way to serve the tree the water and food. Like from decorated pitchers and bowls like you would offer human guests at a party. Preparing the water and food in this way adds intention to the offering.
Song, poem, or written words – 
Choose words that are meaningful to you. You can offer words in your mind if singing or talking to a tree in public seems a little too woo woo.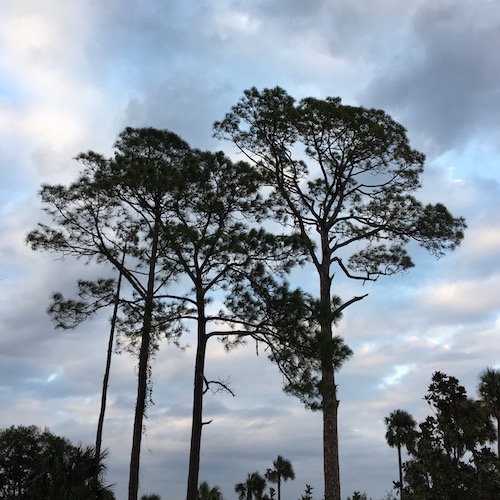 Adornments – 
If using cloth ribbons, you can write things you are thankful for specific to that tree on the ribbon and then at the ceremony tie the ribbons around the tree or branches loosely.
To create a medallion, you can cut circles out of paper and write or draw pictures about the tree on them. Then tie string and hang them from the tree's branches like ornaments.
Garlands can be made from things like popcorn to feed birds or they can be made from leaves and flowers
(Remember to remove all adornments after a week or two so they don't become litter or harm wildlife in the case of strings on garlands.)

Plan what you will do after the offerings and ceremony.
Will you stay and have a picnic under the tree? Or maybe everyone climbs up into the branches? You could take a bit of time to nature journal about this tree, drawing it and writing about how the ceremony made you feel about the tree and connecting with nature.
Perhaps you simply make a silent invisible offering and ceremony and quietly walk away knowing you and this tree are now connected in a deeper way.

On the Ceremony Day
Approach the tree in the way you decide – quietly, in a parade, or any other way you, and or the group, choose. Have your offerings in tow and prepared.
When you arrive at the tree. Take a few moments in silence to take 3 deep breaths to ground yourself or the group in the moment and space.
Offer all the things you created to the tree. Offering them with thanks, intention, mindfulness, and ceremony. Keep in mind this doesn't mean solemn, unless you want it to. Offerings are made with joy and fun!
Then, have your picnic, or journal session, or simply go on about your day reminded that you and nature are deeply connected in this wonder filled web of life!

What ways would you choose to create your tree ceremony?
Share in the comments below!
Share pictures of your tree on Instagram #wingswormsandwonder !
Seeds to Sprout:
If you know the species of tree you are celebrating, you could learn about the symbolism of it. Many cultures offer ancient tree symbolism. Learn about some trees here. 
You could also create your ceremony around planting a tree. There are many traditional ideas on this for births, deaths, and marriages. When creating a tree planting ceremony, be sure to research the tree you want to plant. Know if you have enough space for it's growth pattern and understand its soil, light, and feeding requirements before planting. If you are creating a ceremony around a new tree, you want it to live so you can celebrate with it each year!
Blog reader Heads up: Next week I'm having a giveaway on IG to celebrate reaching 1000 followers! I'll be giving away 2 copies of my 12 Month Art & Nature Journal to someone and their friend. Be sure to follow me on Instagram @wingswormsandwonder to enter! Instagram is the social media platform where I am most active by far, and I'd love to be in community with you over there!