---
Happy Wonder Wednesday #55! Since it's now officially spring, I thought you might like to make a new simple journal style so you can make a little book of spring blooms, leaves, or whatever you like!
This accordion style is simple to make and doesn't even require measuring if you use paper in a size divisible by 12!  Depending on the type of paper you use, and if you tie it closed with a ribbon, it can be quite a classy little journal! I hope you have fun with this & I can't wait to see how you make and fill your accordion pocket journals!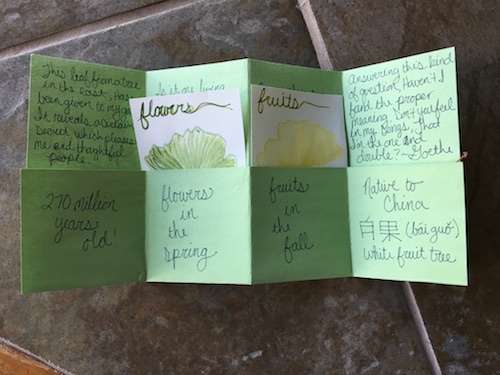 This is what my accordion pocket journal looks like when you first open up the cover.
You could even fill your accordion pockets with drawings from the new Wings, Worms, and Wonder free spring flower sketching video tutorials on YouTube! Check them out through the link below! I chose to feature gingko leaves in this journal, even though they aren't in season at the moment, because I found some pressed in a book I am reading.
One quick reminder before we begin, the spring 50% off sale on the Draw + Draw Deeper course bundle and the Herb + Veggie Workshop bundle ends in 2 days! Kickstart your spring 2 for 1 nature art journaling fun!
---
Wonder Wednesday #55: Accordion Pocket Journals
Materials per book:
9×12 inch Construction paper (or colored art paper)

Ruler

Pencil

Four 3×5 inch index cards for each journal (or you can cut drawing paper to that size)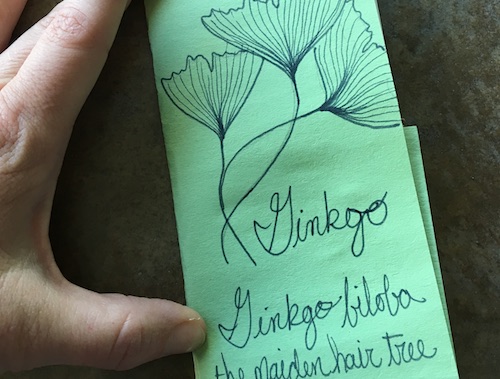 I decorated my cover with gingko leaf drawings 2 common names, and the botanical name. 
Assembly:
Place the paper vertically (portrait layout) in flat front of you

Fold the paper in half

Then fold the bottom and top edges inward toward the center fold

Crease the folds

Open up the folds and the paper should be folded into fourths (this is about 2 7/8 inches per quarter section

The center fold should be up like a mountain and the 2 outer folds should be valley folds (or folded the opposite direction)

Open the paper up flat and place it horizontally (landscape layout) in front of you

Fold the paper bottom edge up 1/3 (this is 3 inches). This is your pocket.

Now, refold your accordion folds so you have a little booklet. The pocket should be on the bottom when you open up the book. If it isn't, flip the book 180.

Voila! You have an accordion pocket journal!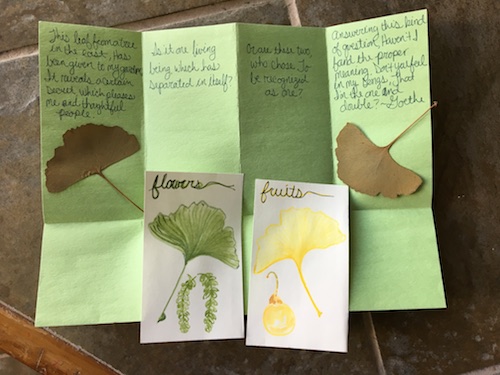 I filled my journal with little paintings, pressed dry leaves, a few facts on the outside of each pocket and the poem Gingko Biloba by Goethe on the back, with the middle stanzas hidden behind the paintings until you remove them. (The poem is below in Seeds to Sprout.)
Fill the book:
Create themed nature drawings, writings, descriptions, and or nature collages on the index cards. You can even write and draw on both sides of the index cards because they are pulled out of the pockets to look at.

Decorate the journal cover and tie a ribbon or twine around it to dress it up if you like

If you like, even write subtitles, names of the features, or a short bit of info on the pocket sections

Slide the index cards into the pockets of each folded section in sequence. You can also slide in actual leaves, flowers, or other bits of flat nature.
* You can also make these journals ahead of time and then fill them out in the field because they are so easy to transport in a pocket or small bag!
What nature will you fill your Accordion Pocket Journal with? Share in the comments below!
Share Pics of your completed Accordion Pocket Journals on Instagram #wingswormsandwonder !
Seeds to Sprout:
Only 2 more days to take advantage of the 50% off nature art journaling spring bundle sale! Click here and get 2 classes for the price of 1 or get 4 for the price of 2!! Use the code spring2017 at checkout!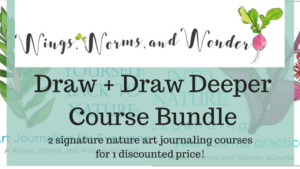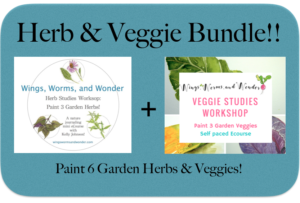 Check out the Wings, Worms, and Wonder YouTube channel for the new Spring Flower Sketching  video tutorial series! Draw tulips, camellias, and pansies!
Gingko Biloba by Goethe:
This leaf from a tree in the East,
Has been given to my garden.
It reveals a certain secret,
Which pleases me and thoughtful people.
Is it one living being,
Which has separated in itself?
Or are these two, who chose
To be recognized as one?
Answering this kind of question,
Haven't I found the proper meaning,
Don't you feel in my songs,
That I'm one and double?