---
Did you check out yesterday's post for 7 ways to celebrate the Winter Solstice? Well, today's Wonder Wednesday 64 activity completes the Solstice Adventure series!  This month we head out into the trees to make evergreen tea!
I love all kinds of tea as much as I love chocolate, so I am especially excited about this activity! Evergreen tea is a historic drink, enjoyed by humans for wellness and enjoyment for 1000s of years.
Evergreen needles are very high in vitamin C, making this the perfect tea for the winter cold season as well – nature always provides when we learn to speak her language!
Once you brew your tea
Try this symbolic ritual to spark wonder with creativity and appreciation of nature gifts, while sipping your forest tea of course!
By candle light write or draw your wishes for the new year and or things you want to release from the old year on little slips of paper.
Then, either indoors over candle (with a bowl of water nearby sitting on a flame resistant surface), in a fireplace, wood stove, or outside over a campfire, release your slips of paper into the fire.
Let the light brighten and burn your wishes, igniting them to fruition with the symbol of the sun and then releasing them into the night through the symbol of the smoke.
This is a very warming and visual way to create and release intentions through the symbols of dark and light on this longest night of the year. Not to mention it's fun!
But before you do that, let's make some evergreen tea!
---
Wonder Wednesday #64:
Evergreen Solstice Tea
Materials:
Heat – a stove top, camping stove, wood burning stove, anything you can boil water on
A pot – to boil water
Mugs, cups, and/or a teapot
A tea strainer or tea ball
A knife and chopping board
A big handful of fresh picked, bright green, evergreen tree needle tips – pine, fir, or spruce. The young needles have the brightest flavor.
A basket or little sac to collect needles
Optional:
A little pocket knife or scissors to take with you for harvesting needles, sweetener of your choice
*** Disclaimer, because you know…. When ever wild harvesting, always make sure you can 100% ID the tree or plant before harvesting and ingesting. If you are pregnant, and want to be, hold off on this activity until a later time as some evergreens can be abortifacients when ingested.***
Procedure
Needle Collection
Go out for a wonder filled winter nature observation walk in a place where you know there are evergreen trees growing. Ideally a wilder place where you know the trees won't be sprayed with chemicals or anything like that.
Smell the smells, see the silhouettes of the the trees against the sky, watch for wildlife enjoying the trees' branches. Try to engage all your senses.
As you walk through the trees, put out a request to them – any trees willing to offer up some needles for my solstice tea? Yeah I know this seems woo-woo, but it really can help you with mental focus, intention, and connection. You don't have to ask them out loud, just take a deep breath and ask in your mind. If doing this with children, have them ask out loud.
As you walk on, sensory connecting, keep your awareness out for a tree or trees that you feel connections with and that are offering up some needles.
As you go to harvest up some needles, try to only take the young needles at the tips, and not damage any bark or branch tips as you harvest. These protect the tree all winer, so we want to be mindful of respect for the plants. Use your knife or scissors or carefully pinch the needles with your hands.
After you harvest, thank the tree for the offering. I know, woo-woo, but it keeps intention – and we are celebrating nature with this activity after all!
Tea Making
Once you return to your home, school, or camp, it's time to prepare the needles! Rinse off the needles and remove any of the little brown papery bit at the end. Botanists call this little bit the fascicle sheath, why not use the real terms right? I know all you Montessorians are with me on this!
Chop the needles into pieces about 1/4- 1/2 inch pieces. The needles are actually called needles in botany and are the thin leaves of the tree.
Bring your water to a light boil – just so tiny bubbles start to release from the bottom of the pot. This temperature will allow the needles to release their fresh lemony flavor without bitterness. If you like bitter and more astringent flavors and want to try a stronger tea, bring it to a strong boil. I like both personally
Place the chopped needles in the tea strainer or tea ball. Fill it up with chopped needles. Place this in your mug and pour the water over top. Let steep for 10 minutes.
If you don't have a tea strainer or ball, simply put the needles in the bottom of a cup, pour the hot water overtop, and wait for the needles to settle to the bottom before drinking. Or you can pour it to a different mug through a big strainer.
Once your tea is cool enough to drink, add sweetener to taste if you like, and enjoy!
Beyond
Perhaps you'd like to draw some of the things you observed and document the tea making process in your nature journal.
Do the Solstice intentions symbolism activity above while enjoying your tea by candle light.
Do you live in a place where many types of evergreen trees grow? Which one makes your favorite tasting tea?
Share in the comments below!
(I've had fir and pine, and while I love both, fir is my absolute favorite! I want to try spruce though!)
Share pics of your evergreen solstice tea making on Instagram #wingswormsandwonder 
Seeds to Sprout:
There's still a few days left to order nature inspired gifts and ensure holiday delivery! & there is so much awesome stuff in the shop!! & bonuses for you too, because after all, it is the season of giving! It's my birthday! Get Beautiful, quality, handmade, nature inspired, & useful, items will tick the boxes on your giving lists!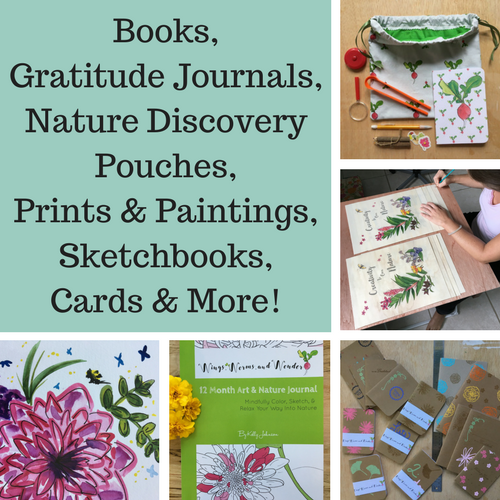 +Bonus! You'll be supporting a real human who actually cares that you love your purchase and is super excited when you order! AND if you let me know in the "Notes to Seller" section of the Etsy shop & I'll gift wrap all your purchases for FREE with custom paper, handmade tags, and raffia ribbons!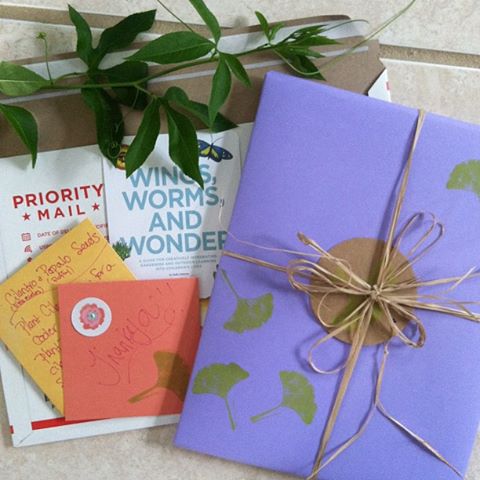 BUT what if you're ordering the gift to be sent directly? No worries! Tell me what you'd like on the tag & I'll write it all pretty! **AND be sure to leave me your address in the notes as well so I can send you a little thank you surprise too! So why not click here or the link in the menu above and head to my Wings Worms and Wonder Etsy shop . **Thank YOU!!!**