---
Happy New Year everyone!
And happy Wonder Wednesday!
This is the first blog post on the new twice monthly Wednesday posting schedule. It feels a little weird for me after posting on Tuesdays for the past 5.5 years, but weird is okay because growing is great!
When I started this website and blog, I posted Tuesdays, Thursdays, and Wonder Wednesdays for the first 3 years. Then, as the world of Wings, Worms, and Wonder began to grow, posting on Tuesdays and Wonder Wednesdays worked best. Now, as this little world of creative nature connection continues to grow, I am happy to align the blog posts to the Wonder Wednesday emails! Life is full of cycles and I am so curious to see where this new cycle will take us all in this little world of Wings, Worms, and Wonder!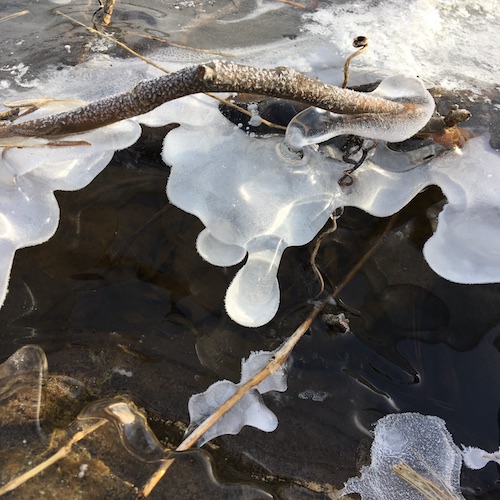 By align, I mean schedule wise, so if you are subscribed to the emails you will never miss a blog post! (And why not, who wouldn't want creative nature connection fun delivered to their virtual door twice a month? Just check out the link to join in the sidebar to your right!)
And by cycles, I mean the ebbs and flows of work, play, content, creation, rest, connection, and life. This year, I am determined to grow my art. I teach art. I love to make art. And I love to get others super excited on making art in my classes and with my lifestyle inspiration items. I admit that sometimes when life gets busy, I push the art side of things to the back. I do exactly what I tell others not to. And that make me feel lame!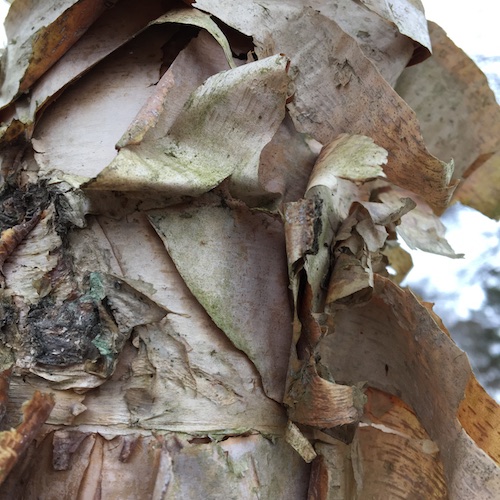 No more!
I also love making the blog and stuffing this website chock full of inspiration, resources, and activities for you. There is a borderline ridiculous amount of content available and I keep adding more. (And that's just this site, not even counting all of Pinterest, right?! Who has the time?)
By slowing down here on the blog a bit, it gives y'all readers a chance to explore and search all the awesome gardening, eco-connection, nature art, nature journaling, projects, free pdf funsheets, and Wonder Wednesday activities on the off weeks! And still provides new inspiration and activities twice a month! I'll also be offering you links to previous posts I think you'll seasonally enjoy in the newsletter and "Seeds to Sprout" section of the blog too!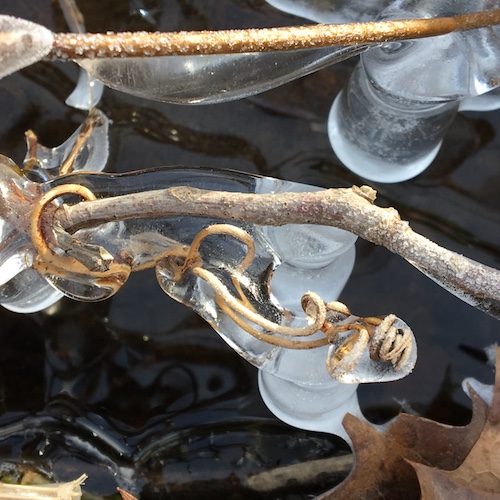 Wonder And Wander…
This schedule change also gives me time for a project that keeps getting pushed aside – my new book, Wonder and Wander!
It's a sequel (kind of?) to my first book Wings, Worms, and Wonder, only this new book is geared toward connecting children ages 0-5! I am super excited and determined to make this a reality this year, so that's I why I am finally saying this in print to you now, in this first post of the new year. I am really excited because when I am making lots of art, my ideas boom and a boom is great for birthing a book!
Hold me to it!
All y'all early childhood teachers and parents nag me and email me! I have all the awesome activities complete, I just need to compile, write, and illustrate the book! I could totally have this done by mid spring for you if I buckle down now – and making more time for creative writing is a start!

Now we've caught up on cycles, what about circles?
If you've seen my Instagram feed lately, you've noticed I am smitten with these beautiful ice discs that formed in a near shore eddy of the James River. Virginia has had weeks of very cold below freezing temperatures and as a result these ice discs formed in the eddy and spun out into the river. So cool right?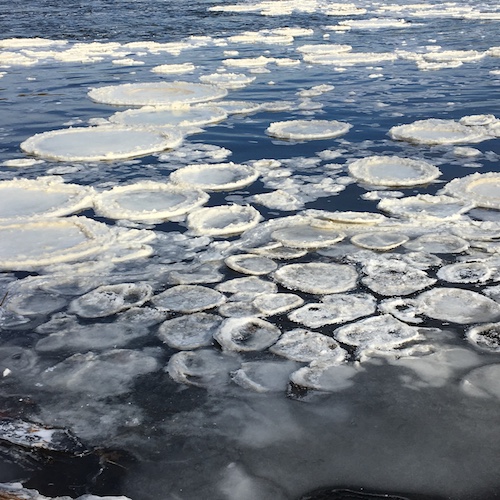 The discs are quite thick and form in large and small sizes. They are really pretty as they swirl around together or freeze under new layers of water on the shorelines. Have y'all ever seen these before?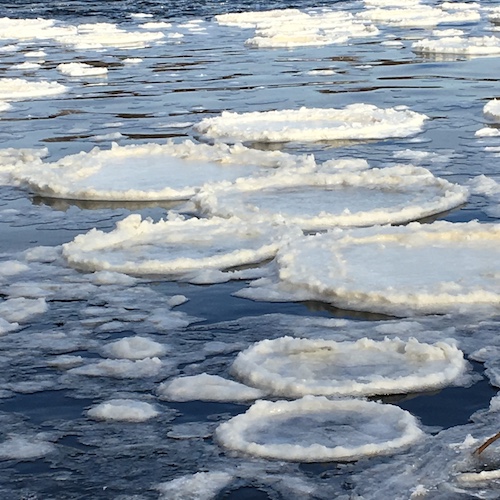 Some even have frosty edges with crystalline forms coming off the tops, see the pic above. The discs with these sides (for lack of a better word) remind me a lot of the giant Victoria Water Lilly Pads, see the pic below. Only I'm not going to try to sit on one – although I wouldn't be surprised if they could hold my weight.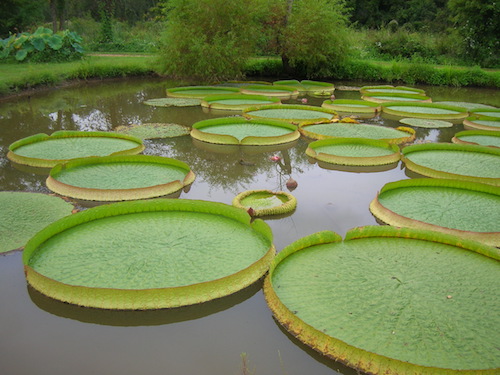 (Photo credit Kanapaha Gardens)
What winter wonder are you discovering this month? And how are your exploring it – photos, nature journaling, or more concrete explorations (like me throwing rocks and sticks onto the ice discs?) I'd love to see your wonder!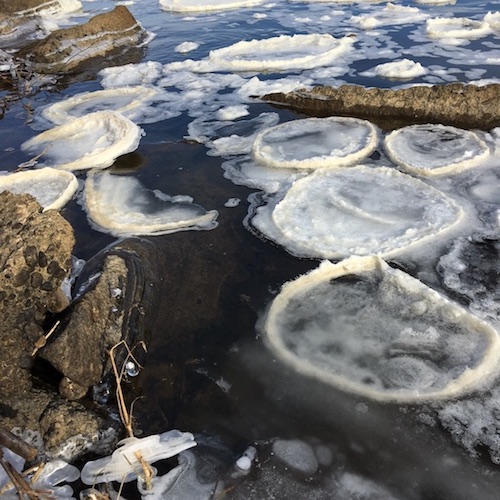 Check out a bit of the science behind these apparently rare formations here! It turns out I intuited the correct name for them, although I think what I found was more of an ice circle than a disc or pan, based on the technical definitions! Thanks to @forwardmomentun2, an Instagram friend, for sharing the knowledge and wonder surrounding this unique nature!
To help us all share the creative nature connection wonder we discover, I'm starting a monthly…
Wonder Wednesday Journal Club!
In each month's first Wonder Wednesday email, I'm offering a prompt to get us out creatively connecting with nature. Then, we can all share our expressions of the prompt on a special Instagram feed. So be sure you subscribe to the email so you can join the Wonder Wednesday Journal Club!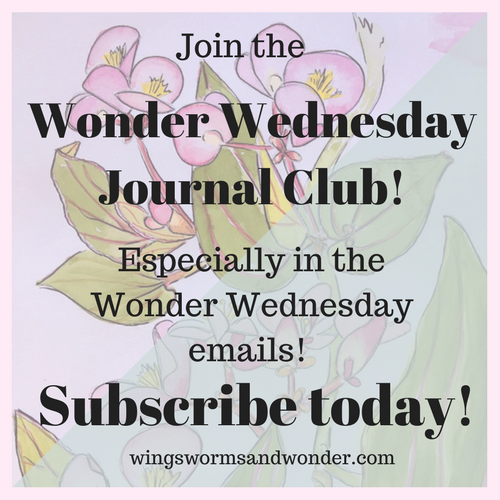 This isn't simply a journal prompt, it's a prompt that can be used for a themed walk, a creative project, a journal entry, or in some other super cool way that you think up and then let us know so we can do to!
I can't wait to see your nature wonder explorations! Isn't it a cool thing that we can share our backyard nature from around the world! And learn about each other and nature at the same time! That is the beauty of technology! And the Wonder Wednesday Journal Club is a great way to get older children and or tech loving friends and family engaged with nature too. Bonus!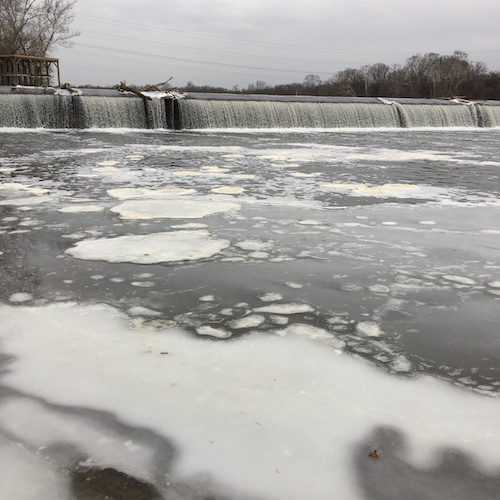 I'm so happy you are here growing with Wings, Worms, and Wonder. This world would be nothing without you! Thank you so much for joining me on this journey of creative nature connecting!
What is the first awesome bit of nature you saw in 2018?
(mine was these discs, but it's so hard to say because when we listen for nature's whispers wonder abounds!)
Share in the comments below or share your pics on Instagram #wingswormsandwonder
Seeds to Sprout:
Join the Wings, Worms, and Wonder Nature Journaling School! There are lots of fun and affordable watercolor painting classes for various ages, & beginners and experiences nature journalers and watercolorists that will get you slowing down & connecting with the nature right outside your door. 
Click here to learn to watercolor paint, develop your eye for creative seeing, and deepen your bond with the natural world – bringing more mindfulness, peace, and creative flow into your life!
*
Try my 12 Month Art & Nature Journal! It's a super fun format for bring little bits of creative nature connection into each month of the year.
There are no dates, so you can jump in anywhere and each month includes: a flower symbolism coloring page, a prompt page, a thumbnail sketch page, and a couple blank pages. Plus the books has lots of bonus reflection, exploration, and plant symbolism pages for you too! It's only $10, ships worldwide from Amazon, and is super fun! Clicker here to check it out!
*
if you need a gift for yourself or a friend, check out the classic and new designs in my Society 6 Shop! My designs are printed on demand onto lots of fun items from sketchbooks to pillows to pouches and more!
I even have a new line of  color your own designs for those who want to add their own twist! You the item of your choice, then add your own color scheme with sharpie or fabric paints and markers – depending on what product you order. How fun is that?!
*
Looking for a fun frosty winter activities? Click the links below to:
Try using snow as a muse for nature writing
Learn all about those ice crystal rods that form in the mud and loose mulch and soil
Make bird feeders from teacups