---
Happy Wonder Wednesday 59!
June's live Wonder Wednesday was so fun, I thought why not go live again for July?! It's summer after all! Let's make some patterns!
If you weren't able to make it, never fear! You can watch the replay below! I use watercolor paint, but you can use whatever supplies you like.
---
Wonder Wednesday 59:
Patterns from Patterns
In this month's Wonder Wednesday we explore the way nature's patterns can influence how we create patterns of our own in our art. Let's try this in 3 ways: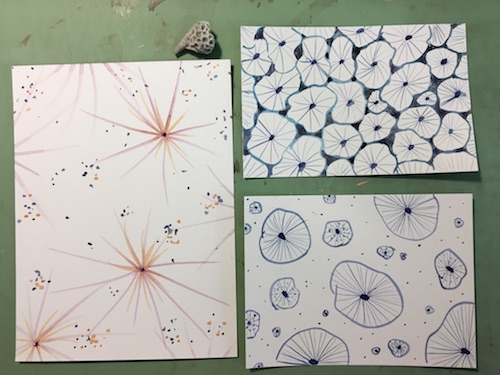 These 3 patterns were all made from the coral skeleton attached to this seashell.
Patterns
ON

Nature

Look at a pattern you see on a bit of nature – for example the pattern on a seashell, seed, or the pattern the variegation, veins, or even a fungus or insect makes on a leaf. Then make some art inspired by that pattern. Try both more traditional style patterns and more abstract patterns.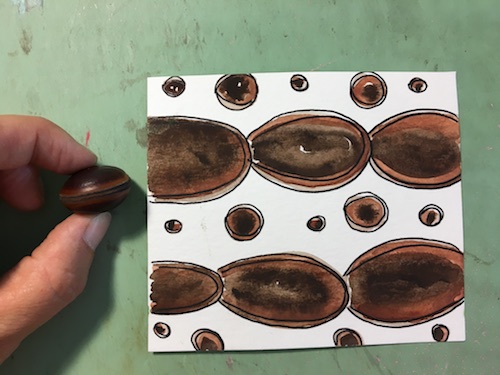 It can literally be a pattern like this one from this seed. Or a more loose abstract pattern like was inspired by the fungus on the leaf.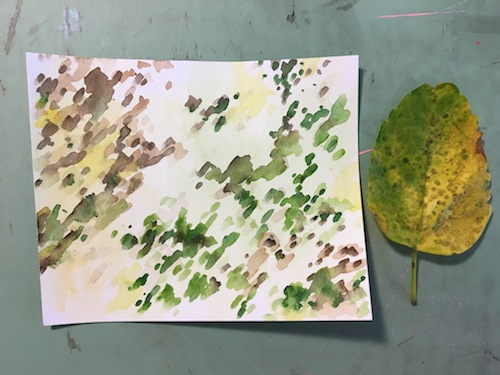 Patterns
IN

Nature

Explore isolating the patterning shape from a larger view in nature. For example, isolate the leaf shape pattern from the pattern of the entire canopy of trees, and then use that isolated shape to make a new pattern.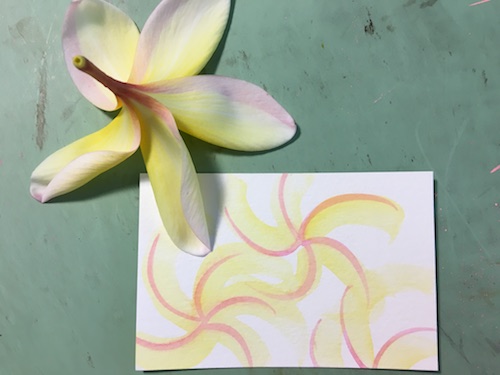 Above I isolated the flower from the bunch within which it grows and then further isolated whirling shape from this flower, recreating just the whirl.
Below I isolated the circle shape from all the shapes and greens in my "lawn" (aka field of weeds that we water and mow, aka field of native plants). Then I created a field of just that circular shape.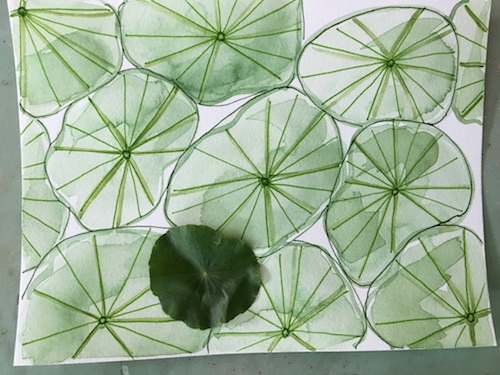 Taking your pattern making a step further
* Try attaching your pattern shapes and using a wet on wet technique so your paints and colors blend between the shapes. Once it's dry, go back in and add details in paint or pen if you like.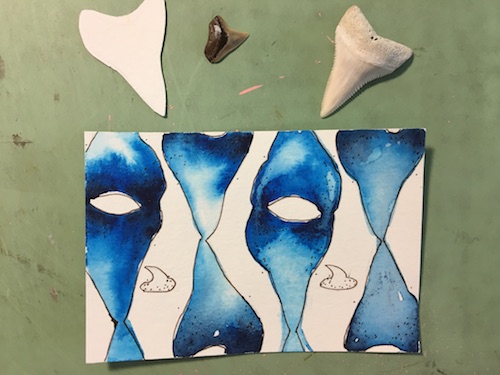 *
Cut out your patterns to define them
, or if you don't like the way a particular section of the pattern came out, cut out the portions you do like and use them as cards or collage materials.

---
Watch the video replay for more details and instructions on the project here!
Wings, Worms, and Wonder: Wonder Wednesday 59 Patterns from Patterns live session from Wings, Worms, and Wonder on Vimeo.
---
What's patterns do you often see in nature? How could you recreate them in your nature journal?
Share pictures of your patterns on Instagram @ & # wingswormsandwonder
Seeds to Sprout:
If you missed going live for Wonder Wednesday 59, join me August 1 for the Montessori Foundation Family Alliance webcast on nature journaling! Register here!
Check out the 2 new Wings, Worms, and Wonder nature journaling classes up for the summer:
From Seed to Fruit
This 4 project class, originally taught in the private year long class The Journey Within, takes you on a nature journaling exploration of cycles and seasons from seed to sprout to fruit to the completion and back again! Click here!
Patterns of Place
This class is inspired by last month's Wonder Wednesday project – only I teach it specifically in watercolor! It's a premium level class, but take it for free using this link!