---
Happy Wonder Wednesday 58!
I thought what better way to kick off the summer official than to get together live the first Wonder Wednesday! If you weren't able to make it, never fear! You can watch the replay below!
In this live hour we create some fun color explorations of your favorite places – I like to call it creating…..
 Palettes of Place
Exploring your connections to place through color, and getting to knew and really see all the colors that comprise the palette of a place is a wonderful exercise in color, as well as a fun way to get to know new and familiar landscapes.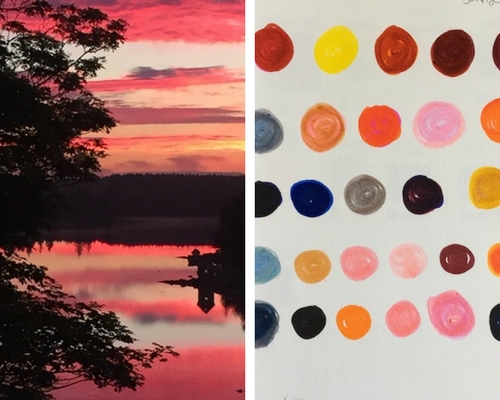 Sunrise Palette – Vinalhaven, Maine
Making palettes of place is a fun way to: learn to see al the colors in nature, helps with paint mixing and color blending techniques, and grounds us into landscapes (new and familiar) while building connection and memories through creative expression. It also makes a great journal warm up or as a journal practice in itself!
Make palettes of place in your home nature journal and in your travel journals!
---
 Wonder Wednesday 58: Palettes of Place
Materials:
* Paper, journals, pens, pencils, glue, nature ephemera, paint, scissors, whatever else you like to use to get creative with nature & all around fave art supplies.
We'll be keeping it laid back for summer, so no specific supplies are needed for the project because you can use so many ( and we'll talk about how). I used color pencils live in the video. You can make your palettes from any medium you like.
Photos of a favorite landscape near home or from a vacation, or go outside and paint from life!
 The project we do live!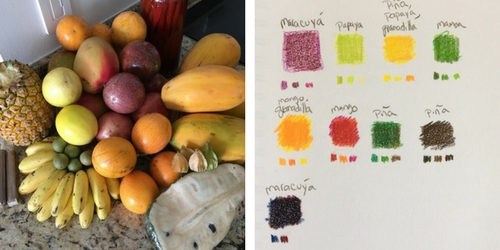 Make a palette of a local harvest! This one is a harvest I made from Costa Rica recently.
Procedure:
* Look at a landscape, bouquet, harvest bounty, or even a delicious homemade meal.
* Focus on all the colors you see in the landscape. Notice how there are multiple tints and shades of each of the colors you see in your landscape.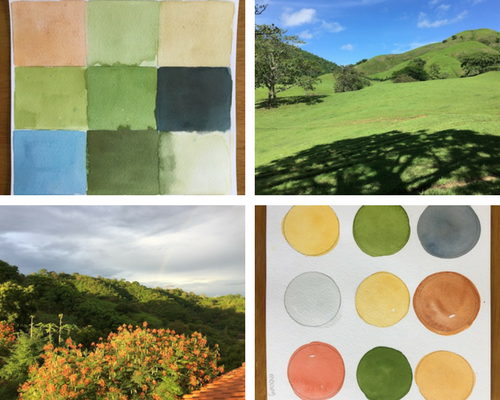 Make tidy shapes for your palettes, or go more free form.
* Notice the color and light – Light's affect on color can change the way you connect with colors and place. It can change the way you see and feel nature experiences through color.
* Paint a palette of 3, 6, 9, 12, or more of each of the colors you see! You can paint into any shape you like, add borders or not.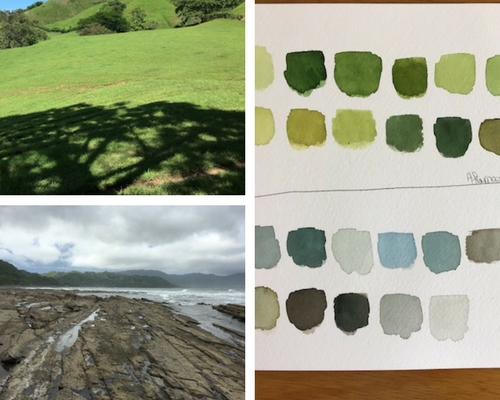 Explore all the tints and shades of a specific color in a landscape.

* "See" the colors of your chosen place – the light, foliage, rocks, water, flowers, soil, animals, etc.
* Consider making palettes of the same place or view at different times of day, weather, and seasons to explore how the palette of that place changes.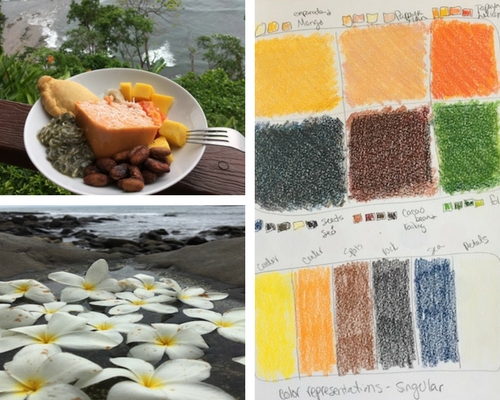 Create palettes of local cuisine while visiting a special place using blends of colors (top pics), or explore the palette of place with single colors in a palette you have – no mixing or blending (bottom pics).
---
Wonder Wednesday 58 Live – Palettes of Place!
Watch the replay and get the full project info and instructions.

Wonder Wednesday 58: Palettes of Place Live! zoom from Wings, Worms, and Wonder on Vimeo. https://vimeo.com/223502237
---
What colors comprise your favorite summer place?
Share pics of your palettes of place on Instagram #wingswormsandwonder !
Seeds to Sprout:
Papaya flan recipe I showed and mentioned in the video: Ingredients: cup of organic oats, water, an organic papaya, organic almond milk optional organic fair trade unsweetened shredded coconut.
Cover the oats with water and soak overnight in the fridge, before combining pour off any remaining water
Combine and blend very well until smooth: oats, 1 cup organic almond milk or other non-dairy milk of your choice, and half a large papaya or a whole small papaya . Pour into an appropriate sized glass container with a lid like (8×8 ish), and refrigerate overnight. Sprinkle Enjoy the next morning! Easy, healthy, delicious!
Congrats to Connie for being our live giveaway winner of my newest book Pressed!
Check out my newest book Pressed: An Herbarium Inspired Art Journal here! It's available now!