Happy Wonder Wednesday!!!
I love herbal crafts because they combine art, nature, and a DIY spirit. Once you realize how easy they are to make you will be making herbal crafts all the time with your students, children, and alone! Herbs are wonderful plants for the winter garden because in warm climates they begin to thrive when the nights cool off and in cold climates, they do very well in pots in a sunny window or sun porch. Salves are easy to make from ingredients around the kitchen and garden, are great for on-the-go winter hand moisturizing, and also make a perfect student or child made gift or indoor wintertime project.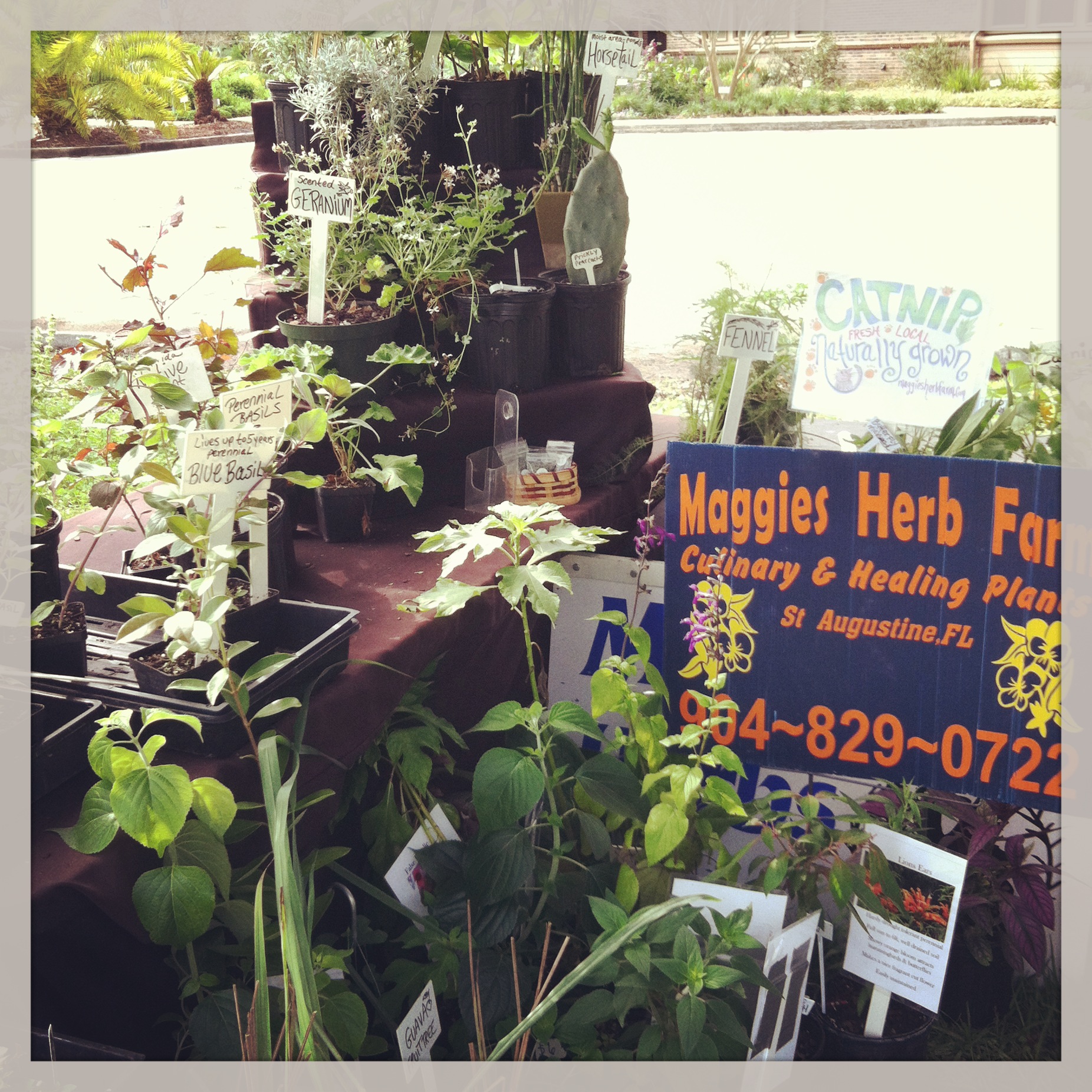 This could really be 2 separate projects (You could break this lesson into 2 and stretch it over the course of the winter. Make the oil infusion now and the salve later.) If you want to make the salve now, but don't have time to infuse the oils yourself, you can buy infused oils or you can just add an essential oil to the olive oil instead of infusing with dried herbs and skip that step. If this is the route you choose, maybe choose an essential oil of an herb you have growing to tie your garden into the project.
Whether you choose to simply use essential oils or to try infusing your own, you will have a great time making your own salve and all the recipients will be asking you for more!
This project is a great way to introduce children to the variety of modern and traditional uses for garden plants, can be a practical application for states of matter lessons, and can also be the beginning of introducing value added products and the ideas of micro-economies to older children. Student made herbal crafts can also be a great fundraiser product.
Let's get started!!
Wonder Wednesday #16 Create an Herbal Salve
Materials
Infusion
Herb of your choice: mint, rosemary, lavender, comfrey, lemon balm, yarrow, etc. Any herb you like the smell of ,or enjoy the properties of, and ideally one you are growing in your own garden. Harvest and dry the herbs ahead of time. Herbs can be dried by hanging them upside down in a dry area (see pic below) or in a dehydrator.
An 8 oz glass jelly jar (if you are making more than 1 cup of oil, use a larger container)
1cup olive oil
A mixing bowl
A strainer
Cheese cloth
Salve
1oz beeswax
1oz wax:1cup oil ratio. To make larger batches, adjust accordingly.
Up-cycled containers of your choice: Baby food jars work great, tins like mint candies come in are good too. If you can't up-cycle, tins can be purchased online or at many natural foods stores. Have a few extras on hand.
Lavender essential oil
Double boiler or sauce pan
Pyrex or glass measuring cup–something that hot liquid can be poured into with a spout for easy pouring out
Sticker labels – Avery brand works well and can be either hand decorated or can be printed on. Be sure the label is slightly smaller than your lid size
Optional, but awesome:
Raffia ribbon, 1 piece for each container
Sprigs of the herb flavor you chose from your garden for each jar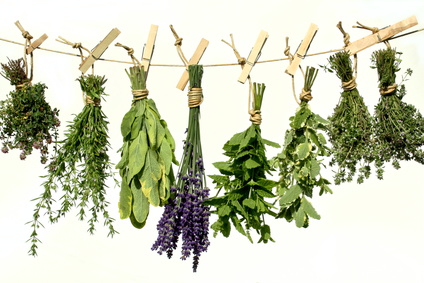 Preparation
The amount of oil you prepare, and wax you need, will depend on the size of your containers and how many you are making. Find out how many ounces your tin or jar holds, multiply by number of containers, and go from there. Have a few extra containers on hand because you will have extra. (containers aren't filled to the brim)
Prepare 1 cup of herbal infused oil:
Herbal infused oils can be bought, but making them is fun!
Fill your 8 oz glass jelly jar a little more than half way with the dried herb of your choice.
Pour the olive oil into the jar to a little below the rim. You may need to pause and let the oil settle in. Stir if needed. Make sure the herb is completely covered with the oil. Then put on the lid tightly and shake.
Shake the jar everyday for at least 3 weeks. This is the minimum brewing time. I would recommend a month  and 6 weeks is the max. If you ever see herbs above the oil, add more oil as soon as possible. This is mainly a concern in the first week or so as the dried herbs absorb the oil.
Keep the jar somewhere very visible, but out of direct sun, and open the jar to check on the infusion everyday, when you shake. Make sure the oil is covering the herbs and that it doesn't smell bad. Check for mold. Mold will ruin your infusion. When you open the jar, observe how the herbs are changing and smell how nice it smells.
After 3-6 weeks your oil is infused. Place the strainer in the mixing bowl and the cheesecloth over the strainer. Pour your herb oil infusion into the cheesecloth and squeeze the oil out into the bowl to strain the herbs out of the oil.
Wash your jelly jar to remove all herb material.
Compost all the herb material.
Return the strained oil infusion to the jar, seal the lid and store in a cool dry place out of the sun or the fridge if it will be a while before you use it.
**If you are skipping the infusion and using essential oil instead, add about 2 teaspoons or 20 drops of essential oil of your choice per cup of olive oil. Pretty much any oil you choose will compliment the soothing mildness of the lavender already in the recipe.
Salve Procedure
Have your containers ready with lids off and easily accessible nearby
Double boil or melt the wax in the sauce pan. If you aren't double boiling be very careful not to scorch the wax.
Once the wax is fully melted, add the herbal infused oil or olive oil with essential oils added
(These steps can be a great states of matter experiment and initiate interesting discussions. Pouring the room temp oil into the hot wax causes a matter state revert and looks cool too!)
Pour the wax and oil combo into your pyrex measuring cup
Quickly add 6-4 drops of lavender essential oil (about a teaspoon) to your mixture and stir.
Then quickly and carefully pour your infused oil, beeswax, essential oil mixture into your containers.
If your mixture does harden, no big deal, just remelt it in your double boiler. Easy.
Watch the liquid harden into a solid. This will take about 5-10 minutes.
Decorate the labels then stick them to the top.
Use the raffia to tie a sprig of fresh herb around the container.
Give as a gift or enjoy yourself!
What is your favorite herb?
I love lemon balm and nettles.
Seeds to Sprout:
Check out learningherbs.com and learn to make herbal remedies right in your kitchen!
Order supplies not found locally from mountainroseherbs.com supplier of high quality herbs, oils, containers, and information on herbal creations
Create an herb garden themed Gift Basket! Including:
– My book Wings, Worms, and Wonder: A Guide for Integrating Gardening and Outdoor Learning Into Children's Lives (order today to assure xmas delivery)
– my Greenhouse Necklace Kit (order today to assure xmas delivery and get the book/kit discount with the coupon code stockingstuffer2013)
– Wildcraft! An Herbal Adventure Game, a cooperative board game that teaches herbal properties and names of plants for all ages. (Fun!! I want this!!)
– some little pots and seeds
–an herb start plant such as rosemary
– and of course your homemade salve!
–put them all in a pretty terra cotta flower pot with a ribbon (you can even include some colored chalk to decorate the pot!