---
During these weeks of quarantine and social action, we are growing as individuals and communities. Growing is great, but can also be uncomfortable and stressful – which isn't necessarily a bad thing. It just means that we need to stay balanced with moments of rest and care for ourselves and communities.
"Take a break…you gotta take care of yourself because if you're not strong enough to hold yourself up, you can't hold anyone else up." ~Karamo Brown
This work is a marathon not a sprint, and making time for rejuvenating is how we keep moving forward for the long haul. Burn out and fatigue creeps in so easily. It's widely apparent in how so many have thrown virus caution to the wind because we are all so over quarantining, all while cases continue to rise.
This past weekend was midsummer, aka the summer solstice. These nature centric benchmarks and transition times are great yearly markers. They are super time for  connect with our natural communities and selves, to rejuvenate and tune into nature's cycles.
This Wonder Wednesday we're making summer solstice crowns! Summer Solstice is historically a time for the celebrations of life and love – and I know that is just what Mother Nature ordered for me right now. Traditionally, these botanical wreaths, aka midsommarkrans, were worn across Sweden by young women as a symbol of fertility.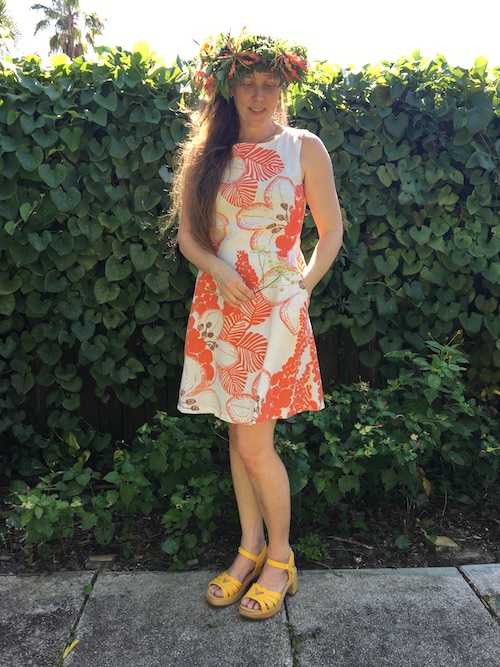 These days, the crowns are worn by everyone, regardless of age or biology and are a staple at every Swede's midsommar party. Y'all know by now I'm a total Swed-o-phile, so I'm not sure how I've resisted an activity on making flower crowns until now!
---
Wonder Wednesday 95:
Summer Solstice Flora Crowns
For centuries, Summer Solstice was considered a time of magic for humans. It's the shortest night of the year and a time for huge celebration. In Scandinavia this was particularly special because in some laces the sun never sets at all on this day.
During the solstice celebration time, all of nature was considered mystical. The gathering of the flowers and vines to weave into wreaths and floral crowns was a way humans symbolized harnessing the powers of nature for good health throughout the year.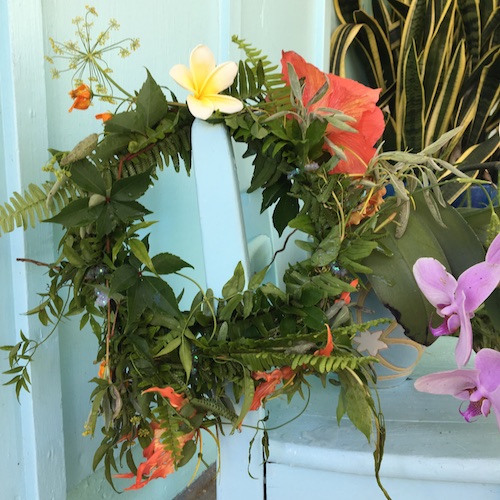 Materials
Flowers, vines, ferns, greenery, or any botanicals with flexible longer stems. These can be picked yourself or bought from a store in bouquets.
Wire to attach the flora together – Pipe cleaners or twist ties work great
Scissors to trim any unruly botanical bits and to cut your pipe cleaners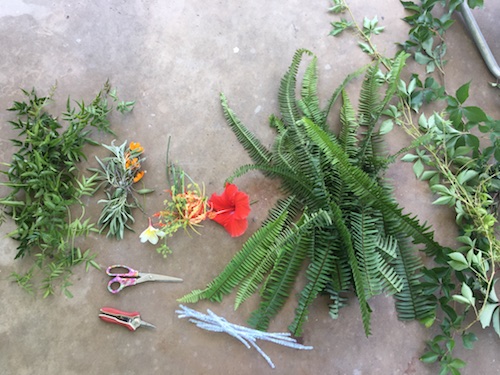 Preparation
If picking your own flowers, try to make the crowns the same day you pick as wildflowers often don't last too long once cut.
If using store bought bouquets, daisies for example, when bringing them home, cut 1 inch off the bottom of each stem before placing in a vase of water. This helps keep the flowers hydrated and fresh until you are ready to make your wreaths.
If using a flower with a very stiff stem (like a sunflower) or a flower with a short stem (like a hibiscus) you may need to add this flower in once the wreath is complete as an accent and not use it as part of the wreath. Remember the botanicals need to be made into a round shape.
Procedure
Gather your botanicals into groups by type. Your flora can be as simple or elaborate as suits your tastes.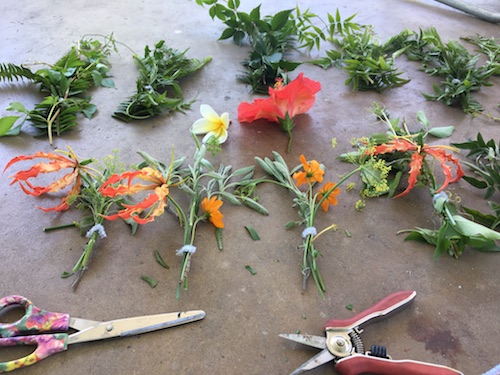 Divide the flowers etc, into 6-8 bunches of 3-5 botanical pieces each. They can be all the same variety, mixed, or however you think looks nice.
Keep the stems long for now.
Now make 6-8 bunches of greenery in the same fashion as the flower bunches.
Assemble the wreath –
Secure a bunch of greenery together with a pipe cleaner or twist tie.
Add a bouquet and tie with the wire.
Continue the pattern: greenery, wire, flower, wire..
Keep going until the chain seems long enough to make a wreath that fits your, or the person you are making it for, head.
Test the wreath on for size before tying it with wire to make a circle wreath.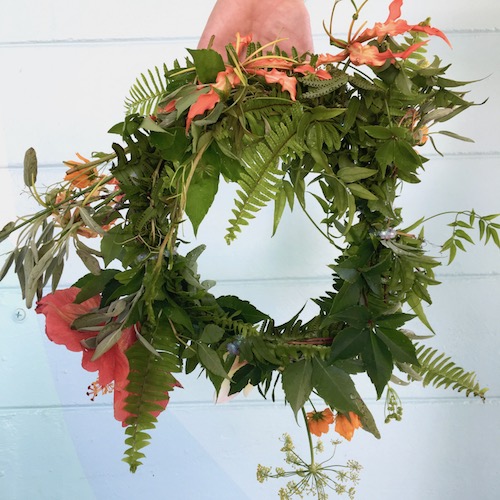 Finishing touches –
Add any extra pieces of wire to make the wreath secure.
Add in any other larger flowers to accent. Be sure to wire them in.
Trim any leaves or stems that are too long or sticking out.
Treat yourself to the uplifting magic of summer nature! Go outside and enjoy the long summer daylight with a special treat.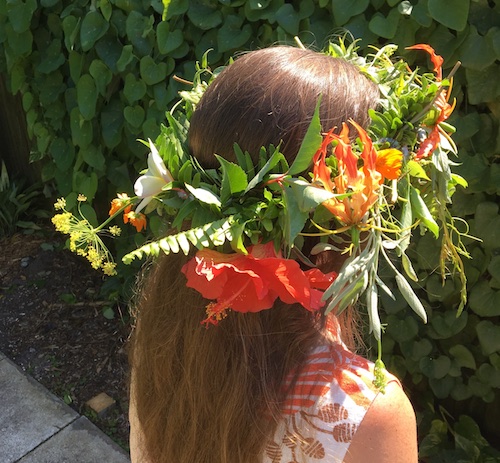 Extensions
Want to add some flower symbolism to your wreath? Humans have place symbolic significance onto flowers for centuries and you could choose the flowers that symbolize characteristics you value, represent, or want to convey to a friend should you be making a crown for someone else. Learn more about flower symbolism in my book The Wings, Worms, and Wonder 12 Month Art & Nature Journal.  
When we can celebrate together in groups again, make the wreath the day before your summer solstice party and preserve it by spraying it with water, placing it in a plastic bag and putting it in the fridge.
Keep it fresh throughout the day by spritzing it with water every couple hours.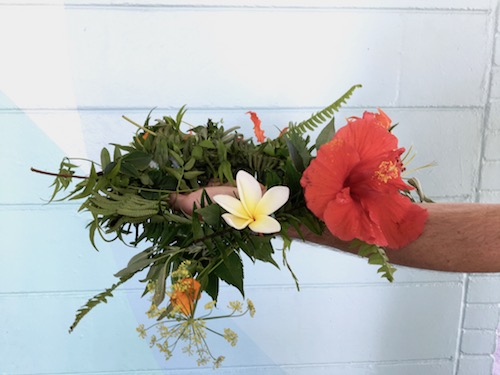 ---
How are you calling on the powers of nature to rejuvenate you these days?
Share in the comments below!
Share pictures of your Summer Solstice Flora Crowns on Instagram #wingswormsandwonder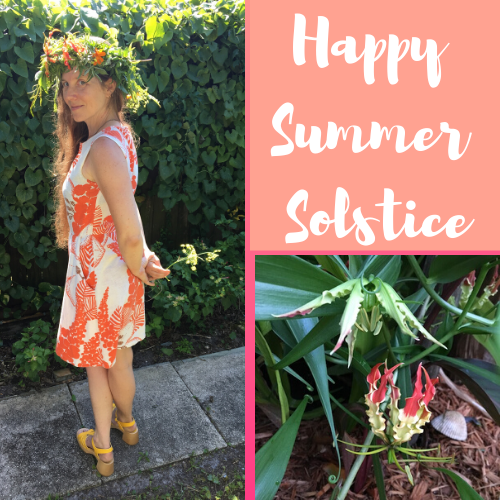 ---
Seeds to Sprout:
The Etsy shop is open for the month of June and all Profits go to Black women and queer organizations. 
Treat yourself to a Summer Solstice treat with fresh summer figs a lá mode in the Wonder Wednesday 23 recipe. 
Make a pressed flower book from summer flowers in the Wonder Wednesday 57 activity.
Paint with nature in the Wonder Wednesday 39 Activity
Have you check out children's book illustrator Christian Robinson's Instagram page The Art of Fun? He is one of my favorite illustrators because of his inclusive and whimsical collage style. Since quarantine started, he has been creating videos of a story time with art projects for kids of all ages. Click here to check out his most recent.
(shhh… I'll be reading one of his newest stories on the Wings, Worms, and Wonder story time for the young and young at heart soon!) Click here to hear the stories so far! Each story time offers the story, a project, and a journal prompt.