---
June 1-7 is International Nature Journaling Week. To be ready, this Wonder Wednesday 95 we're making a super fun retro- inspired prompt snapper game project!
But before we get to our project, what is International Nature Journaling Week and how can you get  involved?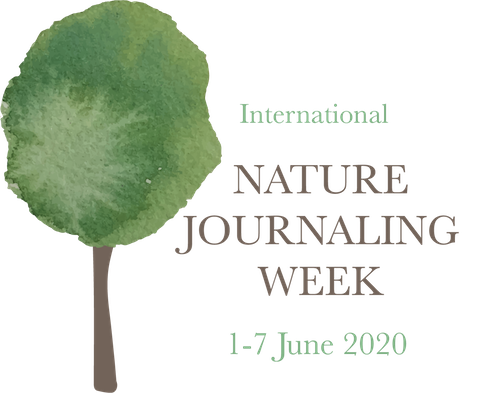 Regardless of age or experience with art, nature, and nature journaling, this week will be filled with creative fun and inspiration from around the globe!
The schedule for the week is:
1ST JUNE – PLANTS
2ND JUNE – ANIMALS
3RD JUNE – FUNGI
4TH JUNE – NATURE FINDS
5TH JUNE – LANDSCAPES
6TH JUNE – SKIES
7TH JUNE – ECOSYSTEMS
Each day will feature combinations of live tutorials, blog posts, how-to's, projects, prompts, inspiration and more on each day's theme – all brought to you by renowned nature artists, writers, and nature journalers from around the world. Plus – it's all free!
You may remember back in March I contributed a blog post "Sparking Wonder and Connection trough Nature Journaling" as part of the lead up to the main event June 1. That was just the beginning! This is going to be a real powerhouse of nature journal learning and inspiration. I hope you join me in the fun!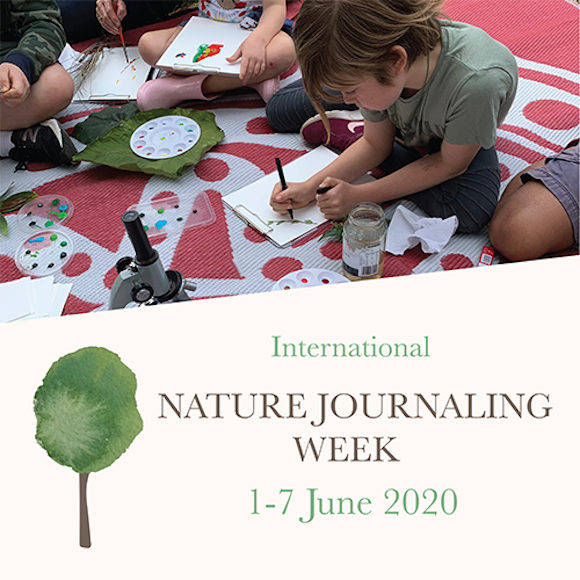 After you finish this blog post and project, gift yourself some time to get familiar with the official Nature Journaling Week website through the link below in the Seeds to Sprout section.
There is a plethora of nature journaling resources and everything you need to participate in the week's events. It's all very organized, clear, and the a great resource to return to long after the official week is up.
---
Wonder Wednesday 95:
Nature Journal Prompt Snapper
Fortune teller, snapper, flipflapper, whatever you called them as a kid, and whatever you filled them with, this folded paper game is a childhood favorite.
So I thought hey? Why not take the fun further make a nature art making game out of it?! And what a great way to kick off International Nature Journaling Week than with a nature journal prompt project and pdf?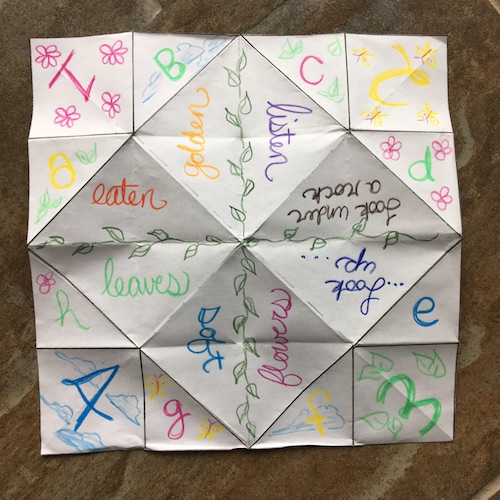 Here's mine all opened up. The theme of this one is spring nature.
You could make one for each day, June 1-7, and theme it to the day's theme with the day's prompt.
You could make a snapper for each season or for backyard butterfly species, make one for drawing garden veggies or with native plant seek-and-find game clues, and fill another one with quotes and questions on which to ponder. Then enter the discoveries into your nature journal.
The potential and possibilities for creative nature connection fun are endless!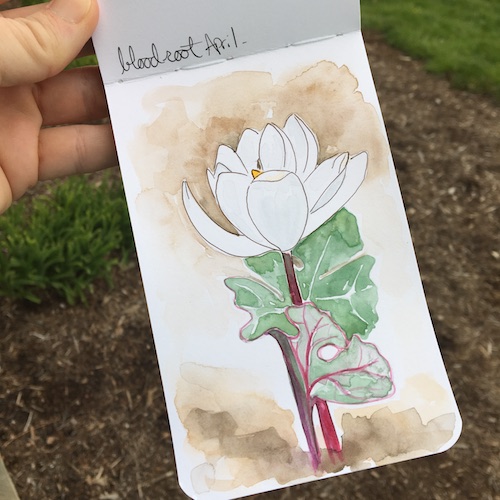 Here's a bloodroot flower. I like it when I get flower when I play.
Materials
Print off this snapper template pdf printable onto regular copy paper: wings-worms-and-wonder-nature-journal-snapper-template-printable-pdf
Color pencils, markers, pencils, or any other mark making supplies you prefer
Scissors
A nature journal to draw your snapper results
Preparation
Print off the Nature Journal Snapper Template onto regular copy paper. Experiment with colored and patterned printer paper even!
Cut out the snapper from the template. Cut only the outer perimeter square lines.
The printable template looks like this. The pink cut lines are added here for reference.
Procedure
Draw or write 8 prompts into the inner triangle sections within the dotted purple lines of the innermost square. (Scroll up an see my opened up photo as an example.)
Decorate the outer squares and inner flap triangles as you like. For example, if making a plant themed snapper, draw different flowers on the outer squares, and plant symbols like a leaf, root, fruit, and seed on the inner triangles.
You can see on my sample above that I added a leafy vine in between the prompts and drew elements of the prompts lightly in coordinating colors around the numbers and letters. The decoration possibilities are as vast as your imagination.

This is a suggestion map for you to follow for adding the numbers, letters, and prompts to your snapper.
See my sample filled out version above that coordinates with this map. 
Fold the snapper like the pictures below. On the template, the black solid lines are the fold lines. The purple dotted on the printable lines delineate prompt sections.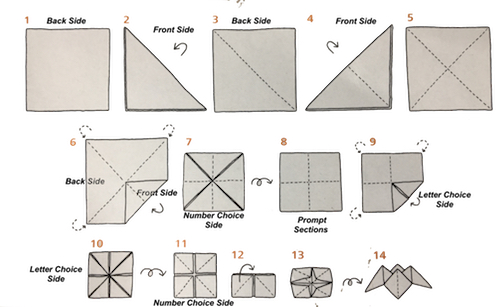 ( Credit: Thanks to the Danish shop Tiger for the folding instruction drawings. I annotated their illustration for clarification.)
How to Play:
Choose a number from the outer flaps.
Open and close the snapper alternating parallel and perpendicular to your body, counting, the number of times chosen.
Choose a letter from the inner section.
Repeat opening and closing the snapper, alternating, saying the alphabet up to the letter chosen.
Choose another letter from the inner section.
Open that flap to reveal the prompt on the inside.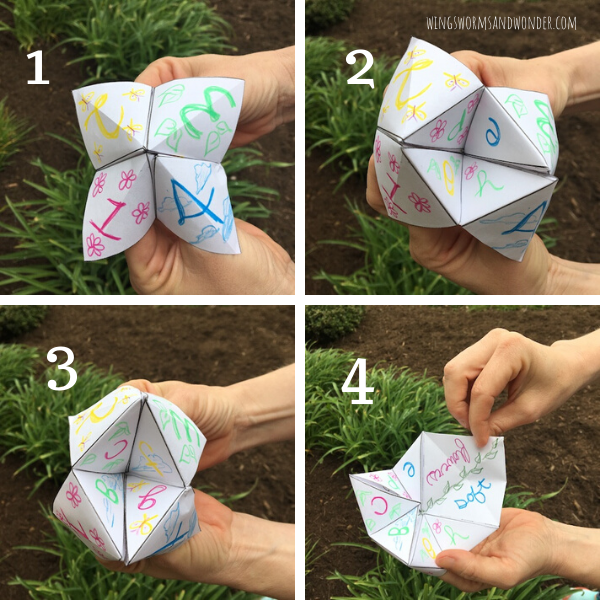 Draw the prompt into your nature journal. (Or, in general, follow what it says to do.)
Repeat as many times as you like!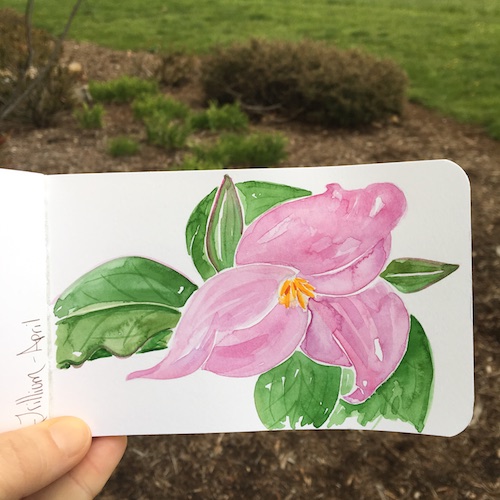 I got flower again, yay, so here is a spring Trillium!
---
What will be the theme of your first snapper?
Share in the comment below!
Share your Snapper project on Instagram
#wingswormsandwonder
& your Nature Journaling Week projects
#naturejournalingweek !
---
Seeds to Sprout
Sparking Wonder and Connection through Nature Journaling blog post
International Nature Journaling Week home site
In the online school, the following courses are still free through June 1.  Once you enroll they are yours for good, so no worries about trying to finish them by the end of May.
From Seed to Fruit
Shapes, Senses, and Sunflowers
Veggie Studies Workshop
Herb Studies Workshop
Watercolor Basics for Nature Journaling
Simply click the free course of your choice on the courses page, then scroll down to the bottom, and choose the free price option!