---
What did you think about Schopenhauer's Sublime? Did it get you considering the nature encounters you've had that may have been frightening at the time? Did those encounters exude beauty despite the danger?
Do fear inducing nature encounters seem more beautiful when observed through secondary experience – like on a film – or is it the primary experience that brings the real feelings of the sublime?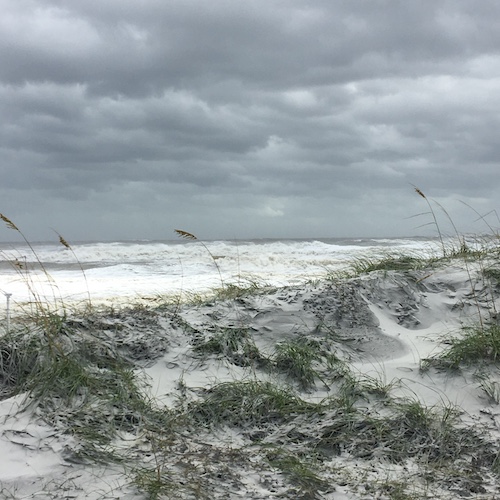 (If you have no idea what I'm talking about here, take a moment to read the previous blog post, link in Seeds to Sprout below :))
Now that you're warming to the sublime beauty and wonder sparked from primary experience of nature's dangers – from a safe distance of course – I want to bring up a seasonal subject. Hurricane season; it's peak is here.
It's the elephant in the room that people in the southeast really want to ignore. What a game of roulette!
Rather than focusing on fear, let's see the sublime beauty of severe weather – and have some tasty fun while we're at it!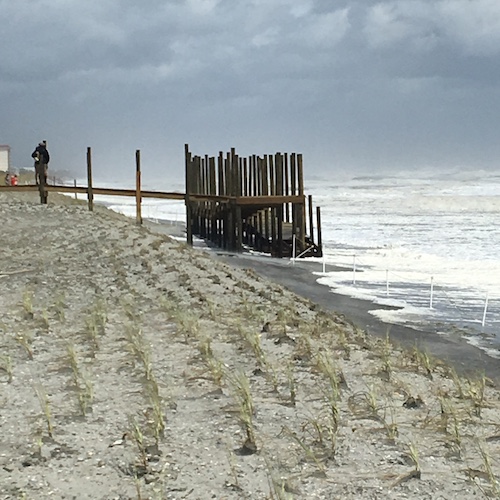 Bye-bye beach access, baby sea oats, and sand dunes! These hurricane and hurricane party pics are from when we were last direct hit in September 2017 following a pervious direct hit in October 2016.
A UCLA study showed:
"Scientists now suspect that hanging out with our friends can actually counteract the kind of stomach-quivering stress most of us experience on a daily basis…
…the researchers suspect that women have a larger behavioral repertoire than just fight or flight; In fact, says Dr. Klein, it seems that when the hormone oxytocin is released as part of the stress responses in a woman, it buffers the fight or flight response and encourages her to tend children and gather with other women instead.
When she actually engages in this tending or befriending, studies suggest that more oxytocin is released, which further counters stress and produces a calming effect." (citation)
I bring up this (very interesting) science to back up my case for……
The Hurricane Party!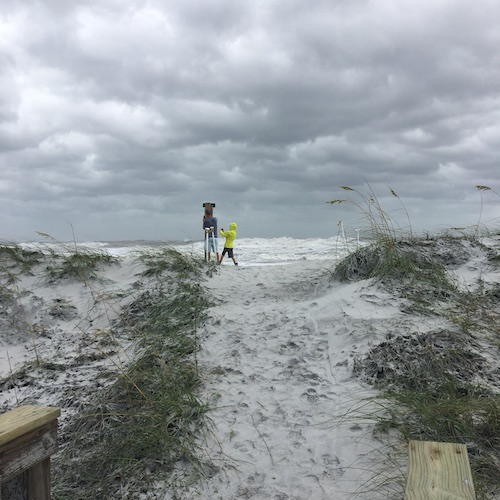 If you don't live in a coastal town, this may be a foreign concept, but the hurricane party is a unique animal.
In the days leading up to a hurricane's arrival, neighbors gather in the streets, talk weather, swap info, speculate predictions, make plans and preparations, and come together in community minded ways rarely seen in hurried modern life. Sure there is stress, big time, but the coming together to prepare as a group eases it. It's even proven in UCLA the research study!
Then, once the decision whether or not to evacuate has been committed, the plans and preparations have been made, the bridges have closed, and all you can do is wait for the storm. ….And decide at who's house your crew will ride out the storm with a hurricane party! ***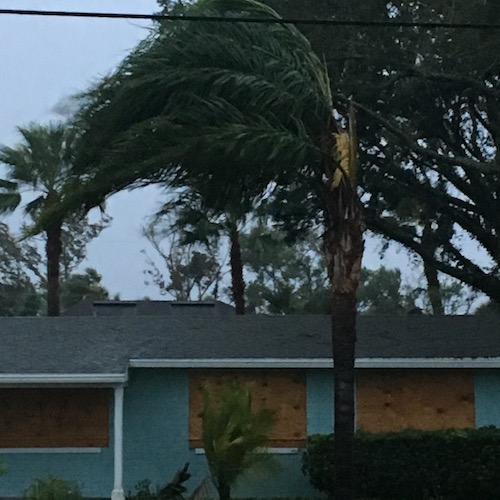 I think partially the allure of the hurricane party boils down to a safety in numbers kind of thing. But, Schopenhauer's philosophy illustrates how experiencing nature's dangers can also be beautiful – when we are safe.
And also, as the UCLA study articulated, gathering together during stressful situations releases the oxytocin that cheers us up and relaxes us – which is also beautiful!
What a win-win for the excuse to host a hurricane party!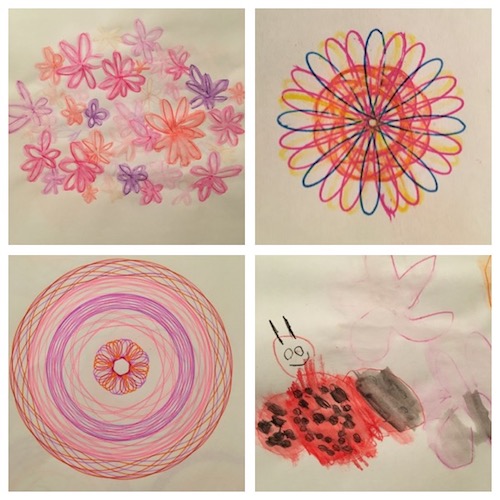 Old School crafts and games are a must for a hurricane party, so break out the old Spirograph and art supplies!
It doesn't have to just be a hurricane or weather severe weather situation to encourage gathering. For example, when we encountered the pygmy rattle snake, we all grouped together to decide what to do about the snake. When we stayed together, it made us feel more safe from the snake's powerful danger and able to appreciate it's beauty and power.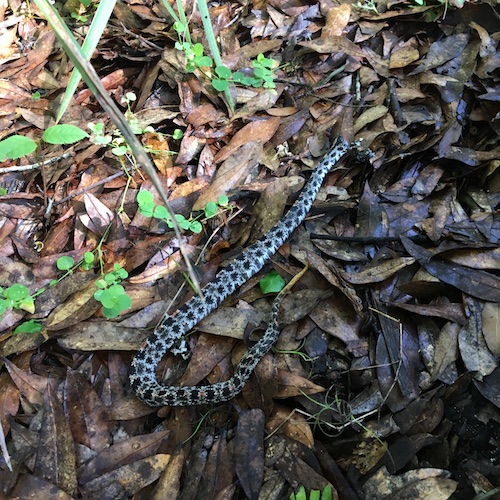 (Again, check out the previous blog post to read the snake story. Link below.)
Apply this idea of gathering to everyday potential dangers such as: hiking with a group in areas of steep and slippery inclines, kayaking with a buddy in water with rapids, or camping in an area where bears or mountain lions could be encountered.
What situation of gathering a group to feel safe in nature applies to your area and nature hobbies?
Gathering together and sharing food in celebration, mourning, and as a daily family routine is a favorite human past time. To encourage more communal gathering, less fight or flight, and more calming oxytocin in our brains, this month I offer a fun (non-refrigerated) recipe!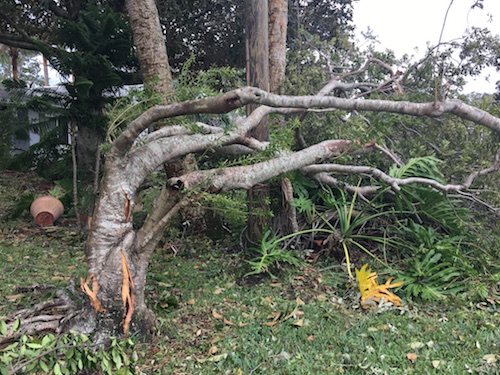 Use this recipe during your next hurricane party, tornado wait out, earthquake probability window, blizzard, wild fire evacuation, or even just as a tasty and nutrient packed snack for your next workout or nature adventure – however calm or dangerously sublime!
---
Wonder Wednesday 84:
Sublime Snacking
None of the ingredients need refrigeration, and once the snacks are made they don't need refrigeration either! Perfect to save that sacred fridge and cooler space! Plus no electricity needed!
These nutrient dense snacks also make great additions to your trail or travel bag, can be made at a campsite, and even make a sublime classroom (un)cooking project or back to school lunch box addition!
Materials:
Chopping board
Knife
Mixing spoons
Measuring cups
Mixing bowl
Storage container
Ingredients:
1 cup Organic Plain instant oatmeal
1 cup Coconut -Organic unsweetened dried shredded
1/2 cup Organic Dates or date pieces (pitted and packed)
1/4 cup Organic Chia Seeds
1/2 cup Organic favorite Nut or Seed Butter (crunchy or creamy)
1/4 cup Organic Maple Syrup
Optional – Organic fair trade certified cocoa powder, cacao nibs or beans, and/or chocolate chips!
I used cocoa powder, crushed cacao beans, tahini, and vanilla infused maple syrup in my example below.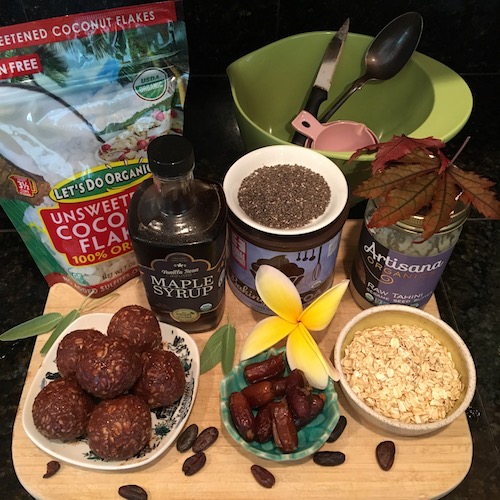 Preparation
Chop the dates into small pieces. If you are using date pieces, you may need to mash them a bit (particularly if they are the kind rolled in oat flour).
Crush the coconut if you can only find flakes and not shreds (like me)
Procedure
Mix all ingredients in a mixing bowl until it becomes a sticky goo. The consistency should be sticky but not runny.
Adjust a too wet mix by adding more oatmeal, too dry by adding more maple syrup, or not sticky enough by adding more nut butter. The chia seeds will also help stick it together once the moisture from the nut butter and maple syrup activates them.
Roll into balls. (You may want to coat your hands in a little fair trade organic coconut oil depending on your mix.)
Place in your storage container or on a serving plate – if they make it that far!
Extensions
Add a protein powder of your choice. (You will definitely need to add more maple syrup if you add this.)
Try your favorite flavor oatmeal – raisin or apple could be great!
Experiment with different nut and seed butters. How about Peanut (or Pistachio) Projectiles for a hurricane themed name? Or a chocolate hazelnut butter spread? What about a tahini and pistachio theme? Yum!!
Toss in different types of nuts and/or dried fruits to the mix – like raisins, apricots, macadamia nuts or hemp seeds. You may need to alter the moisture content to get them to stick together properly. Play around with it.
Steep yourself an infusion of passionflower tea to add extra relaxing properties to your sublime snacking. To make an infusion, steep the herbal tea bags in room temperature water for about 6 hours. Then enjoy!
What is your favorite easy to make, nutrient rich, and super tasty head-out-into-nature snack?
Share in the comments below!
Share pics of your sublime snacks on Instagram #wingswormsandwonder
Read the previous post in this 4 post series:
---
Seeds to Sprout:
*** Note – I am in no way making light of natural disasters, nor suggesting that one not follow local safety recommendations regarding hurricane preparations and mandatory evacuations in lieu of having a party. Always follow the instructions of your local police and safety services in severe weather and natural disaster situations.***
Check out the 3 other posts in this series about Nature's Sublime:
(The first blog post in this series, Schopenhauer's Nature: Fear, Beauty, and the Sublime, isn't a prerequisite, it gives a lot of context to this post and the others. And it's one of my favorite's I've ever written, if I do say so myself 🙂
Read a summary of the UCLA study mentioned here. Read the actual full research article "Biobehavioral Responses to Stress in Females: Tend-and-Befriend, Not Fight-or-Flight" here.
Tell me more about these strange hurricane parties and how I can plan one of my own – even if I live no where near a hurricane. This blog post "How to throw a Successful Hurricane Party" does a great job. (While at many alcohol is a main ingredient, my parties are alcohol free and still tons of fun!)