---
Wow! It's officially the 100th month of Wonder Wednesday activities! Through the wide variety of y'all's benevolent support, Wings, Worms, and Wonder grew and continues to bloom. And for that I am ever grateful.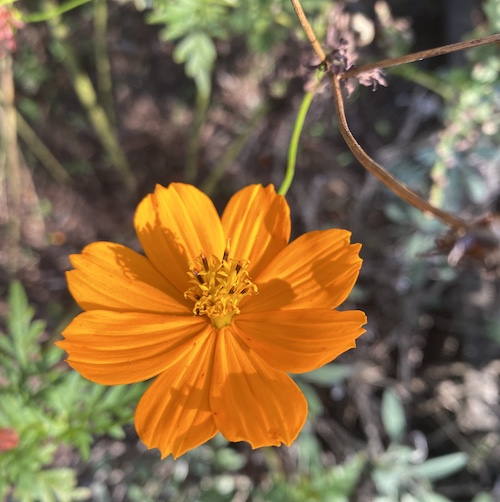 To celebrate the amazing benevolence of each of you who make up the world of Wings, Worms, and Wonder, this month we're making Benevolence Boxes!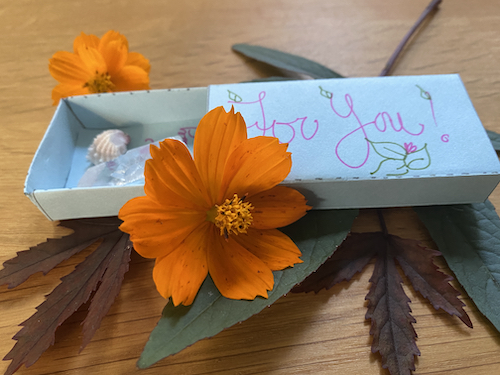 I thought, in a very weird year full of both wonder and heart break for so many, and in an approaching winter holiday season where friends and families will be apart, we can leave these little benevolence boxes on the doorsteps of friends, family, and even strangers.
They can offer little pay it forward smiles and sparks of wonder that express the gratitude we all have for life – human and more than human – together here on our planet Earth.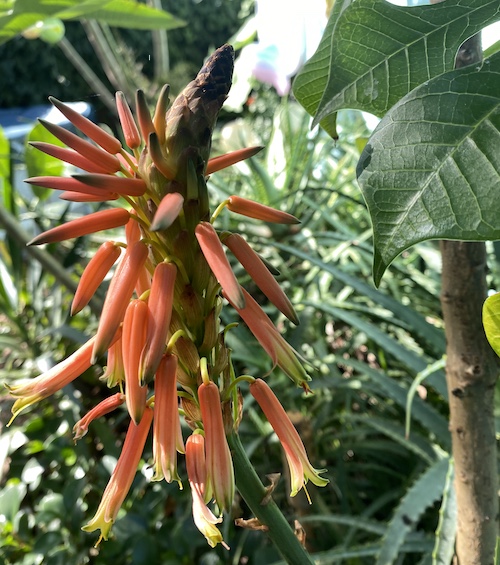 So this month, make, decorate, fill, and scatter these little benevolence boxes like seeds to spread wonder, kindness, love, and friendship!
---
Wonder Wednesday 100:
Benevolence Boxes
This pattern is so multifunctional! Use it to gift tiny presents, to store seeds, to house bits of inspirational ephemera, and for just about any other tiny storage or leave a spark of wonder surprise thing you can think of!
Supplies
Benevolence Boxes pdf print out (Click the link below to download  and print)
wings-worms-and-wonder-wed-100-benevolence-boxes-pattern
Card stock or other heavier paper that can run through a printer (try 40lb watercolor paper cut to fit your printer and see how it works!)
Color pencils, paint, pens, collage materials, stickers, anything you like to decorate the boxes.
Seeds, quotes, tiny images, little candies, dried flowers, stickers, temporary tattoos, little seashells or stones, a knotted friendship bracelet, or anything else tiny that could bring a smile.
Tape or glue
Preparation
Print out the pdf pattern onto card stock or heavier paper. Or, print out the pattern on regular paper, and then trace it onto the paper of your choice.
Note the 5cm line at the bottom of the page. If this line on your print out measured 5 cm, your print is full scale. Since the parts are in proportion to each other a smaller print or larger print will simply just result in a smaller or larger finished box.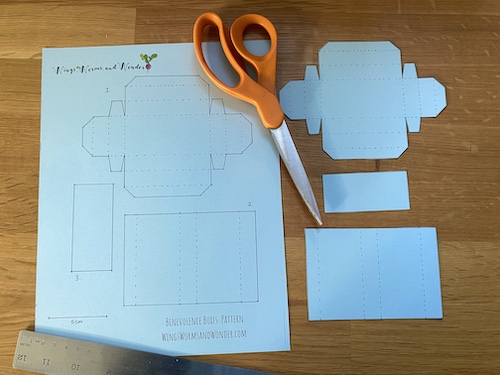 The order from here may be varied. I recommend assembling a box plain first so you get the feel for what sides show where. Then, decorate more boxes pre-folding according to your understanding of the folding.
Procedure
Cut out the 3 pattern pieces on the solid lines.
Piece 1 is the container part of the box.
Piece 2 is the slide cover (like an old fashioned matchbox).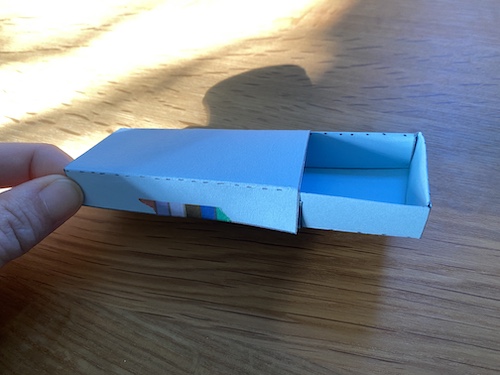 Fold the pattern pieces of 1 & 2 on the dotted lines to form the box and the slide cover.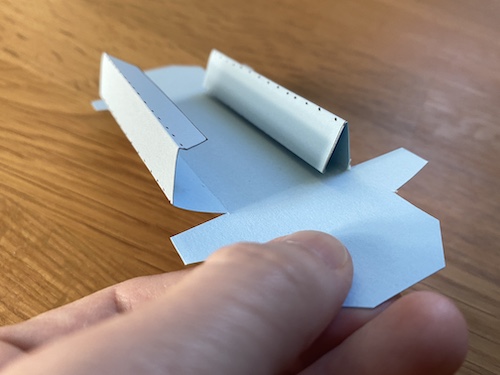 On piece 1, insert the tabs into the longer side folds to secure the box.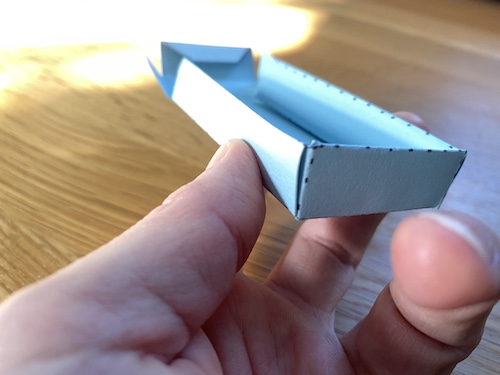 The flap on piece 2 will need to be taped or glued closed.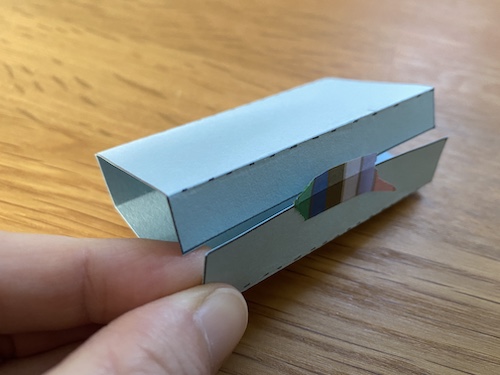 Decorate the box pieces 1 & 2. Create themes or go abstract. Create and decorate with whatever, and however, you like!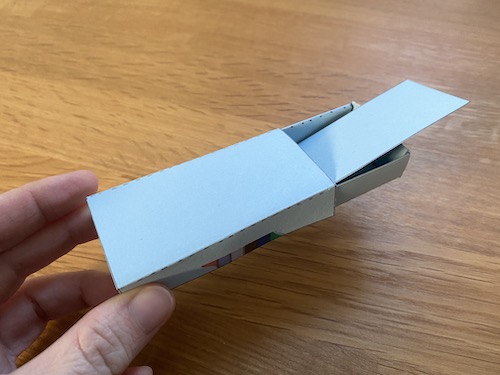 The plain rectangle (part 3) can be decorated as a card with a picture, a quote or a note. Make a series of these cards to go inside the box, or don't use them at all!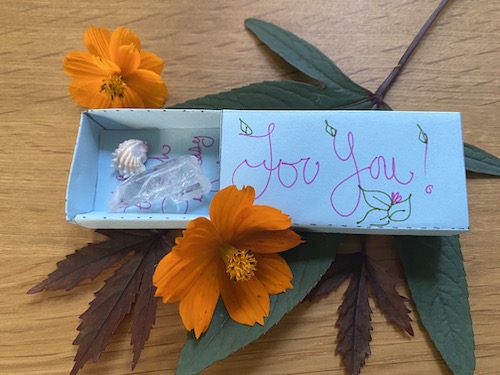 You can also include small objects like rocks or dried flowers inside the box, or even a tiny sweet treat.
Write poems or inspirational reminders inside and hide them around your house to be found later.
Leave the boxes in public places for others to discover with benevolent messages and surprises included within them to brighten a stranger's day.
Leave a benevolence box with a kind thought and a nice tip for a service worker- because we all know they are heroes in these pandemic days!
Mail one to a friend telling them why they are such an awesome person.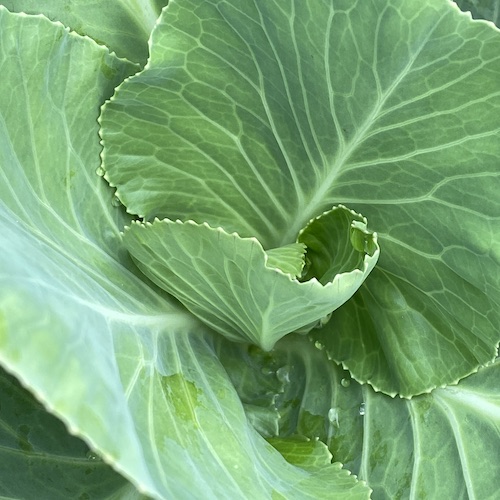 Fill them with seeds and give as (future) garden planting gifts! (&/or also use them as seeds saving boxes in general.
The sky is the limit when it comes to spreading benevolence, kindness, and love.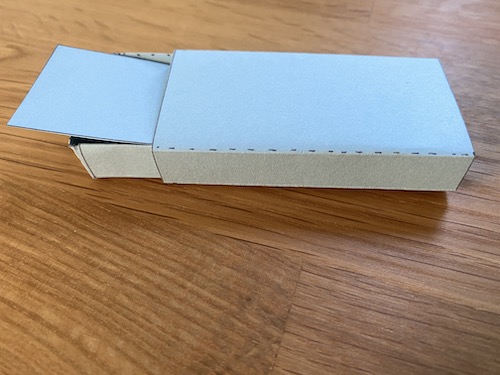 Extensions
Experiment with scale for fun. Print the pattern off in different sizes and try making nesting benevolence boxes!
Create a fun clue hunt with hints in the boxes leading to the next box and so on until a prize is discovered once all the clue boxes are discovered. The prize could be a nature picnic, a new journal, a cozy cup of tea, or just about anything!
Create bunches of the boxes with kind and inspirational words and maybe a tiny token of nature of some sort and drop them off at a women and children's shelter or elderly care home to spread a little sweetness.
Incorporate the Indigenous Wisdom of the Honorable Harvest into a practice of giving these boxes of benevolence.  You could start with these:
*Know the ways of the ones that take care of you, so that you may take care of them.
* Take only what you need. Take only what is given
*Never waste, use the harvest respectfully.
* Give thanks. Give a gift, in reciprocity, for what you have taken.
---
Where could you leave a benevolence box to spread some gratitude?
Share your ideas for what you can do with benevolence boxes in the comments below!
Share your benevolence boxes on the art table or in the world on Instagram #wingswormsandwonder and be sure to tag @wingswormsandwonder too!
---
Seeds to Sprout
In the wake of hurricane Eta, Central America could use some benevolence right now. All profits from November Etsy shop sale swill be going to Hurricane Eta relief in Costa Rica.
My best friend is Costa Rican and she has recommended relief efforts organized by her local bank (BAC Credomatic) through yomeuno.com . Through this link you can donate directly to relief efforts in Costa Rica, as well as every other southern Central American country of your choosing.