---
Happiness. It's constantly touted to us as something we all want to have all the time – and often as something that if we don't have it, something is wrong with us.
Well, life is a balance of dualities right? And we can't have one side without the other. Without sadness, anger, frustration, and so many other traditionally "non-happy" emotions, how could we even know what happiness feels like?
And do we really want the bright-sided happiness (as often defined, featured, and sold to us by mass culture) anyway? Does being not "happy" even mean we aren't really happy? Happiness can be an even keel peaceful, rather than whoo life of the party.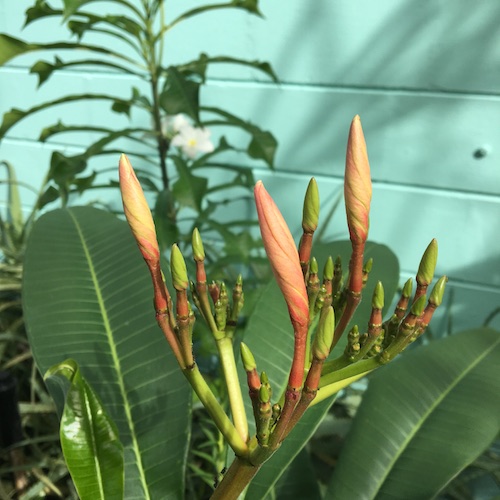 Frangipani flowers are a joy in my life. I love the way the buds twist and the colors fade around the spirals.
Questions around happiness really interest me. What about you?  I like being happy, of course, but times in my life that I've been filled with emotions other than happy have been my most productive for personal growth. These times also made me more a resilient, empathetic, motivated, and productive person. As miserable as I was in the moment, I'd never trade those times because of what they gave me.
I now realize that I prefer to be content rather than "happy" if given the choice. Contentment is more along the lines of what yoga philosophy defines as happy anyway – as far as the human roller coster of peak and valley emotional experiences go.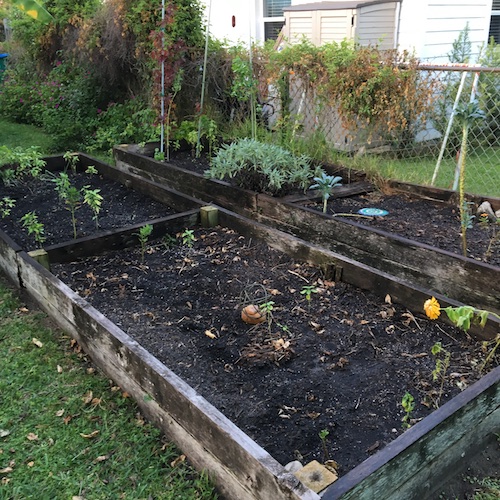 A freshly weeded garden bed, even when the garden itself still needs plenty of prep for the new planting season is always a source of contentment.
I'm partial to the word contentment to describe the happiness that creative nature experience brings to us. It's a deep peaceful nurturing foundational type of joy that lasts longer than the happiness say eating a cupcake of getting a new toy brings to our loves.
This current consideration about contentment versus happiness was recently brought back into my awareness though a podcast I heard featuring Laurie Santos, a Yale University psychology and cognitive science professor.
"Santos' Yale course, "Psychology and the Good Life" focuses on answering questions like:
"What actually makes us happy?" and "What can we do to achieve the good life?"
Her course has become the most popular class in Yale history…" (citation)
Which leads me to a topic of joyful living that I first heard Santos speak on – the idea and practice of "savoring."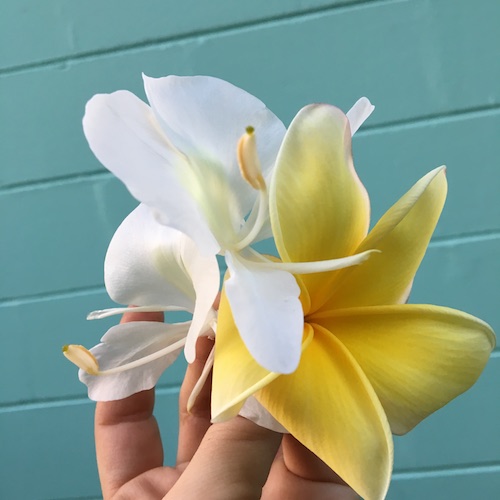 While in bloom, I always make time each day to savor the euphoric scent of butterfly ginger and frangipani flowers in my yard. This savoring carries joy with me in the colder months.
If you've taken any of my workshops or online classes you've heard me speak about sensory observations and tuning in to what I like to call "Nature's Whispers," this is right in line with what Santos describes as savoring.
And the more we savor, the more we are open to an increased awareness and ability to savor – it's like a bowl of goodness that keeps refilling our contentment and joy!
Santos defines "savoring" as:
"The simple act of stepping out of your experience to review it and really appreciate it while it's happening."
Take it outside and it sure sounds like tuning in to nature's whispers to me! Savoring an experience in the moment is a way to keep yourself in the present and recognize the beauty and joy of that moment.
Santos recommends taking a picture when you savor a moment, then you can return to that moment later while looking at the photo to trigger the same  joyful feelings that savoring the moment induced.
I say take it a step further and draw a bit of nature from the moment! (whether at that moment or from your photo later.) When you look back over your nature journals, do you have positive feelings and memories return based on the connections you made while drawing?
I know I sure do! Especially my travel nature journals. They are my favorites to flip through. I get flooded with fondness and sensorial memories of the places and cultures.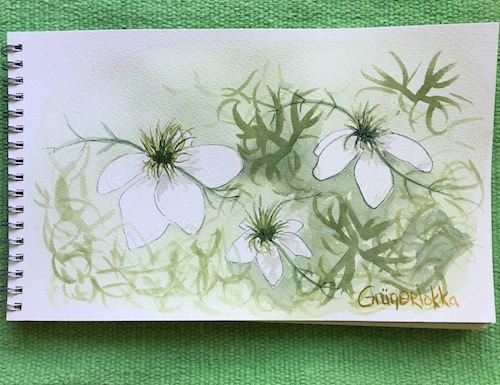 I savor my Scandinavian travel journal the most of all and flip through it every few months. I look forward to creating another one while in Sweden this winter!
"Tracking" is what Santos would call this practice of documenting and returning to the savored moment. The beneficial result is turning one moment's savoring into a life's happiness habit! And in turn, increasing your sense of wonder and nature connections!
What about making a special Savoring themed nature journal? How great would that be?
I think I will do just that – will you join me?
In the comments below, share a moment you've savored, and often return to, to bring you contentment and joy!
Create a savoring nature journal and share pics on Instagram #wingswormsandwonder !
---
Seeds to Sprout
Use my 12 Month Art and Nature Journal Workbook as a Savoring Nature Journal! The 30 Day Thumbnail Sketch pages included in each month would be perfect for this practice! The workbook is only $10 and ships worldwide!
Join one of my online classes and inspire your sensory observation skills and nature journaling practice! There are many classes for all ages, ability levels, time constraints, and price points – starting at Free!
Yale made Santos' most popular class available for FREE  as "The Science of Well-Being." Check it out here. I registered!
Santos' "The Happiness Lab" podcast "Each podcast episode picks one 'lie of the mind' and explains where we go wrong and how we can do better."