Happy first Wonder Wednesday of spring! What better way to celebrate spring than to start nature journals!
I made these fun and quick journals with my awesome group of participants at the American Montessori Conference and I make them with my little friends and gardening students regularly because they are so easy to make!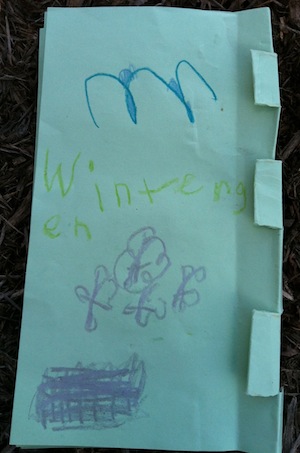 A 5 year old made this one all by herself!
All you need is paper to make them and ages 5 and up really don't even need help constructing the journals!
I think they are especially great for documenting an outing, trip, or for making a booklet about a single topic.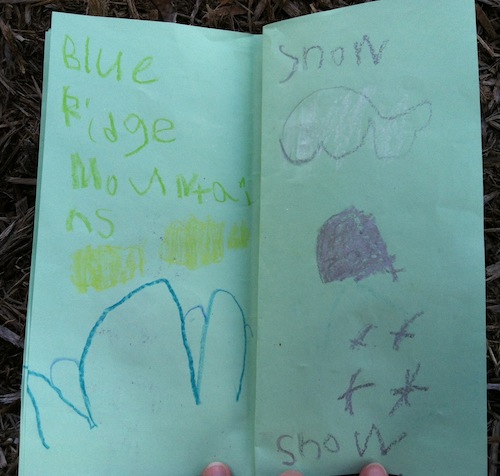 She used her journal to document a family trip to the mountains.
Wonder Wednesday #43: Fold-&-Go Nature Journals
Materials:
Copy paper (5 pieces per journal) use white or colored paper

Scissors

Pencils
Optional:

rulers

paper clip(s)
Preparation:
Depending on the age of the students you may want to either:
prepare the journals for younger children or
measure and/or pre-cut the tabs
Procedure:
Fold the 5 pieces of copy paper in half horizontally. These are the inner pages. If you like you can use a colored piece for the outer most page to signify the cover.

Crease the fold using the ruler, side of the pencil, or any other tool to make the fold firm and strong.

Use a paper clip(s) to hold the pages together. Place one at the top and one at the bottom.

Measure down the outer fold 1 inch and make a ½ inch line on the cover.

Cut these ½ inch lines to create tabs.

Alternating to the front and back, fold the tabs.

Use the ruler or a pencil to crease the folds and make them sturdy.

Voila! You have a quick and easy fold and go journal!
You can also make these journals a little more on the fly by skipping  the paper clips, using 2 fingers to measure out the tabs and then tearing the tabs rather than cutting.
What nature adventure could you use these journals for with your children or students? Share in the comments below!
Share pics of your journals on Instagram #wingswormsandwonder
Seeds to Sprout:
Learn more about why nature journaling is so great for connecting with place, nature, and sparking wonder in this blog post.
Want some nature journaling prompts to use with your new journals? Check out my Nature Journal Prompt Cards here!
Learn more about nature journaling in the classroom or homeschool here in this post!