---
This month we're taking a photo walk!
Happy Wonder Wednesday 68!
Photo walks are really fun ways to get outside, hone our "seeing" skills, and encourage friends and family who prefer an ipad to a lily pad to start creatively connecting with nature! They seamlessly blend place connection & nature with the tech we all love (or love/hate at times).
They can be as short or long and as simple or high tech as you like, but the main goal is just to get out into our natural communities and tap into nature's whispers. There is so much wonder waiting to reveal itself to us when we slow down to see it.
When I was back in art school as a photo major, I had a professor who said,
"The highlights are the shouts and the shadows are the whispers, listen to the whispers when you take photos."
This advice really set right with me and has influenced the way I "see" things even all these years later. It's also the seed for my phrase "nature's whispers" I often use here on the blog and in my classes. There are so many things shouting for our attention in life, but when we learn to listen to the whispers as well, we discover a whole new world patiently existing beyond the shouts.
The "shouts" could apply to all the obligations, ads, and to-dos in our life, or simply to the more obvious aspects of nature we observe. For example, when looking at a tomato plant, we may first notice the bright red tomatoes (a shout), but when we take time to look past that we notice the tiny hairs on the leaves sparkling in the morning dew.
So charge up that phone camera, or pop a roll of film into your old SLR, and let's get out on a photo walk!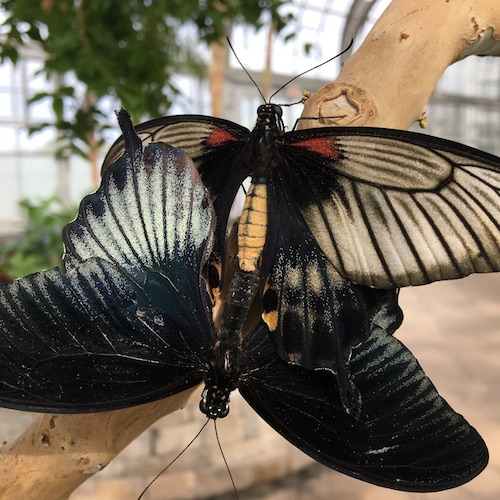 I caught these butterflies mating at Lewis Ginter Botanical Garden because I saw a wing tip and peaked around the backside of a tree.
---
Wonder Wednesday 68:
Let's Take a Photo Walk
Materials
A Camera of some sort, digital or film
A map
Appropriate clothing and gear for the weather
Preparation
Decide if anyone will join you, then set a date and time for your photo walk and put it on your schedule. Solo photo walks are more meditative, and group photo walks are a fun way to connect through doing with new and old friends and family. If you have a teen you want encourage to hang with you, try a photo walk.
If you are photo walking alone or in an unfamiliar area while traveling, for safety reasons, be sure to let someone know of your schedule, route, and maybe even activate the track my phone app.
Map out your route. It could be through a park, garden, around a neighborhood, wherever you like. I recommend a circular route so you end up where you started.
You will be moving more slowly through the route than if simply walking it since you (and the group) will be stopping to take photos. So if a route normally takes an hour to walk, schedule 2 hours.
Pack a bag/backpack with whatever you may need or want while out on your walk depending on how long your route takes. Try not to make the bag too heavy since you will be carrying it the whole time. Go minimal.
Procedure
At the starting point for the walk, turn off your phone ringers and perhaps even put the phone on airplane mode. This way if using the phone for the camera you won't be distracted by incoming calls, texts, and social media notifications. Let the phone simply be a camera.
Take a few moments to breathe deeply 3x and center yourself in the present moment.
Before you start walking, stand for 2 full minutes in the starting spot and just observe the area in front of you. Start tuning out the shouts and tuning in to the whispers.
Keep a beginners mind and outlook. It's easy to overlook places we see everyday. This helps us see nature's whispers. As Rachel Carson said,
"One way to open your eyes is to ask yourself, "What if I had never seen this before? What if I knew I would never see it again?"
Change up your perspective. Remember to explore seeing things from different angles and heights. Looking at something squatting versus standing can totally change the way it looks and how you see it.
Share your view. Once the photo walk is complete, swap camera phones and cameras (if you are using digital devices) and check out everyone's views of the walk. It is very interesting to see how 10 people can take a photo of the same thing in 10 different ways. Chat about your discoveries in "Seeing."
Use this theme list to get you going. Themes are a good way to break the ice on photo walks with both technique and with the group for beginners and advanced photographers alike. Take a photo of each of the themes on the list during your walk, then, once comfortable, expand out from the themes.
Flora
Fauna
Texture
Pattern
Close up
Distance
Landscape
Portrait
Highlight
Shadow
Juxtaposition
Upside down
Have fun with it! Enjoy place connecting with your natural and built communities while you see what you can see.
Where would you most like to take a photo walk city or country side?
Share in the comments below!
Post your favorite photo walk pics on Instagram #wingswormsandwonder so I can see what you see!
Seeds to Sprout:
Want a few photography tips to prep for your photo walk? Check out this photo tips blog post and brush up before you walk!
Have a macro lens but not sure what to do with it? Check out this Macro Magic blog post on tips for using a macro lens and seeing the world from a bugs' eye view!