---
Happy Wonder Wednesday 66!
February is the thick of winter, so if your neck of the woods is short on color and foliage these days, hop over to the store and pick up a cheerful bouquet and get petal painting! Once spring rolls around, you can head out for a walk and try this one again with flowers you find.
I've been seeing this make paint from flowers activity around, and thought I have to give this a try! I've painted with tea, coffee, beets, spirulina, and turmeric, so why not make some paint from flowers myself.
Making petal paint works because flowers have pigments in them from chemicals called anthocyanins. It is these pigments that we steep out to make the paint.
Every step of the process was lots of fun and visually appealing – so go ahead, try it! Nature journal with actual nature!
---
Wonder Wednesday 66: Petal Painting
Materials
Flowers and leaves – fresh picked or purchased bouquet
Bowls for each color of flower petal
Scissors
Plastic baggies
A mortar and pestle and or rolling pin
Wire mesh strainer/tea strainer
Paintbrushes and paper
Optional: jars with lids to store your petal paint into

Preparation
Go for a walk and collect different flowers and leaves
or
Buy a bouquet of flowers. (I used store bought.)
Procedure
Pick the petals off the flowers and sort the different color petals into bowls. This is a great fine motor activity for young children.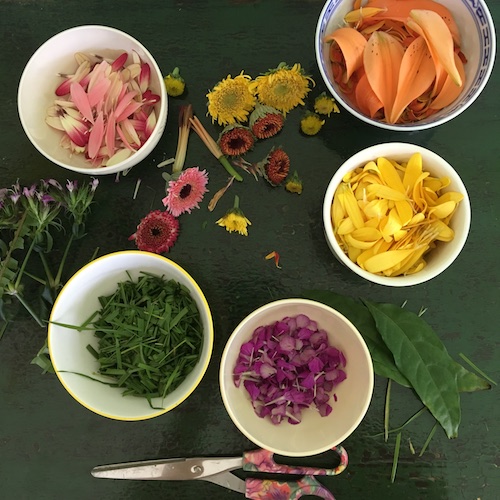 Either tear the petals into small pieces, or chop them up with scissors.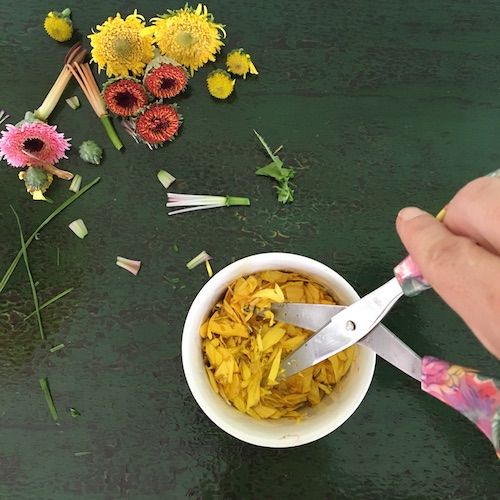 Add hot, or even boiling, water to "steep" the petals. Add about 1/4 the amount of water as you have petals (or so), making sure that most all the petals are in the wet. Let the petals and leaves steep in the bowls until the water is just warm, not hot.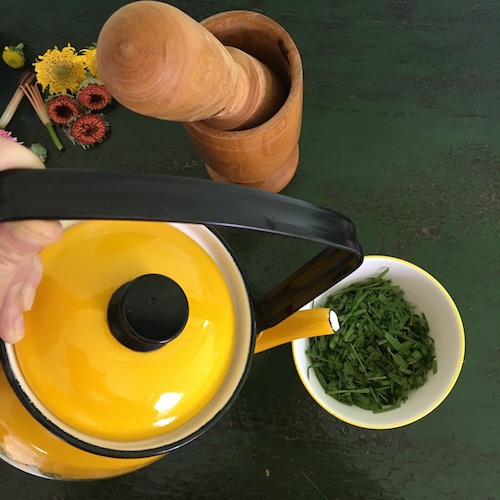 Then, pour the petal and water mixture into plastic zip bags and mash the petals and leaves with either the mortar and pestle or rolling pin. The key is that you break up the cellular structure as much as possible to release the color.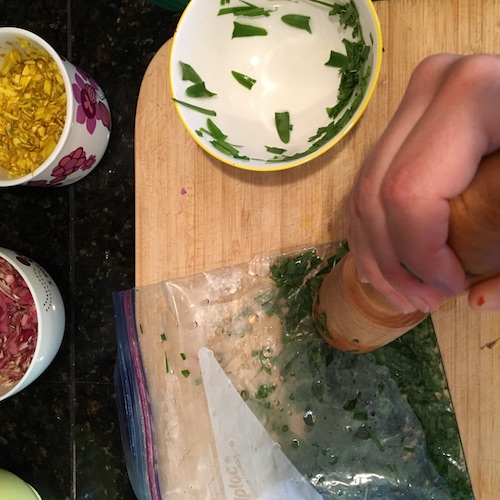 Let the bags steep for 3 hours or more.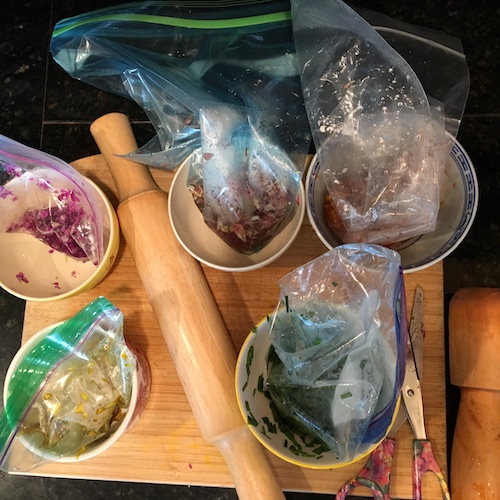 Once steeped, strain back into the bowls or into jars. You may want to label the bowls or jars as it becomes a little tricky to tell what flower it was from based on the color of the liquid – especially if you steep and paint of different days as I did. The labels we very helpful.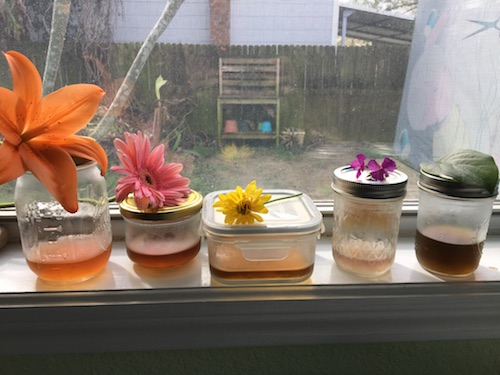 Then, paint away! I first made a color chart and waited for them to dry to see how the colors would actually look. They are subtle colors, but quite nice and do dry differently than they look wet. The purple flowers looked the most different as the liquid was quite clear, but dried it was a lovely purple color.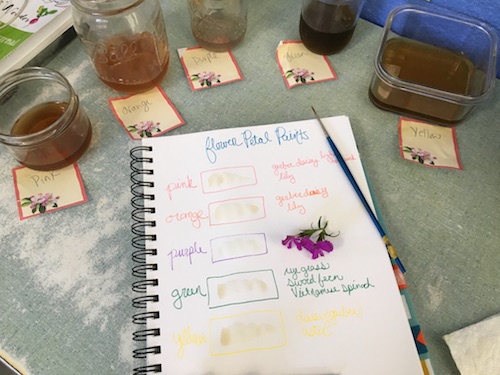 At first, I was a little disappointed at how light the wet colors were ( & the true depth of the colors was tricky to capture on camera), but then I realized once the "paint" dried that I really enjoyed the subtlety.
The loose flowers below were painted in a "normal" way, using purple and yellow for the flowers, and green for the stems. I especially enjoy, once dry, the painted edge areas where the color collected – for example, notice the tips of the "blue" flowers in the picture below. You get a nice almost outline of more intense color.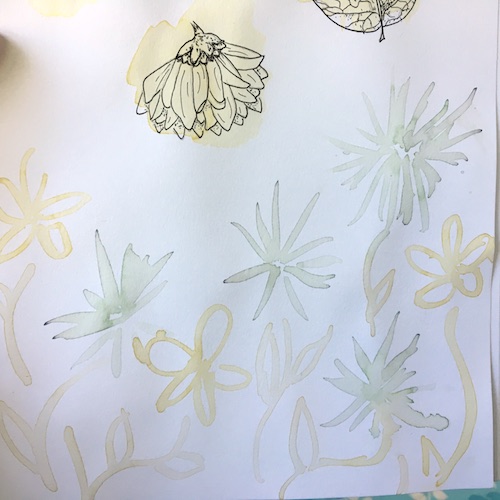 Then, I got the idea how nice these petal paints would be for backgrounds as well as toning papers or as color blocks behind pen or pencil nature illustrations.
I'm looking forward to trying this petal paint making again with lots of different flowers!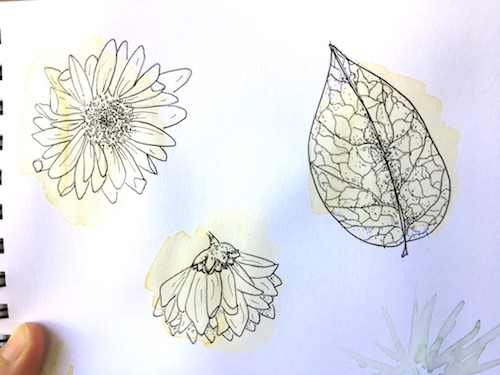 What flowers or leaves would you like to try to petal paint with? Share in the comments below!
(I used gerber daisies, asters, lilies, a purple flower I don't know the name of, and then for leaves, rye grass,  Vietnamese spinach, and sword fern.)
Share pics of your petal paintings on instagram #wingswormsandwonder !
Seeds to Sprout:
Register for my Trillium Montessori Eco-Art & Nature Journaling course!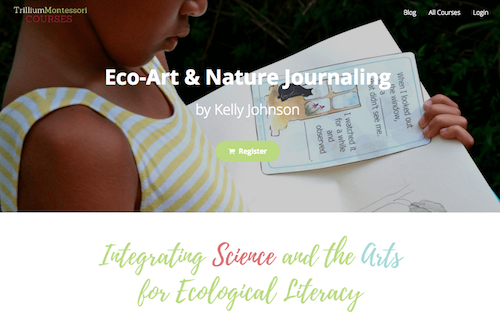 It's an encore presentation of my Eco-Art workshop from the 2016 Trillium Montessori Summer Summit! This is the first time it's been available outside of the Summit. & Not only that, we added as bonus my Nature Journal Prompts course which includes the PDF download of my hand painted nature journal prompt cards. Learn more and register here!
Curious about painting with beets and coffee? Check out this replay of a live Wonder Wednesday 45 paint along hour where we nature journal with beet stamps and coffee paints!