Happy Wonder Wednesday 50 everyone!
Did I type that right? Wonder Wednesday 50?!! WOW! That's is worthy of a treat!
Since it is the week for all things spooky and slightly gruesome, I thought what better way to celebrate a Halloween Wonder Wednesday with a little edible scat!!
HAHAHA! Awesome right! Sounds totally gruesome! But it isn't of course. It's a fairly tasty way to explore one of nature's most natural body functions. And learning to ID scat is also a great way to discover who or what is ahead of you on the trail!
This is a great extension activity to do before a hike, trail walk, as a way to further understand herbivore, carnivores, and omnivores, or just a fun way to learn more about your world!
So just in case you are new to the wonders of nature, what is scat? It's wild poo. Yep, it's the scientific name for poop found wild. So it could be from a deer or any wild animal you find in the wild.
---
Wonder Wednesday #50: Edible Scat
Materials
Measuring cups
Measuring spoons
Oatmeal, the real kind in the canister or the instant packets, and ideally organic. I used the instant (Apple flavor because it's what I had – it was quite tasty with the chocolate!)
Organic Fair Trade Hot Cocoa Powder Mix (We must avoid supporting child slavery on the cocoa plantations. If it's not marked fair trade you can be assured children are harvesting the cocoa pods. Social justice is worth the price.)
Water safe for consumption
A scat chart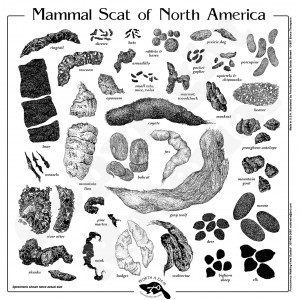 Optional:
Extra spoons and spreaders or table knives to form and sculpt the scat
Books about scat, for example: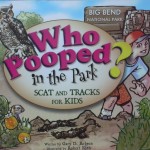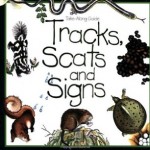 Preparation
Print a scat ID chart off the internet or use a local field guide with scat id included.
Get familiar with scat!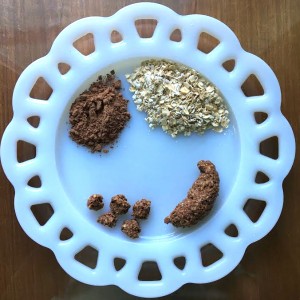 Procedure
To make the scat, each person playing along needs:
1/2 cup of oatmeal
2 tsp of the fair trade hot cocoa mix
Water
Crumble up  the oatmeal with your fingers to make it a little more powdery
Mix in the hot cocoa mix with the oatmeal
Add water by the spoonful until the mix can be molded into shapes
Look at the scat chart and make some scat! Try to make the shapes look as realistic as possible.
If you are doing this with a group, try to guess what type of scat each person made and say if the scat comes from a carinvore, omnivore, or herbivore.
How and why do you think the shapes and sizes of the scat are determined by its diet?
Consider why it's important to be able to ID scat when out in nature.
Eat your scat!
What types of scat would you like to make?
Share in the comments below!
Share your scat pics (both real & edible) on Instagram
#wingswormsandwonder #wonderwednesday
Seeds to Sprout:
I got this activity idea from a visit to the Rockfish Valley Natural History Center at Spruce Creek Park in Nelson County Va. Stop by if you are ever in the area it's fantastic!
Check out all that's new in the world of Wings, Worms, and Wonder in yesterday's post and be sure to enter the sticker pack giveaway!
Get your fun Wings, Worms, and Wonder nature sticker packs here!
Get a copy of the new book the Wings, Worms, and Wonder 12 Month Art & Nature Journal here! 
& Remember:
Nov. 1 – Official debut of the new 12 Month Art & Nature Journal: Mindfully Color, Sketch, and Relax Your Way Into Nature – There will be a blog book giveaway!!!!!!
Nov. 10 – Live Hour with sticker, 12 Month Art & Nature Journal, & new Veggie Studies Workshop eCourse of giveaways! I hope to see you there!