It's time to seed and plant spring gardens pretty much everywhere in the northern hemisphere and in many places in the southern, you can still plant fall crops too. So this month we are making seed tapes! It is cheap to do, easy to prepare, and fun for all!  I've been doing this project in my workshops all month with children ages 18 months – 12 and they all like it equally!
Wonder Wednesday 44: Seed Tapes
Materials
Thin cheap construction paper. Newsprint can be used too, just not the glossy pages.
Scissors
All purpose wheat flour
Water
Cotton Swabs
Various Seeds and their Flowers, ideally in different stages
Nature Journals
Pencils, colored pencils, and rulers
Optional:
Little bowls and trays
Paper plates
Desiccant packets and plastic bags
Preparation
Cut the construction paper into approximately 1 inch strips
Make the wheat paste (paper mache paste):
Mix 1 cup of flour with plain water to make a paste the consistency of a thick milkshake. Add the water a little at a time and adjust the flour ratio if it gets too runny.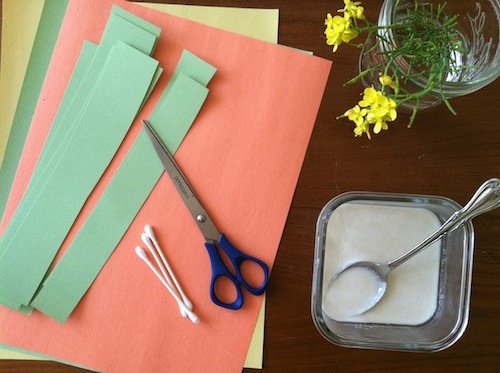 Procedure
Go to the garden and collect seed pods or use store bought seeds. Small seeds work well. I've been using radish, basil, bok choy, marigold, and sunflower (not mammoth). Any seeds should work though, try and experiment!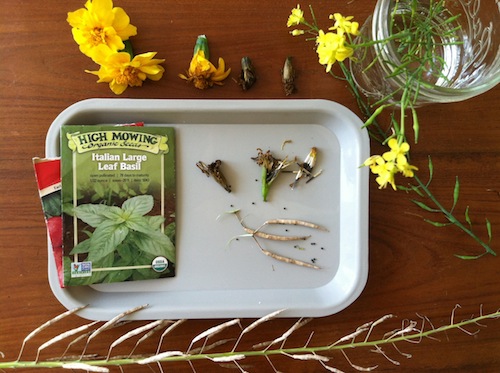 Study the flower heads and seed pods, remove seeds from the pods and document their findings in your nature journals. Measure, draw, and write to create a beautiful page!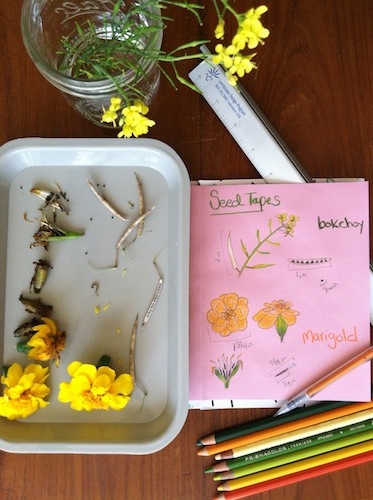 After the creative documentation is complete, either the same day or a later day, it's time to make the seed tapes from the seeds you studied. Place a strip of the construction paper on a paper plate.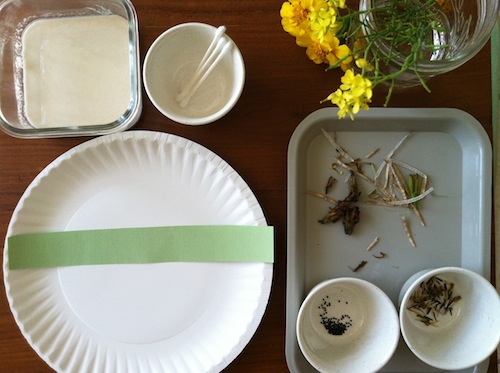 Dot the paper mache paste onto the strip. Make the dots fairly thick so the seeds will really stick.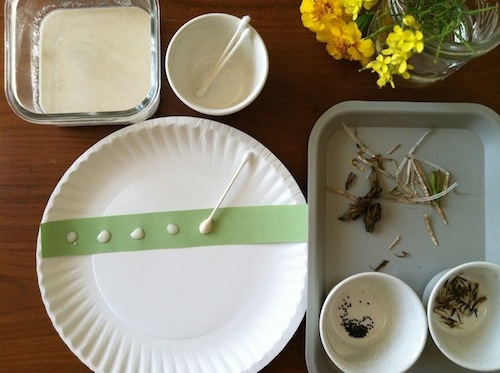 Add seeds into the paste dots. You could make a pattern or go wild style!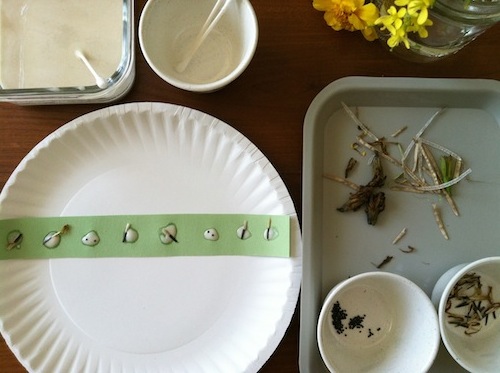 Set the paper plate(s) in a place where it (they) can dry completely, preferably a non windy spot!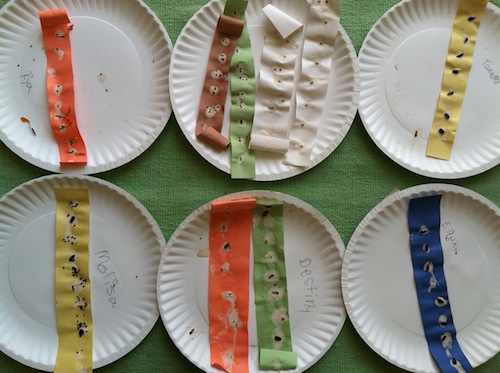 Then, plant the strips in the garden! If you'd like to save the seed strips for a longer period of time, you can place them in zip plastic bags with desiccant packets. This keeps the paste from absorbing humidity. I'm not sure how long the seeds can be stored like this though. If you try it, let me know!
What seeds are ready in your garden from which you could make seed strips? Share in the comments below!
Share pics of your seed strips on Instagram #wingswormsandwonder
Seeds to Sprout: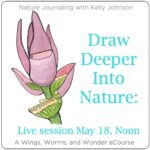 Register for my upcoming FREE live session and learn a fun nature painting technique!! (We are literally painting with something from the garden!! Learn more and register here!
It's May 18 at noon, and there are only 50 spaces so grab yours today!!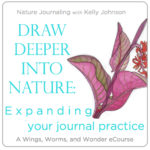 Join me in my upcoming new eCourse! Draw Deeper Into Nature! Learn all about it here! SAve $20 if you register now during the early bird pricing!! 
We'll be doing so much fun creative nature connection in this awesome 4 week course! With 4 live sessions too!! (+ You get access for the life of the course!!)
New to nature journaling? Try the Draw Yourself Back to Nature and Draw Deeper Into Nature eCourse Bundle!! Watch a video here. Get 8 awesome weeks (and access for the life of the courses) of creative nature connection fun with: drawing and painting tutorials, featured artists to inspire you, nature connection tips and ideas, bonuses, and so much more!!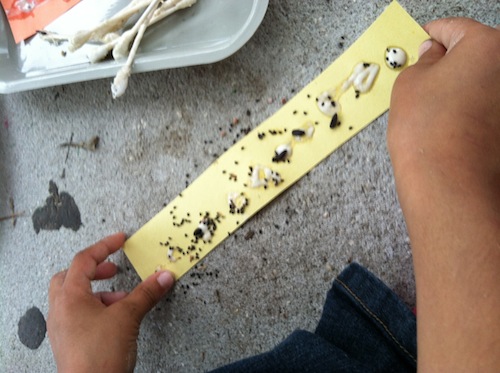 Going wild style on a windy afternoon!!