Hello!! I'm home from my blog-cation and vacation! I hope y'all have had a great month and enjoyed the birthday surprises! Wings, Worms, and Wonder officially turned 3 this week! I have waiting for just the right month for this activity and this is it because, just like Wings, Worms, and Wonder, it combines art and gardening to spark wonder!
As summer break comes to a close and garden plants are ready for harvest, what can you do with the leaves of the plants you pull out, besides compost them? Leaf prints!
Leaf prints are fun easy to make, and depending on whether you do it as art alone or as an extension to a botany lesson this activity spans the age ranges from K-12!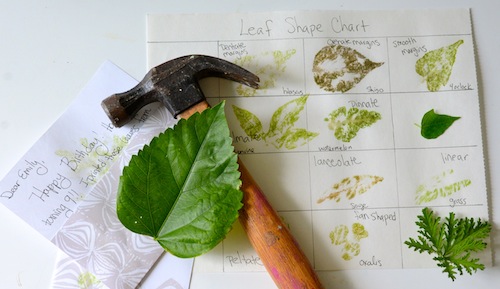 The prints themselves can be made into cards, stationary, or wall art. The process of printing with the chlorophyll from the leaves illustrates lessons on plant anatomy. Explore cell structure (or smashing it!) and lessons on chlorophyll and photosynthesis. Then, once all is said and done, the leaves can still be composted!
So put those spent summer garden plants to good use before they hit the compost pile with this month's botany and birthday celebrating Wonder Wednesday Activity!!
Wonder Wednesday #36: Chlorophyl Collage Prints
Materials
Paper towels
Hammer
Paper (Depending on what type of extension you are doing, you could use copy paper, sketch paper, stationary paper and envelopes, construction paper, watercolor paper, or any other kind of paper you want to try!
Green leaves
Bowl for discarded leaves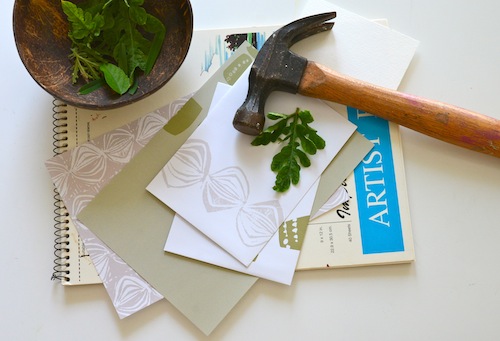 Preparation
Collect green leaves of various shapes and sizes. The fresher the better. This could even be done while on a nature walk – look out for poison ivy! (Find out how to identify it in this post if you aren't sure.)
Depending on the table you will be printing at, you may want to put down something to protect it from being dented by hammer hits.
Procedure
Depending on your approach to this activity, your academic preparation will be different. (ie: whether you're doing it as motor skill work with young children, using it as a botany extension with primary -older children and adloescents, or as an art embellishment. See the Seeds to Sprout section for botany concept resources to accompany the activity.)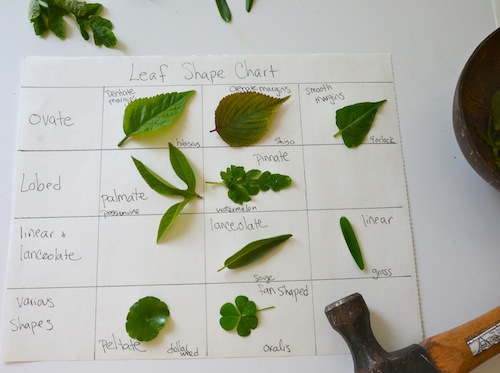 Place the piece of paper on a sturdy surface.
Arrange the leaf/leaves on the paper as you like them with the top side of the leaf facing up.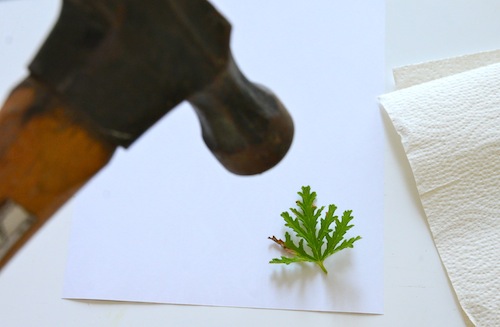 Place the paper towel on top of the leaves.
Hit the leaves with the hammer. A firm tap is the best way I can think to describe the pressure. Tap around the outer perimeter of the leaf and over the center as well.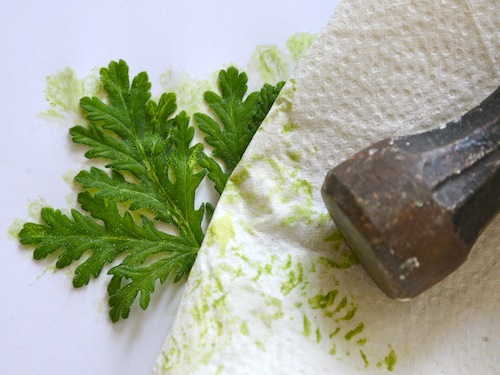 You will see the chlorophyll release in the shape of the leaf into the paper towel.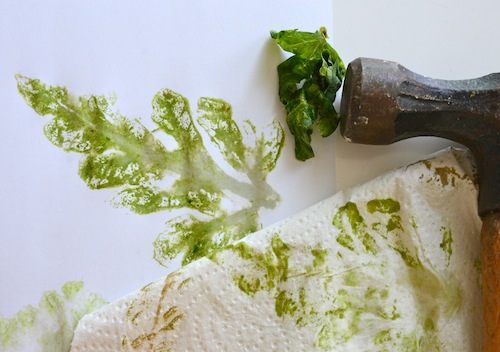 When it looks like the leaf outline, or how you want the leaf or leaves to look, lift the paper towel and remove the leaf and discard it into the bowl. (The kids really like the paper towel as art too for some reason. I admit it does look pretty cool once you've printed a bunch of leaves.)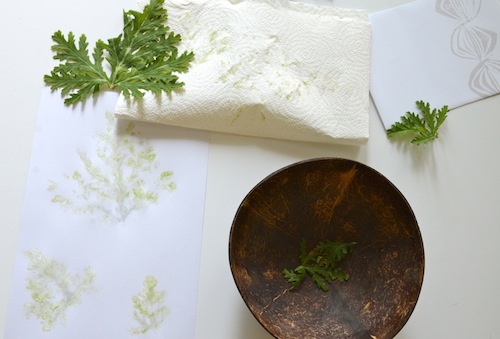 Continue to do this process to create a collage, stationary pages, a leaf study chart, or whatever for you want these prints to take or however fits your version of the project!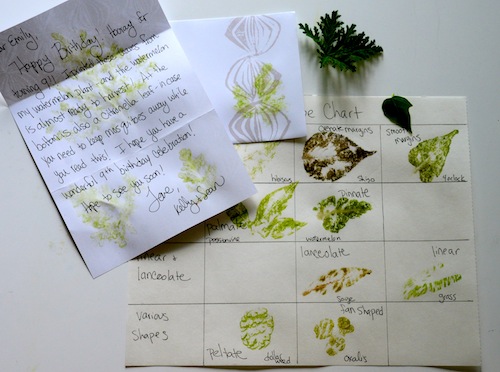 Depending on the age of the children you do this with, the accuracy and results will vary from a nice botanical illustration with very clear vein and margin imagery to free form chlorophyl art!
Try leaves of different colors as well to open the chlorophyll discussion further. I expected the dark color from shiso, but was surprised that green sage printed brown. Red maple and sorrell would be interesting to try.
Notice how the leaf prints made really nice background images on the stationary – and because I used herbs, the page smelled great too! Younger children can make stationary gift sets for mothers day or grandparents day.
With lower elementary age children, this is a great project to tie writing into art and botany. Have the students make stationary, then teach letter writing and have them mail the letters to each other or to family members.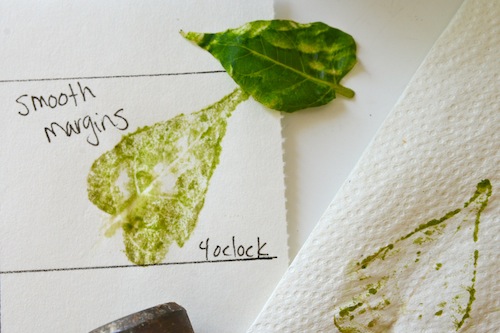 You can see in the leaf chart I made here that the options for the amount of information can be increased for older children and with adolescents the chart makes an attractive and creative accompaniment to botany experiment scientific research for papers and presentations.
Here, I labeled leaves with shape, margins, and name of the plant from which the leaf was taken. The Neinhuis Montessori botany chart materials are great for learning the leaf shapes and for self correcting. This is activity also a great extension to do with the lesson on Leaf Margins Lesson and chart in my book Wings, Worms, and Wonder!
Did you, or will you, incorporate this activity into a botany lesson?
Share in the comments below!
Share pics of your leaf print projects on Instagram #wingswormsandwonder
Seeds to Sprout:
Check out my book Wings, Worms, and Wonder here. It has 40 lessons + extensions for integrating art and gardening across K-6 curricula – including more lessons on leaf shapes and margins!
Download Botany and Art and their Roles in Conservation from the Smithsonian here. It's really awesome and includes lesson plans and resources. Don't miss this one.
Find printables and resources for teaching botany to K-12 here.
Get more K-12 interactive lab botany teaching resources from The American Phytopathological Society here.
Get info on Chlorophyll and Photosynthesis from the Missouri Botanical Garden here.
Chlorophyl and Photosynthesis for Kids by Gardening Know How, online gardening magazine.
Want more creative nature connection inspiration and instruction? Check out my new Herb Studies Workshop eCourse here! Learn to draw and paint 3 garden herbs, while discovering their cultural history, recipies, and learn how to grow them yourself!