With winter in full swing it's time to use the cold to our advantage!  I had a childhood friend and her family come to visit me up here in the mountains, so we had some fun creating sun catchers out of ice – a seasonal variation on a classic theme!
This is a super easy, cheap, and fun project that can be done at home or school, and never fear southern family members, you can always freeze your ice catcher in the freezer if it's warm outside!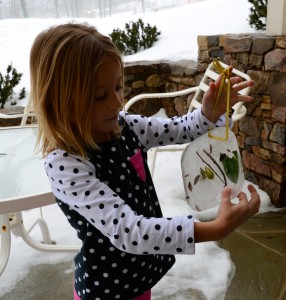 Depending on the age of the children and environment you are in:
Theme this activity to be an extension of a lesson you are studying like: Montessori's Nature of the Elements experiments, states of matter – liquid to solid (and back to liquid as it melts), the law of attraction (also in the Nature of the Elements), or even Archimede's principle for older children.
Approach it as an art project and talk about composition and design elements,
Or both…or neither…and just have fun playing with nature!
Wonder Wednesday 29: Ice Catchers
Materials:
Natural items like leaves, sticks, pebbles, buds, etc.
Ribbon, yarn, or string – 1 for each child – about 8-12 inches long
Flat bottom containers like sandwich size tupperware – 1 for each child
Water in a pitcher
Freezing temperatures or a freezer
Optional:
suction cup
bird seed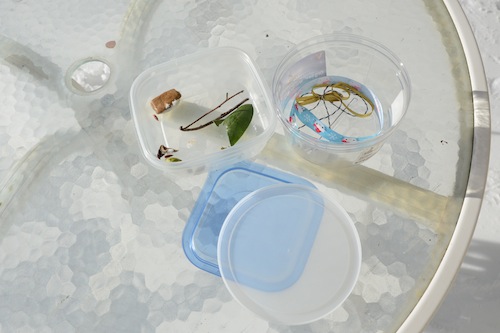 Everything you need for this activity can be found around the house or classroom!
Preparation:
Tie the ends of your string together to make a circle. This will be the loop to hang the catcher.
Depending on whether you are tying this activity to a science lesson, art lesson, or just doing it for fun, you will start off the project with a conversation that explains how this project will illustrate and give them a chance to explore the concepts being studied, whether they are science, art, or both.
If you are just doing this for fun you may want to remind the children what sun catchers are and explain that you are going to make one from nature. Or if you are doing this with very young children just get outside, no over explaining needed!!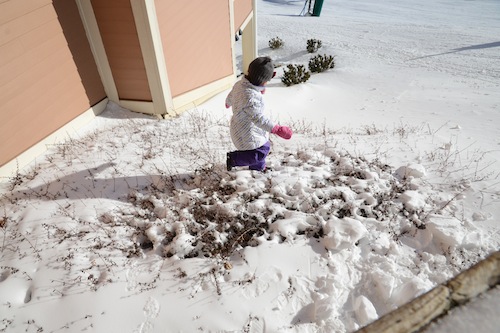 Procedure:
Have the children go out into nature and collect items in their containers.
Once they have their natural items, they can arrange them in the container. If you are adding bird seed add it at this stage.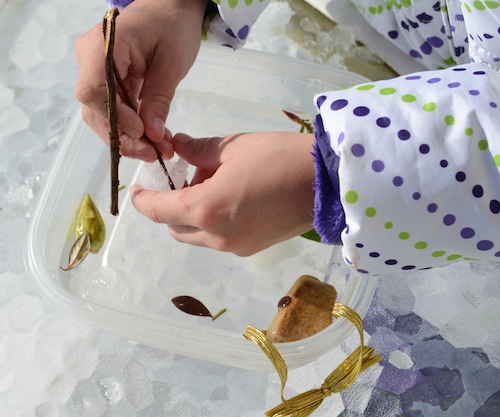 Next pour some water into the container.You will want about 1/4 of water. We discovered less will cause the catcher to crack when you remove it after freezing.
Explain to the children, before they pour the water in, that the lighter items will move around when the water pours in, but they can rearrange them. This step is where the Law of Attraction is illustrated and Archimede's principle can be explored with older children.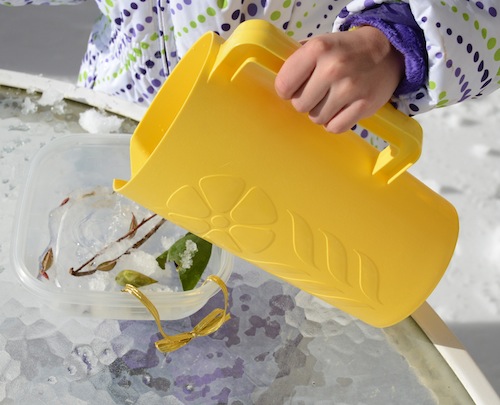 Add in the string loop. Be sure part of it is submerged in the water so it will freeze into the catcher. Also, be sure a good part of the loop is not in the water so there will be a loop from which it hang the ice catcher later.
Place the container outside on a flat surface and let it freeze overnight. If it is really cold where you are it may not take that long! If you are somewhere warm, at this point put in the freezer and freeze overnight.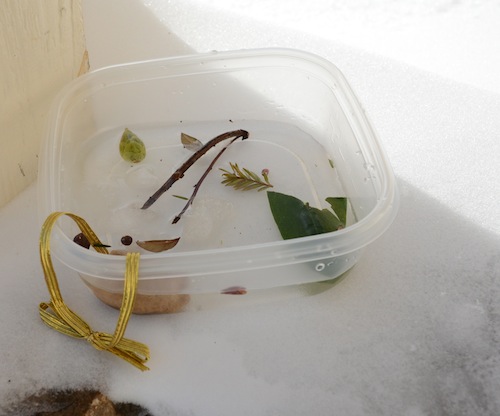 To remove the catcher from the container once fully frozen, run it under the faucet to loosen the ice from the container, like you would ice trays.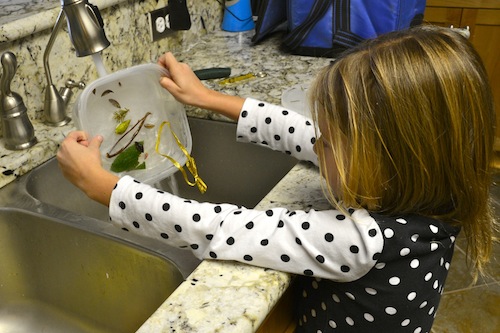 Gently pop the catcher out of the container and hang outside where you can admire it from a tree, bush, porch or in the window using a suction cup!
They are even pretty as they melt!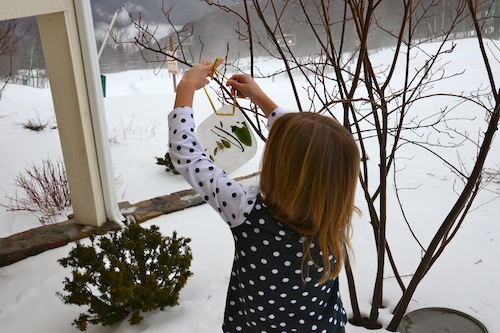 It had warmed up quite a bit and was rainy when we hung ours, but even with out the sun, they were so pretty hanging in the tree outside the window!
Seeds to Sprout:
The Wings, Worms, and Wonder Let's Build a Garden Course Early Bird newsletter subscriber special discount opens this Friday, January 30!! But it only lasts this weekend!! Sunday at midnight the discount will turn into a pumpkin. (If you planted that seed of course!)
So between Friday and Sunday night, you can get the regular course for $15 or the Bonus for $75!! What? The regular course for only $15 is a steal for that much step-by-step info, but a year of email consultation + the awesome course videos, fun sheets, action plans, and social media groups + the Garden Journal for only $75?
AND for another bonus… with the purchase you also get a discount code for a phone consultation too!!
I know! Awesome right? I just really want to help you get your gardens growing!! This is your year to get connected to nature through gardening!!! So jump on this discount while it lasts, because Monday the prices go up to $20 and $99!
Sign up for the "Join the Fun" newsletter today (Just look to your right, under my smile) to get access to the Early Bird Discount this Friday!!