Happy Wonder Wednesday!
School is out and it's time to play!! June is a great time to get outdoors at a relaxed pace just for the fun of it. Did you officially join the 30 Day Nature Challenge or have you just been enjoying nature on your own schedule?
I've been having fun with the challenge as I've traveled all around from urban to suburban to rural camping environments posting daily nature pics on Instagram and Twitter. Have you been following? How have I done? It was tough sometimes! What pic was your fave?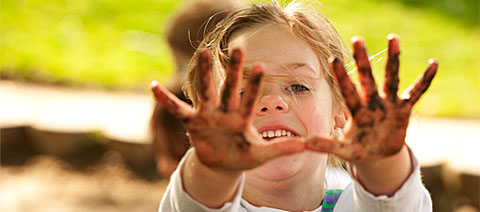 (Photo Credit Community Playthings)
This Wonder Wednesday Lesson Plan is a messy but goodie and will make for a real day to remember at schools, summer camp programs, and backyards alike! And remember, mud day can be celebrated any day!!
Saturday, June 29, is International Mud Day! A strange holiday for sure, but I am onboard! Growing up, I had a mud pile on the side of my yard that I LOVED!! Strangely, I have no idea how this pile came to be. It seems like a long shot that my mom would have planned it since mud and woodsy things are not her favorite for sure, but I played in it all the time. I had dishes and shovels and all the things a girl could need to make mud pies and piles, especially hose access! In Virginia, where I lived, the mud had lots of clay in it so it was PERFECT for building and sculpting.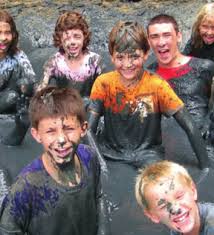 I wish I had a pic of me in the mud slide for you, but this one is actually from the camp!        See how much fun it is!! See how much mud there is!!
Playing in that free form mud pile was definitely one of my favorite pastimes when I was little. Fast forward to my elementary and middle school camp years and we had the MUD SLIDE!!! What?! Yep, the camp I went to wasn't fancy, but they knew how to have fun! They had a water slide style track shaped out of a muddy hillside beside the lake and as soon as it rained, campers ran for the mudslide to get totally covered in mud!
Okay, so I have proved that mud is so awesome that even middle schoolers drop the attitude and have fun in it? Have I convinced you that you should brave the mess and fully embrace the joys of a Mud Mania Day at school, camp, or home this week? Yes! Awesome!! No? Well, keep reading and let the lesson convince you!
Wonder Wednesday 22: Mud Mania!!
Materials
Mud – this is the part that you will have to decide how brave you are going to get or what your location can handle.
You could:
*add a bag of topsoil and water to a sand or water play table or large storage bin and keep your mud semi contained
*Fill a kiddie pool style container part way with bags of topsoil and water and let the kids get in and play full body in the mud in bathing suits or messy clothes
*Have a truck load of topsoil delivered and soak it with a hose and let the kids explore mud mountain style in messy clothes (this option could potentially get costly)
*If you have access to real outdoor mud space, turn that muddy space into a mud play area with a hose or better yet schedule Mud Day on a rainy day!
Extra water sources – hoses, spigot splitters for extra hoses, or even sprinklers to run through
Sand toys like buckets, shovels, and sifters
Kitchen play toys like tea cups pots and pans, silverware
Ice cube trays
Paint brushes – large inexpensive "chippie" wall painting style and newsprint paper
Any other mud fun toys you may have or can think of like little plastic animals or fossils, rocks, bricks, and cross sections of tree branches for using as building bricks with mud as mortar or even old baby dolls to give mud baths to!
Mud themed snacks
Preparation
Try scheduling some flexibility for Mud Day so it could be on a rainy day, but that isn't always realistic so just pick a day that works for you.
At the beginning of the Mud Day week, send home a "What to Expect at the Mud Mania Day: Parent Info Sheet" (and permission slip if needed) that says something like:
"Dear Parents, 
We are so excited about celebrating International Mud Day this Friday, June 28! To be sure you and your child are prepared for the most mud fun possible, here are a few things to Keep in mind:
Dress your child in clothes and shoes appropriate for getting covered in mud that may get ruined
Pack a towel that can get muddy for drying off post mud play
Pack a bag for the muddy clothes, shoes, and towel to be returned home
Pack a clean change of clothes and shoes
Expect your child to come home dirty and to need a good soak in the tub. While we do our best to hose the children off after mud play, we will surely not get all the mud out from behind every ear. Additionally, minor scrapes can be common when children slide and play in mud. Please be sure to clean any mud scrapes very well with antibacterial cleaner.
If you would like your child to participate in Mud Mania Day, please return the signed permission slip portion below by the morning of Friday, June 28!
Thank you for your support of this fun and unique activity!
We will save you a bite of mud pie!
Ms. Kelly
——————————————————————————————————
I give my child_____________________________ permission to participate in The Awesome Nature School's Mud Mania Day Celebration, June 28, 2014. I understand that their mud clothes and shoes may be ruined as a result of participation and that some minor scrapes may result from mud play.
Parent or Guardian signature____________________________ Date ________" This is just an example. Be sure to check with your administration for particular permission slip wording as appropriate to your situation. Mud play that doesn't involve full mud immersion will of course need much less parent prep!
You may also want to provide some of the benefits of mud play included in the links below to parents on your class website or through email and print off  the pdf link from the NWF and place it in the office on Mud Mania Day. Parent education on the front end always makes life on the back end easier!
The day before Mud Day, prepare the children at afternoon circle for what to expect on Mud Mania Day and what behavior expectations you have for them based on the style of mud play you will be offering. Maybe you will offer a few styles!
Decide if you will be dividing the class into rotating groups for the mud experience or if they will all be mud playing together and prepare accordingly.
Be clear about the rules for using the hoses and on the consequences for inappropriate mud play behavior, such as throwing mud at others.
Be sure you have all your supplies, water sources, sprinklers, and of course topsoil, ready to go the afternoon before the official Mud Mania Day celebration.
Decide if you will be getting covered in mud as well! I recommend yes! The kids will love that!
You may want to prepare a mud themed snack activity such as making chocolate pudding or mouse in class to carry over the theme.
Procedure
Be sure your topsoil or mud area gets enough water to be really muddy and let the children's imaginations lead the way!
Just in case they are slow to warm up to the mud, here are some ideas:
Make mud castles like you would sand castles
Make mud pies and serve them to each other at a mud restaurant or bakery
Have a mud tea party
Give yourself a mud mask or make-up and a mud hair treatment at a play mud salon
Fill ice trays with mud and let them dry into mud bricks for later building
Using mud as mortar, stick together bricks and sticks and build a mud structure or mini house for mud dwelling creatures like worms
Use the paintbrushes to paint a picture with mud on newsprint
Hide plastic animal toys in the mud and see if the children can find them
Add extra water, sticks, rocks, and leaves to a big bucket to make a pot of muddy soup!
Have fun with this!! So many memories will be created with Mud Mania Day, so much wonder sparked, and so many nature connections made. I know it is a lot of work, but the best and most memorable events always are!!
Did you have a mud pile when you were little?
Share your favorite way to get modern children playing in the mud!
Post your Mud Mania Day pics on instagram #wingswormsandwonder
Seeds to Sprout:
Check out the forum on International Mud Day. It's real, I promise!
Need some selling points for parents and administration on the benefits of mud play? Check out this post from Mud Mud Marvelous Mud or this downloadable PDF report from the National Wildlife Federation on the benefits of How Getting Dirty Outdoors Benefits Kids
Get more great ideas on the importance of getting dirty in childhood, mud play, and setting up mud stations from this article by the National Association for the Education of Young Children "Mud Center: Recapturing Childhood"
Where are the regular blog posts?  I'm on summertime sayonara! Regular scheduled Tuesday and Thursday blog posts will resume July 22!
*Would you like help with planning or revitalizing your fall garden? Let's have a wonder sparking consultation! Check out the Esty Shop 1 Hour Garden Consultation listing!
*Let's create a garden workshop together this fall! Explore all the fun ways you can Work with me! Let's get our hands dirty!