Happy almost summertime Wonder Wednesday!!
School's out (or nearly out) for summer which = summer bugs. Lightening bugs, cicadas, love bugs, and lady bugs, yes, but the dreaded no-see-ums and mosquitos too.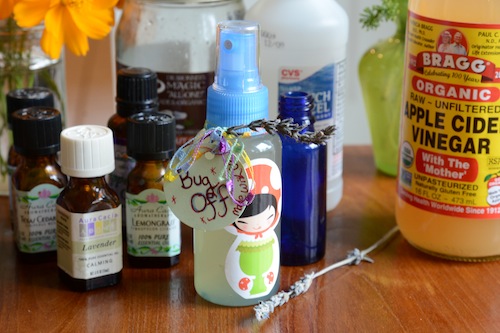 Don't let those little blood sucking scoundrels keep you from enjoying the garden in the early mornings and evenings! Keep them at bay with some homemade insect repellent. It smells good, is good for the earth, and it is good for you, your children, and your skin!
Homemade insect repellent is a great activity to do with all ages at the end of the school year as a take home gift, make some for a Father's Day present, or make and use in all types of summer camp situations!
Wonder Wednesday 21: Homemade Natural Insect Repellent
This recipe is super easy and very sensorially fun to make. It is light and refreshing to wear and the witch hazel / apple cider vinegar combo is a great skin toner! The essential oil aromatherapy alone is enough to make you thank the mosquitoes for trying to bite so you can wear this insect repellent–––Almost!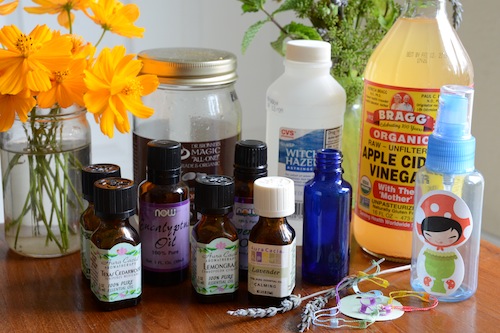 Materials
Spray bottle (These can be bought inexpensively at dollar or drug stores or you can get the pretty and fancy blue glass ones from most natural food stores or ordered online.)
Raw Apple Cider Vinegar (Braggs is a reputable brand found at natural foods stores, and be sure to get raw so you don't smell like you're dying easter eggs.)
Witch hazel
Citronella essential oil
Eucalyptus essential oil
Lavender essential oil
Optional essential oils to add to your blend: geranium, lemongrass, cedar
Optional: organic coconut oil
Optional: ribbon and gift tag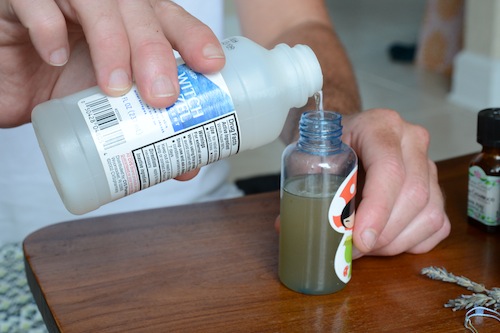 Preparation
The main prep for this activity is collecting the supplies and figuring out your ratios for how many bottles you want to make. This will depend on what ounce size bottle you choose (I like 4-6 ounces) and how many bottles you intend to make. The repellent can be made up in a big batch and poured in to the individual bottles, can be made in batches with small groups of students, or can be made individually at a work station. Whatever fits your needs and age group fits this project. It is very flexible!
When you buy essential oils, this is one product where quality is really reflected in price. If possible, don't skimp on high quality oils. Low quality oils will not work effectivly. Some reputable brands you will find at natural food stores are Aura Cacia, Frontier, and Now. If you prefer to order online, Mountain Rose Herbs is an excellent source. Recently the Young Living oils have gotten popular and are sold through a distributor like Tupperware or Avon type products.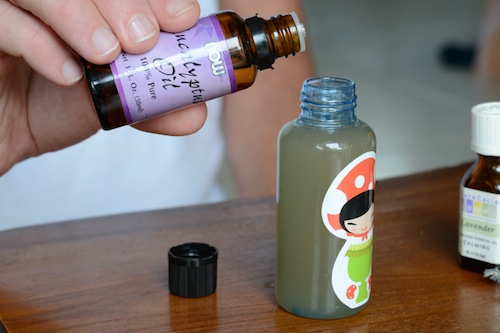 Procedure
These ratios are for a 4-6 ounce bottle. For larger batches add up to 25 drops each of the essential oils. The final batch should smell fresh and clean with distinct aromas of the oils not overpowered by the vinegar. Add more oils as needed or preferred.
Some people recommend using lighter dilutions of the oils for toddlers and babies with sensitive skin.
Mix equal parts raw apple cider vinegar and witch hazel in your spray bottle (2-3 ounces each)
Add 5-10 drops of citronella, eucalyptus, and lavender essential oils each to the witch hazel and raw apple cider vinegar combo
Optional: Add 5-10 drops of any combination of geranium, lemongrass, and cedar oils. I especially love the geranium.  Try playing with the ratios of these like: 10 geranium, 5 lemongrass, and 3 cedar for a more floral smell or 5 lemongrass and 10 cedar for a spray for Dad.
Optional: Add 1 teaspoon of liquid coconut oil. This helps it stick a little more and is a nice skin conditioner too, but does make it heavier than the original recipe.
Screw the spray top on tightly and give it a good shake. (Shake before each use.)
Optional: Tie on a ribbon and homemade gift tag if it is a gift. You can even come up with a clever name for your No-Bug Blend. (I also like to add nature-y sticker to the bottle and a couple dry lavender sprigs to the ribbon to make it fun and fancy.)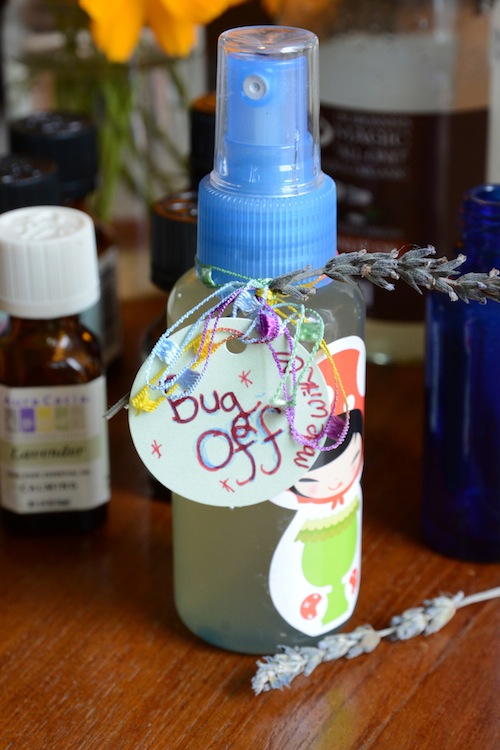 Head outside! No more itchy bites from those pesky mosquitos!
Seeds to Sprout:
Include a zoology lesson on the summertime outdoor pest the mosquitoes and include it with this activity. Did you know it is only the females that suck the blood? They use the protein for egg production. Does that make you feel any better about getting bit? No? Well, at least they aren't just hungry greedy vampires!
I have lots more lessons on insects, and in particular "Insect Mouths" (including mosquito mouths) in the "Bugs" section of my book Wings, Worms, and Wonder!
Check out essential oil herbal profiles and discover the fun and usefulness of aromatherapy on the Aura Cacia site. Out with the toxic and in with the healthy!
Did you know all the benefits of raw apple cider vinegar? It's pretty amazing. Check it out on the Braggs site.
(No kick backs come to me from Aura Cacia or Braggs. I just personally have found them to be great quality products.)