---
Well, what a week. & That's all I'll say about that! So this month, for our Wonder Wednesday 91 activity, I figured people could use a bit of serious stress relief. So I've recorded a guided deep relaxation for y'all.
Sure it's something to do, among all the great zillions of things coming at ya "to do" with this "free time" (including the ones I offered, see the links below), but really this Wonder Wednesday 91 is something to not do. (I didn't think I'd be making an indoor activity for the 1st Wonder Wednesday of spring this year!)
Sometimes we just need things to slow down inside of ourselves, and this is a great method for making that happen. Let this be your "Calgon taking you away" – only you get to stay dry. (That's for all y'all who came up on 80s tv commercials)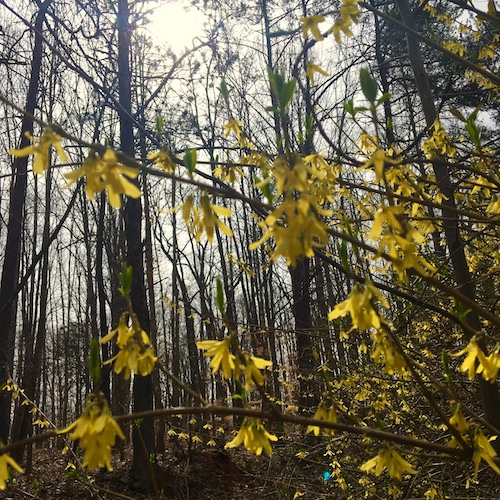 So sit back and join me in a 15 minute deep relaxation, and about 5 minutes of deep breathing, accompanied by nature photographs and a soundtrack provided by Blue Ridge Mountains Mother Nature to help your mind and body relax.
When we are relaxed our bodies are stronger and more resilient, our minds more calm, and our patience increased. (Not to mention immune system boosted.)
"Easeful, Peaceful, Useful"
as Swami Sivananda says!
All you need is:
a comfortable place to lay on your back
perhaps a pillow to place under your knees if you have lower back issues
a blanket to keep your body warm if it's chilly where you are
Do this relaxation anytime of day with anyone of any age.
I used to do a deep relaxation with my 6-9 year old students once a week (on Wednesdays coincidentally) after they'd come in from recess. It was one of their favorite weekly activities.
If laying down isn't an option, do it sitting in a comfortable chair. however you do it, you'll benefit. & If you actually fall asleep, that's okay!
If you aren't near remote wild nature, let the accompanying photos play as a slide show and bask in the beauty of Mother Nature on your screen until it's safe to travel again.
The only thing I don't recommend is listening to this while driving though because you'll get so relaxed.
Stay home, kick back, and enjoy. Everything is more clear with a peaceful mind. And please feel free to share with your friends.
---
This deep relaxation is in the Integral Yoga style of yoga nidra (sanskrit for the yogic sleep). I'm a trained Integral Yoga teacher for 18 years and have taught hatha yoga (what people think of when they think of "yoga") in the Integral Yoga style in many situations from recovery centers to community centers and elementary schools to ashrams.
---
What spot in nature brings you the most relaxation?
Share in the comments below!
Share pics (taken "in the before time" because we're all staying home) on Instagram #wingswormsandwonder
---
Seeds to Sprout:
Looking for activities to do while you aren't deep relaxing? Check out this blog post where I compiled lots of my free offerings and I also made a bunch of my online classes free for the next couple months! Get creatively connecting out the window 🙂
Amazon's still running, so order up one of my books to give you LOTS of science, nature, art, and more activities to do with the kids since school has been cancelled for the rest of the year!
Want to get the muslces all stretched before you relax? Try these restorative yoga classes by my friend and mentor Satya Greenstone! It will be one of the best yoga classes you've ever taken for sure!
Stay home, support small local business where you can, support each other in creative ways, and together we will all get through this strange time. If you are sheltering alone and need a friend to talk to, feel free to email me by clicking here 🙂