---
It's Montessori Education Week! So to celebrate, this Wonder Wednesday activity is adapted from my book Wonder & Wander: An Early Childhood Nature Connection Guide. And of course what more favorite topic to focus on than nature journaling!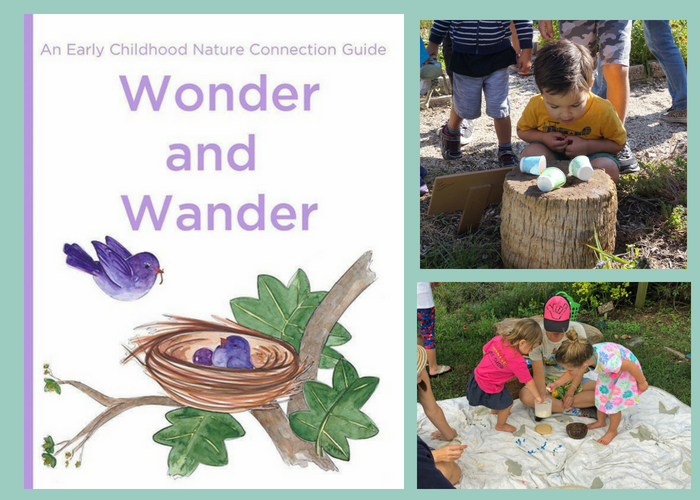 I first began nature journaling with children in my own Montessori classroom, so I thought what a fitting week to re-inspire those out there also engaging with children in academic settings of all sorts!
This excerpt may be taken from a book of activities aimed at children under 6, but the information transcends age. And truth be told, I've done this activity with all ages – even adults with minor adaptation!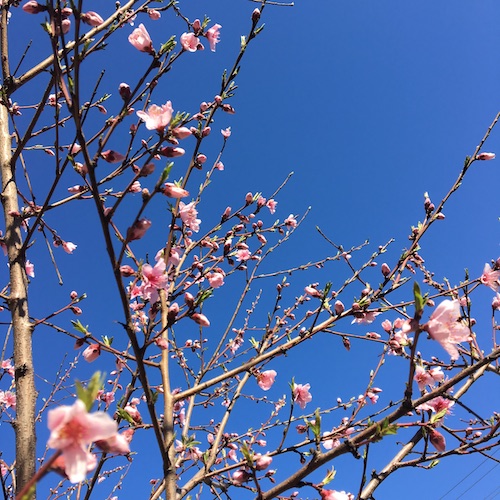 ---
Wonder Wednesday 90:
Nature Journaling in Early Childhood
~Excerpt adapted from the "Nature Journaling" chapter in Wonder & Wander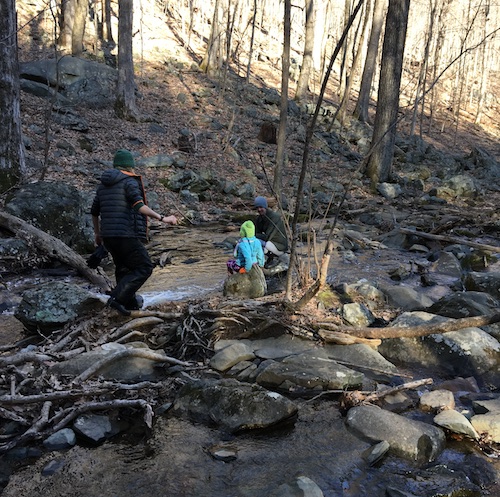 Each time we venture into nature, big or small, we are impacted, but when we can assimilate those experiences through images and words, we form deep bonds. We understand the natural world, and our roles within it, more fully.
"It begins with a knowledge of his surroundings. How does the child assimilate his environment?…
…The child absorbs these impressions not with his mind but with his life itself"
~Maria Montessori, The Absorbent Mind
Nature journaling and nature art are excellent ways to help children (and all humans) assimilate their nature explorations. Very young children can sensorially explore textures, smells, and tastes through nature art with material manipulation. Creating collages, cooking, and herbal projects are just a few such ways.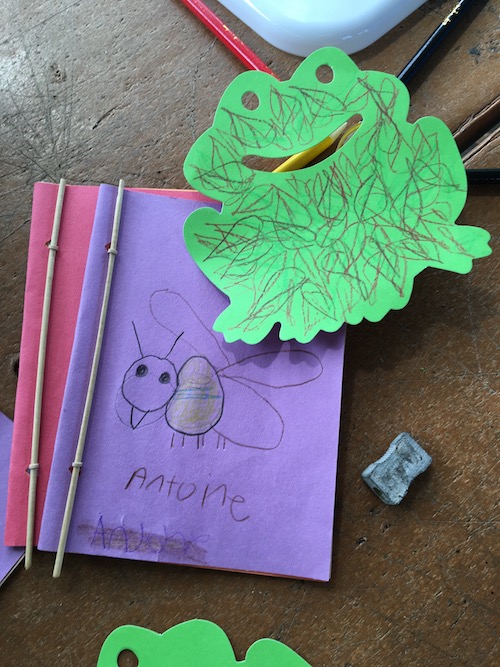 Materials
The materials needed vary depending on the age of the child. The supplies listed below won't all be needed at once. For example, painting would be a separate project than a drawing nature journaling session.
Loose paper (ages under 3) or a Nature journal book (ages 4-6)
Writing utensils (crayons, markers, pencils)
Painting Supplies
Supplies to Bind loose pages together
Bits of nature observed and or collected by the chid/children
Scoop – If given an entire blank book, young children often like to fill all the pages in one sitting. In lieu of this, provide the young child with loose pages of the same–sized paper, then bind them into a journal, folder, or binder.
This is a practical way to create seasonal or yearly journals in a fairly consecutive way, and it will save you on blank notebooks. (see the Seeds to Sprout section of this blog post for a link to Wonder Wednesday videos for easy binding methods for loose pages as well as journal making videos and tutorials.)

Preparation
Within the journal of a young child, they draw and paint their experiences and discoveries, however representational or abstract. They are encouraged and guided through this process by their trusted adult.
Once the art is complete, the adult can then chat with the child about their experience and even write the child's dictation to the page. (Ask for permission before writing on the child's paper, unless it is clear before they start that you will write their thoughts on the drawing, especially in the case of 3-6–year–old children.)
Using pictures, and then words, helps the child assimilate the nature experience while building a base nature vocabulary and a visual history. If nothing else, early childhood drawings and observations are both adorable and insightful!

Procedure
When is the time to begin journaling with young children? As soon as a child shows an interest in mark making, it is time to begin a nature journal practice.
Provide the 18–month to 3–year–old child with a journal book or paper, and no more than two colors of crayons or paint at a single time.
Children ages 4-6 may request more colors. For children younger than age 3, let them make marks as they please.
For children older than age 3, show them leaf rubbing and tracing techniques, as well as beginning drawing with basic leaf and flower shapes by casually pointing out the actual shapes and lines in the object they are drawing.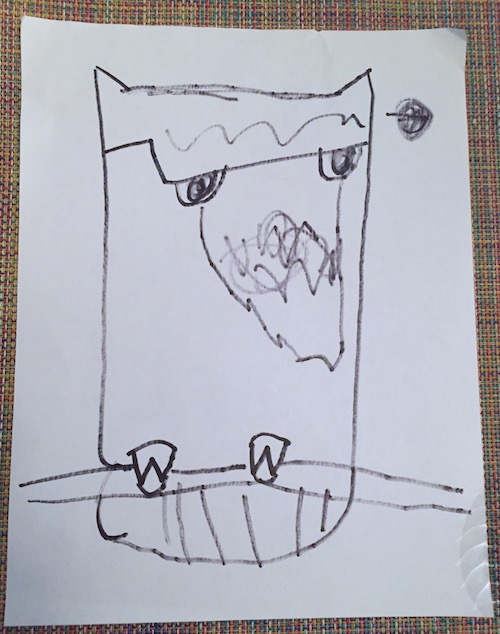 Unless specifically asked for help by a 4 to 6–year–old, never correct unrealistic aspects of their drawings. Be sure to keep drawing experience loose, and let the child lead the way when it comes to their expression of the object.
Additionally, any structured nature drawing [or journaling times] should not replace time for free drawing.

Extensions
Once the child is finished with a journal entry, rather than offer basic compliments of "That's so good!" engage the child in meaningful open–ended conversation about her art.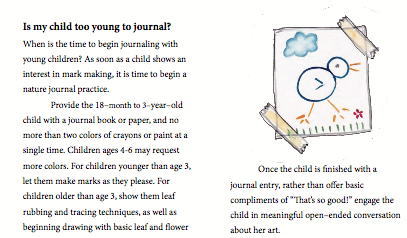 Using this type of conversational language in conjunction with nature journaling opens the child to talk about the nature observations and experiences she is creating and assimilating.
Employ these questions and conversation starters and become pleasantly surprised at the depth of thought put into the art by the child!
Try These Phrases:
I see you worked very hard on this area. Could you tell me more about it?

What part do you like best?

Tell me about what you created (drew, painted…).

I noticed you really concentrated on this …. (green) area. I can see you carefully observed the …. (green of the leaf)…What do you think? Did you find a challenge?

Ask the child if she would like to add labels to the journal entry — for example, the name of the leaf or its parts. Children who are interested in writing may prefer to trace your letters or copy a label that you write. Labeling engages the child in more nature vocabulary, as well as conversation about their observations.
Discover more tips and activities for nature journaling in early childhood environments (Montessori and beyond) in the fully illustrated world wide available book: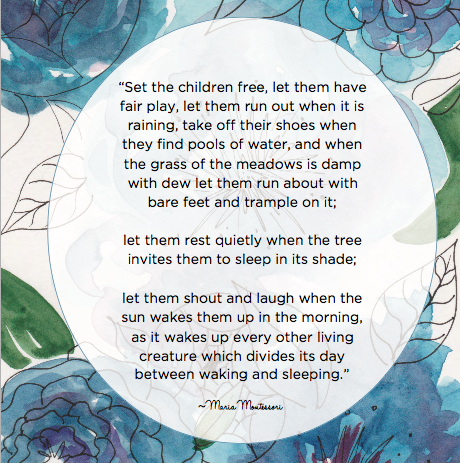 -From the book Wonder & Wander
---
What are your nature journaling experiences with children under 6?
Share in the comments below!
Share pictures of drawings made by the young children in your life on Instagram #wingswormsandwonder
I'd love to see!
---
Seeds to Sprout: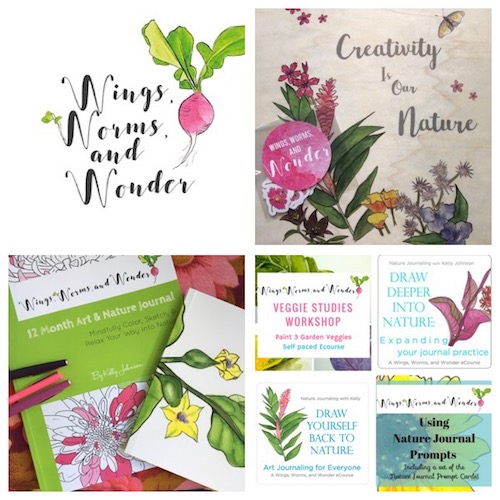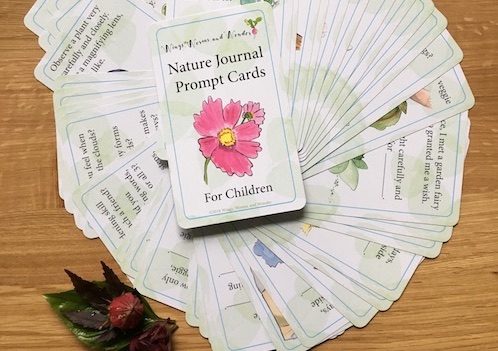 Looking for some great quotes on nature by Maria Montessori? Check out this list by How We Montessori.