---
This month we're celebrating all things citrus! A glorious fruit worthy of celebration for sure. Our human bodies don't naturally produce vitamin C, so from keeping our immune system boosted, to preventing scurvy, to downright just smelling and tasting delicious, the sensorially bright citrus fruit fills these voids in our healthy lifestyles.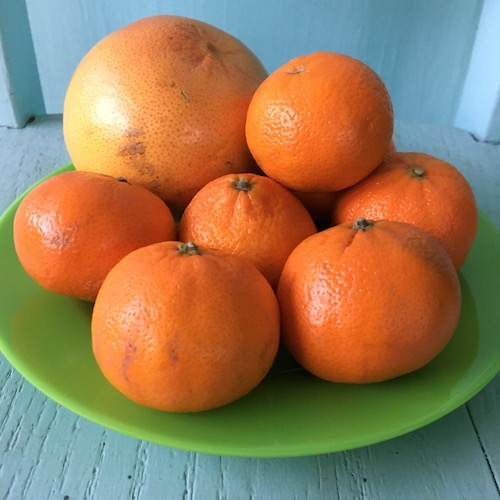 Fresh picked, fresh squeezed citrus juice is a nectar in and of itself (fresh squeezed honeybell tangerine juice is my all time #1 favorite), but once you squeeze all those fruits, it's such a shame to just compost the peels.
Never fear! That's where candied citrus peels come into play! I first learned about these a couple decades ago when my partner told me a story about how his grandfather would candy kumquats he picked off the backyard tree. What?! Sweet and tart natural candy – nature's sweet-tarts?! That sounds amazing, sign me up!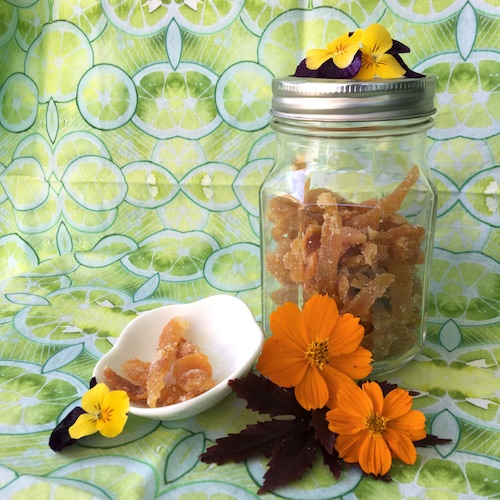 Whether you have a tree in the backyard, order yourself up a box of fresh Florida citrus to be shipped to your home, or simply hit up the grocery store for some oranges –  get excited about candying those peels!
---
Wonder Wednesday 87:
Candied Citrus Peels
This is a really easy recipe to make and can be done at home on the stove or in school with just a hot plate. I do stress though, if you don't listen to any other suggestion in this activity – MAKE SURE YOUR PEELS ARE UNWAXED & be careful because the hot sugar is VERY HOT.
Many conventional grocery store fruit peels are waxed to preserve and lengthen shelf life. So forego using the little wooden box of waxed clementines, and go to your local natural foods store to find unwaxed organic fruits to use.
Materials
5-10 citrus fruits of any variety or combo (combos are fun – imagine a mix of tart lemon peels and sweet tangerine peels)
A medium sized pot
Paring knife
Chop sticks, tongs, or tweezers
Clean cotton dishtowels and or paper towels
Wire cooling rack, mesh style is perfect if you have the (Plastic mesh dehydrator trays work super too.)
Water
Organic fair trade dehydrated cane juice sugar (Florida Crystals is one brand or Wholesome brand)
Optional: Chocolate chips for dipping
Preparation
Regardless of where you get your fruits, thoroughly wash the peels.
Procedure
Using the paring knife, carefully peel the outermost layer of the fruit peel. The zest part, if you will. If you are using kumquats, just slice the tiny fruits with rinds attached into thin rings.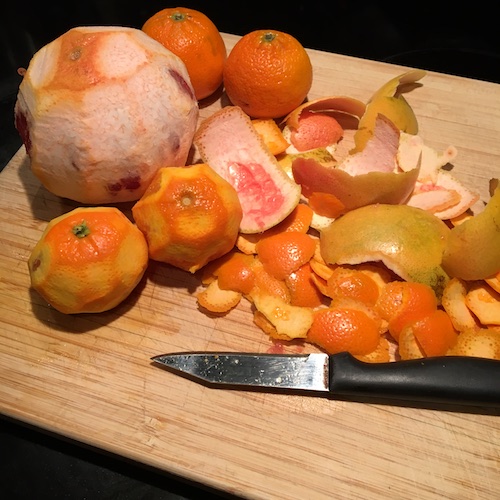 The white part, the pith, is biter so try to leave most of that on the fruit and just get the colored part of the peel off. This is the tasty part with all the flavorful citrus oils. It's okay if some pith stays on though. Local citrus peels are generally more thin anyway as you see on mine.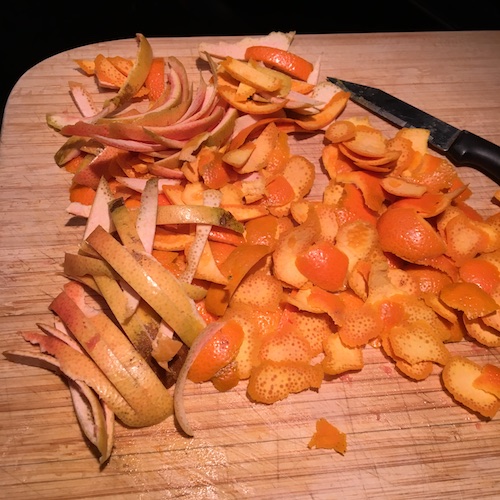 The peels should be about 1/4 inch wide and look kinda like the length and width of shoestring potato slices. For smaller fruits like tangerines, the peels may be in smaller pieces, more round and less like strips.
Fill your medium pot or saucepan about half way with water and bring it to a boil.
Add the peels to the water and boil for 10 minutes. This opens up the pores of the fruit so it will absorb the sugar and candy properly in the next steps, plus it releases some of the strong oils.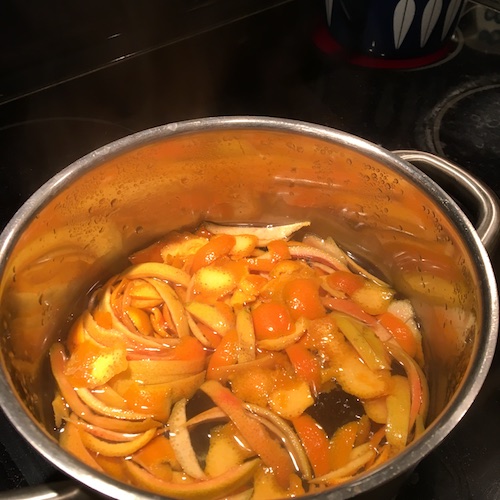 After 10 minutes in boiling water, remove the peels from the water, place on a towel, and pat the peels lightly to remove excess moisture. Then spread out on a drying rack to air dry for about 15 minutes.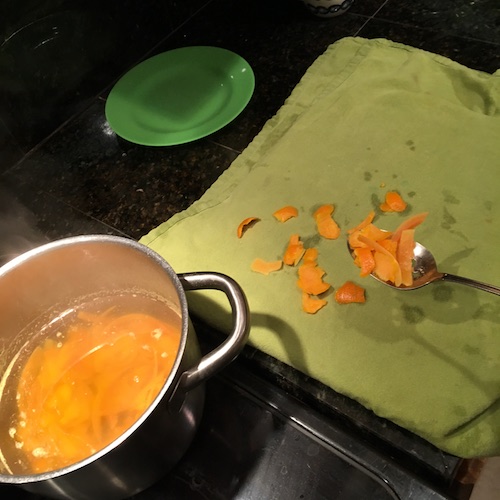 Pour out the water and add 1 cup of fresh water to the pot. *You can use a cup of the remaining water you first boiled the peels in, but be warned this makes the peels very very strong almost to the point of being spicy.
Dissolve 1 cup of sugar into the water and bring to a boil.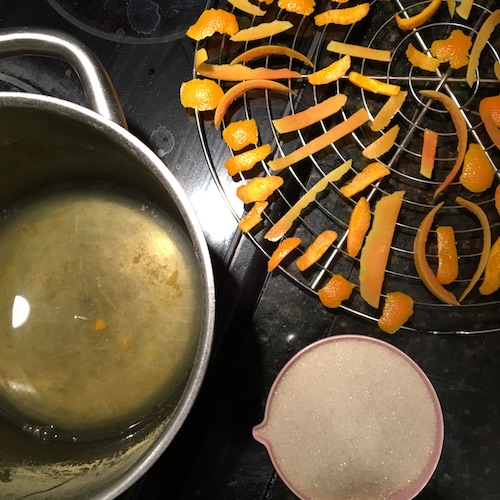 Add the peels to the sugar water.
Boil on medium high 10 minutes or until the peels turn translucent and the sugar water thickens into a syrup. Stir regularly to prevent the sugar from burning.
Place a paper towel underneath a wire or mesh drying rack while the peels cook.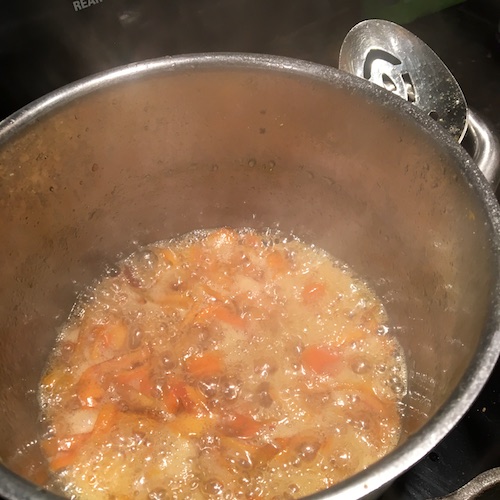 Using a slotted spoon, transfer the peels onto the wire rack. Separate the pieces that have clumped using chop sticks, tongs, or tweezers so they will dry nicely and separately.
**BE CAREFUL. THE SUGAR PEELS ARE VERY VERY HOT.**
Let the peels air dry for 1 hour.
Place 1/2 cup of sugar into a bowl. Toss the peels in the sugar to keep them from sticking together.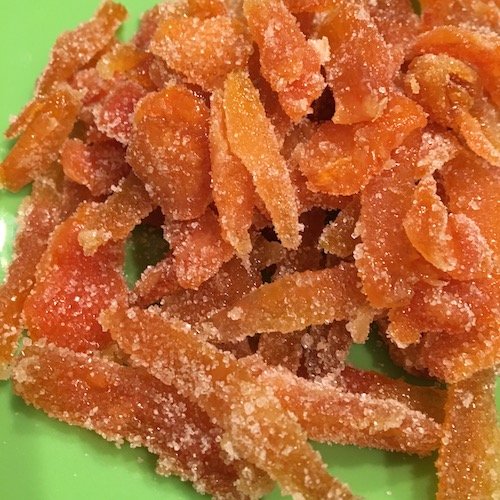 Store in an airtight container and enjoy!
Optional:
Double boil organic fair trade chocolate chips into a sauce and fully or partially dip the candied peels into the chocolate. Let air dry on parchment paper.
Extensions
Pair this activity with the Montessori economic geography lessons. Add in map work, with a focus on the places that citrus originated, flourished, and how it traveled around the world to be the global superstar fruit it is today!
Along with this activity (& with older children or teens), read the book "The Land Where Lemons Grow: The story of Italy and its citrus fruit" byHelena Attlee to learn about the history of the citrus fruit and its many uses from an edible fruit to perfume to fueling ancient battles, feuds, and even the mafia!
For younger children, read "The Sun Egg" – see the previous blog post for more info on that story.
Package up the candied peels in little bags or jars and give as bright cheerful winter gifts.
Decorate iced cookies and cakes with the candied citrus and fresh organic  edible flowers.
Add to stir fry and rice dishes for an Asian inspired flavor
---
Learning about the places citrus originated, play with the recipes and incorporate spices from the lands of citrus into your sugar tossing mix.
Invent your own combinations and share them with us in the comments below!
Share pictures of your candied peels on Instagram #wingswormsandwonder
---
Seeds to Sprout:
Discover traditions and stories around citrus to compliment your candied peel making and get a discount code for all my citrus featured items.
Shop Wings, Worms and Wonder this winter holiday season!
Like the Lime Rings fabric in the picture? It's custom Wings, Worms, and Wonder! Get your own to make cheerful items here in my Spoonflower shop!
Make Evergreen Solstice Tea to enjoy with your peels.
Get 7 great winter solstice celebration activities and Brew up some spicy fruity Sorell drink, then garnish with your peels.
Why use fair trade chocolate only? Learn more and also get my special recipe for homemade hot chocolate.