---
It's the first Wonder Wednesday of 2021! We've got a whole new year of firsts and new horizons to celebrate – not least of all those that surprise us in nature each day!
For almost a year now, I've been doing some behind the scenes work with the super talented Montessorian Kathrine Kabral of I Believe in Montessori and the Hands-on Kids Activities (HOKA) Club! I am so honored she asked me to join her team because I adore her aesthetic, scope, and quality of the materials she creates. Loving working behind the scenes with Kathrine on her superb materials is an understatement!
And these materials aren't just for the Montessori classroom or homeschool – they are awesome for inspiring learning in any methodology at any age!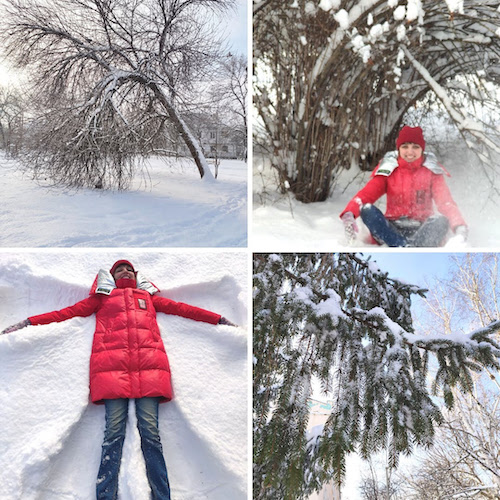 Some of you may ask – Who is Kathrine Kabral, this Montessori resource creator extraordinaire? Well, Kathrine is a Montessori primary guide and materials creator based in Ukraine. Smart, fun, talented, inspired, motivated, and a total delight of a human are just a few adjectives I can use to describe her – exactly what Maria Montessori wanted her guides to be!
This Wonder Wednesday 102,  I am thrilled to present you with
the I Believe in Montessori Phenology Wheel activity!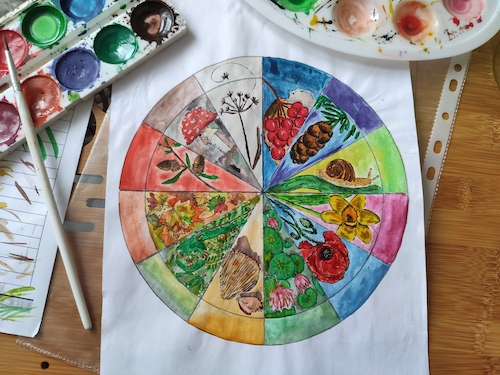 This is Kathrine's completed wheel.
---
Wonder Wednesday 102:
I Believe in Montessori Phenology Wheel
What's phenology? Great question – and an important answer for nature journalers to know!
Phenology is defined as: "the study of cyclic and seasonal natural phenomena, especially in relation to climate and plant and animal life."
A phenology wheel is a circular journal calendar that encourages regular documented observation of our nearby nature. Making nature observation and journaling a habit is fun, and also a foundational way to encourage ecological literacy, practice Earth stewardship, and creatively connect with our natural world!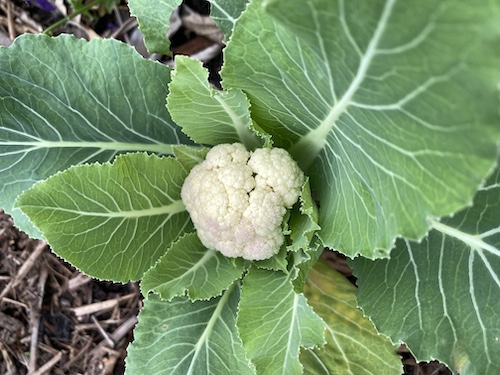 I think I'll record the cauliflower bloom in my garden for January on my phenology wheel.
Materials
The "I Believe in Montessori Phenology Wheel" pdf printable with tutorial and templates or
Click here to download a general Phenology Wheel template printable.
Paper of your choice: copy paper, card stock, art paper – any paper that you know can run through your printer.
Art Materials of your choice: pencils, color pencils, pens, colored pens, markers, paint……

Here is mine so far! Choosing how to compose the image into the area is a fun part of the process.
Preparation
Choose the template from the pdf that you want to use:
-The template for the yearly phenology wheel with the months printed is great for children who can not yet handwrite names of the months on their own. (I also chose this one for mine because I liked the font 🙂 )
-The blank template is great for anyone who wants to handwrite names of the months on their own.
-The third template with the little circles is great to use for tracking weather.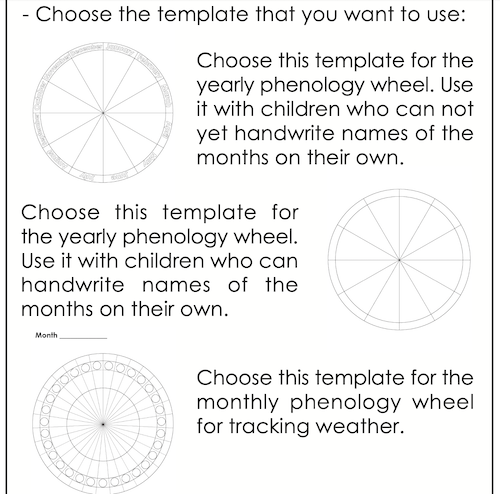 Here is a sample of the types of wheels from the pdf.
Consider what type of drawing or painting media you want to use (I chose to use some of my favorite markers and pens.). Then, use that decision to inform on which type of paper you want to print out your wheel. (I chose a cream card stock.)
Print off the phenology wheel of your choice.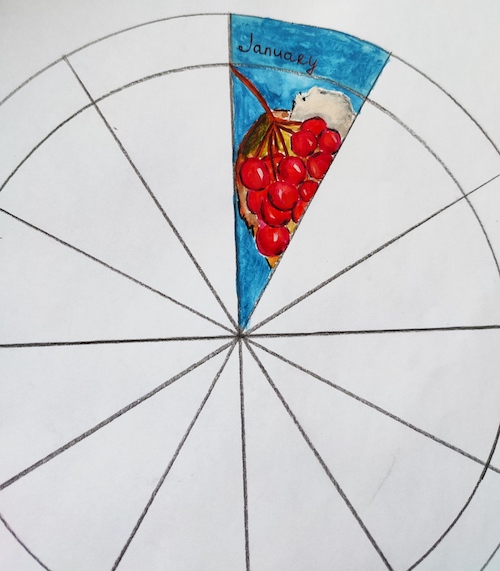 This is Kathrine's wheel in progress – January
Procedure
Choose the timeline of your wheel:
If you use the template with the pre-printed months, 1 wheel = 1 year.
If you choose the blank wheel, you can do 1 wheel = 1 year, or you can do a full wheel for each month and end up with a booklet of 12 wheels!
Choose the purpose of your wheel: What could you include in your illustrations?
-General nature observations
-Observations from your nature walks
-Your associations with the current month
-Things that you have found particularly interesting this month
Start filling and illustrating today – we still have 4 days left in January!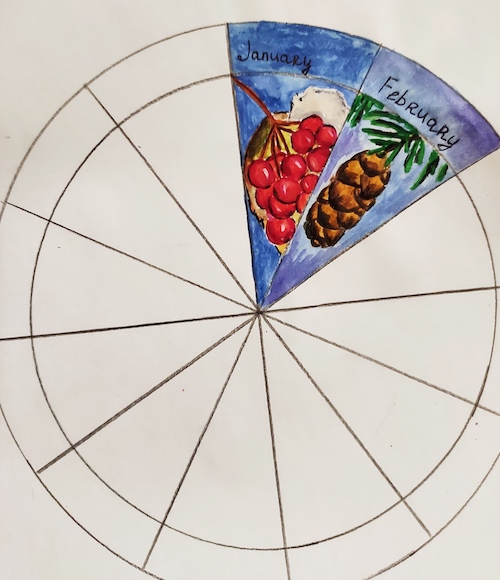 This is Kathrine's wheel in progress – January & February
Extensions
Make multiple monthly nature journal wheels in various themes to track nature in your neighborhood. Create an individual tree wheel, flower wheel, bird wheel, weather wheel, etc. Then bind them all into a booklet at the end of the year or end of the season.
More Thematic Ideas:
Would you like a specific nature focus to your wheel?
Decide on the exact nature focus of your wheel, for example, local trees, local plants, or local birds. Pay attention to these specific things in nature and illustrate it in the wheel.
Memories (yearly wheel)
Fill the wheel with the best memories from each month and with special occasions, such as holidays, birthdays etc.
Daily weather observations (monthly wheel) Fill the wheel everyday with weather illustration (clouds, sun, rain, snow etc), moon phase, temperature, etc.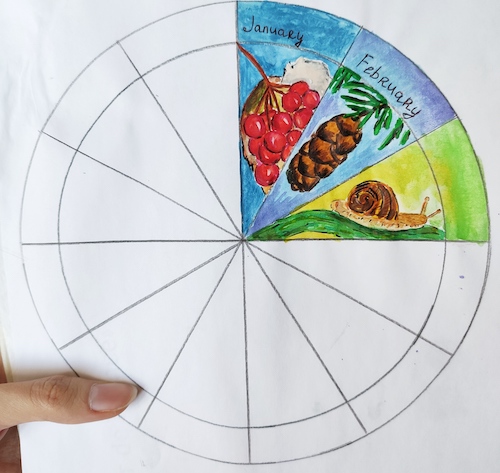 This is Kathrine's wheel in progress first quarter of the year completed!
---
What type of phenology wheel will you make? Themed? Monthly? Yearly?
Share in the comments below!
Share photos of your wheels in progress on Instagram #wingswormsandwonder & #ibelieveinmontessori
---
Seeds to Sprout
Check out the I Believe in Montessori website to learn more about Kathrine's amazing resources; for lots of great Montessori info for teachers, parents, 7 parent-teachers; and even some free downloadable printable resources and games! While there, definitely be sure to join the email list for super Montessori guiding inspiration – Click here!
Be sure to follow @IBelieveinMontessori on Instagram! Kathrine is always posting inspiring "shelfies" and featuring fun Montessori quizzes in her stories! 
Want more? Check out the I Believe In Montessori Teachers Pay Teacher page!
What is HOKA? The HOKA Club is an online membership community created by Montessorians Kathrine Kabral (I Believe in Montessori) and Yulia Fruman (Welcome to Mommyhood) where educators/parents receive  monthly downloadable themed resources. Each month, HOKA provides new seasonal printables, new themed printables for thematic shelves and units, a detailed inclusive book list, a visual and hands-on artist study, special challenges and community events and monthly guide for shelf mapping. The materials are usually given a month in advance to allow for prep time to be presented the following month. Want to learn more? Check out HOKA and join the enrollment waiting list here!
And now I've joined the HOKA team in HOKA Elementary! Check it out if you work with (6-9 year old, 1st -3rd grade) Lower Elementary age students!