A couple weeks ago, at the Montessori Foundation Conference, I had the pleasure of meeting the students of Sun Grove Montessori's adolescent program. These industrious young adults were presenting a session on the garden programs at their school and specifically a creative gardening initiative that they have embarked on as a way to simplify gardening in small spaces and as a fundraiser for their school.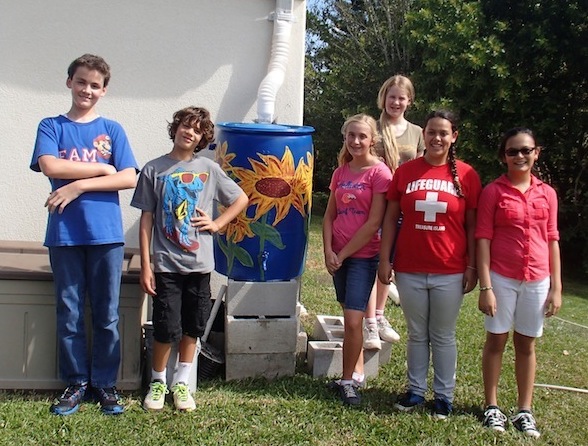 The adolescent students of Sun Grove Montessori School
I was incredibly impressed with this group of students. They spoke on the topic of school gardening with a confidence and knowledge present only in those truly connected to a garden. They are a hands-on bunch of learners and it showed very clearly in the way these 7th and 8th graders were able to speak from experience on the importance of school gardening and nature connections in childhood, all while fielding questions from a room of inquisitive adults.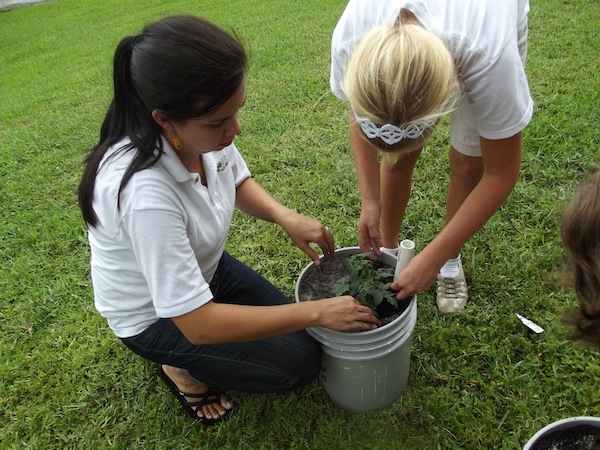 Today I am delighted to introduce you to these students in their own words! They will be sharing with you their thoughts on the creation of their Bucket Garden conference session presentation. The portable gardens they were teaching us how to make are a fun and economical way to create an up-cycled container garden perfect for a small space or space with shifting sun.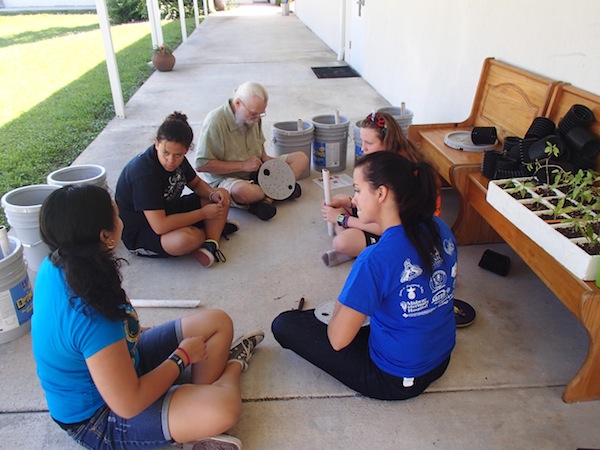 Through a gardening project, these students were empowered to take on the challenge of presenting at an academic conference. Their experience is a perfect example of how a garden can be integrated across all subject areas, including public speaking! These students learned that not only do they have a practical skill to share, but with preparation, a true connection to the topic, and the support of your friends, even when you are nervous you can successfully relay information to stranger in an engaging and informative way. Stay tuned because tomorrow the Sun Grove Montessori Students are going to share how you can make a bucket garden of your own in the Wonder Wednesday lesson!!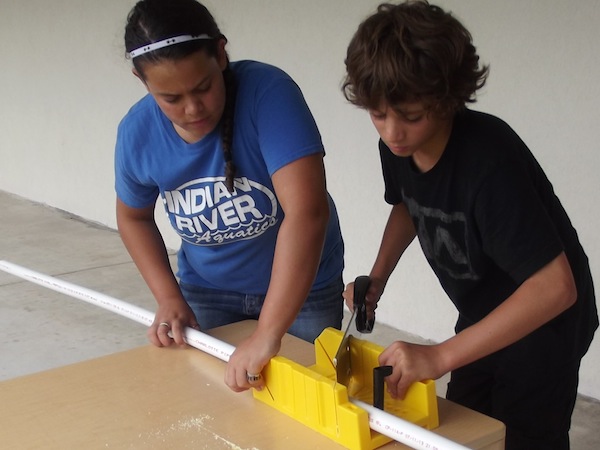 Real tools and purposeful work must be integrated at every age level.
Veronica Burkarth, 8th grade student
Well, it all started out as an idea, none of us truly expected it to be like it was. We worked alot on trying to make buckets to sell, especially decorating (painting is not my thing).  We had to work just a little bit harder to make the buckets we were giving away look really nice. A lot of our preparation was making the buckets and getting all the materials together.
For me, the hardest part of the prep was learning all of the information that I was going to be teaching to others.  I didn't want to mess up.  I was super nervous (apparently I didn't show it though). On the Tuesday before we left, we ran through the presentation.  I knew we still had so much to fix.  I wasn't sure if we could do it.   I didn't want to go, especially if we were going to mess up, what an embarrassment! As we got in the car, before we arrived at the conference, we were at a ropes course.  I think this really brought us together.  When we practiced in our cabin later on, I could see a lot of improvement had taken place since Tuesday. As we arrived at the IMC conference, we met students from Newgate and students visiting from Oklahoma.
The next morning was our presentation . . . I was crazy nervous.  I set up camp in my wonderful spot on the floor, tossing and turning thinking of what could go wrong.  I think those thoughts followed me to my dreams because the next thing I know the alarm was going off on Saturday morning. As we basically dragged our equipment and supplies down to our presentation room our nervousness came to a head.  We learned we were going to be using microphones. As people started to enter the room, I got really nervous.  I am not a talker and I had a LARGE speaking part.  I was shocked as I started talking and the words started flowing.  I was getting the hang of it and it was actually quite fun. After our presentation we met with the Oklahoma group and visited Venice Beach.  I found one shark tooth. We had a super yummy victory lunch, all in all I had fun, but I was also happy it was over. The end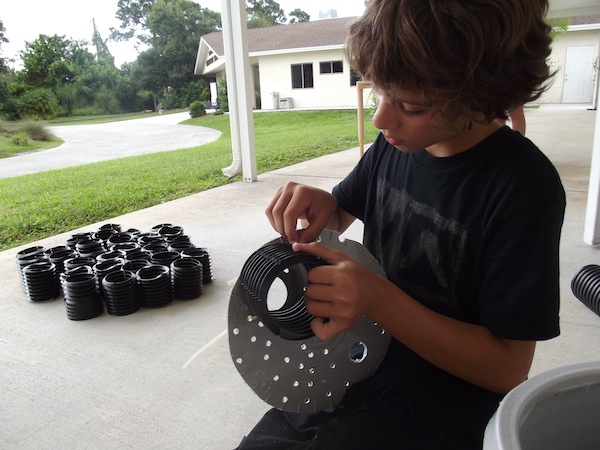 Julien Hoos, 7th grade student
Presenting was nerve-wrecking for me but I did like the compliments at the end.  It was a great learning experience and if it were to happen again, I would go.  I would recommend it to people as a learning experience. I can't wait to go next year.  Luckily, our audience was Montessori teachers.  If not, there might have been a lot of laughing.  I had lots of fun and hope others can do this also.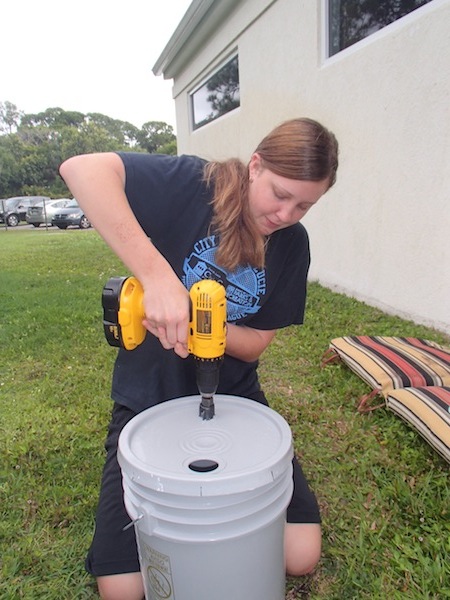 Daniela Fraser, 7th grade student
I really enjoyed the trip to Sarasota.  It was very nice to meet other kids from Montessori schools because we don't really have other Montessori schools around here.  It was really fun and I think other people would enjoy it as well.  The presentation went well and was sort of fun.  Everybody did a great job and we all practiced a lot.  The practicing wasn't much fun but it paid off.  I think if we go again next year it would be just as fun.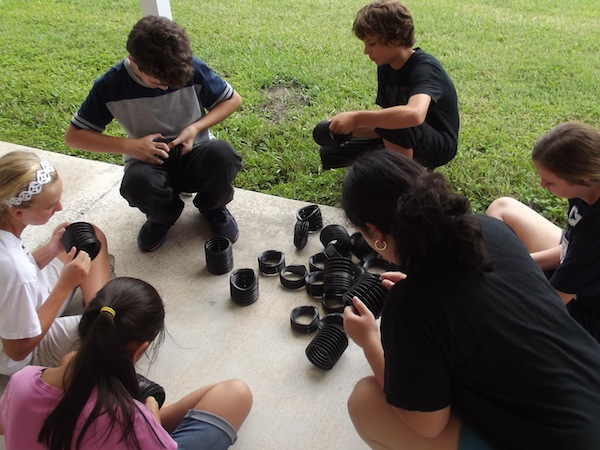 Amanda Ross, 7th grade student
I learned a lot of great things when I first began this presentation.  It was fun and I did feel proud of myself when I finished presenting.  I knew I had practiced and had gotten feedback, but why was I still so scared?  I knew that once the presentation was over that a huge weight would be lifted off my shoulder and it was.  The audience responded very kindly and gave us a round of applause and I couldn't have been happier.  We were a success.  Our class was a success.  Our team was a success.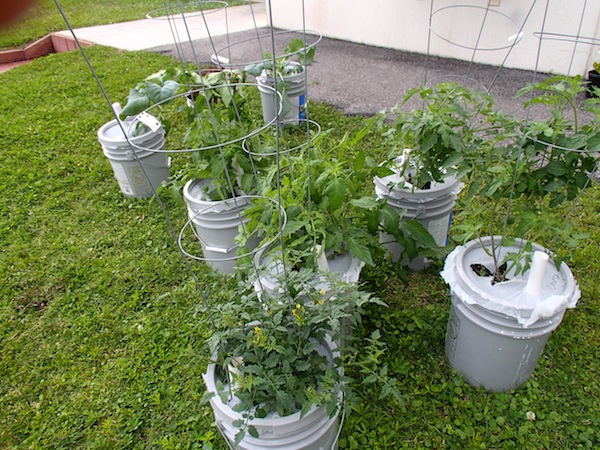 Bucket planters growing tomatoes
Terri Zuidema, Adolescent Guide
In keeping with Montessori philosophy and honoring the need for adolescents to be involved in real and meaningful learning experiences it seemed natural to consider offering them a partnership role as presenters for a Montessori conference.  Our students never fail to teach and impress prospective parents during orientations.  This idea seemed like a logical next step and something that Montessori educators might appreciate and enjoy so when I saw the call for presenters I volunteered.  The original thought involved my partner and I taking the lead with the assistance of our adolescents, but in actuality our adolescents would ask to present with our support if needed.
In 2012 our students had worked on a bucket planter project so this became the springboard.  We provided the initial organization and framework.  The students were involved with planning, bucket preparations, photography, artwork, teaching those who were new to the project, preparation of note cards, practice and the final presentation. Despite our reassurances they shared having more than a few jitters, but proceeded with grace and confidence.  In true Montessori fashion our audience's positive reaction and feedback was priceless.  This valorizing experience is not only something our adolescents can share on a future resume, it is an experience that will shape the adults they are yet to become. Although we haven't planned all of next year's projects or travels, our young presenters have already been heard discussing next year's presentation!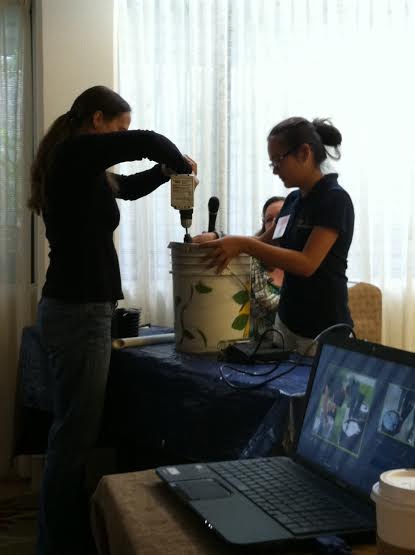 In the presentation the students become the teachers.
Kate Dieujuste,  Adolescent Guide
Wow! What an awesome experience. Watching our students go through this process was truly inspirational. Despite being nervous about presenting to a group of strangers and feeling overwhelmed at times to be taking on this huge task, I know that this experience was valuable and possibly even enjoyable for them. It was such an honor to get to see them shine and witness the pride they felt when they were finished delivering a successful presentation to a group of interested and impressed Montessorians.
How could you use your garden to inspire students to take a risk like public speaking?
Seeds to Sprout:
Learn more about Sun Grove Montessori School
Inspired to integrate gardening into the classwork of adolescents? Check out Citizen Schools' Green Teens Gardening Curriculum
Share the Gardening for Teens blog with a teen you know today! This blog is for specifically written for teens interested in gardening.
Head to the library and see if you can find the out of print book Essential Gardening for Teens by Ruth Chasek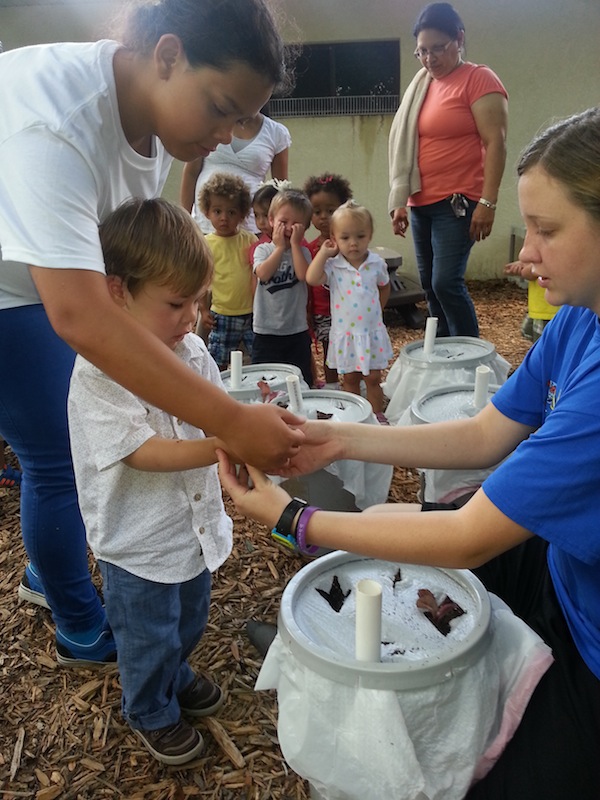 What a great way to initiate multi-age learning!