---
Dandelions – people love them or hate them it seems. Personally, I love them in all ways, shapes, and forms. They're cheerful, tough, fun, nutritious (for humans and animals), medicinal, and effortless to grow. A plant that's pretty, tasty, low maintenance, and is a toy for making wishes? Sounds good to me!
I've been using our time of physical distancing to get creative with responsible foraging and preparing dishes with wild ingredients. My first project celebrated the wild and wooly dandelion! My grandmother's 94th birthday was a couple weeks ago, so I thought I bet she's never had a dandelion birthday cake! I'll make her one!
And so this Wonder Wednesday vegan Dandelion cake recipe was born!
(Or adapted and also turned vegan from a recipe I found on the Mountain Rose Herbs blog:)
Disclaimer: I know you know this, but NEVER eat wild food or touch unfamiliar plants unless you can 100% properly identify it yourself or are with an expert guide. 
---
Wonder Wednesday 93:
Dandelion Cake
Harvesting dandelion flowers for this cake is great fun. It's very important to only harvest in areas that have not been sprayed with pesticides or are in areas where people toilet their pets. Some people spend huge amounts of money to try to eradicate this charming, resilient, and key food source for pollinators plant.
This "cake" is really more like a sweeter type bread and is perfect served with tea – perhaps dandelion leaf tea! It's not very sweet on its own, but it's a treat with the glaze.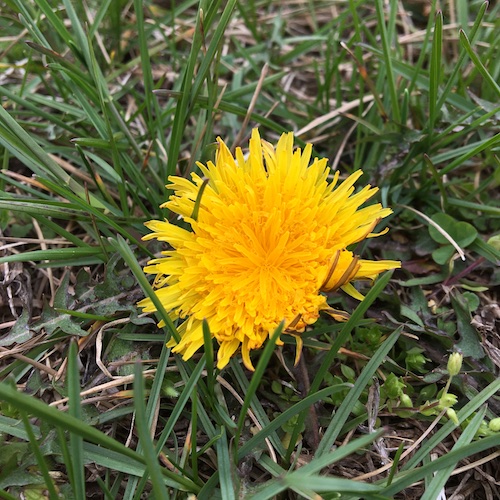 Ingredients
1 cup of dandelion flowers – sepals and bracts removed. These are the green parts on the actual flowers. You want 1 cup of just the yellow and white petal parts.
A few full dandelion flower heads for garnish
Vegan butter, softened – 1/2 cup
Maple syrup – 1/2 cup
Organic coconut palm sugar – 1/8 cup (or other organic fair trade sugar of your choice)
Egg replacer or egg substitute equivalent of 2 eggs (2 medium bananas mashed could also be used to make it like a dandelion banana bread)
Organic fair trade vanilla extract – 1tsp
Organic whole wheat pastry flour (or other organic flour of your choice) 1 cup
Organic rolled oats – 1 cup
Organic Ceylon cinnamon – 2tbs
Baking soda – 1/2 tsp
Sea salt – 1/2 tsp
Organic raisins – 1/4 cup
Organic raw unsalted sunflower seeds – 1/4 cup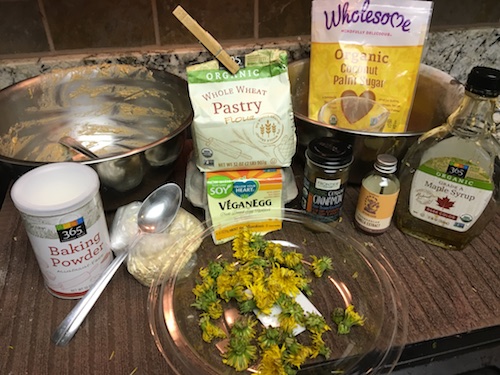 For the Glaze:
1/4 cup oat milk (or other diary milk substitute of your choice)
1/2 cup organic coconut palm sugar (or other organic fair trade sugar of your choice) + 2tbs organic corn starch blended together to form powdered sugar (or 1/2 cup of organic fair trade store bought powdered sugar).
---
Preparation

Harvest the dandelion flowers the day of baking. Not sure how to harvest? Check the link in the "Seeds to Sprout" section below
Disclaimer: I know you know this, but again NEVER eat wild food or touch unfamiliar plants unless you can 100% properly identify it yourself or are with an expert guide. 
Wash and pat and/or air dry the flowers.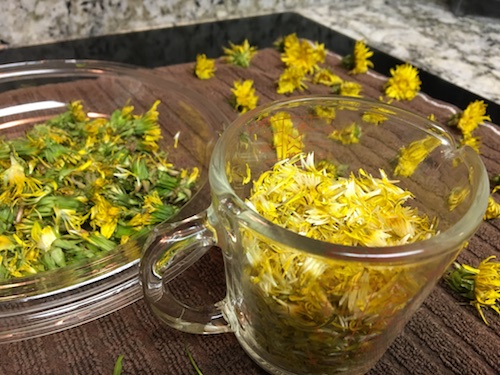 Remove the sepals and the bracts from the flowers. Collect 3/4 cup the yellow and white petal parts.
Set aside 1/4 cup with the few full flower heads for decoration.
Preheat the oven to 375° F and grease a loaf pan .
---
Procedure
Combine the vegan butter, maple syrup, egg substitute, 1/8 cup organic coconut palm sugar, and vanilla in a medium bowl.
Add in 3/4 cup of the dandelion flowers a little at a time and mix well.
Set aside.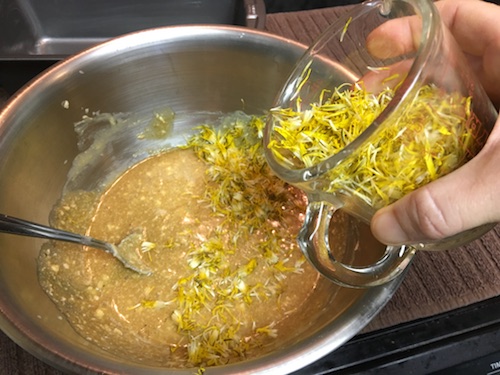 Combine the flour, oats, cinnamon, baking soda, and salt in a medium bowl.
Slowly add the dry mixture to the wet mixture while stirring gently.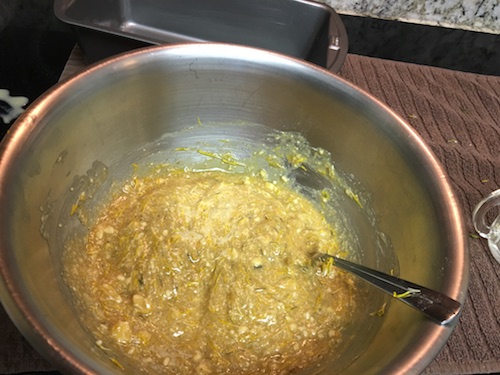 Sprinkle in the 1/4 cups of raisins and sunflower seeds and integrate thoroughly into the mix.
Pour into the greased loaf pan. Sprinkle a few oats on top if you like.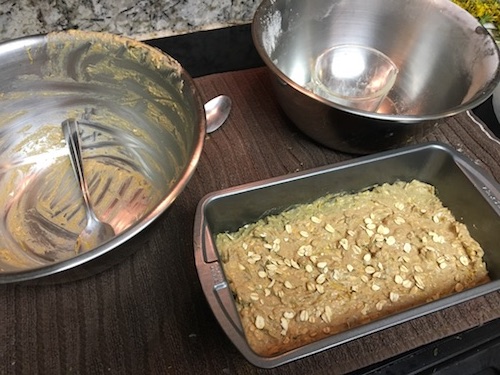 Bake for 30 to 35 minutes – or until a toothpick comes out clean. Remove the cake from the oven and let cool.
---
While the cake is baking, prepare the glaze:
Make the powdered sugar by blending 1/2 cup organic coconut sugar with 2 tbs organic corn starch – Or use store-bought.
Making your own is super easy  if you have a blender and you can use whatever type of sugar you like.
One tablespoon at at time, mix the oat milk into the powder sugar until the glaze is the consistency you like.
---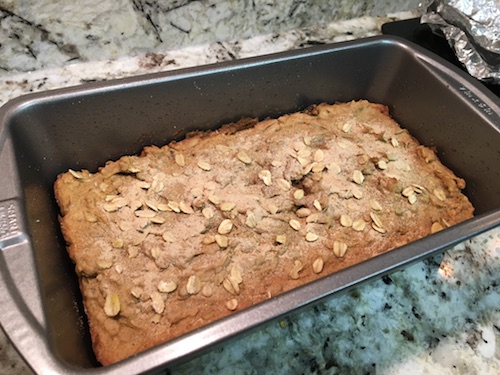 Remove the cake from the pan and decorate with flower petals and full flowers.
Slice and serve the cake with a generous drizzle of glaze, if you want, and a few more flower petals sprinkled over top.
Enjoy!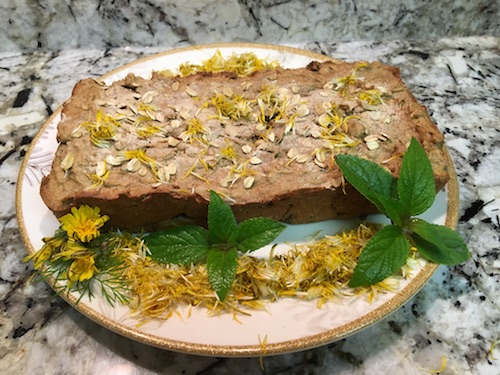 ---
What connections and memories do you have with dandelion flowers?
Share in the comments below!
Share pics of your cakes and dandelion nature journaling adventures on Instagram #wingswormsandwonder
---
Seeds to Sprout
Paint dandelions to go with your cake! Join my Skillshare channel for *free* for 2 months and take my Dandelion Delight art project class!
April is National Poetry Month, check out these nature poetry activities!
I started an IGTV channel to feature songs and stories! Story Time for the Young and Young at heart is a growing library of me reading you and yours a sweet nature inspired story, offering a nature journal prompt based on the story's theme and a simple little creative connection activity! Click to check out and follow @wingswormsandwonder on Instagram 
How to Identify and Harvest Dandelions:
"This plant is so well known that it may seem unnecessary to provide a description. However, people often mistake other yellow-flowered plants for dandelions, so it is useful to go over the details.
Dandelions have a dense basal rosette of lanceolate or oblong leaves that are 2 to 14 inches long and 0.5 to 3 inches wide. Each leaf has deeply lobed, irregular teeth and is generally broader at the tip. When broken, the leaves and stems exude a milky sap.
From the center of the rosette arises one or more flowering stalks. Each stalk is hollow and leafless and has a solitary yellow flower head. The composite flower head is 1 to 2 inches in diameter, cupped by pointy green bracts, and composed of numerous yellow ray florets. (It has no disk florets.)
The fruit is a dry brown or gray seed with a tuft of silvery white hairs, which gives the mature flower head its round, furry appearance and helps disperse the seeds in the wind…
…Leaves and flowers can be gathered by hand or with scissors throughout the growing season. The leaves are best when young, as they become more bitter and tough as they age. There's no set rule as to when they are tasty and when they're not. Look for visibly young leaves then nibble some to let your palate decide.
Flowers and buds can be used whenever they are available. The flowers will readily go to seed, so it's best to harvest them and then use them immediately. When harvesting flowers, keep in mind that they provide early spring food for bees and other insects." (source Mountain Rose Herbs)
Disclaimer one more time: I know you know this, but NEVER eat wild food or touch unfamiliar plants unless you can 100% properly identify it yourself or are with an expert guide.