---
Cosmos are one of my favorite summer flowers. They are so simple, yet so cheerful – and best of all – so easy to grow! And by easy I mean they really don't care if I take care of them! Hooray for easy and prolific flowers!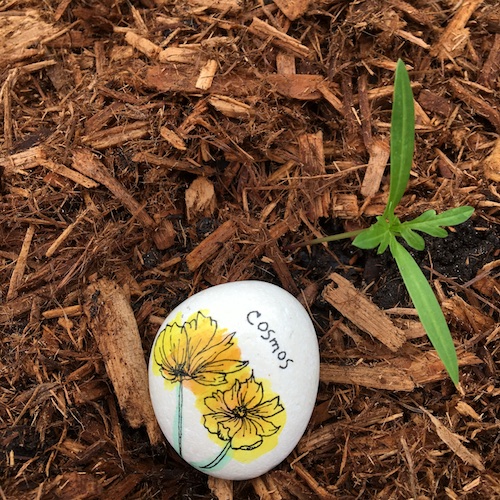 I got the idea for this activity from this awesome rock made by my friend Terry. Check out her awesome rock art on IG @rockingthebeach
So this week, in honor of being in full summer mode, we are going to learn about growing and drawing cosmos!
I even created a how-to video for you this time! This is a great art project to do on a stormy summer afternoon when you have to be inside or all in all it's a fun project to celebrate summer's floral bounty!
---
Boost your confidence by growing these cheerful flowers! Anyone who doesn't think their thumb is green should try their hand at cosmos. Here's what you need to know about growing them.
Cosmos Flowers:
*have 2 varieties – Cosmos sulpureus and Cosmos bipinnatus
*are native to Mexico and the Southern US (the C. sulpureus variety)
*like full sun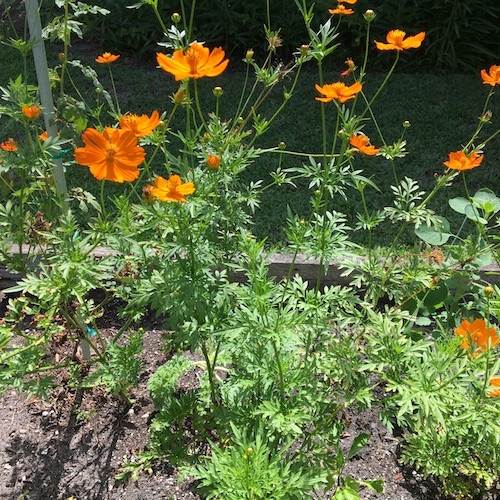 *grow 2-5 feet tall and 1-2 feet wide
*thrive in hardiness zones 2-5
*are drought tolerant
*come in colors of: golden yellow (C. sulpureus), white, pink, magenta, orange, reds, and browns (C. bipinnatus)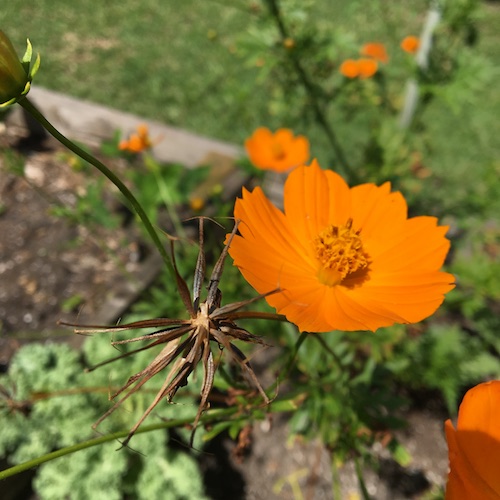 *reseed easily and independently
*make great cutting flowers
*are edible
*attract pollinators

---
Draw Cosmos Flowers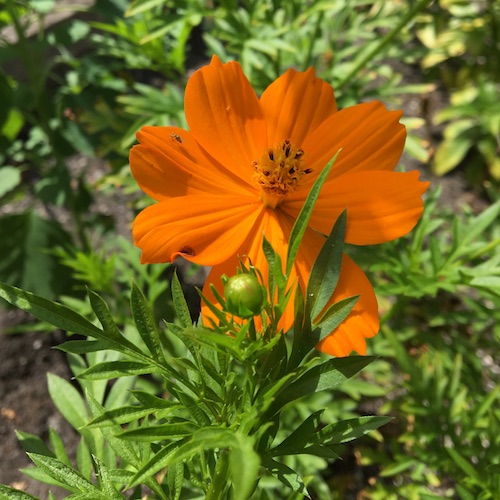 Watch the video below and draw your own cosmos flowers. They are cheerful and easy.
Supplies: In the video I use pencil, Sakura Koi brush markers, Copic Sketch marker on the stem, and Pigma Micron pen in the video. It doesn't matter if you don't have these supplies – use whatever you have. I receive no compensation for mentioning these brands (unfortunately!)
---
Grow your own!
Here's how easy it is – sprinkle the seeds where you want them and water each day for about a week. Then, let them grow!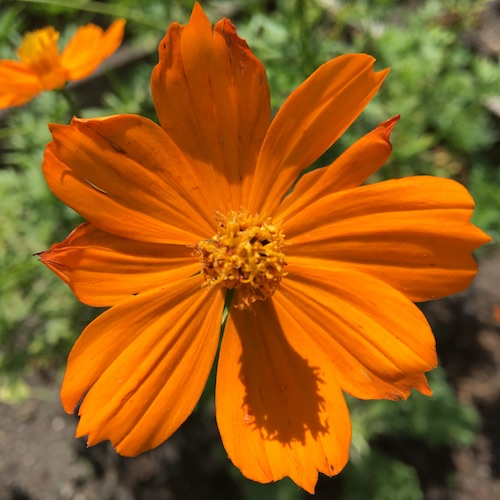 And when they make their flowers and subsequent seeds pods, sprinkle more seeds in more areas and start the process over again!
What color cosmos is your favorite?
Share in the comments below!
Share pics of your cosmos drawings and plantings on Instagram #wingswormsandwonder
Seeds to Sprout:
Did you know that International Mud Day is this coming Saturday? It's June 29. Want some ideas? Check out this Wonder Wednesday 22 post on Mud Day fun!
Looking for another summer afternoon activity? Check out this Wonder Wednesday 57 video how-to post on making a pressed flower accordion book.
And Check out my book Pressed: An Herbarium Inspired Art Journal and press flowers all summer long!
Discover your hardiness zone. This will set you up for gardening success.