Crystals are bits of nature magic. From snowflakes to selenite, crystalline structures come in all shapes and sizes. They sparkle, they embody esoteric properties, and they are rocks that you can actually grow!
Crystals spark wonder and get the imagination flowing, so this month we are growing our own!
Many crystals take a while to grow – some really really long like in the case of rocks like quartz. This makes it hard, and even impossible in many cases, to stay interested, let alone enthusiastic, or even alive for the duration of the growing process!
Never fear! You won't be old an gray by the time these crystals grow! These unique square borax crystals grow in about 24 hours! Hooray!
We've grown a lot of things here at Wings, Worms, and Wonder, but this is our first time growing crystals! I had a great time being surprised by the quick growing crystals and discovering their angular shape as they grew over the items I collected from nature.
Let's get growing!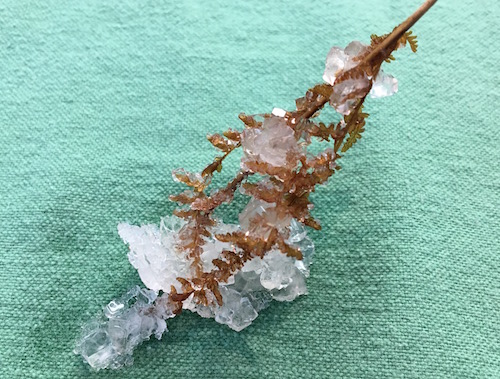 ---
Wonder Wednesday 53: Grow Crystals!!
Materials:
Bits and bobs of nature – I chose a fir twig, a small stick, an acorn top cluster, & a pecan
Borax powder
Water & a pot to heat it in
Measuring spoons and cup
Clear glass containers to grow your crystals in, I used average drinking glasses.
Nature journal to document the process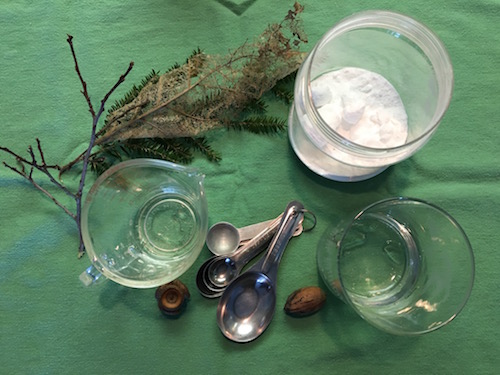 Optional: 
Other objects to experiment with growing crystals on – I also experimented with a pipe cleaner I fashioned into a snowflake shape.
Dishtowels to catch spills and drips
A tray to keep your crystal growing containers on while growing and observing
String or clothespins to suspend your objects in the glass for crystal growing
---
 
Preparation
* Go for a walk in nature and collect different items to grow crystals on. Draw these items in your nature journals.
* Explore crystals – what are they? Look at some pictures of crystals or real crystals like snowflakes and rocks. Oxford defines Crystals as:
Crystal, noun- a piece of a homogeneous solid substance having a natural geometrically regular form with symmetrically arranged plane faces.
     

Chemistry

any solid consisting of a symmetrical, ordered, three-dimensional aggregation of atoms or molecules.

     

Electronics

a crystalline piece of semiconductor used as an oscillator or transducer.

     a clear transparent mineral, especially quartz.

     a piece of crystalline substance believed to have healing powers.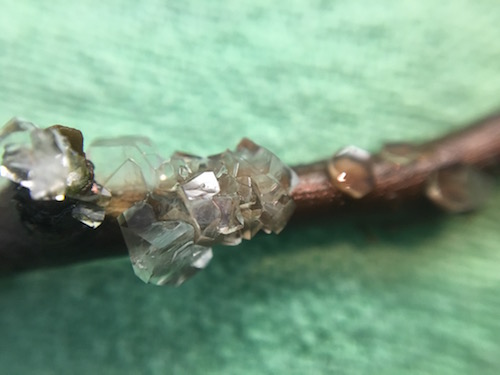 ---
Procedure
* Boil 1 cup of water for every 3 tbs of borax powder.
I boiled 2 cups of water for 6 tbs of borax to half fill my 3 small glasses. I wish I had done more, so I say more the better in this case.
(Disclaimer – I know y'all know this, but I'd feel bad if something happened because I didn't remind – always be extremely careful when using the stove and boiling water with children.)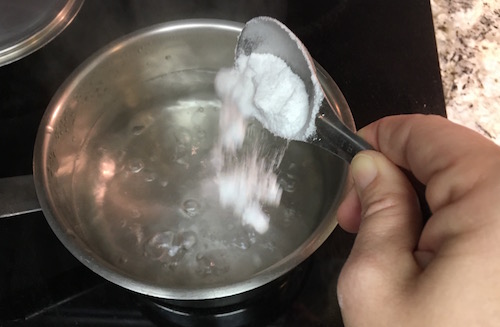 * Once boiling, remove the water from heat and add the borax powder in proportion to the amount of water you chose to boil.
* Stir until completely mixed. It wont completely dissolve because the borax particles are large, so you are actually making a suspension rather than a solution. That is why the water will look slightly cloudy.
* Pour the borax and water suspension into your containers.[/vc_column_text][/vc_column][/vc_row][vc_row][vc_column][vc_separator][/vc_column][/vc_row][vc_row content_placement="middle"][vc_column][vc_gallery interval="3″ images="25723,25720,25721″ img_size="full" onclick=""][/vc_column][/vc_row][vc_row][vc_column][vc_separator][/vc_column][/vc_row][vc_row][vc_column][vc_column_text]* Place your nature items in your containers.
I just stuck mine in the glass, but because they weren't suspended the crystals grew and attached the item to the bottom of the glass, so you may want to suspend your items off the bottom by suspending or attaching them to the rim with a string or clothespin. I learned the tough way on this one!
* Place the containers on a tray and place in a spot out of the way but that can be observed.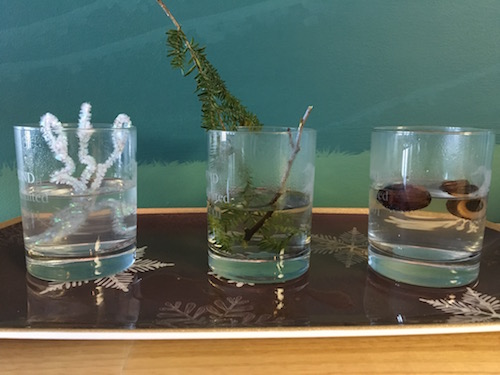 * Then draw your items in the glasses in your nature journal as stage 2.
* Let the containers sit for 24 hours.[/vc_column_text][/vc_column][/vc_row][vc_row][vc_column][vc_separator][/vc_column][/vc_row][vc_row][vc_column][vc_column_text]* Then, carefully check your items the next day. They will have square crystals growing all over them!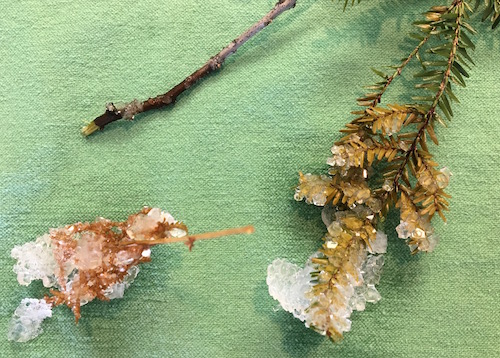 * Draw your crystals in your nature journal and document any observations or thoughts about them and the process.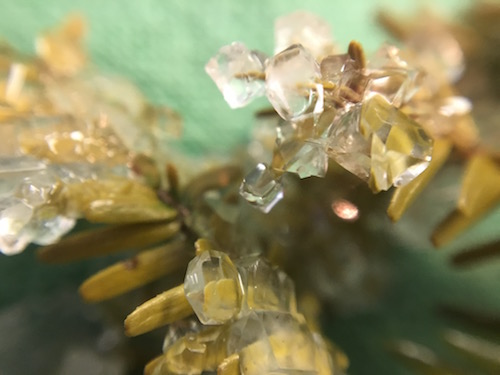 * Be sure to check them out under a magnifying or macro lens. They look amazing!
** I found the vast majority of the crystals grew in the first 24 hours, but as an experiment I left my items in for nearly a week.
Very few crystals grew after the initial 24 hours on the larger items, but a few more grew on the stick and the acorn tops over the week.
Interestingly enough, in total, only a few very teeny crystals grew on the pecan and acorn, I think it is because the acorn top was floating the first 24 hours and the pecan floated the entire week.
The borax and water mix is a suspension, so I observed the particles settled to the bottom and the crystals grew up from there. Pretty Cool! This also explains the minimal crystal growth on the floating pecan.
---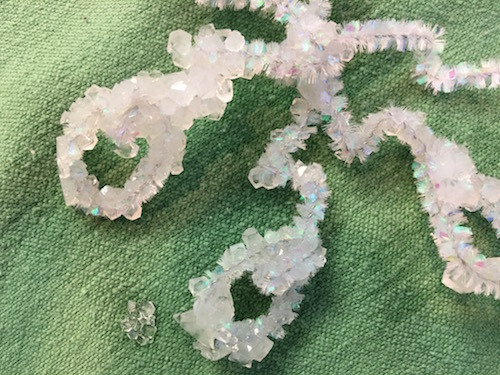 Extensions
Hang your crystal covered items from pretty ribbon in a window to enjoy.
Experiment with growing crystals on different types of materials and nature items.
Experiment with growing borax crystals on items that sink and float. Does it work?
Do this project as an extension to the solution and suspension elementary Montessori Great Lesson.
Have you ever grown crystals?
Share your experience, tips, and tricks in the comments below!
Share pics of your nature crystals on Instagram #wingswormsandwonder
Seeds to Sprout:
What is borax anyway? Learn about this natural mineral here!
Learn more about solutions vs. suspensions here
Get a Montessori solution and suspension lesson plan here.[/vc_column_text][/vc_column][/vc_row]