It's citrus season, so what better way to make use of all those extra peels than to make a garland that smells as good as it looks!!
In this month's Wonder Wednesday activity, we're making citrus garlands that can be enjoyed inside or out, depending on if, and how, you embellish them!
This activity makes a fun group project in the classroom or individual project at home.
You can easily adapt the procedure to fit the needs of the children's ages, and I've included lots of extensions! Any way you make it, this garland will look and smell great while bringing the cheer of citrus to the middle of winter!
Wonder Wednesday #42: Citrus Garlands
Materials
Citrus peels. Each large navel orange has the potential to make 3-4 garland pieces, but you can use any type or combo citrsu fruits you like.
Knife
Scissors
Small cookie cutters
String or yarn
An awl or other hole poking tool
A safety needle or tape on the end of the string to make it easier for threading.
Optional:
Birdseed and vegetable shortening or and nut butter
Glitter and sequens
Cloves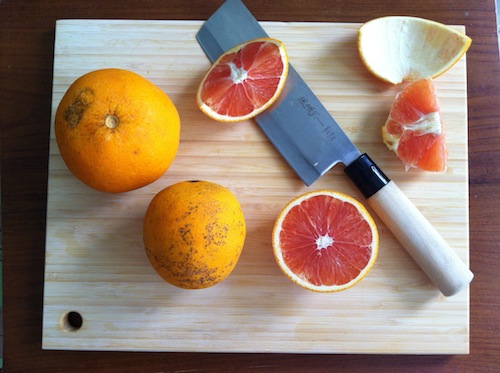 I used a combo or yellow and red navel oranges I got from a local farmer, but I am spoiled this time of year living in Florida!
Preparation
Cut the citrus into quarters.
Carefully remove the fruit from the peels down to the pith. If they rip they probably won't be big enough, but it all depends on how small your cookie cutters actually are.
Before cutting into the shapes, I let the peels sit out on the counter overnight to dehydrate a little bit. This makes the peels a little more leathery and pliable. This also makes it easy to pre prep for the classroom, but you can cut them fresh too.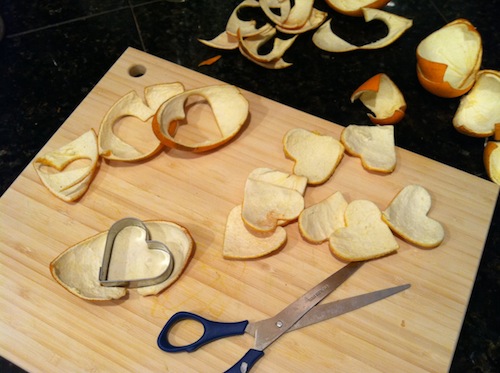 The dryer the peels the harder they are to use with the cookie cutter, so I used the scissors to cut a few portions out. As an alternative, you could also draw shapes on the peel with marker and cut or poke the pieces out.
Procedure
Flatten out the peels and cut fun shaped pieces out from the peels.
Once you have the desired number of pieces, using the awl or poking tool, punch 2 holes in each piece.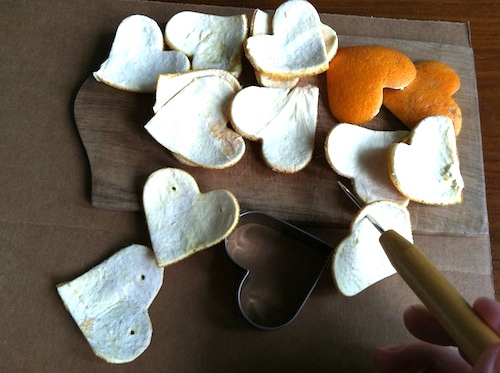 Poking the holes is easy. If you want to string in a pattern, you could poke some holes at the top and others at the bottom.
Decide how long you want your garland and cut a piece of string a foot or two longer than you want. Tie a little hanging loop at one end and thread the needle through the other.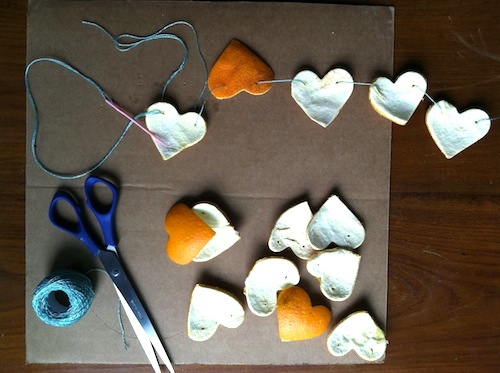 Thread away in any pattern you like! If you decide to embellish in any way, string all the peels first before adding the seed, glitter, or cloves.
Thread the string through the garland pieces basically sewing them onto the string. You can measure out the intervals or eyeball it. if you decide to measure, I'd recommend tying knots after each peel piece (like you would string pearls) so they don't slide and all the measuring isn't in vain.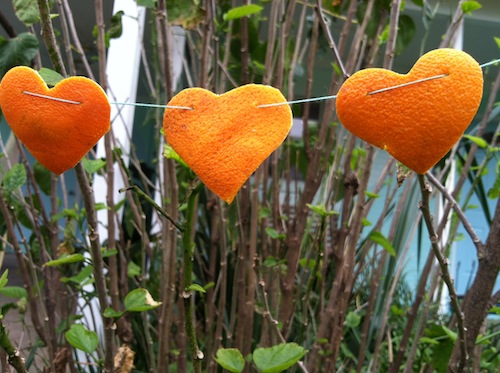 Once the pieces are all strung up, hang your garland inside or out!
As the peels continue to dehydrate the pieces will shrink, but the cheerful color will stay!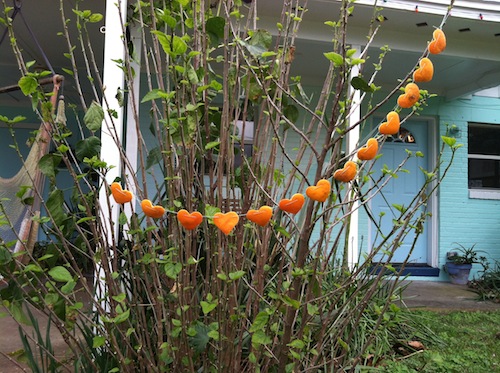 Cheerful citrus on a scrappy winter bush!
Extensions
Make it a bird feeder: After stringing up the pieces, spread nut butter or vegetable shortening onto the white side of each citrus piece. sprinkle with birdseed and hang outside as a cheerful tasty snack for visiting birds!
Give it some glam: After stringing, practice your sewing skills or use glue to attach sequins, glitter, dangles, and whatever sparkly things you love to the garland to let it shine cheer around your room!
Spice it up: After stringing, poke clove buds into the peel pieces to add a warm spice scent to the fresh citrus smell to warm your winter home or classroom.
Make it a math project: Learn all about dehydration! Weigh the citrus fruits, weight the peels before the dehydrate, then weigh them during different stages of dehydration. Compare and document the states of dehydration through peel piece weight, color, texture, and even between different types of citrus fruits over a period of time. Then graph it!
OR for younger mathletes: pre cut and hole poke the pieces, then have them string the shape cut outs in a pattern – alternating peel and pith sides, alternating shapes if you have more than one, alternating right side up and upside down, or all of the above!
OR make it a measuring extravaganza: Measure the peel piece widths, your space to hang it, decide how much space you want between each piece and figure out exactly how long the string needs to be. You could try to measure the allotment for the knots, but that would be tough. I'd Skip the knots if doing all this measuring, there's too many variables in knotting, but try if you like!
Economic geography: Do the project as an extension to learning the geographic origins of citrus fruits, have a citrus tasting, learn the main producers of citrus today, and if you live in a citrus region, visit a farm or farmer at a producer only farmers market! An in depth research project about the nutritional facts and benefits of citrus could be included too!
What's your favorite type of citrus fruit? I like honey bell tangelos!
Share your favorite in the comments below!
Share pics of your garlands on Instagram #wingswormsandwonder
Seeds to Sprout: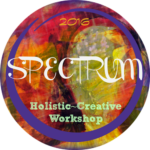 Join me in the Spectrum 2016! eCourse! Learn more & Register through this link here!
This is a really awesome Holistic Creative eAdventure intended to empower, nurture and celebrate your innate creative expression, healing journey, and personal development!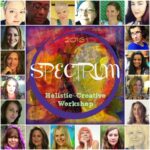 Interested in making 12 handmade journals and learning 18 different ways to fill them (4 from me personally because I am a core teacher in the course and an affiliate and my 1st lesson went live today!!!)?
Then, Join me in The Journey Within and Register here through my link!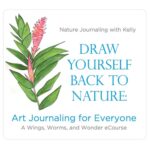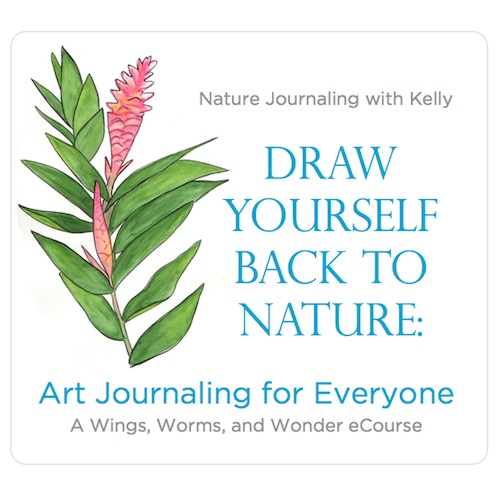 Join the Wings, Worms, and Wonder online nature journaling school! I'm about to put 2 free classes inside!
Check out the Wings, Worms, and Wonder nature journaling school here and get creatively connecting with nature with me as your guide!