Wonder Wednesday #23:Figgy Fun Easy Summer Recipe!!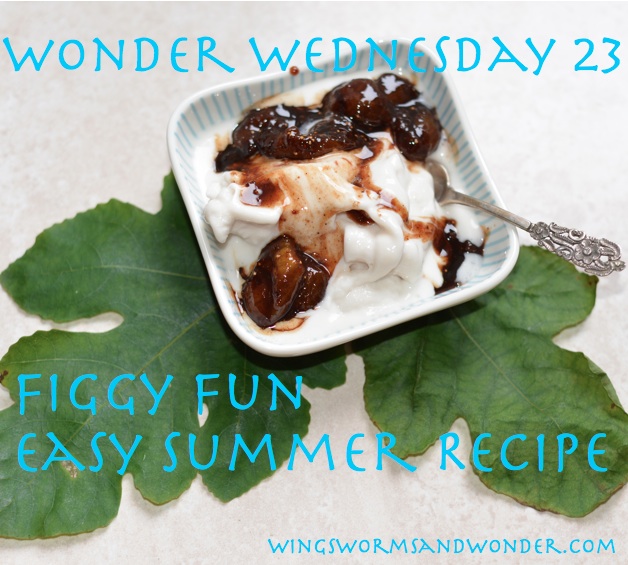 Happy Wonder Wednesday!

 
We are in the thick of summer and that means it is time for fruit picking! Hooray for peaches, blueberries, blackberries and figs!!! YUUUUUMM! I love picking fruits in the summer and making cobblers and crumbles and especially putting them over homemade ice cream. So this month, Wonder Wednesday celebrates summer's sweet bounty with an easy recipe that you can make with children or just for yourself (shhh I won't tell them…).
Before we dig in, just a couple announcements:
1. The website is getting a revamp as Wings, Worms, and Wonder heads into it's 3rd year of providing you with the resources you need (but don't have the time to gather) for integrating nature into children's lives through gardening and experiential learning. Over the next month if you go to the site and things look a little weird at times, never fear I'm working to make it better for you! (and by I, I mean my tech genius) 2. Speaking of the website and blog, are there any topics I'm not covering that you want to know about? Send me an email and let me know! Whether it's more garden tips, troubleshooting, or resources, I want to give you the support you need to keep children and nature connected! 3. Have you seen the new garden accessories I have been hand making to add a little wonder to your garden experiences? Aprons, field bags, and garden flags are brand to the Etsy shop this month. Check em out! 4. To better serve you, the Wonder Wednesday newsletter will now sprout up in your inbox 2x a month with links, resources, contests, and of course the monthly Wonder Wednesday Lesson plans and seasonal news! Yay!! Are you not signed up yet? Well get on the list for free lesson plans delivered straight to your inbox each month and a free special sign-up pocket nature journal video tutorial!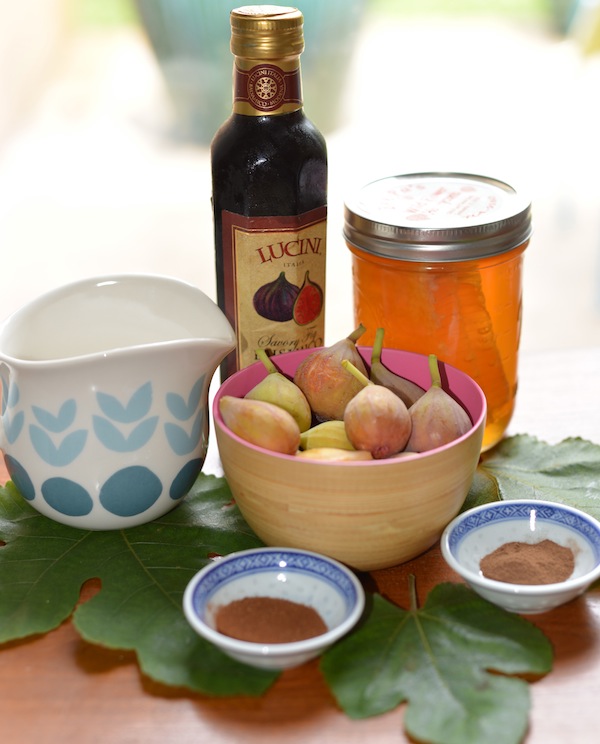 Such simple ingredients!! I used fresh local honey to keep with the local and healthy theme.
On to the Figs!!
I think figs are a funny fruit. They are kinda fancy in recipes, but they are also kinda down home when you go picking and eating from the trees. These super tasty summer treats are native to the middle east and western Asia, have been cultivated since ancient times, and make for a great sensorial extension to ancient culture lessons.
Botanically, figs are also interesting because the flower is actually blooming inside what we refer to as the fruit, but is actually considered a false fruit. Have you ever noticed the little hole at the base of the fig? This hole allows the specialized fig wasp to enter and pollinate the flower inside to produce seeds grown from the "fruit." Weird right?
Do you have a fig tree or farm nearby where you can pick figs? If so that is great, but don't worry, to serve 4 this recipe only takes 8 figs, so if you don't you can just buy some at your farmers market or grocery store. All you need is honey, figs, water, nutmeg, and allspice. Balsamic vinegar is optional. (If you are making this with children I'd leave it out. I tried it both ways and the vinegar makes it taste sweet and sour, like harvard beets).
First, cut the stems off the figs. Use about 8-10 depending on how big they are.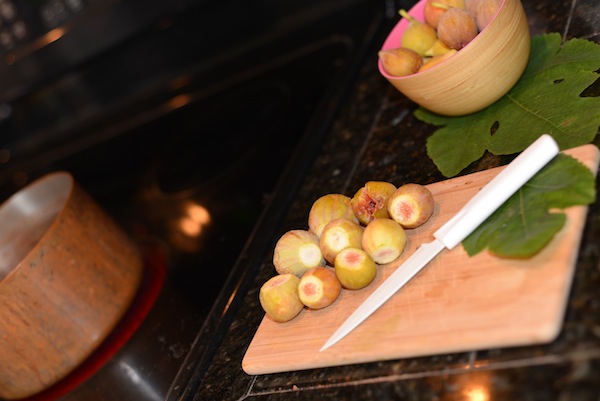 Then, add 1 1/2 cups water and 1/4 cup honey to a saucepan on medium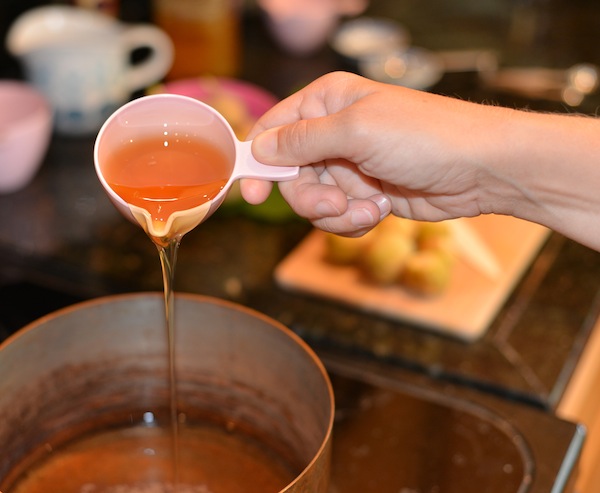 Next, add in 1 tsp nutmeg and 1 tsp allspice.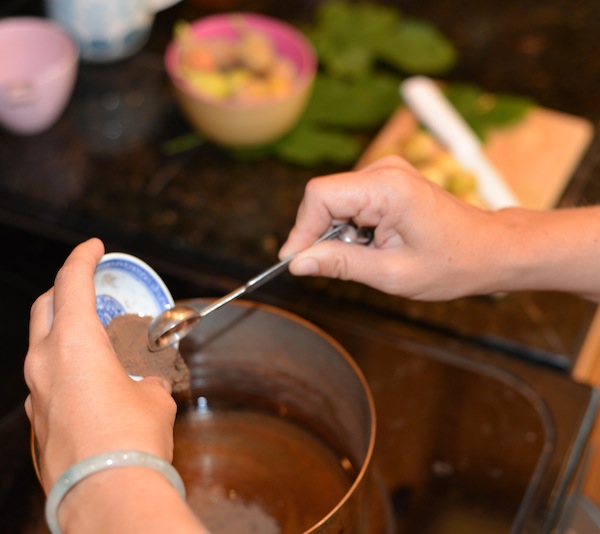 And add the 8-10 figs. Stir regularly and let reduce for 15 minutes. I kinda mashed the figs a little to get the sauce inside as they softened, but I don't think you are really supposed to do that so they will look prettier when you serve them.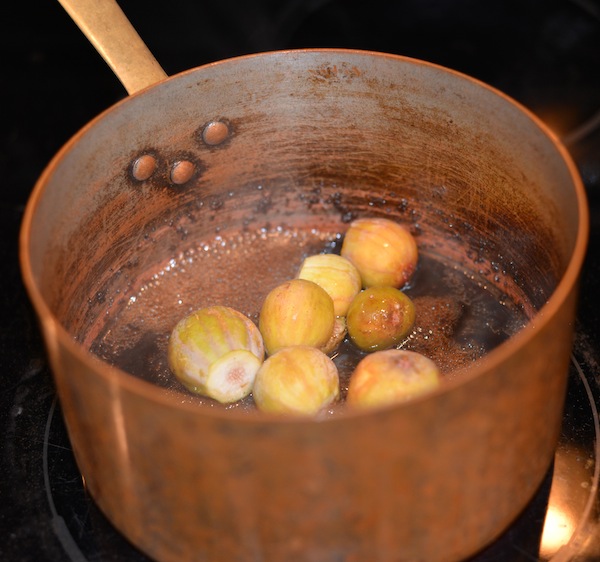 After 15 minutes, remove the figs from the sauce and set aside. (See a little mashed and less pretty.)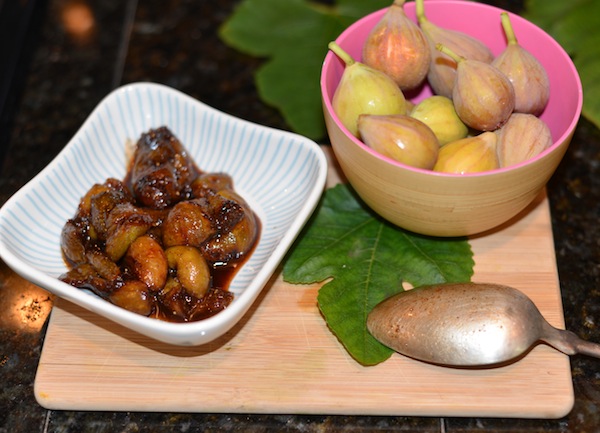 Reduce the liquid 5-15 minutes more or until syrupy.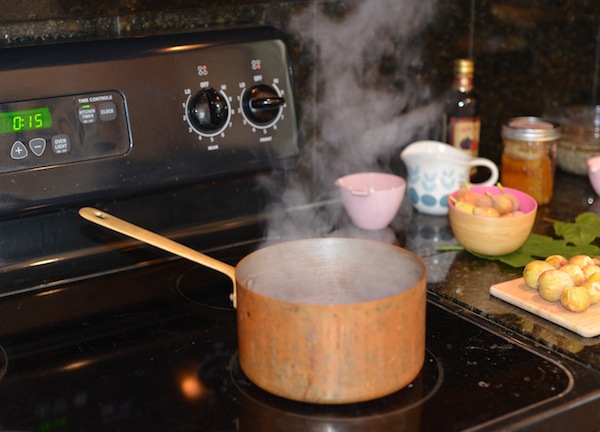 Meanwhile, you may want to get started making your vanilla ice cream if you aren't using store bought. I made a coconut milk based vanilla.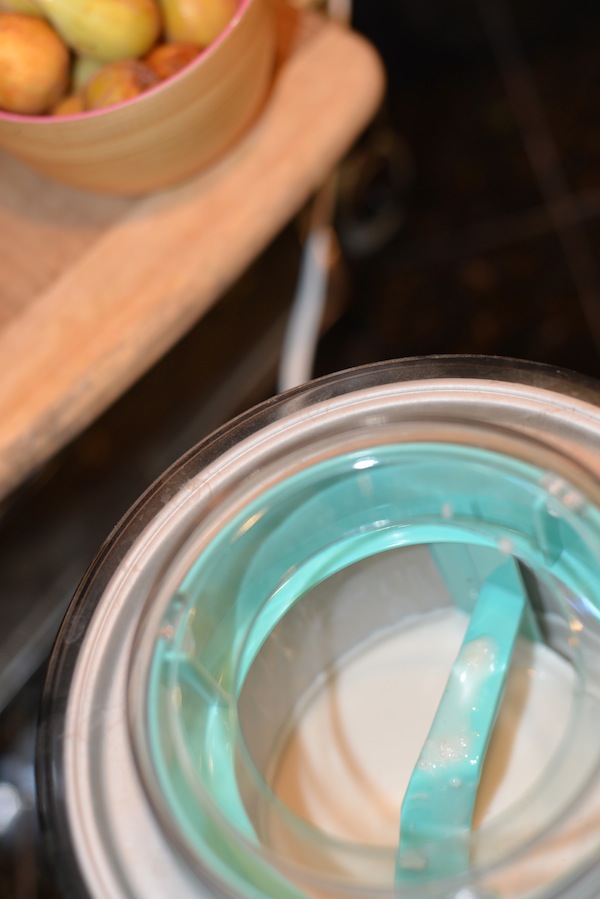 But in all your ice cream making, don't forget about your reduction! Once it is syrupy (about 10 minutes), add the cooked figs back in and either remove from heat or let reduce no more than 5 more minutes, depending on how thick you want the syrup. I like mine nice and glazey thick.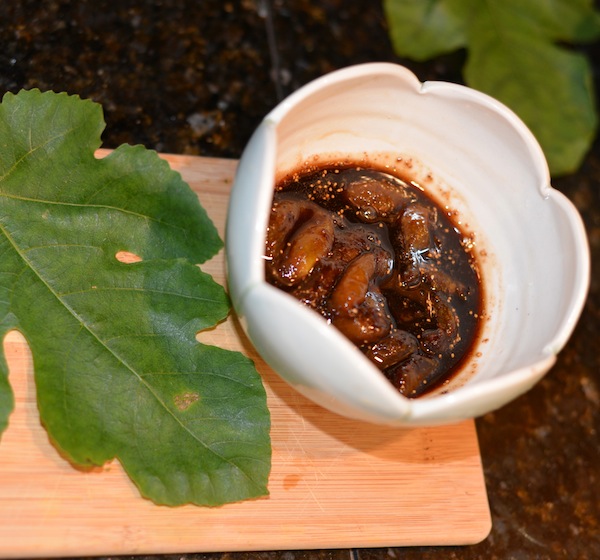 And finally serve your honey fig glaze over your ice cream!! I couldn't wait for my ice cream to chill all the way, so I ate it a little soft right out the maker. It was sooooooo goood!! (PS do you love that little bowl? Well check out my friend tracy's work at Tracy McEvilly Ceramics. She has the most beautiful nature inspired dishes!!)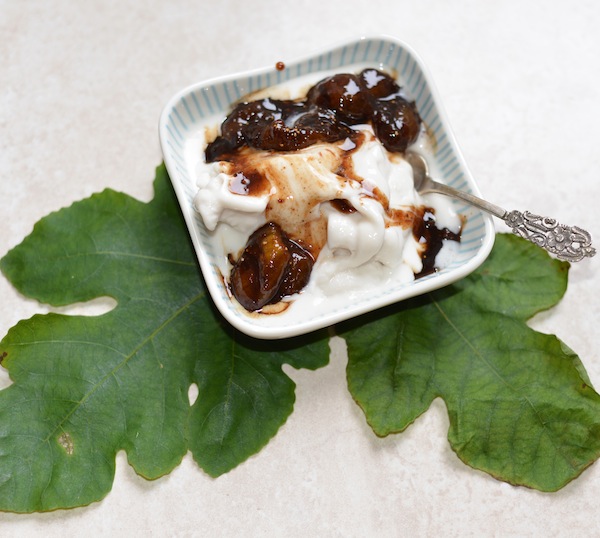 See how easy this is! It's a one pot stop to tasty summer figgy fun! Children can help with every step from picking the figs and taking off the stems to stirring the reduction and making sure it doesn't burn to pouring in the ice cream ingredients and topping the ice cream with the fig glaze sauce! (All carefully with adult direction if using a knife and around the hot stove top of course.)
What's your favorite summer fruit recipe?
Share it & pictures of your delicious fig dishes on 
FB

 or 

Instagram

!
#wingswormsandwonder 
#Figgy fun!
Seeds to Sprout:
Regular blog posts are back after my summertime sayonara! Be sure to visit every Tuesday and Thursday to get lots of fun, practical, and educational resources and tips!
Would you like help with planning or revitalizing your home, school, or community garden? Let's have a wonder sparking consultation!Check out the Esty Shop 1 Hour Garden Consultation listing!
Let's create a garden workshop together! Explore all the fun ways you can Work with me! Let's get you set up for green thumb success!!
Did you love some of the little bowls in the shots? Well check out my friend tracy's work at Tracy McEvilly Ceramics. She has the most beautiful nature inspired dishes!! I think I will do an entire post on her! Hers is the flower shaped bowl with the reduction in it. The little pitcher and the square dish with the ice cream is by Lotta Jansdotter.