---
Well, here we are again! The Winter Solstice is upon us, encouraging us to cozy up – whether we have snow falling or sunshine! In this last Wonder Wednesday of the year, I offer you a few ideas for getting cozy, celebrating, and making your own Spiced Solstice drink – right from the tropics to warm you up!
Winter Solstice
Winter Solstice is December 21. It's a great time to acknowledge the seasonal transitions happening in the nature outside our doors and get into a new seasonal mindset.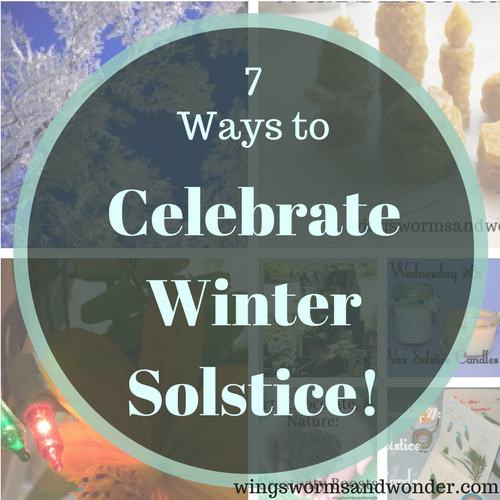 Have you made plans to celebrate the longest night of the year and official beginning of winter? Click here to check out these 7 Ways to Celebrate Winter Solstice for some fun ideas!
---
The Sound of a Wild Snail Eating
Schedule yourself a cozy afternoon at home in the next couple weeks. Yes, I know that seems crazy, but doesn't it sound wonderful? So why not? Say no to obligations and yes to you!
Set up camp next to the wood stove, or out in the sunshine depending where you live – and gift yourself the relaxing treat of reading the book The Sound of a Wild Snail Eating by Elisabeth Tova Bailey. I actually read this whole little book on the beach this past summer in about 2 hours.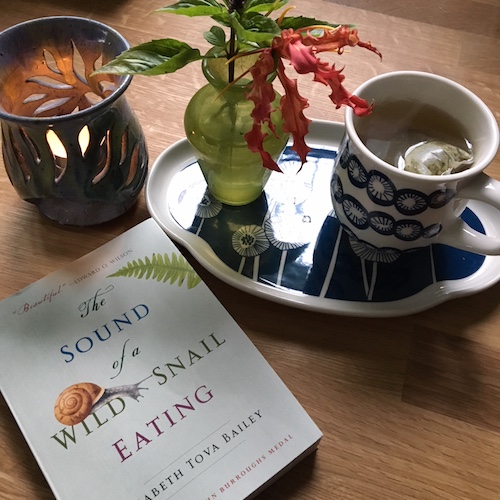 It's a light read, very engaging, and the book has a wonderful feel in the hand with its small stature, spacious type, and torn edge pages. The admirable E.O. Wilson (of Biophilia fame) describes this book succinctly and perfectly as simply, "Beautiful." I won't give away this nourishing story (and it is a true story appropriate to read aloud or in conjunction with most children ages 9+), but I will say –
This story was a great reminder for me of the wonders that come from slowing down (or in the case of this book when forced to slow down) and forge relationships with the most unlikely creatures.
It also made me want to have a pet snail. And made me appreciate the good health often taken for granted and the healing powers of nature when health evades us.
I can't recommend this book enough – especially at a time of year when we put our physical health and peace of mind at risk for an imposed rush. Let nature and creativity be the antidote!
And now for the official Wonder Wednesday 76 activity…..
---
Wonder Wednesday 76:
Spiced Solstice Sorrel Drink
This is one of my favorite tropical drinks and is very popular during the winter holiday season. It's a special late fall and early winter treat throughout the tropical world. Whether you decide to drink it warm or iced, it's rich spices and flavors are warming to both the mind and body.  And it's high in vitamin C – bonus!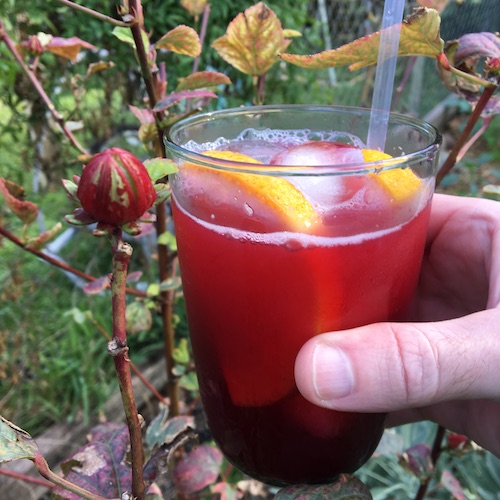 You may remember the Wonder Wednesday 26 activity, Nature's Kool-Aid, where we make a simple tea version of sorrel from fresh grown calyxes. This activity goes deeper into culinary tradition to incorporate more spices and flavors.
This recipe takes 1-4 hours to steep, and makes an average size serving pitcher.
Spiced Solstice Sorrel Drink is easy to make in school or at home, is great for sharing, and will be enjoyed by all who savor the sweet and sour sorrel and spices at your solstice celebrations!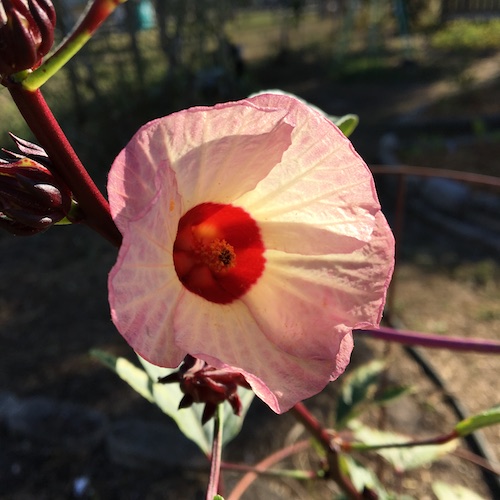 2 cups Organic Pineapple Juice – fresh squeezed is best, but unsweetened store bought can also be used
Fresh Organic Ginger -1/4 cup chopped into small chunks
Sweetener – 1/2 cup. I like to use jaggery from the Indian grocery or tapas de dulce from the Latin market, but dehydrated cane juice is fine too. These richer darker sugars give a more full sweet taste rather than the simple over sweet taste of white sugar. You could also use honey or agave to suit your taste.
1 fresh Organic Lime – chopped into chunks. You will be steeping with the peel, so it is important to use organic to make sure the peel is unwaxed.
Organic Canela -2 tbs powdered or about 4 chunks of bark – also known as Ceylon Cinnamon. This is easily found at Latin or Indian markets. You can use the bark or powdered form. This is real cinnamon and has a sweet warm flavor, unlike the hard curled more bitter faux "cinnamon" sticks sold at american grocery stores which is actually cassia.
Organic Black Pepper – 1 tsp.
Fresh Water – 10 cups
Organic Orange Slices – Enough full round slices for each glass served
Optional: In the Caribbean, rum is sometimes added to "adult" the drink up.
Preparation
If using fresh sorrel calyxes, pick them off the "hips".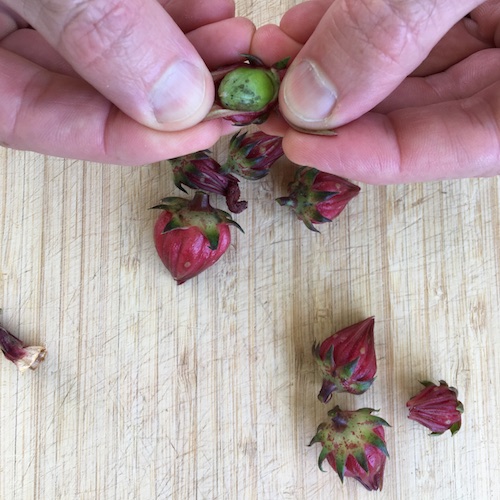 Chop the ginger into small, but not tiny, chunks
If using fresh pineapple juice, run a pineapple through the juicer and set the juice aside in the fridge.
Make a simple syrup from the 1/2 cup of sugar mixed with 1 cup of water. Simmer and stir at a near boil and stir until the sugar has fully dissolved. Then let cool. This will make 3/4 – 1 cup of simple syrup.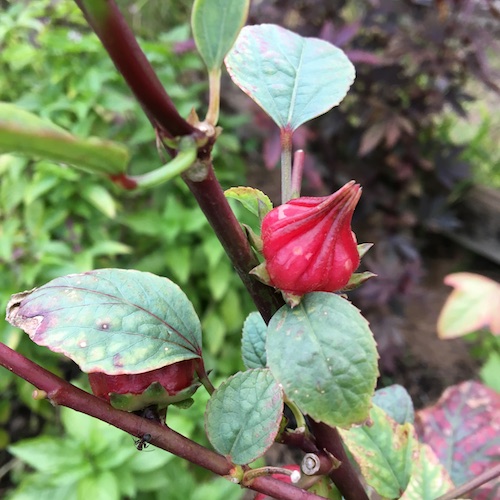 Procedure
Place the 10 cups of water into the stock pot.
Pour in the simple syrup and stir. If you are using honey, you can add it now or wait and add it at the end once steeped if you want to preserve the integrity of the benefits of the honey.
Add all the ingredients, EXCEPT the pineapple juice and orange slices. Squeeze the juice from the lime before tossing the chunks into the pot. Stir together to mix.
Heat the mixture to a boil. Let boil 3 minutes and then remove from the heat and cover.
Let steep 1 – 4 hours. You can even steep it overnight in the fridge if you like for an extra warm spicy flavor. It keeps in the fridge very well for a couple days.
When ready to serve, sieve the mixture into the serving pitcher. Add 2 cups of the fresh squeezed pineapple juice to the pitcher. (Or more to taste.)
Decide at this point if you want to serve warmed, room temp, or over ice. And either warm up or ice accordingly depending on whether you are using after an hour or few or have kept it in the fridge.
To serve, add an orange ring slice to each cup.
Pour the Spiced Sorrel Solstice Drink into the cups, serve, and enjoy this warm, rich, sweet and sour seasonal blend at your Solstice party or solo by the fire or on the beach with a book!
What are your favorite Solstice traditions?
Share in the comments below!
Share pics of your Spiced Sorrel Solstice Drink creations on Instagram #wingswormsandwonder
---
Seeds to Sprout:
Want a simple less spiced recipe for sorrel? Check out Wonder Wednesday 26: Nature's Kool-Aid.