---
The new Nature Journal Prompt Cards for Children, Edition 2, are here!!!!
These cards are seriously so cool I can hardly even believe it. The whole package (deck, box, pamphlet, print and paper quality, color saturation – everything) exceeded my own expectations, and I set high bars for myself!
Each Deck Includes:
36 Prompt Cards, Title and Journal Reminder cards, 4 Blank Prompt Cards to make your own seasonal and regionally specific prompts, a Starting a Nature Journal Practice pamphlet which beyond getting started tips, includes info to:
Access to the Edition 2 Using Nature Journal Prompts eCourse (!!!),
Access to the private Wings, Worms, and Wonder Garden Party Webpage and FB group (!!!),
+ It all comes tidy in a super functional and classy box to keep it all organized!!
+ The deck both aligns and perfectly compliments my books Wings, Worms, and Wonder and Wonder and Wander!
And, being Printed on demand, they ship anywhere in the world!!  So Awesome!
---
What's new about this 2nd edition you ask? Well…
*It's now professionally printed on high quality slick and thick card stock for great durability.
*It will be available for purchase Print-on-Demand which allows decks to be shipped anywhere in the world affordably. (Aw Yeah international friends!!!)
*New card size – 3.5×5.75 inches – and all are printed on both sides
*All 36 prompts are updated, as well as are the fonts
*The title is updated to the "Nature Journal Prompt Cards for Children"
* A Starting a Nature Journal Practice ideas pamphlet is included with each deck to help parents, teachers, and community leaders get the most out of using the cards, as well as still includes the "Title" and "Reminder" cards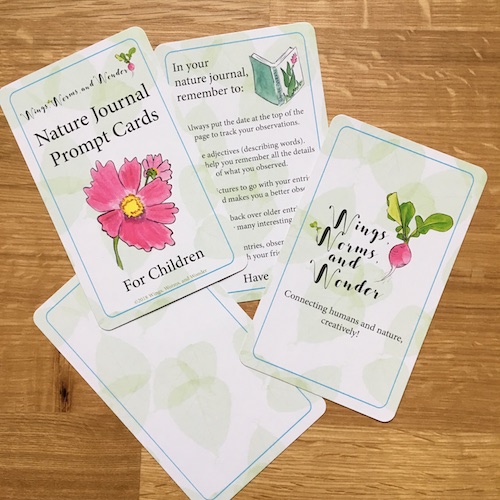 *It includes 4 blank on the front "Make Your Own" Prompt cards so you can create some regionally specific prompts with which to connect to your nearby nature.
*The deck and pamphlet comes in a custom printed box to make it easy to take your cards on the go and to keep them together and  organized.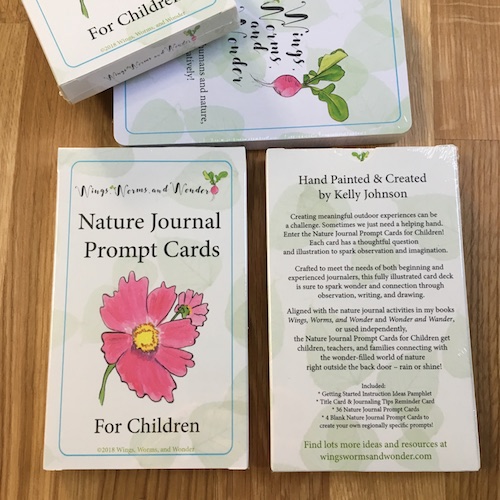 *The Using Nature Journal Prompts eCourse, Edition 2, is  updated and FREE & included with purchase of the Edition 2 deck as an additional resource!
*Access to the Private "Garden Party" Wings, Worms, and Wonder website page and private online group to share your experiences and ask questions with other card owners

I am so excited to offer these new, improved, updated 2nd Edition out to the world! And make sure you're subscribed to my email list, (check the side bar to your right) because a Spanish version of the deck is a very real possibility!

These decks make awesome gifts for:
*Teachers
*Homeschoolers
*Children who love to write stories and nature journal
*Those looking for creative activities to do together as a family
*The Young at Heart
*Those who work at nature centers, gardens, arboretums, and museums
*Anyone who loves nature!
(They ship worldwide!)
I also make Nature Journal Deck Pouches!
Complete with the new Deck, a handmade zipper pouch sewn from my custom designed fabric, and including a custom radish journal, mechanical pencil, and tape measure for all your nature drawing and exploring fun!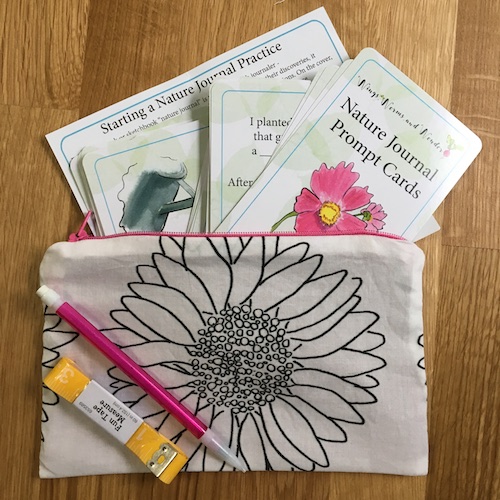 These are currently available in a few designs and make great gifts for elementary age children as well as teachers!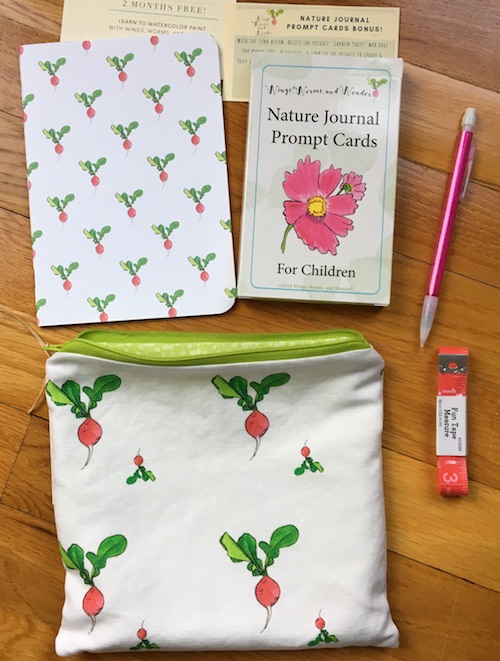 (While they last & North Amercian shipping only).