As July comes to a close, I am very excited to wrap up the summer guest post and interview series with a very special lady I have known a LONG time. Let me introduce you to herbalist and doula Lucretia Jones of House of Lukaya!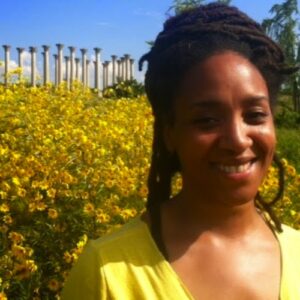 Lucretia is the kind of person that when she's are around, you don't want her to leave. She is magnetic. My first memories of Lucretia are from 2nd grade.
For a good part of that year we sat by each other and her creativity energy always kept me smiling – and those memories still make me chuckle!
We grew up in the same neighborhood, were in classes together and were locker neighbors throughout most of high school. (Jones & Johnson – we couldn't get away from each other if we tried!)
We lost touch for some years after school when we both moved away, but rekindled a few years back when we saw each other in the tincture isle of a health food store in our hometown. We discovered we've been on similar paths of living holistic natural lives connected with people, plants, and place – and helping others do the same. Lucretia through her doula services and herbal company House of Lukaya (and me you already know about).
She is an amazing, knowledgable, passionate person that I am so happy to say I have known for 3 decades, and even more happy to introduce you to in today's interview.
AND Lucretia is teaching this month's Wonder Wednesday lesson!! Be sure to check out tomorrow's post for a special herbal recipe treat and be sure to check out all her offerings on her site House of Lukaya!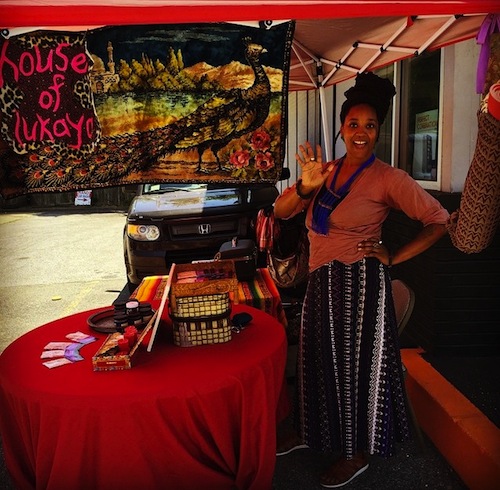 Welcome to House of Lukaya!
(Photo credit: All photos in this post by Lucretia Jones)
Let's jump in with….
Lucretia Jones of house of Lukaya!
What, or who, inspired your entry into the sensorially magical world of herbs and the creation of House of Lukaya?
I grew up amidst the in-betweeness of the suburbs, not quite city, not quite country, surrounded by trees and small homes. The room I slept in for most of my childhood had an oak with a branch that tapped my window at night. The woods were the playground for my friends and me.
Years later, the collision of two major events prompted my search for more autonomy and authenticity, and that soon led me to a live-in apprenticeship with Susun Weed. As part of my search for autonomy, I had been dabbling in making my own bath products since 2001. I first met Susun, and the Wise Woman Tradition, through her books, and soon made it a point to visit in person. That was 2003 and the learning continues!
So true that our childhood homes were in the in-between, a perfect description. That feeling of never belonging in place growing up was such a driving force in my search for autonomy and authenticity as well. Plants and nature have been a key presence in my search for connection, not to mention my first foray into herbs was from Susun Weed's Wise Woman Herbal books too!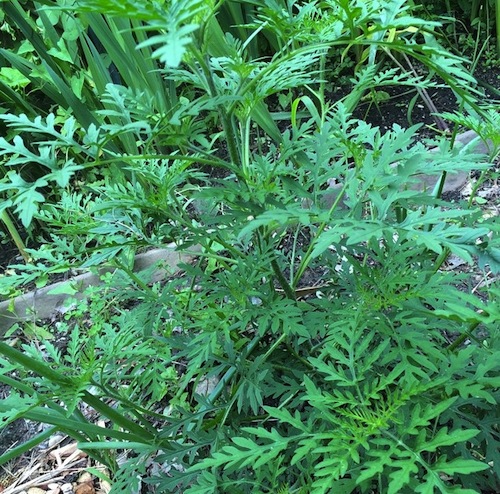 Everyday herbs: wise and wild Artemesia!
How do you make herbs a part of your daily life as both a mother (of a toddler) and an herbalist?
When I moved to DC we had no garden. Two years later and we have three! Four if you count, (and I do!) the potted garden in front of our building. So there are plenty of chances to take my son along for watering and weeding.
Even if we don't leave the house, I make sure we have an herbal infusion to drink. Also, my Buttah all purpose salve contains olive oil infused with plantain and other herbs, we use this everyday at our house.
Potter gardens definitely count!! I also feel like the herbs and plants are my allies when I venture out into the world. Whether it's going out in the morning to say hello to the plants outside my door, sharing their energies with my little neighbors, or employing their healing forces, herbs in daily life make everyday more connected.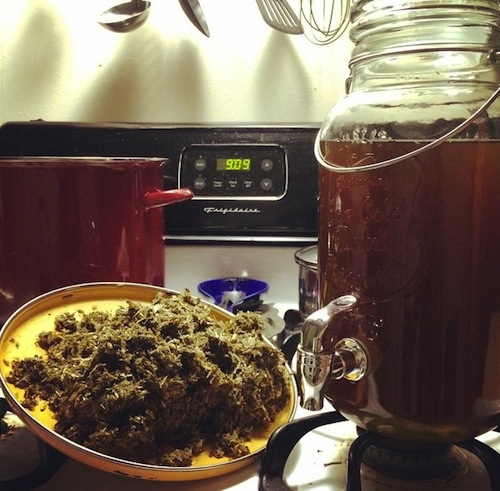 Making an infusion
Is there an herbal entry point you would recommend to beginners? Like how could someone brand new to herbs start using them in daily life for fun and holistic wellbeing?

 
Some of the best advice I've gotten from Susun so far is to start with plants outside your front door. One at a time. Sit with them and breathe. And it's true! The simplicity of acknowledging the exchange of oxygen for carbon dioxide and monoxide is an important step to working with plants. A houseplant will work for this too!
Another great beginning is to drink herbal infusions daily! Infusions contain loads of vitamins and minerals in a highly absorbable form. They're easy to make. 
Measure one ounce of dried herb (dandelion, oat straw, nettle), put that into a quart size jar. Fill with just boiled water. Cover. Steep for at least 4 hours to overnight. Strain and enjoy! Refrigerate and drink within a few days. Add the used plant matter to your compost or just sprinkle it on the ground. 
So true, breathing in nature, tuning in to, and embodying our inherent connection with nature is so incredibly powerful!! Reminds me of the quote by Susun Weed, "Every breath is a giveaway dance between you and the plants." *Be sure to check out Lucretia's full infusion instruction link below in Seeds to Sprout!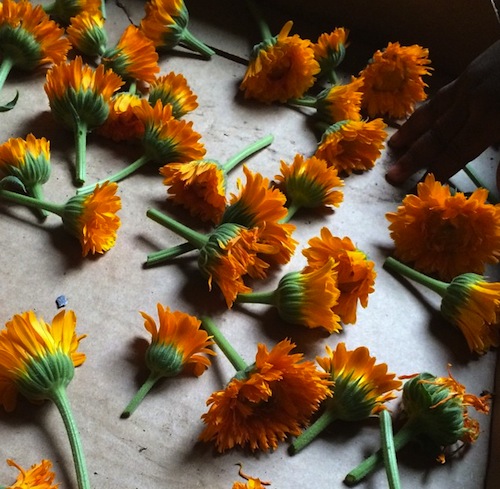 Calendula flowers
What 5 herbs you would suggest a beginning herb gardener grow & the easiest ways to use the herbs we grow?
Calendula has fun kid-friendly seeds and beautiful, prolific flowers that can be eaten in summer salads.
Basil is hearty and is there anyone that doesn't love pesto?
Rosemary and lavender are slow growers; their delicious fragrances and ability to make it through winter make them two of my favorites for body care concoctions.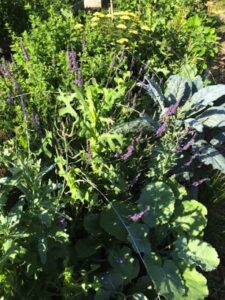 Lavender!
Lemon balm grows abundantly and is so forgiving whether you forget to water or you water too much; just the scent of the leaves is an easy mood lifter.
Awesome suggestions! And from a gardening point of view these are great green thumb confidence builders!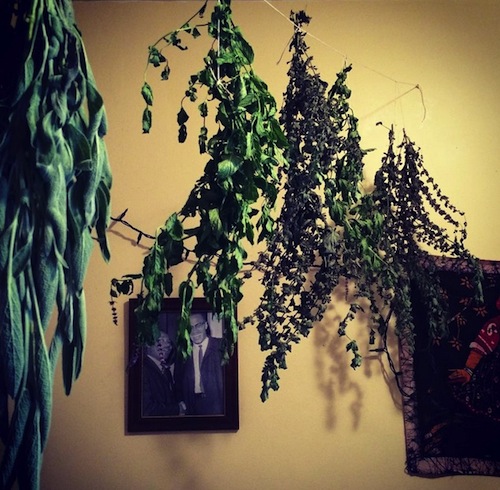 Herbs drying
Describe your favorite smell in nature and why?

 
The time just before and just after the rain is a favorite. The air is so full just before, and the smell of the soil is so strong right after a good rain.
Even in the city, the scent of damp earth can permeate through all the distractions and attempts to control nature. It always reminds me that we are walking on the earth no matter how much concrete is directly under our feet. Every time we get a good rain, I know the plants are being well-cared for and the rain barrels are being filled.
Beautiful! I can feel and smell exactly what you are saying!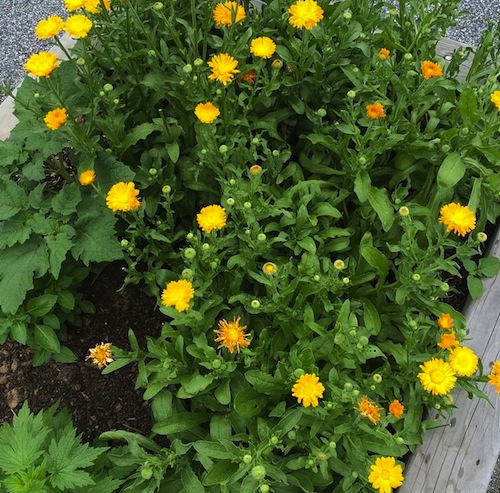 The garden bed may have a border but that's where the borders between humans and herbs like  this calendula end!
I'm excited to hear, what upcoming projects are you working on?
I'm working with gardeners and herbalists to create a DC chapter of Herbalists Without Borders, an international herbalism organization. We're in the beginning stages right now and have started two medicinal beds and maintain another, all at community gardens.
While the herbs we've planted establish themselves, we're planning a sign making workshop with folks from the neighborhoods surrounding the gardens. We'll create signs that identify the plants and their uses so anyone visiting the gardens can learn something new!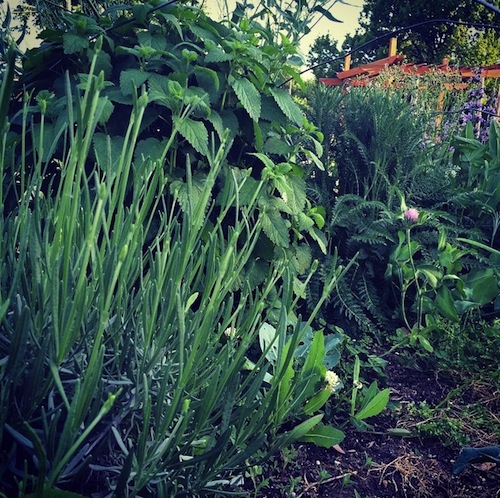 Building a perenial herbal community:
Lavender lemonbalm, sage, red clover, yarrow, & dandelion
The latest news for House of Lukaya is the addition of Whole Plant Tinctures to my website. I've been making tinctures for years and enjoy the simplicity of working with one herb at a time.
I will add other herbs eventually, for now clients can buy Plantain (Plantago major) tincture in a spray bottle for use on cuts and scrapes. It's perfect for kids and those of use who work with our hands to keep in a first aid kit.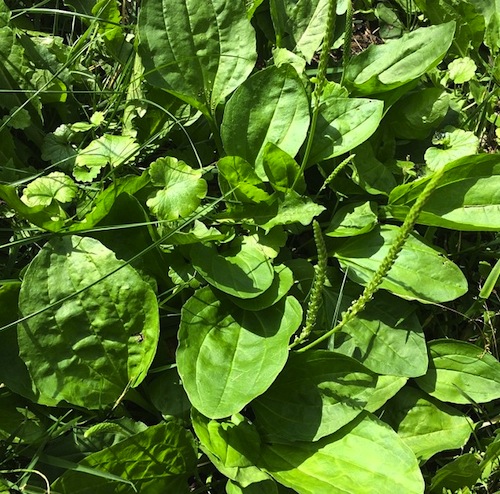 Plantain herb growing in the garden
Those projects sound awesome!! I look forward to checking out the Herbalist without Borders community beds next time I'm up, and getting some Plantain tincture because I am always cutting and scraping myself outside!
Thank you so much Lucretia for your time, wisdom, and for sharing your gifts with us!
What herbs would you most like to grow?
What do you want to make or do with them?
Share in the comments below!!
Growing any herbs now? Share pics with us on Instagram #wingswormsandwonder & #houseoflukaya
Seeds to Sprout:
Want to make the herbal infusion Lucretia spoke about yourself? Check out her full instructions and recipe here! And be sure to come back for her Wonder Wednesday herbal activity tomorrow!!!
Learn more about this powerful woman and the holistic services Lucretia offers the world – from herbal consultations, products, and services, to doula support, to her popular handmade Moontime Undies and knits! Check out the House of Lukaya website here!
Also, if you live in the VA, DC, MD area, check your local natural foods store for House of Lukaya products!!! I can say from personal experience, they are fantastic! Definitely treat yourself!
Follow Lucretia on Facebook here, on Twitter @houseoflukaya, and on Instagram @lukaya !!
Is there an Herbalists Without Borders chapter where you live? Find out here on their website!
Motherwort