When referring to everyday life, Orion nailed the phrase "wonder and other survival skills." I really do believe that wonder is an important survival skill in modern life. It gives us strength to face overwhelming environmental issues, it gives us the ability to play, and it gives us the peace granting skill of connecting with place and nature. Without wonder to buffer for us, it could be pretty easy to get bogged down in the constant rush of media, work, and expectation. It is crucial for me to engage in activities that replenish my wonder on a regular basis like gardening, surfing, walking on the beach, snowboarding, and hiking. They allow me the mental and physical space for creativity to flow.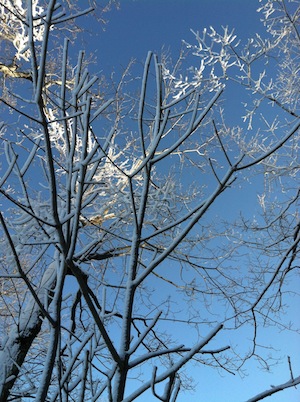 When you read the word Orion, did you think of the stars or Greek mythology? You're right, but in this case I'm referring to the Orion Society–the environmentally minded book and magazine publisher. The Orion Society is a treasure trove of really inspiring printed material by some of the top names in the eco-conscious field. (I submitted an article to their open call this year, but didn't get accepted–this time. Getting published in Orion is one of my big personal goals. I'm going to throw a party when it happens!)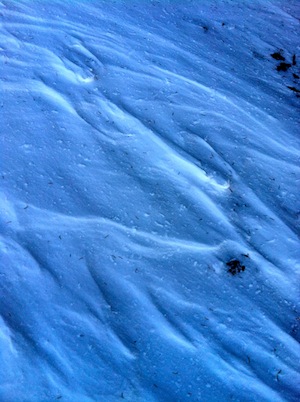 The way windblown snow makes patterns similar to windblown sand really sparks my wonder. I love repeated patterns in different types of nature. It is so interesting!
I really like their "Orion Reader" series which compile Orion Magazine articles revolving around certain topics. These books are written in an entertaining conversational style, are small format (around 100 pages and easy to fit in a purse or bag), and since they are a collection of short essays, are great to keep with you for on the go and wait around type reading. This past fall, I read Leave No Child Inside (2013) and Wonder and Other Survival Skills (2012) from the "Reader" series. These two books both obviously had a strong focus on children, place, and nature, but they also included reflective memoir and critical looks as society, culture, education, and the human relationship with the environment.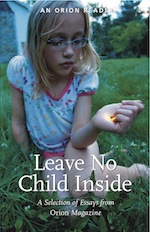 Leave No Child Inside is titled for the Richard Louv article included of the same name for which he gained so much popularity. This selection of essays is geared toward parents and educators wanting to increase the frequency and quality of children's relationships with and access to the natural world, as well as balance technology with nature. It includes essays by notable authors, educators, and researchers such as David Sobel, Michael Pyle, and Louise Chawla. These essays have a strong theme regarding the importance of hands-on sensorial nature experience taking precedent over abstract cognition focused and rule restrained "look but don't touch" type of nature observations. This book will have you rounding up all the children you know and going out to get muddy, wet, filthy, and exhilarated while "wildly [and] gladly rejoicing together"! Leave behind the formal boundaries of indoor environmental learning and let children focus on having fun in nature, the learning will happen naturally. This is how we will meet the goal of a human culture that loves its natural world enough to protect it. The Nature-Study advocates were telling us this a century ago. Let's start listening!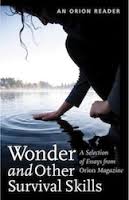 Wonder and Other Survival Skills is in this vein as well, but doesn't solely focus on chidlren. It's essays invite the reader to reflect on their own wonder, what in nature sparks the most wonder for them personally, and how to allow space for wonder to bloom in children. The essays are described as "testaments to the power of beauty and the importance of humility–and a deep belief…in wonder's essential role in our lives." Within this book you'll find essays by naturalists, creatives, and teachers such as Diane Ackerman, Anne Zwinger, and Michael P. Branch focusing on everything from stargazing with a three year-old to place connecting to observation vs. wandering. This book relays a strong sense of each author's understanding of their personal, professional, and emotional connections to nature. It will inspire you to take the time to slow down and assess your own connections, past and present, and examining the places where more wonder in your life would do some good.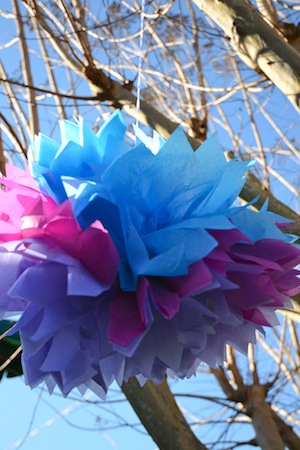 So, check out these Orion books if you are ready for some wonder fueled mental spring cleaning! They will be like opening the windows of your mind to the inspiration of the outdoors. These essays will get you ready for the longer warmer days and sparking wonder in everyone you meet for sure!
As winter turns to spring and the wonder of life abounds, how can you bring more nature and wonder into your life and the lives of the children you know? 
What is your favorite place to replenish your personal wonder stores? 
Share with us below!!
Seeds to Sprout:
Check out what the Orion Society offers
Learn more about Orion the constellation
Orion is also the name of NASA's newest spacecraft for human exploration that they plan to send to Mars