---
Grace. That's a word and state of being not often come across outside of ballet or religious context in the states (unfortunately). Yet, this chosen state of being keeps presenting itself to me here in secular Sweden.
If you subscribe to my email or follow me on Instagram, you know I'm in Sweden for a month. Many people (here and at home) wonder why we would travel to the near arctic during the darkest month of the year, but to us, that was the allure. Could we hack it? Turns out we sure can – and not only hack it, but love it!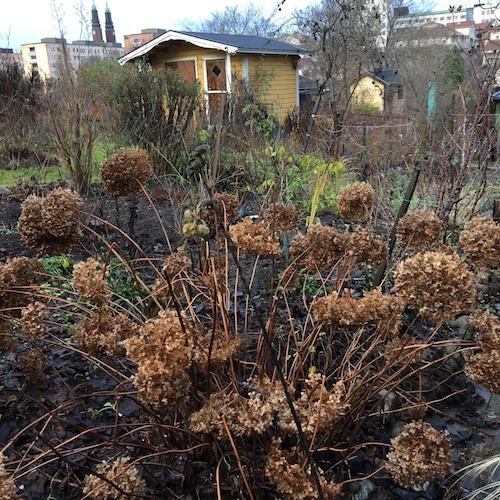 We were here during the summer solstice a few years ago, so naturally we wanted to see things during winter solstice. I can report that it's gorgeous. The way Stockholm and the surrounding countryside embrace the dark cold and achieve absolute cozy, sparkly, and glowing warm environments is spectacular.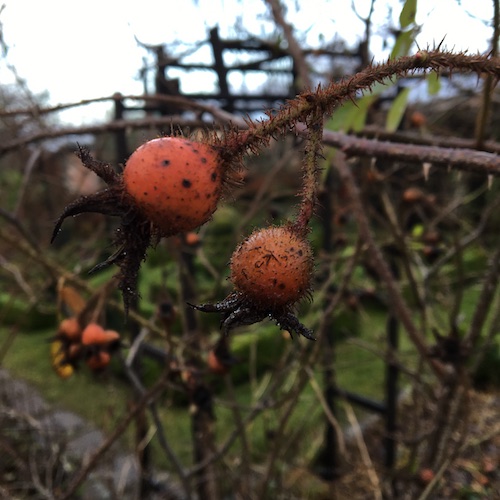 Cozy is great, but what's all this about grace you ask? Well, when it's cold, overcast, and dark by 3pm, it could be easy to get grumpy. But despite people seem to uphold a state of awareness and care of daily life that I can only describe as grace.
I particularly enjoy seeing this grace expressed in adult interactions with children outdoors. I rarely hear parents or teachers say "no" to children splashing in puddles, playing on playgrounds for hours in adverse weather and complete dark, and touching and climbing up and over everything. It's so refreshing!
Kids are dressed properly for the weather and allowed to play. Even in the middle of urban Stockholm. (None of the "but I can't make them wear jackets or long pants" that I hear soo often in FL that makes me want to pull my hair out.) Preschoolers play for hours outside in the abundance of public parks, including going ice skating regularly!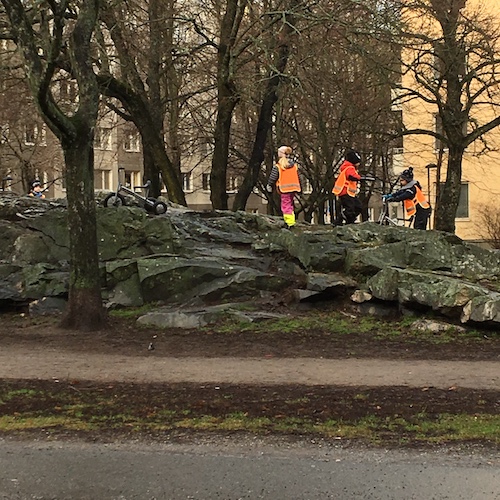 This scene made my day. It would be a rare sight in the states. Preschool children climbing on wet rocks hauling little bikes up  and then riding the bikes down the wet rocks – successfully!
From the world renowned Swedish nature integrated architecture and interior design, to the simple act of cafes and restaurants placing candles and fir boughs outside their doors welcoming all to come in and get cozy, it takes a certain amount of grace to stay uplifted and creative when nature is at her cold darkest.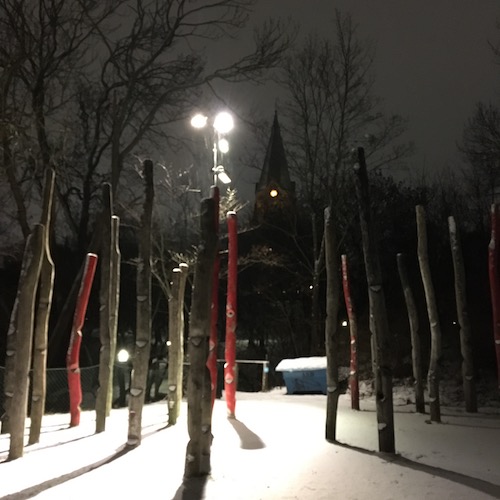 Natural playground climbing structures in the snow.
But what about Greta, and what does an internationally acclaimed teenage activist have to do with grace you may still be thinking? A lot.
Being here in Stockholm for an extended time, I feel extremely lucky to participate in Fridays for Future youth climate school strikes at the home base.
It is a relief to be immersed in a culture where discussions on climate aren't exhausting irrational arguments about "belief" or danced around in a careful avoidance to keep the peace. Climate science is factual consensus here -regardless of religion, age group, politics, or gender.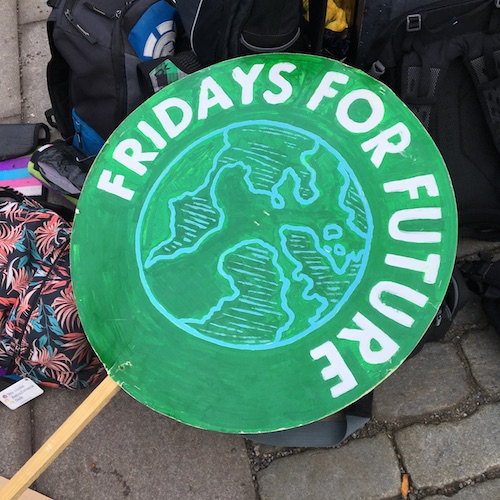 The discussions on climate change are rational and scientifically factual. They are about what we all can do to make the Earth healthy for generations to come. They are about Swedish pride for Greta Thunberg's work.
But, I never in my dreams expected Greta to actually be there at them!! Well, surprise! Don't I know anything about Swedish pragmatism?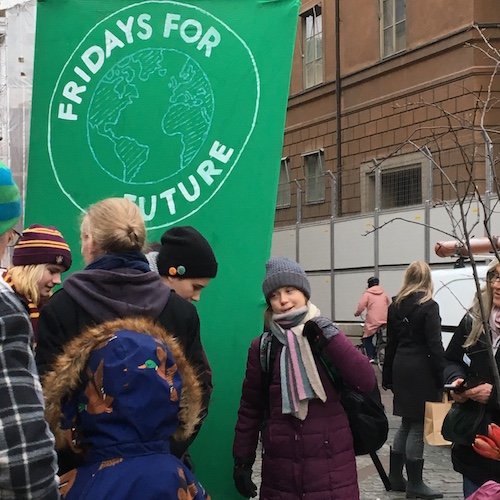 Mid December, Greta Thunberg returned home from her North American visit, trans Atlantic sailboat crossing, and speaking dates in southern Europe. And is at the strike every week (and counting) since returning. She shows up and gets the work she so whole heartedly believes in done. Pragmatism.
And she didn't just make an appearance. She was at the strike EARLY. In the cold and dark and she stays the whole time.
And the WHOLE time, she exhibits a grace I've rarely seen in my 43 years. First, before I go on gushing about her, let me paint the scenario for you.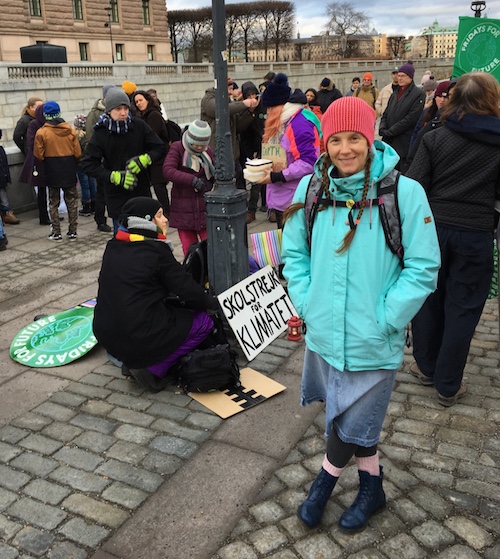 See Greta behind me in the purple coat and pink pants getting her lunch box? I kinda photobombed this one so as not to bother her too much. & Yes, that's her actual infamous sign. 
*I am hesitant to share about attending the events because I don't want to virtue signal. I'm not a perfect carbon neutral person or climate activist. (I flew here after all and carbon offsets kinda only ease guilt).
I'm inexperienced at group activism and I was only at the strikes for a couple hours during mid-day – not the whole day like the teens and many others were. I do my best, and when I mess up, I wake up to a new day, learn from the experience, and apply my learning to the next time.
Okay, moving on…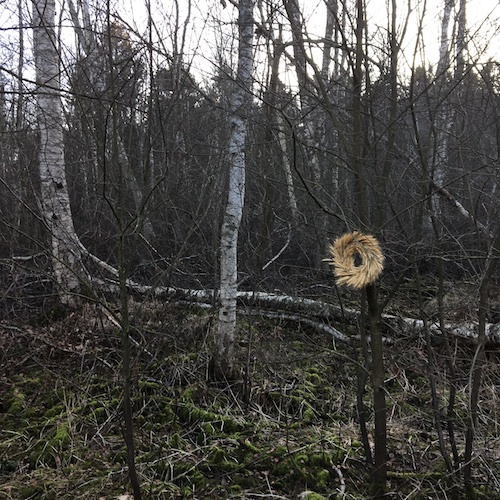 Picturing the event based on media imagery, you may be visualizing high drama chanting and shouting, police ready to jump in against the strikers, and counter parties ready to fight. Riding the subway there I know I was. Well, I am happy to say, that picture is inaccurate.
The scene is quiet, calm, and peaceful. No one is shouting or making a ruckus. People are just coming together and being. They even bring homemade baked goods to share with all. Candles are lit to warm the mood and bits of nature adorn the city block.
The age range is -8 months to 80+ years and everywhere in between. And the whole area smells like sweet roasted almonds thank to the street vendor on the corner.
People have handmade signs and banners. The police are there, but they are respectfully involved and protect Greta. (She also has her own private security to keep her safe which is so sad that in this world people would threaten the life of a child trying to protect her generation's future, but that's another post.)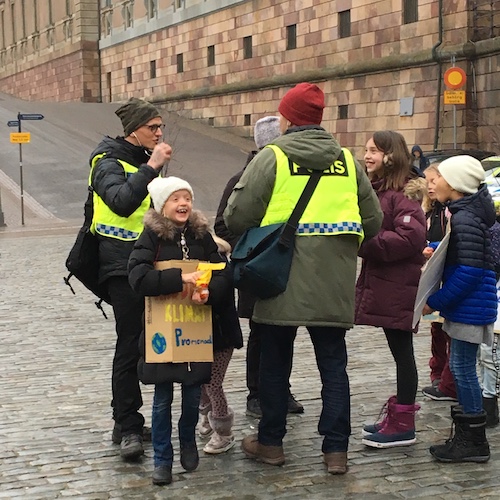 Elementary aged children answer questions eloquently and run around sharing candies with everyone, including the police who laugh and joke with them (could you even imagine in the states?!).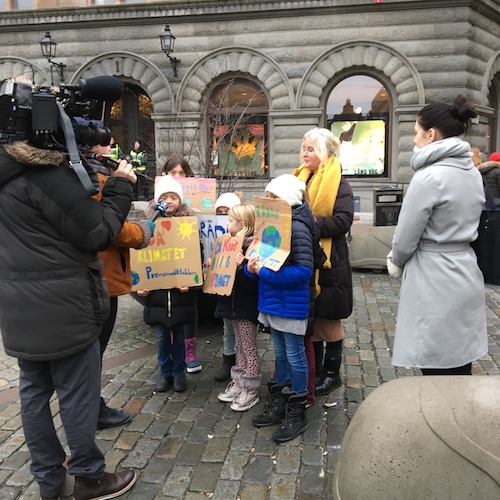 Preschoolers with their own hand made signs squeal as they get tossed up into the air by their parents.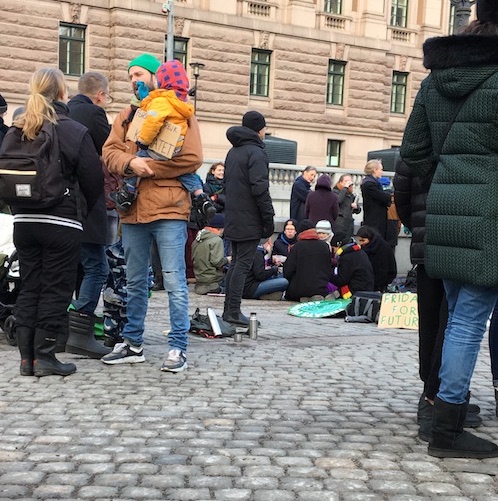 I never was able to catch the little ones on the up toss 🙂 See Greta and her friends sitting and having a picnic in the back.
Grandparents share homemade signs with other seniors attending, and various groups and professions (including vegans, writers, artists, psychologists, etc.) join together with signs sharing their slogans, climate facts, & info.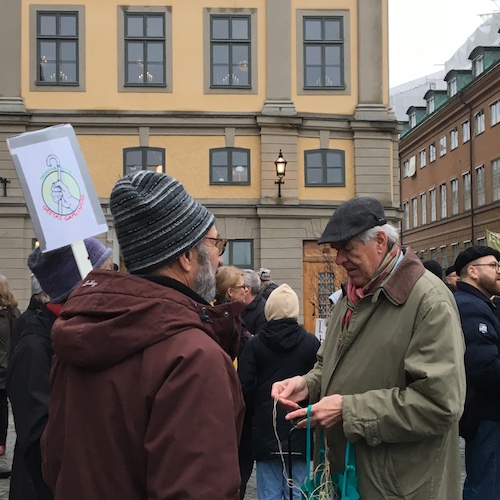 Their signs say something to the effect of We're all Greta's Grandparents and they made them into necklaces to share with all the senior citizens.
So what about the actual teenagers who started this whole thing? They are there, being teenagers with their friends, having picnic lunches, standing up for their future, and most importantly steering the whole tone of the event.
The adults stand back and let them lead. None try to take the reigns or overstep a boundary. The adults are there supporting this work the teens have embarked upon.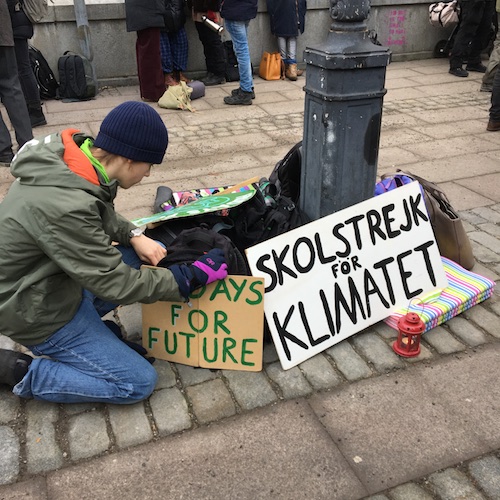 The children and teens talk to the media, they form circles around their friend Greta to protect her from too many lookey-loos on tourist busses passing by and eager visitors wanting to chat.
They don't block Greta, she makes her own decisions who to speak to, but they help with subtle crowd control – and the well wisher queue we'll call it.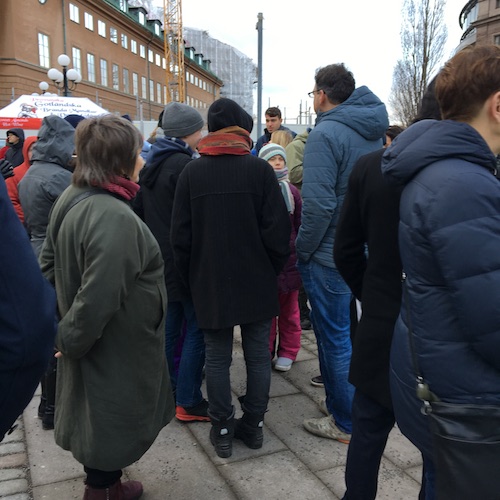 And how does Greta respond? You guessed it, with grace.
The whole time people are taking pictures of her from near and far (guilty), they are coming up and thanking her (guilty), they are interrupting the teens' conversations, and she stays entirely and infinitely peaceful. She just goes on being there, being herself, and being true to the mission.
She could very easily gotten some big britches from her skyrocket to international fame in the past year, but not at all. Her britches are ready for the winter weather, small, and a cheerful bright pink.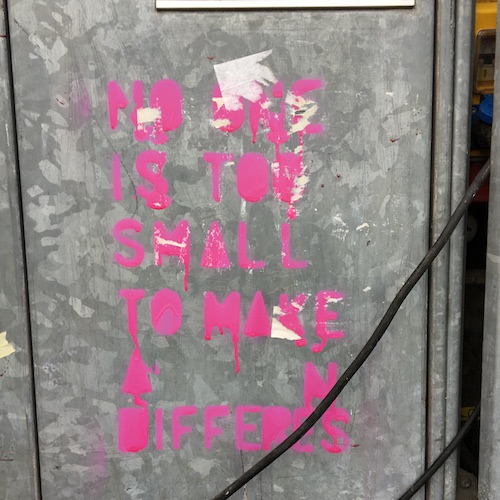 I was fortunate enough to actually end up standing right beside her at, one point, and was able to thank her for her work and tell her how much my students and I love her mission and how she inspires us. Hey! Let's go ahead and include all of y'all in that group too!
And finally, the whole point of this blog post is to tell you…
Greta Thunberg gave me a message for all of you!
She said, "Tell them all I said hello."
Well, there you have it. I could keep going on about the experience and cultural observations, but I think it's best to wrap it up here with her message.
Now we're on her radar, so it's time to really get to work – with the channelled grace of Greta, of course!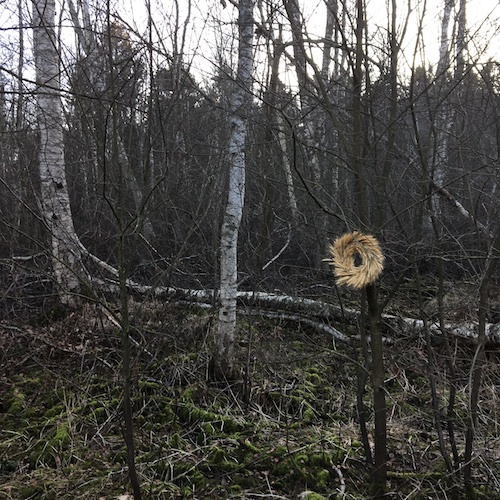 ---
What can we do, starting today, to help climate action? Here are a few ideas:
Eat organic and plant based one day a week (or more)
Ride a bike, use public transport, or walk somewhere you would normally drive. Start with one outing a week and go from there.
Need something? Buy something used that you would normally buy new (like clothes or housewares).
Play the long game. Kids can't so, we must vote for our grandchildren's best interests rather than ourselves
Support youth climate strikers (or youth interested in starting a Fridays for Future event) by asking them how you can help them. They are the leaders; adults are the allies.
Share your ideas in the comments below
Share pics of your actions on Instagram #wingswormsandwonder
---
Seeds to Sprout:
Click here for everything you need to know to be involved with Fridays for Future, from starting events, to participating in events, to supporting youth, this is the home base.
Greta is infinitely inspiring to children and adults alike. There are developmentally ways to talk to younger children about climate action and make them (and us) feel empowered rather than ecophobic. Click Climate action activities for elementary aged students from NASA.
Find LOTS of practical everyday tips and actions in "10 things you can do about climate change" by David Suzuki