Winter solstice is a fun holiday to celebrate outdoors and a great way to really appreciate winter in its fullest. It is also an excellent way to escape all the crazy santa chaos that envelopes the month of December and focus on the beauty of winter nature. This year it is on the night of December 21st.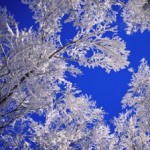 This link will help you explain what winter solstice is to children- beyond just the longest night of the year. This link will explain solstice more scientifically and has some great photos and diagrams of the Earths angle and why it is the shortest day of the year.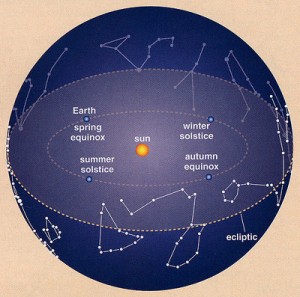 My sister-in-law and her family are a great inspiration for creating a winter solstice tradition with children. Each year on the winter solstice they begin the day with a hand written and illustrated note from Jack Frost to their boys. This is a special large card that they create ahead of time that speaks directly to the things the boys have been into the past year. They have a really nice collection of cards that they display on the mantle during December and the boys really look forward to this note. Then, as a family, they prepare to throw their annual winter solstice outdoor party with a bonfire of varying sizes by cooking and collecting natural items to decorate with. They have done this in all the various places thay have lived including Florida, Michigan, and Washington state, so no excuses if you live in the wintery north! The snow makes it all the more festive! They are really great about taking advantage of all nature offers on the solstice wherever they live -whether it be homemade cider up north or fresh picked oranges down south.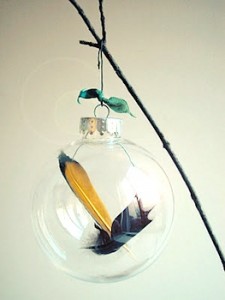 Go for a nature walk and create an ornament from found natural objects
This one is the feather ornament from the Crafty Crow.
I found a blog called The Crafty Crow that has lots of cool solstice craft ideas to create with kids that revolve around stars, snowflakes, and lights.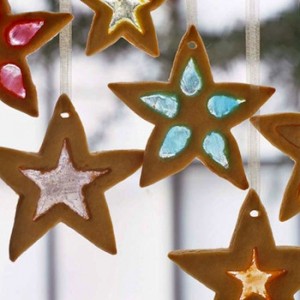 Solstice Stained Glass Cookies by The Crafty Crow
You could pair these crafts with the children's book Snowflake Bentley by Jacqueline Briggs Martin. This is a wonderful story about Vermont farmer Wilson Bentley, who in the late 1800s and early 1900s dedicated his life to snowflakes. Often misunderstood and ahead of his time, he was the first person to actually photograph a snowflake and first to realize that no two snowflakes are alike.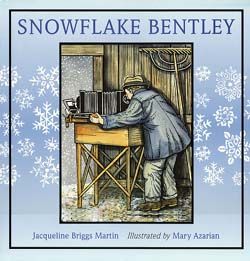 I just discovered this book and was delighted to realize that it was about the man who created the vintage snowflake photos I saw last winter at the natural history museum in St. Johnsbury, VT. If you ever find yourself in this tiny northern Vermont town, check them out, it is really worth it. If getting up to Vermont is not an option, his photos have been published in the book Snow Crystals by the man W. A. Bentley himself. His work is so great it is still in print after all these years! You can also check out the website created around his life and work here.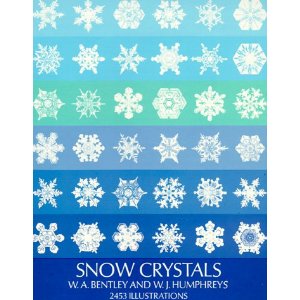 And of course don't forget about the classic cut paper snowflakes! To add pizazz, douse them in fine iridescent glitter!
 Another great solstice event can be creating an advent spiral. This is a winter tradition found within Steiner school communities, but it is so beautiful that I say adopt it and make your own on the solstice! 12 years ago I was the fairie in the spiral and it was so sweet to see the children's faces illuminated by candles and  filled with awe and wonder. Learn more about creating this unique event on the blog A Mountian Hearth.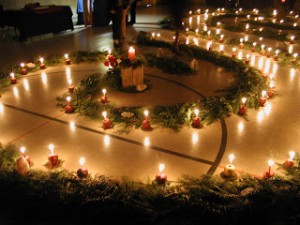 Having participated in 2 of these myself, I think it would be even better to do this outdoors!
The Waldorf School of Santa Barbara describes the spiral this way,
"The days are short, the nights are long and this festival helps remind us of our ability to bring our own light into darker times. A spiral of greenery is laid out on the floor of a quiet, darkened room and filled with items representing three kingdoms: plant, mineral, and animal (man being the fourth). At the center a lit candle is placed, and each child is given a turn to make his or her way through the spiral to the center, carrying an unlit candle they have made in preparation for this day. When the center candle is reached the children light their own candle off of its wick and then place it somewhere along the spiral as they make their way back out. As children place their candle along the path the light in the room slowly grows. It is a quiet and moving experience, both to participate in and to watch."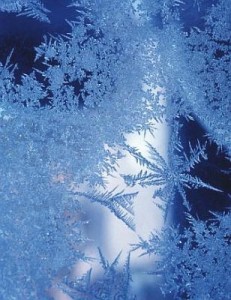 However you choose to celebrate the solstice, I hope you have a great time getting out into nature and enjoying the longest night of the year, whatever the actual temperature may be!