It's almost sumer solstice (6/21/13) and that means it's time for box fan tents, wearing hardly any clothes and sweating like crazy, watermelon, corn on the cob, swimming in springs, glorious humidity, rope swings, meteor showers, river rock jumping, riding waves, chiggers in the blackberries, mosquitoes, figs, lightening bugs, popsicles, fungus on my garden plants, vacations, poison ivy, afternoon thunderstorms (I think I'm about to be in for one now), and of course, the summer newsletter and prize giveaway!! Hooray!!
Did I leave out any of your favorite summer things? I'm sure I did. I'm sure I left out some of mine! Some of those may not be favorites (Am I crazy for listing mosquitoes and poison ivy?), but they are quintessentially summer for sure.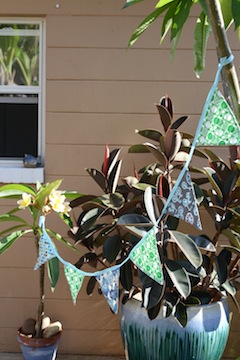 This season I made fun and celebratory bunting!!
I am totally hooked on making bunting and I am hanging it with clothespins anywhere I can find something to clip to! So, of course, I want to share the fun with you! Decorate your garden, classroom, bathroom, front porch, beach tent, camping clothes line–anywhere gets more fun when bunting shows up!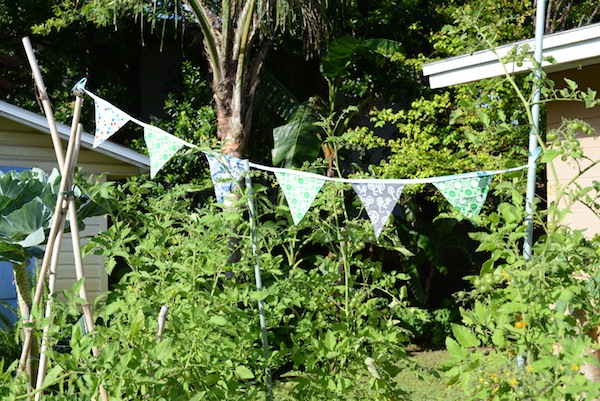 I strung it up across my tomato stakes.
This is the actual bunting I made for you. I only had it up for these pictures so it is nice and perfect for you to debut in your perfect places. It's cool and cheery summer blues and greens. Don't you want to win?!!! Well, be sure you're signed up for the Wings, Worms, and Wonder Summer Solstice newsletter by 6/19!! I will announce the winner in the 6/25 blog post, so get signed up and then be sure to read the blog!
What are your plans for the northern hemisphere's longest, but not necessarily hottest, day of the year? 
(I'll be helping my sidekick Sean paint a giant outdoor mural, very hot, but very fun!)
Seeds to Sprout:
"The June solstice marks the first day of the summer season in the northern hemisphere. The word solstice is from the Latin word "solstitium", meaning "sun-stopping", because the point at which the sun appears to rise and set stops and reverses direction after this day. On this day, the sun does not rise precisely in the east, but rises to the north of east and sets to the north of west allowing it to be in the sky for a longer period of time." Learn more on The June Solstice
"Why isn't the summer solstice, the longest day of the year, also the hottest day of the year?" Find out from the Farmer's Almanac
Help me meet my year 1 goal and get a summer discount on book purchases! Find out more and get the discount code.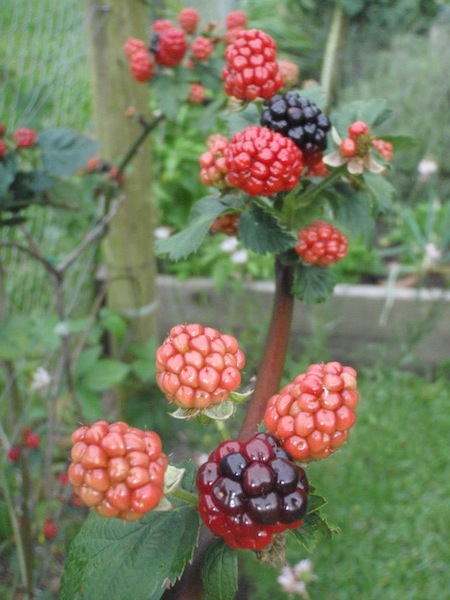 The first blackberries of the season are ripening on my trellis