You're probably thinking it's Thursday, why is she posting? Well, I have some exciting news to share today! I have been waiting so long to post officially this and get y'all in on the fun!
I am going to be a guest teacher in the Hali Karla Arts Spectrum 2016 course this year – and I have 1 spot to give-away here at my blog as part of the Give-Away Blog-Hop!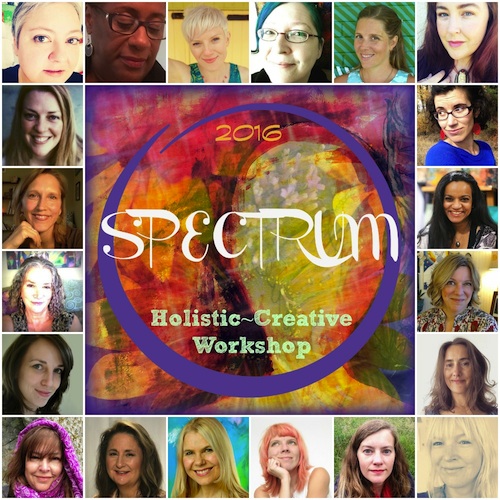 These are the new teachers and I am really excited to be one of them!!
Spectrum is an online Holistic-Creative workshop going on its third year, and organized by Hali Karla of Hali Karla Arts. Spectrum 2016 will be guided by 20 NEW featured teachers and more than 20 returning contributors offering a variety of workshops, inspiration, and invitations – all intended to empower, nurture and celebrate your innate creative expression, healing journey, and personal development!
There will be weekly inspiration & reflective activities related to mixed-media art-making and journaling, guidance on integrating your creative process and holistic awareness into your day-to-day life, and a variety of opportunities to connect, support and share with others in the growing Holistic-Creative online community.
The themes that will loosely guide our 2016 Spectrum experience are Forgiveness, Shifting Perspective, Navigating Uncertainty, Integration, Alchemy, Connecting with Nature, Honoring Body, Trusting Joy, and Expressing One's Truth! You can expect a variety of perspectives on these – and so much more.
My brand new Spectrum workshop for you is called
Expressing Your Sensory Connections with Nature
Using Shape, Form, and Color Harmonies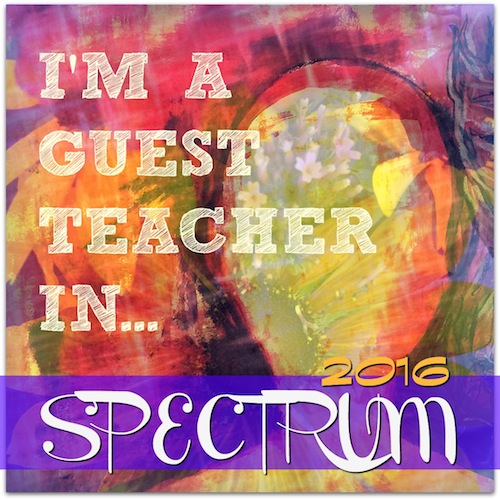 Join me and let nature help your creative side flow!
I know, it sounds academic, but you know me, I'm just an art and nature nerd! It will be super fun and freeing, I promise!
Drawing nature through shapes is all about discovering how to really see our natural world with wonder filled eyes. Seeing deepens our connections with the nature right outside our doors, while strengthening bonds with and understanding of the cycles and rhythms of mother nature.
In our journals we'll create an expression of the way that the nature makes you feel using the colors and forms that actually make up the natural objects. Using creative processes to help us assimilate our experiences in nature which in turn builds deep connections with ourselves and our natural world.
Pre-registration for Spectrum 2016 officially opens on February 1, 2016
(and the program will begin on May 2).
 And now for…the moment you've been waiting for!!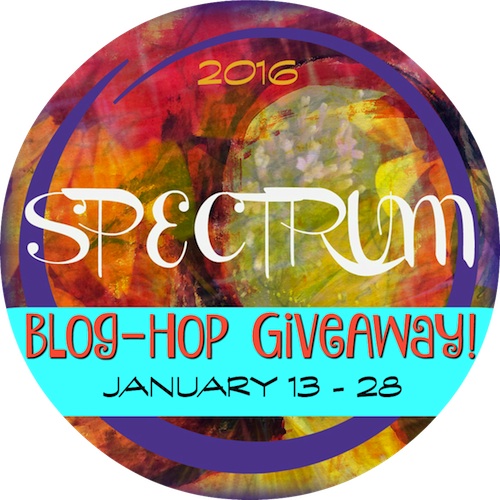 About the Give-Away:
I have one spot for Spectrum 2016 to give-away to a lucky winner in our January blog-hop – but if you follow the blog-hop list below, you will have an even better chance of winning a spot by entering the other give-aways as well.
All of the new teachers are playing along – and quite a few of the returning contributors volunteered to join in the fun, too – so there are over 30 chances to win a free pass!
Here is how to enter my give-away:
Share this blog post on your social media sites (thanks!)
Sign up for the Wings, Worms, and Wonder mailing list here (this is the best way to see if you won, plus you'll get access to my eBook and a pocket nature journal video tutorial as well!)
Leave a comment below that says "Shared" and for fun, tell me your favorite shape in nature. *Be sure not to skip this step so I can make sure your name goes in my hat. (My favorite nature shape, at the moment, is oval leaves)
I will announce the winner of my free Spectrum pass here
February 1, 2016 –
the same day pre-registration opens for Spectrum 2016!
Below is a list of the other teachers who are playing along in the Spectrum 2016 blog-hop, with the dates their give-away goes live – so be sure to visit their site and enter there, as well!
13 January:
Hali Karla http://www.halikarla.com/blog/
14 January:
Andrea Schroeder http://www.creativedreamincubator.com/blog
Angelique Arroyo http://schoolformedicinewomyn.com/
15 January:
Bebe Butler http://www.bebebutler.com/
Beth Morey http://www.sheofthewild.com/
16 January:
Briana Goetzen http://www.orangespiralarts.com/
Carissa Paige http://carissapaige.blogspot.com/
17 January:
Cat Caracelo http://catcaracelo.com/
Catherine Anderson http://catherineandersonstudio.blogspot.com/
18 January:
Chris Zydel http://creativejuicesarts.com/
Effy Wild http://effybird.com/
19 January:
Elloa Atkinson http://www.elloaatkinson.com/
Grace Howes    http://www.redbarn-studios.com/
20 January:
Gretchen Miller http://www.gretchenmiller.wordpress.com/
Kara LC Jones http://motherhenna.blogspot.com/
21 January:
Kelly Johnson https://www.wingswormsandwonder.com/
Kitty Oppegard http://handoverheartstudios.blogspot.com/
22 January:
Kristal Norton http://kristalnorton.com/
Lisa Hofmann http://dandelionseedsanddreams.blogspot.com/
23 January:
Lisa Wilson http://www.beingbreath.com/
Lucy Pearce http://dreamingaloud.net/
24 January:
Malini Parker http://www.maliniparker.com/
Meghan Genge http://www.meghangenge.com/
25 January:
Melissa Harris http://www.melissaharris.com/
Michelle Turbide http://michelleturbidestudios.com/
26 January:
Petrea Hansen-Adamidis http://www.arttherapist.ca/blog
Rachael Rice http://rachaelrice.com/
27 January:
Robin Hallett http://www.robinhallett.com/
Shelley Klammer http://intuitivecreativity.typepad.com/
28 January:
Suki Ciappara Ka'Pinao http://sukihealingarts.com/
Tara Leaver http://taraleaver.com/
Enjoy the blog-hop,
good luck on the give-aways,
and I hope to see you in Spectrum this spring for some creative nature journaling fun!
Seeds to Sprout:
Be sure to bookmark this page (or link) – so that you can check back to see if you win the giveaway here or sign up just as soon as it goes on sale.
What is included in Spectrum 2016, if you win or register? 
You will receive:
20 in-depth lessons from the new guest contributors
3+ creative practice lessons with Host Hali Karla
10+ new bonus offerings (along with access to 15 of the popular previously-released classes) from 25 returning contributors all for just $98!