Remember at the beginning of the month I mentioned I was teaching in a course and was in The Journey Within blog hop challenge with Kiala Givehand?
Well, I'm super psyched to tell you I am a guest teacher in the course The Journey Within: A Year of Handmade Art Journals with book maker, Kiala Givehand and 17 other artists!
And that I have a

FREE Fun Sheet for you today

and
the chance for you to win a

FREE spot in The Journey Within!!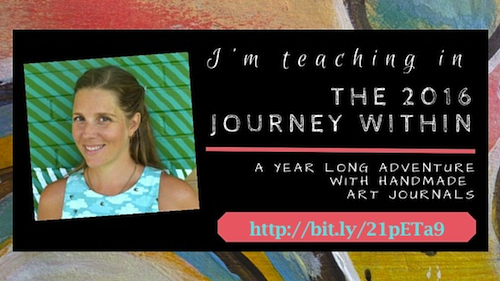 The course officially, starts January 1st and goes for the entire 2016, but you also get a December mini course and keep reading to enter to win a spot in the course!!
Each month, Kiala will teach you how to make your own handmade art journal, give you prompts, tips, and techniques for filling the pages, and bring in guest artists to share their take on the themes and prompts, and to share their art journaling process.
I'll be teaching 4 very special lessons I created just for this course,
4 times throughout the next year!
To kick off this amazing course, Kiala has created a book for December and asked each guest artist to give her a challenge to complete during the month.
Today she attempts my challenge.
Here's what I asked Kiala to do:
Go outside and sit in nature for about 5 minutes.

During this time, close your eyes and breathe deeply.

Once you settle in to the space, spend about 5 breaths focused on the senses of hearing, smell, touch and skin, and sight (do this one last because you'll open your eyes for this one.)

While focusing on a sense, observe what you are feeling, smelling, hearing, and seeing around you.

Notice and feelings or memories that come to mind as you open up your senses to the natural world. 

Once you have connected and tuned into each of your senses, talk a slow walk around the space. Collect 3 items that seem to speak to you. If you are in a park or garden that doesn't allow collecting, you can snap a picture. 

Back home, or out in the field, use these 3 items as textural, form, or color inspiration to create a journal page that expresses the feelings or memories that you had while opening and connecting your senses to nature in that space. What you create could be representational, abstract, or a little of both!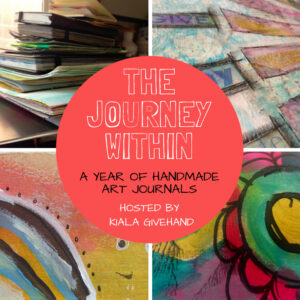 What about you? Are you ready to take the challenge? Join us for this amazing adventure and have your most creative year yet.
Feel like you can't swing the challenge today, but want to win a spot in The Journey Within course?
Never fear! You know I have your nature connection needs covered!
Simply:
 subscribe to my twice monthly emails below,
download the FREE Sensory Nature Sketching Fun Sheet,
go outside and have some quick creative nature connection fun,
and be entered to win.
I'll announce the randomly drawn winner from the subscribers in the January 5 blog post!
Play along!
If you decide to try the December Journey Within Blog Hop challenge I gave Kiala:
Leave a comment with a link to your blog or to the page you completed so I can see your beautiful interpretation.
Post your Sensory Nature Sketch pics to Instagram #wingswormsandwonder so I can see! 
Seeds to Sprout:
Tomorrow, click here to get the next challenge link from Kiala!