What's a blog-cation suitcase anyway? (Feel free to substitute blog-cation with vacation or stay-cation!)
It's your bag of tricks to keep you and your crew creatively connecting with nature while out of your normal routine. Sometimes it's easier to creatively connect with nature when you are "off", but sometimes it can be tricky, so a suitcase full of inspiration can be a big help! 
This post is the last before my August summer blog-cation, so I am packing mine now too!
Let's have a look!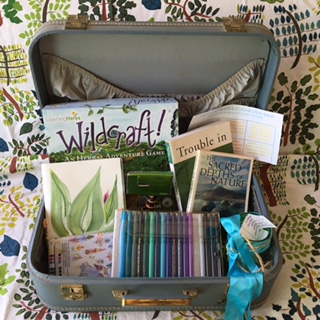 (Actual suitcase not required, but it's kinda fun, right! This one was my mom's in high school!)
Nature Journal Supplies (You knew that was coming!):
Just a few things to keep your wonder sparked and creative seeds sprouting! They can be your tried and true faves, or you can branch out and experiment! Just keep it simple!
Here's what I'm packing:
A small sketchbook
By small I mean not many pages. It could also be small in size for easy transport too. And why so few pages? Because you can dedicate the book specifically to the period of time you are "off" and set yourself the small goal of filling the book.
This little goal gets you out "seeing" the new or familiar nature around you, and then you also have a nice memento of the time or trip! I like to make little books with not many pages (8-12 pages max) because they are easy transport and carry around with.
Markers-
I'm not expert and marker using, so I think it is fun to set aside a specific time period or project to play with them, so a blog-, va-, or stay- cation is a perfect specific amount of time to play!
Color pencils-
These are so easy for on the go! I also like to combine them with the markers for highlights softening areas.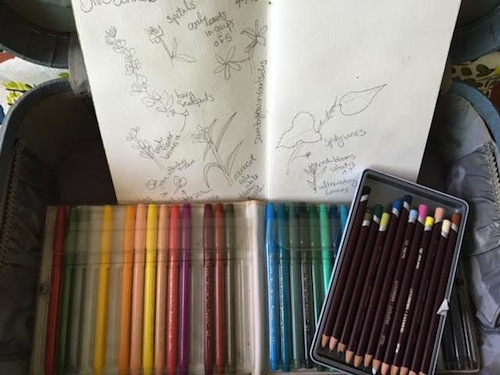 A Book:
But not just any old book (or 2). Choose books for each person's reading level that are along the lines of being:
About the natural history of the place if you are visiting somewhere,
About a nature or ecologically based topic you'd like to learn more about or how to do,
About a naturalist or natural event you admire or are curious about.
This will get you thinking about the web of life and cultures, thereby increasing your ecological literacy while you relax!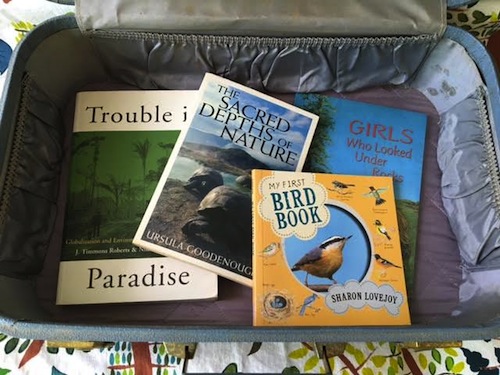 A Game or Project:
If you are stay-cationing or traveling by car, consider a nature based game or project to play with old and new friends of all ages! Participating in an activity with a common goal brings a group together and build bonds of community and friendship.
I like the board games Gathering a Garden and Wildcraft because these are non competitive games that teach all about herbs, gardening, and the ways humans and nature thrive together.
You could also plan a project like building wooden bird houses from a kit, a beach or park clean up walk, or creating a skit or little play starring local flora and fauna (with very simple home made sets and costumes!)
A list of Ideas: 
For those times when there is "nothing to do". These may come in handy at home too when the kids start to get a little ornery towards the end of summer vacation!
Decorate a jar and fill it with slips of paper with ideas on them. Some ideas can be specific, while others can be more open ended. Make the container and the drawing of the ideas very exciting, mysterious, and suspense building! Making a little drama gets the excitement up!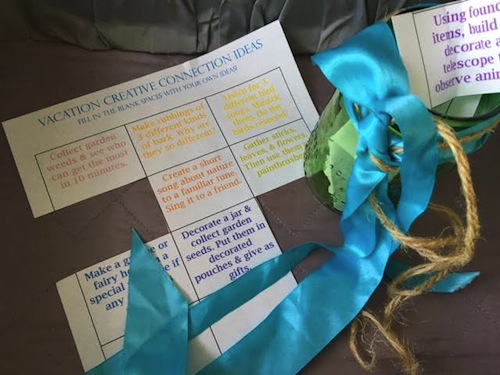 Surprise!
I created a list of ideas for you to get you started. It even has some spaces to add your own great ideas!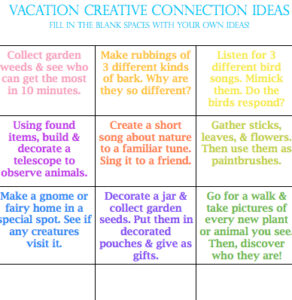 Download it here: vacation naure ideas pdf
A Camera:
I know it seems obvious, but these days it's easy to get distracted by the phone for the use of the camera! Photography is a great way to practice "seeing" and engages even the most tech obsessed humans with nature!
Pull out that digital point and shoot, or better yet, wow the gang and pull out your old film camera, get some film, shoot some pictures, and actually have them printed! You can even make them into a fun book documenting all the creative nature connecting fun you had!
And you can use the pics as references for later nature journaling or get doubles (remember that?) and use them to make a mixed media collage in your nature journals!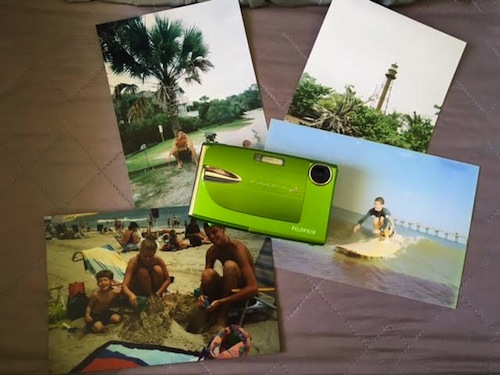 I'm ready for my blog-cation!
Do you feel ready for your stay-cation, vacation, or the rest of summer vacation? While on blog-cation I'm also going on a week vacation to visit my family in Virginia, so you know I am looking forward to photographing and journaling my finds in the Blue Ridge as well as getting that rascal nephew of mine on some nature adventures!
Although the blog will be quiet from now until September 6, I'll be posting inspiration for you on Instagram, and be sure to post pics of your adventures #wingswormsandwonder so I can see what's in your suitcase!
What will you add to your suitcase?
Share in the comments below!
Seeds to Sprout:
Need a group project idea? How about building a garden! I just turned my Let's Build a Garden pdf course into a new course in my school that includes a brand new lesson on Garden Journaling and comes with super fun garden monthly journal printables I made!! All for the same original price! Click to check it out!
Want a tutorial for making a small, few paged sketchbook? Check one out here I made as a guest post I did for Craftulate! (It actually doesn't have to be for winter or just for kids. It's just an easy fun simple journal!)
Want more ideas? Check out my Freebies page and the Wonder Wednesday Pinterest board for lots more fun creativity and nature based projects!
Check out Gathering a Garden and Wildcraft. They are really cute, fun, and educational games. (No kick backs for me from these games, I just like them and think you will too!)
Want to make a pro looking photo book? Check out Social Print Studio. They are my fave for photos on things printers. (Again, no kick backs for me, I just think they make really high quality stuff and are a smaller company and seem to cater to more creative endeavors.)